South Africa. Images of sweeping savannahs, wildebeests, elephants and giraffes, lions lurking in the underbrush, a country of conflict and contrasts. Springbok Rugby teams and fierce but friendly rivalry between our nations over decades and many other images, all spring to mind. What doesn't immediately spring to mind is a country that produces world class boats, from superyachts to everyday recreational vessels as well as commercial and military craft. So it was with eager anticipation that veteran marine personality, Ron Czerniak, recently had the good fortune to get out on the Hauraki Gulf to test the Searaider 6.6 RIB, built by Stingray Marine who are located on the outskirts of Cape Town.
The Searaider 6.6 deep-vee RIB is built in South Africa by Stingray Marine and imported into NZ by Venom Boats NZ, headed up by Anna Leech and Paul Powney. This RIB stands out in a crowded inflatable boat market despite its close cousin, the 6.4 m catamaran hull version RIB, being a serious rival. 
Trying to fit in a boat test day during Auckland's winter is always a challenge. Still, a weather window presented itself in early June. It was off to the Gulf Harbour boat ramp at the tip of Whangaparaoa Peninsula to launch and test out this interesting African import.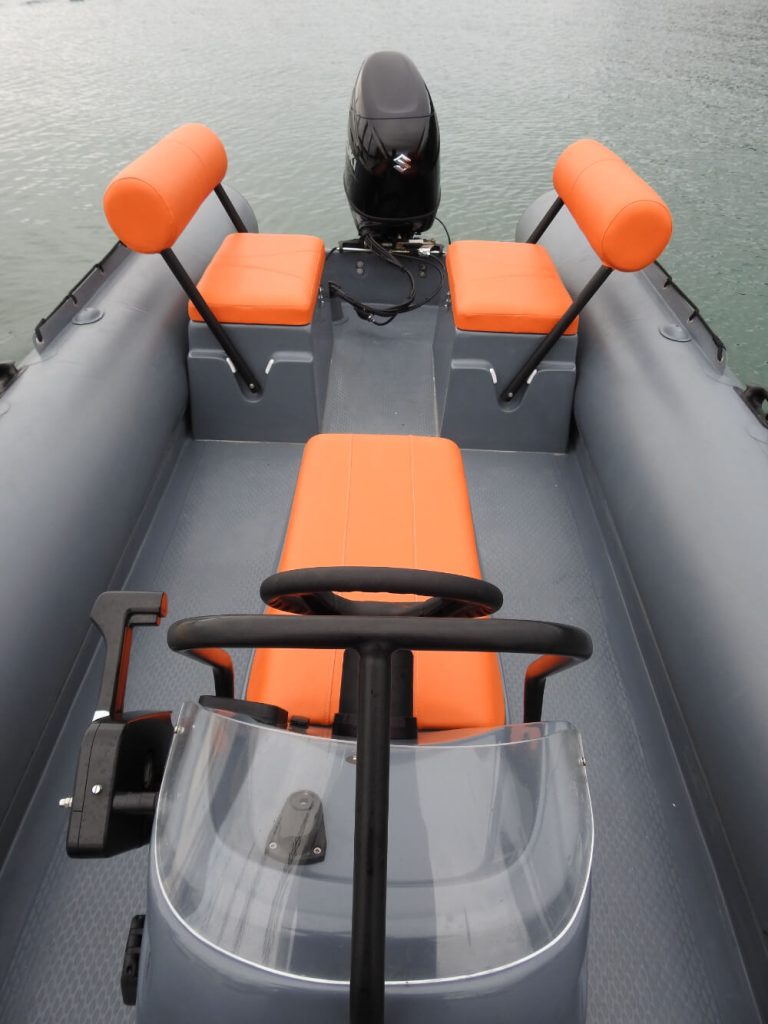 Anna Leech and Greg Sowden met me, and while we waited for Doug Dukeson to show up for the photography session, I had the chance to talk with Anna and Greg about the Searaider 6.6 monohull and learn a bit of the history behind the company manufacturing them in South Africa. How Anna and Paul came to set up Venom Boats NZ Ltd. Anna bought the distribution for Takacat Australia, Asia and the Middle East from Greg in January 2021. Paul also purchased the distribution rights for Takacat NZ and the Pacific around the same time. The decision was made to market the Predator Catamaran RIBs under the Takacat brand, extending their current catamaran range and setting up a new company to sell the monohull Searaider RIBs. The Stingray Searaider monohull RIBs will be sold under Venom Boats NZ Ltd and available in New Zealand, the Pacific, Asia and the Middle East through Venom Boats NZ Ltd.
Stingray Marine (SA) has an impressive and credible history dating back to 1990, manufacturing fast patrol boats, workboats/landing craft, drysuits, commercial vehicle canopies for utes, and inflatable and rigid hull inflatable boats. Any company that successfully supplies vessels to the military and commercial sectors of the marine industry immediately gets my attention! These customers demand and expect the best, and if you don't consistently supply what they require to meet the demands they envision, forget about trying to stay in the inflatable boat business. Suffice it to say that Stingray Marine is one of the largest manufacturers of inflatable and RIB boats in the Southern Hemisphere, exporting as far afield as Europe, Australasia, North and South America, Asia, Africa and now New Zealand.
Having done some prior research about Stingray boats and having been one of the judges at the recent Hutchwilco Boat Show this year, who evaluated the sister vessel, Takacat T640P Catamaran RIB, nominated at the show for the most innovative boat award, and came second equal, my expectations prior to the actual on the water test, were relatively high. Would the Searaider 6.6 live up to expectations?
Spoiler alert! Yes! And as they say in New York, "Let me tell ya why".
Inflatable boats are generally constructed of two primary materials. Hypalon or Panatex (PVC). Without a doubt, Hypalon is the superior material. However, it is also more expensive. But, as the old saying goes, "You get what you pay for". 
So, the fact that the Searaider 6.6 is constructed with Hypalon is an immediate plus.
When Doug arrived at the boat ramp, he took photos of the boat alongside the dock. I have come to realise that when you look over the shoulder of someone else doing the photography, you subconsciously look at the boat in more detail and with a more critical eye, often noticing things that you might otherwise miss.
Even as a casual observer, you cannot miss the construction quality. Everything is of an extremely high standard, from the inflatable tube work to the fibreglass hull, interior deck and the seat fittings to the small but essential features such as the anchor rope jam cleat bow.
The Searaider 6.6 is carried on a single-axle Hosking trailer. With the large volume, fully inflated wrap-around tubes (divided into six separate compartments for safety), it complies with trailer towing road rules and with a more than ample and cleanly laid out deck space, it looks much more significant than its 6.6m length would suggest. Nonetheless, it weighs less than 750 kg on the trailer, so it's easy enough to tow.
One notable feature often commented upon is the fore and aft side seats, located on either side aft. They have a reversible backrest allowing passengers to sit facing inwards or outwards. Each seat easily accommodates three adults, while the narrow helm console's motorcycle-style straddle seat fits another two. The boat is factory rated for up to 12 passengers. 
The seating layout was chosen to leave plenty of clear deck space down the vessel's centreline for easy access to the low transom – great for scuba diving or commercial applications such as ferrying resort guests. Engine cabling, hydraulic, and fuel lines restrict transom access somewhat. Still, in discussion with Anna, it was agreed that a full-width transom locker would tidy things up despite perhaps somewhat limiting transom access. The underdeck 90-litre fuel tank further contributes to the clean and uncluttered interior of the vessel.
During the sea trials off Gulf Harbour, I was particularly impressed with the helm seat/console design and layout. Simple, ergonomically thought out, comfortable and secure were all words that came to mind as I thrashed the boat through tight turns and over our self-created wake waves. The driving sensation is akin to controlling a jet ski at high speeds – albeit one helluva a big jet ski!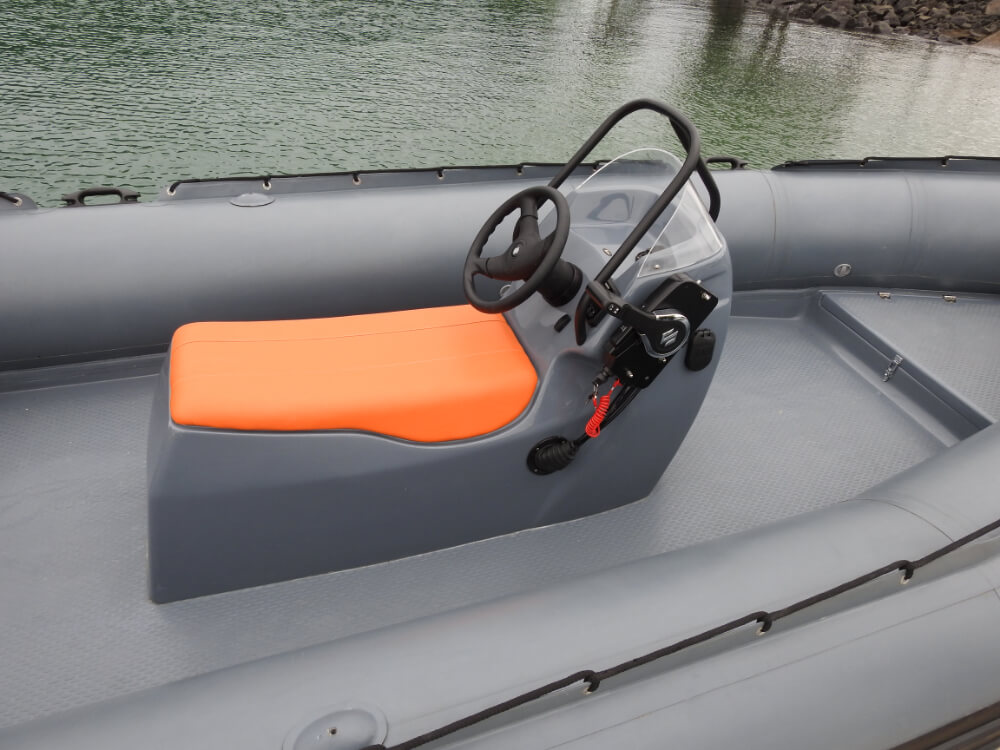 Even though we had reasonably calm seas the day of the test, I asked Greg how hard I could push the Searaider? As he and Anna braced themselves, his calm response was, "Go for it". So I did! At pretty much full throttle (and this vessel is capable of up to 53 knots in the right conditions), I spun the wheel as sharp as possible, hoping like hell that I wasn't going to throw the boat into an uncontrollable manoeuvre ending up with all of us in the drink. However, not the case. With my hands firmly on the wheel and my legs gripping the saddle-like helm seat as though I was on one of those bar room mechanical bucking broncos, the RIB spun in a tight arc revolving through a 360 deg turn as though the stern was tethered to a fixed mooring post. Repeating this sort of manoeuvre several times after bouncing off our wake, I was pleasantly surprised to discover how dry the boat was, with barely a hint of spray coming over the bow or tubes. Examining the hull with more scrutiny when loaded back onto its trailer after the test helped explain why the boat is so dry.
Venom Boats offer the Searaider in various colours, layouts, engine and equipment options, including different seating and console arrangements. So you can kit out the bareboat with just about anything you want. As the boat already incorporates fittings for a Bimini top and the helm console has ample room for an array of instruments, you can add a lot of extras for a modest investment. Searaider comes in multiple sizes starting from 4.5m (5 passengers) right up to 9.5m which can hold a massive 20 passengers. Perfect for commercial, dive and resort use. 
As a lifelong scuba diver and dive instructor, I could not help but evaluate this vessel for use as a dive boat. At the same time, it was difficult not to compare this craft with the Takacat Predator T640 catamaran RIB, which I had examined in detail at the Hutchwilco Boat Show. Suffice it to say, I would not be unhappy with owning either of these vessels. Still, for the extra (apples to apples comparison) $10,000.00, I would put the Predator ahead of the Searaider if the primary consideration was as a dive boat.
If you are looking for an extremely rugged, quasi workboat cum recreational craft, then the Searaider 6.6 ticks many boxes. This vessel is built to take punishment and, with a price tag of approximately $80,000.00, represents excellent value, especially in terms of performance and handling. And, as Anna explained, customers can mix and match console and seating layouts, engines, equipment options and colours depending on their budget.
Make & Model: Venom Boats V660S Searaider

 

Manufacturer: Stingray Marine (SA) by Venom Boats (NZ)        

Price as tested: $NZ79,995.00

Priced From: $79,995

Type: RIB 

Construction: Hypalon /GRP  

LOA: 6.6 m 

Beam: 2.45 m    

Dead rise: 26 deg                         

Test Power: 140 Hp Suzuki

Top Speed: 53 knots

Power Options: Outboard only

HP Range: 1 x 140hp or 2 x 70hp

Fuel capacity: 90 litres          

Trailereable Wgt: 710 kg

Work/pay load: 1200 kg  

Contact:

www.venomboats.com

 / 

[email protected]