The new remodelled Bluefin 665HT ticks all the boxes for serious fishing and family comfort. Mike Rose spend sometime aboard with the bonus of fshing around the Mercury Islands. By Mike Rose About five years ago, when the world was firmly in the grip of that nasty recession, the team at Bluefin decided to "shrink" their 700 Hardtop to create a more appealing 665. It was a clever move. In the half-decade since, the company has sold 40 of these 6.65m LOA trailer boats.
"In some ways, it has been too successful," jokes Jamie Black from Bluefin manufacturer Sportcraft Marine. "The Bluefin 665HT is such a good boat, it takes sales away from both our smaller and larger models. The simple fact is, for many of our customers, it's the perfect sized boat."
Following the tried and true marketing philosophy of backing your winners, the Sportcraft team recently invested in a well thought out revamp of their popular Bluefin 665HT.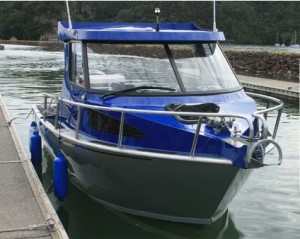 The well-proven hull has been left alone but the tweaks to the hardtop are significant. A curved windscreen replaces the conventional one; sliding side windows have been added and the side bulkheads moved further outboard. They are changes that are welcomed by the owner of Whitiangabased Macho II, the first of the revamped 665HTs. A notinsubstantial fellow, he welcomes the extra space in the hardtop and, thanks to a remotely-controlled windlass, only uses the slightly narrower side decks for the end-of-day washdown. "They're absolutely fine for that," he explains.
Having stepped up from a 5.5 metre vessel, he is also loving the extra waterline length and the additional on board space. "We like to go to the Mercs,' he says, "but we often copped a hiding on the way home when the wind picked up "I wanted something that would give the family a more comfortable ride, especially in choppy seas. I went out in the  Bluefin 665HT with Jamie and was really impressed with the way it handled the seas. It is a very dry boat and gives a very soft ride." He also like the fact he could tow the boat with his family Holden and didn't need a braked trailer (fitted with a 150hp Mercury EFI four-stroke outboard and a 140-litre fuel tank, Macho II has a 1650kgs trailerable weight on its tandem trailer).
Bluefin 665HT – The Mercs
I got to review the Bluefin 665HT on a fine if slightly breezy day Coromandel day. Launching at the Whitianga Marina was easy and we were quickly clear of the 5 knot zone and able to get onto the plane. With three of us on board, the 3-litre outboard and its 17" Inertia propeller had no trouble getting us up and away and we were soon cruising at around 30mph at 4000rpm and using between 27 and 28 litres of fuel per hour. This means a family trip to and from the Mercs, complete with fishing and sightseeing, uses around 45 litres of fuel.
Macho II's owner says fuel consumption remains fairly constant, regardless of sea state or the number of crew. "The day before, we had six people on board and the numbers hardly changed at all," he says.
Macho II is also very easy to handle thanks in part to its hydraulic steering, now a standard feature on almost all Bluefin models, and a set of Lenco trim tabs.
Although Jamie says many owners use their 665s for gamefishing, Macho II's owner is more into straylining and softbaiting. As a result, we are soon anchored in relatively shallow water between two of the Mercury islands, a berley trail doing its business out the back. As anyone who has ever visited either a major boat show or one of Sportcraft Marine's outlets will know, the company loves to bundle their boats into fully-featured, cost-effective packages.
The  Bluefin 665HT is no exception. For example, standard on board is a fishfinder and a VHF and a deluxe baitboard which fits neatly into the transom rod holders and keeps everything neat and tidy. Macho II's owner, an experienced boatie and very keen fisher, opted to upgrade from the standard fishfinder to a new Raymarine A68 MFD (sounder, chartplotter, etc).
While I inspected and photographed the interior, Macho II's owner and Jamie Black baited up and started fishing. It quickly became apparent that, like virtually any size of trailerboat, the 665 is best suited to two fishers, especially when straylining. The pair had plenty of room to move around, use the baitboard, cast and remove fish from their lines without getting in each other's way. Even when a large trevally or big kahawai called for my help with the net, there was always enough space for everyone to do their job properly.
Although the Bluefin range is generally recognised as being at the more affordable end of the aluminium boat spectrum, there is little to suggest this while on board. The entire hardtop and cabin area is fully carpeted, the finish is very professional and there are a number of innovative touches. Moving those cabin sides outward has created an immediate benefit inside: there is now space for a number of handy little lockers in the side bulkheads. These are of the close-at-hand, open variety that are so good for stowing things such as sunglasses, wallets, mobile phones and car keys.
Also getting plenty of use on our day out was the large flat area that runs from the passenger side, across the cabin entrance to behind the helm station. Again fully carpeted, it is a wonderful spot on which to throw all manner of things from an old-fashioned paper chart (for those who still use them) to a cruising guide, notepad or phone. The carpet ensures these items stay where they are put (as does the surrounding upstand) and the area is so big it is unlikely to ever become cluttered.
Other nice touches here are the well-placed grab rails (for when it does get rough) and the ceiling moulding that houses the GME Stereo and VHF.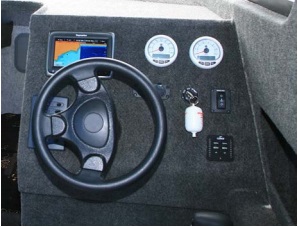 The helm, too, is well appointed with that Raymarine MFD, Mercury's engine gauges, a BEP DC panel, not one but two DC outlets (great for using a spotlight and charging the phone) and the windlass and trim tab controls. Despite this, it looks very clean and uncluttered and there is clearly room for more electronics or equipment should it be wanted.
The cabin is a deceptively large affair. Although it looks quite small (probably a result of the carpet lining and the dark coloured bunk squabs), the berths are actually long enough to comfortably accommodate the boat's 1.9-metre (6ft 3in) owner. There is room for the traditional infill, too, and the side lockers are also considerably wider than normal, meaning there is ample room in each for a brace of two-piece rods.
Macho II's owner has chosen to upgrade from the standard Bluefin pedestal seats to a pair of King and Queen models, with additional stowage underneath.
Macho II's cockpit is clearly a fishing-focused one. Its chequerplate floor is covered with tube matting; there are wide coamings (great for sitting on), complete with non-skid patches and three rod holders per side; the side lockers are wide and practical and there is a big live bait tank (complete with glass front) under the port side transom step and running right back to the platform. Unusually, especially in a boat of this size, there is also a protective drop down door on the outside of the step. This closes off the step from the platform and must be a great safety feature when there are young children on board.
The platform itself is also extra large, big enough to fish from, and there is the standard ladder and grab rails. There are two large plastic hatches to the right of the step. These give access to the batteries and isolating switch and to the washdown pump and windlass reset.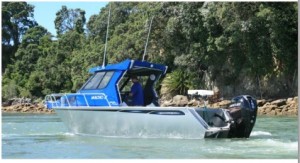 Macho II's owner has also opted for the stand-alone fish bin/seat which he uses, centrally placed, to stow his bait. He uses a mediumsized chilly bin (one that fits snugly into the gap between the bunks in the cabin) for his catch.
Despite Sportcraft Marine's reputation for well priced and entry level aluminium boats, there is nothing but class about the new Bluefin 665HT.
From the two-metre-high hardtop to the carpeted interior and fine finish of the aluminium, this is a very impressive vessel. It easily switches between a dedicated fishing boat and a family cruiser, has lots of innovative touches that are as practical as they are clever and, from a performance point of view, is very hard to fault. With a 150hp Mercury EFI four-stroke outboard and a brace of trim tabs on the transom, the 665 copes comfortably with even choppy and confused seas and does so economically.
It nicely fills the gap between the larger weekenders and the smaller runabouts and, on its tandem unbraked trailer, can be safely towed by a family V6.
What's more, if something about the design isn't absolutely perfect, Jamie and the team are happy to make adjustments. Macho II's owner doesn't like rocket launchers. He thinks they are not good for the rods and, besides, with one in place, the  Bluefin 665HT wouldn't fit in his garage.
Not a problem, said Jamie, we'll take it off and, instead, put in a single rod holder on each side of the back of the hardtop. Job done and another satisfied Sportcraft customer.