Manurere is the first wide-bodied Image 8.5 Fishmaster and is the second big Image Barry Thompson has reviewed on Lake Wakatipu.
While you might think to review a bluewater fishing boat on a lake is hardly giving the boat a serious workout, you might be surprised what you learn. With 20 knots across Lake Wakatipu, Queenstown, and less than .5m chop on the surface, the Image 8.5 Fishmaster took it in its stride. Well, I would have expected nothing less. Here I was in an 8.5m, 3000 kg plus twin rigged hardtop, stack with fishing armoury, such as a pot hauler, Simrad 16″ MFD, twin drop down dive ladders and a huge bait station and not a cray, snapper, grouper or trev in sight.
The reason we were on Lake Wakatipu was the owner of the boat is an Arrowtown resident and plans to use the boat not only on Wakatipu but also trail it across to the West Coast and also to Stewart Island. Manurere will also be used for commercial purposes aroundStewart Island. In fact, he is a born and bred Stewart Islander and has spent his life commercial fishing around Stewart Island and Fiordland. Crays, blue cod, sharks, oysters and even eels (from Lake Wakatipu) he has targeted them all. However, when retirement came along, he still had the urge to get out on the water and was looking for a specific boat that would cater to all his needs. Not only did he want a tough, go anywhere fishing boat, but it had to also double as a weekender on the water and a partial caravan on the land.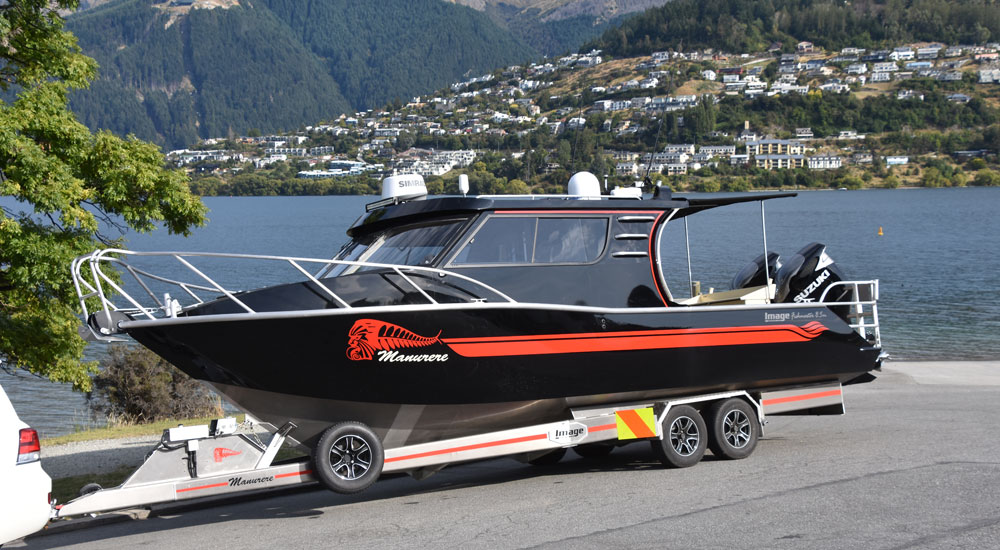 Dean Wilkes, the owner of Image Boats Ltd, says that it's surprising how many of his clients utilise his larger boats as a multi-purpose caravan and boat. With everything from the bed to the galley, holding tank, toilet and shower, a boat like Manurere are perfect for anyone looking at trailering to remote areas.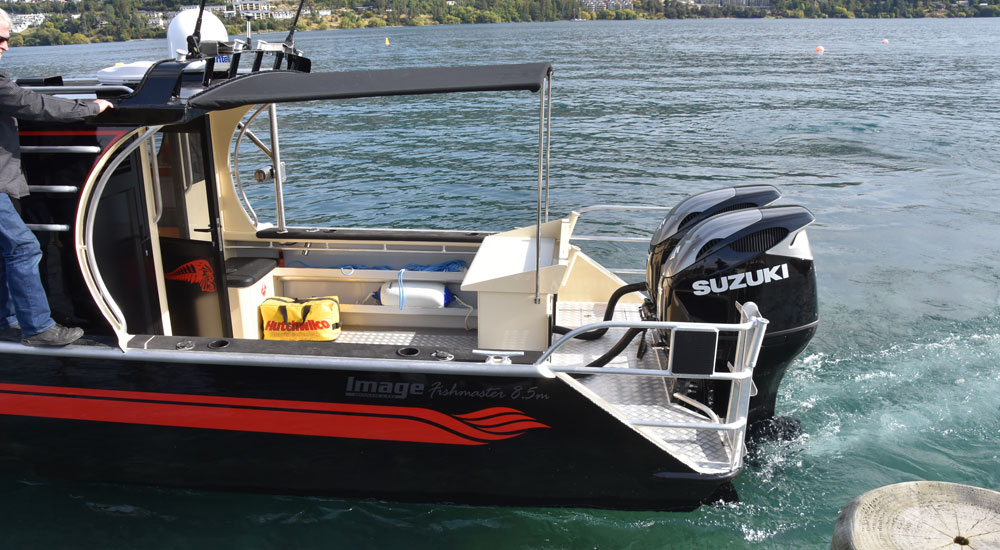 The layout is reasonably standard and as you might expect to find in a hardtop of this size. Forward is the main accommodation area with a lower v-berth that has an infill to transform into an extra large bed. There is also a pipe berth either side, so along with the dinette table that also converts to a double, the 8.5 Fishmaster provides sleeping space for six.
Storage is available under the lower squabs and inside trays, plus there is an easy access panel in behind the dash if you need to get into work on any wiring. I was impressed with the excellent headroom when standing in the forward cabin and uninterrupted flow through to the wheelhouse.
While the 8.5 Fishmaster has been around for a few years now, Manurere is the first with the wide beam hull. Dean explained that by taking the beam from 2.7m out to 2.9m has allowed for an extra 200mm in the wheelhouse. The difference is noticeable in the dinette which with the additional beam is now a comfortable four-seater and also aft in the shower/toilet cubicle with more space to do whatever you need to do in there.  I was pleased to see the head/shower outside in the cockpit, where not only can the odours drift away but if you need to use it at night, then you don't disturb people inside.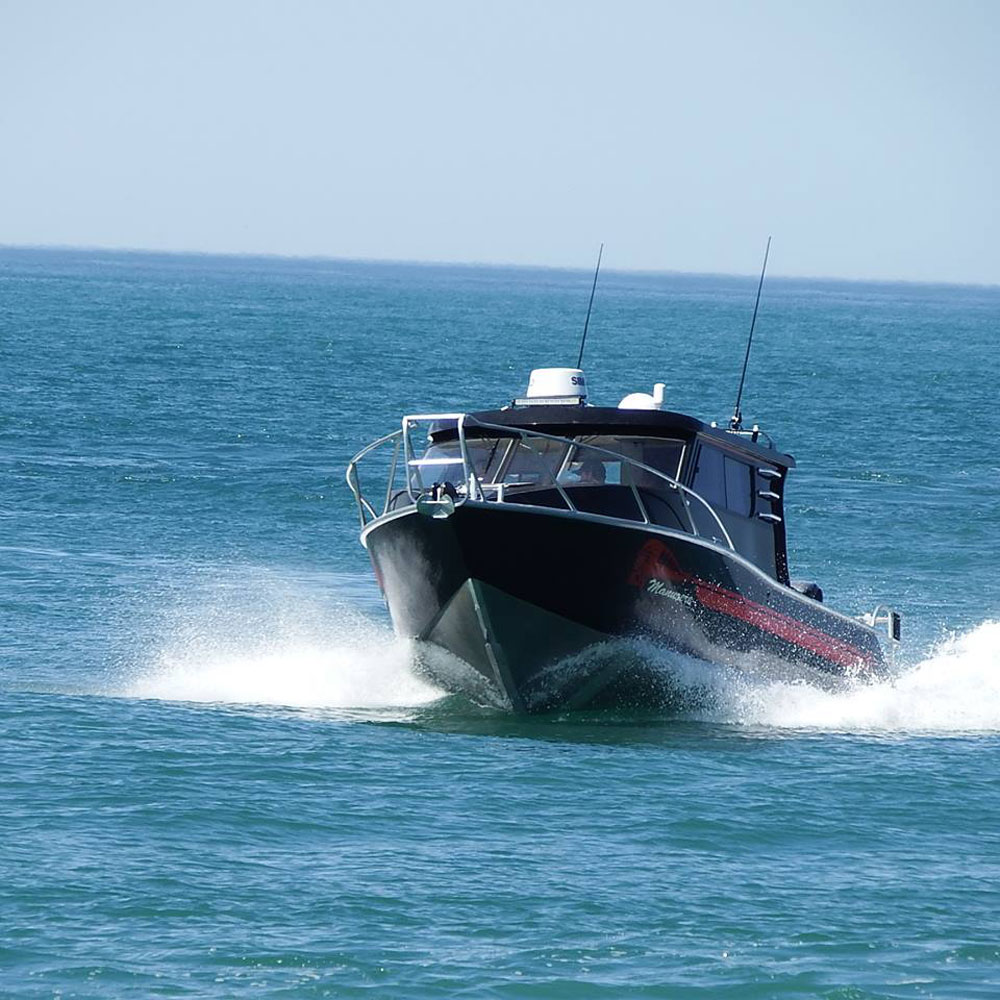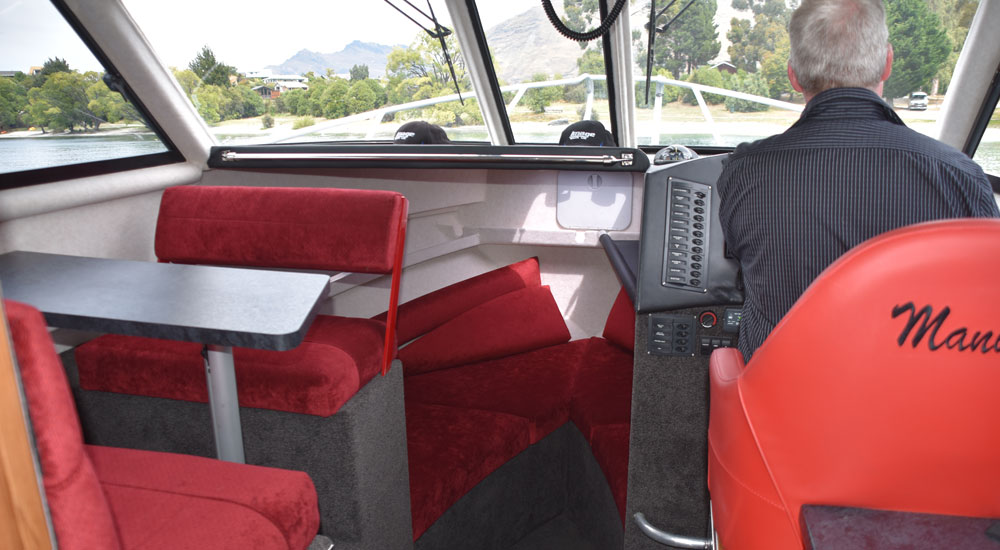 The dinette comes with a reversible forward backrest and as mentioned also converts to another large berth. There is storage under the forward seat and a freezer under the aft seat.
The helm opposite has been fitted with an extra-large Simrad 16 NSS MFD which eliminates the need for any engine instruments. Space around the screen is taken up with switches, the Simrad autopilot and controls for the Savwinch and trim tabs. Overhead is an ICOM VHF and Fusion entertainment system.
Aft of the helm seat, which as a fridge built into the base is the galley, complete with a Dometic 2-burner cooktop, stainless sink and storage drawers beneath. As one of the owner's requests was for a Nespresso coffee machine, there's also a 2kW inverter.
It's a very cosy and quiet wheelhouse when underway, with the bonus of a Fusion entertainment system, opening side windows for extra ventilation, but also a Webasto diesel heater for the cold southern boating weather.
It's when you start looking over the cockpit that you appreciate that this boat, like 99% of all Image boats is destined to be a fishing platform. Uncluttered space is the best way to describe it, and everything is right where it should be. To starboard is the James Nilson pot hauler, forward enough to be out of the way when bottom fishing, but close enough to get at when required.
There are storage trays either side and plenty of rod holders in the side decks and overhead. A central bait station comes with a built-in tackle locker under the cutting board, with battery storage below.
Being an alloy boat the way you configure the transom is up to you. In Manurere the owner chose twin transom access with a drop down dive ladder either side and high transom cages. A soft bimini keeps off the sun rays or rain and can be folded up out of the way if not required. There is also a massive wet locker in the cockpit sole.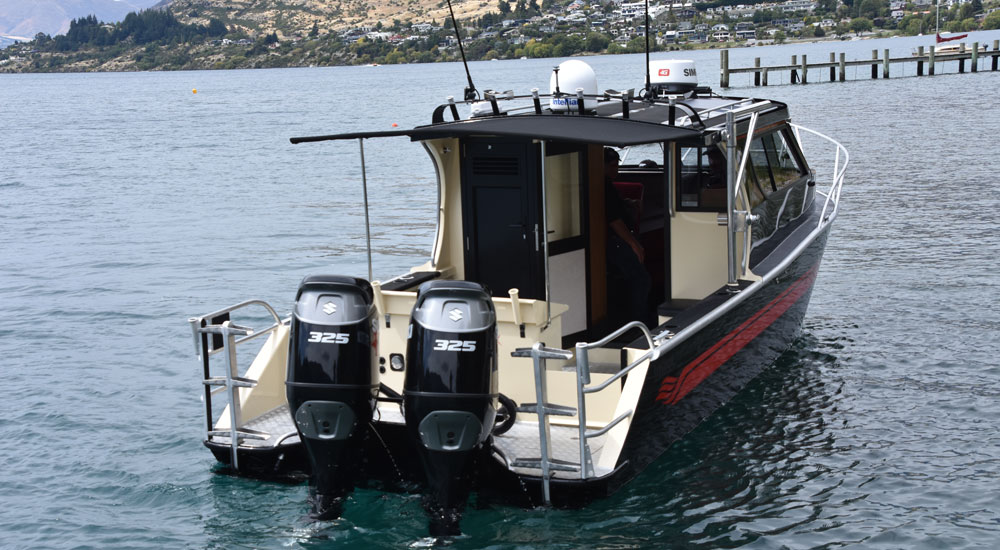 The 8.5 Fishmaster is rated from 300hp to 700hp, inboard or twin outboard, with Manurere running a pair of Suzuki DF325A outboards. To date, it's 80% outboard/20% diesel sterndrive. They incorporated dual props and dual louvre system and an offset driveshaft for better balance. While the DF350A is much the same engine but chipped up with more horsepower, the owner felt that 650hp was plenty and I have to agree with him. Traditionally the 8.5 is powered by a pair of 200hp outboards which give a top speed of 36 knots. To carry the weight of the larger outboards, the hull has been extended right through to the back of the boarding platform. Previously the outboards were mounted on pods.
From a standing start to on the plane and beyond to max rpm, the 8.5 Fishmaster proved a very easily driven hull. Rapid and smooth acceleration right through the range. Running across the lake chop with a slightly quartering sea, the boat merely tiptoed across each wave. In tight turns, the props hang on tight, and there is no cavitation or loss of power. With the rear door closed the wheelhouse was quiet and we could talk at a normal level.
I found the steering a little too light and sensitive for my liking, but that was only a matter of adjustment — certainly torque free and finger touch. Top speed was 40.5 knots, but we spent most of the day on the lake at around 4000 rpm @ 26 knots. This returned a reasonable fuel figure of 73.3 lph and a range of approximately 150nm.
Image Boats Ltd is an Invercargill based company that has grown from humble beginnings in 2000 into a significant player in the alloy boat industry. Manurere is a superb example of their quality and offers everything that this particular owner wanted and then some. Interestingly this is his first ever trailer boat and reckons he has cracked it right first time.
Boat Design Name: Image 8.5 Fishmaster           
Year Launched: 2019              
Builder: Image Boats
LOA: 8.50m               
Beam: 2.90 m               
Towing Wgt: 3450 kg (approx.)
Deadrise: 17 deg
Max Speed: 40.5 knots                   
Construction: Alloy 6mm/4mm 
Fuel Cap: 500 litres
Engine Make: 2 x Suzuki 325 hp
Engine Options: Outboard/Sterndrive 300-700hp
Anchor Winch: Savwinch Drum
MFD: Garmin 16"
Autopilot: Garmin
Heater: Webasto
VHF: ICOM
Entertainment: Fusion MSUD755                                
Priced From: $NZPOA
FUEL & PERFORMANCE DATA

850 FISHMASTER / 2 X Suzuki 325

Fuel capacity:             500      litres

RPM        

Knots

L/h

L/NM  Range

(NM)

1000

5.0

8

1.600

280

1500

7.2

14.6

2.100

210

2000

8.2

20

2.500

180

2500

10.0

30.2

3.100

140

3000

18.5

47

2.600

170

3500

22.0

54.2

2.500

180

4000

26.0

73.3

2.900

150

4500

29.5

96

3.300

130

5000

33.5

125

3.800

110

5500

37.0

170.5

4.700

95

5800

40.5

220

5.500

81