Based on the McLay 681 hull, the new McLay 701 Premier Hardtop was built as a prototype to test a lot of ideas for a new range of boats in 2015, but also as a personal boat for designer and builder Steve McLay.
When I jumped about the boat at Lake Wanaka in late November last year, the prototype 701 Premier Hardtop, had less than an hour of testing. It was so new that it wasn't until during the day on the lake that Steve chose the Premier Series name. Up until then it was just the new McLay 701 Prototype.
Steve is the first to admit that while his current hardtop range has been selling exceptionally well, and while he could have easily left it alone and continued with the current designs, he was looking for something a little different. The McLay 701 Premier HT is not just another hardtop dropped into the range, that looks like all the other models, it represents some forward thinking by Steve and his team, with innovative and practical ideas that ultimately will be transposed into other models.
Most of us see a 7m hardtop as an offshore fishing machine that is designed so you can stay overnight and still provide a great fishing platform. While the McLay 701 Premier HT does that, it's the way it is achieved that makes a difference.
Firstly the emphasis is on fishing more than overnighting, so the ratio of cockpit to cabin space is certainly in favour of the former. Plus it is also only available with a painted hull and twin outboard power. One of the most significant changes to the original 681 hull was to give the new MCLAY 701 sleeker lines and hence the higher bow and raised sheerline. This offers a gentler sloping forward deckline and a more modern look. Another advantage is the extra 150mm of bow height, which is a bonus when you out offshore punching through a big sea.
Hidden Extras of the MCLAY 701
Typical of South Island built alloy boats, is the fold-down bow ladder, something that is a great feature when coming into the beach. Side access around the decks is adequate and high bow rails give some security and support. The alloy ladder folds out of the way when not required and doesn't impede the anchor tackle.
The McLay 701 Premier HT is the first McLay in New Zealand to be fitted with an Australian built, Lone Star drum winch, which is very neatly hidden below the foredeck. The GS1000D has the capacity for 130mm of 8mm warp and 9m of chain, so it's certainly more than adequate for a boat this size. A wide roller ensures that the rode spreads evenly over the large capstan when retrieved, so there's no binding up issues, something that is a problem on a lot of smaller trailer boats with inadequate anchor lockers. However, if you do prefer a more common auto rope/chain winch, then the McLay 701 Premier HT does offer a more than adequate deep anchor locker.
New for McLay is the perspex hatch on the cabin top, replacing the solid alloy style. The result is increased light penetration into the cabin and again a more modern look to the foredeck line.
You might be surprised to learn that this 7m hardtop boat is essentially a cuddy. Although the berths are only 1.54m long, you can drop in an infill and turn the space into quite generous area to sleep a couple of people. Great place for the kids. There's a flush toilet under the forward squab, privacy curtain, 940mm of sitting headroom and full-length side shelves. No bulkheads give the interior and wheelhouse a feeling of one space.
Being a fully enclosed wheelhouse, it's also a quiet area with the rear bi-fold doors closed when underway and if you are into your winter boating, a small heater might be a good addition. Sliding side and rear windows let in plenty of natural light and ventilation.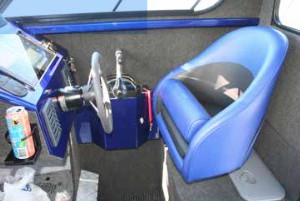 The McLay 701 Premier HT utilises an upgraded seating layout with twin upholstered four-way adjustable Hi Tech Plastics bolster style bucket seats on Softrider pedestals that go all the way to the sole and are then surrounded by a storage cabinet. There is also the addition of centre drop-in bench between the seats, to give extra seating when underway. 
The McLay 701 Premier HT does differ from the other similar sized McLay hardtops, in that the wheelhouse is 150mm longer and the standing headroom has increased slightly to close on 2m. While the wheelhouse/cabin area of most McLay hardtops is finished in carpet and fabric, Steve has chosen to paint all the alloy surfaces in the same colour as the hull. I personally like it and it adds a fresh touch with a vibrant look to what can often be a drab area. Wheelhouse storage is provided in side trays, in the units under the seats and a large port side two-tier glove box.
The profile of the McLay 701's side windows and roof line has been softened. Gone is that harsh squared-off look reminiscent of other McLay hardtop models, in favour of soft curves and more flowing lines. As the first 701 Premier HT is Steve's boat, he went all out when it came to the electronics package although this is totally an owners' option. Taking up most of the dash was a Simrad NSS 16 Evo2, which is an awesome piece of kit for the serious fisherman.
The McLay 701's ultra large screen can be split into four displays, so you can look at a multitude of features, such as side imaging, sonar, radar and the plotter all at the same time. The bright colored 16" Multi-Touch display has rotary dial and keypad for precise control in any water condition, plus it comes with high-end chart plotting and fish finding capabilities, a 10Hz GPS/GLONASS receiver and built in SonarHub, plus is fully network with GoFree wireless capable.
With the 16" screen taking up the majority of the dash, a separate raised console is required for the three Smartcraft instruments. If you fit a smaller screen, then you can get away with the instruments back on the main console.
Cockpit for Fishing MCLAY 701
The cockpit is all about fishing and everything is based around making it as practical and easy as possible. The hardtop overhang has been increased 250mm, which offers good shelter from the sun or rain, yet doesn't encroach into your fishing space. Forward are two large alloy bins which double as seats or storage. Great place to fit a fridge/freezer or to stow a stainless steel bbq and bottle. There are double storage shelves either side under the wide coamings and deep toe-kicks so you can fish right to the side of the cockpit. 
Mclay has done a neat job of adding an extra seat down aft, which recesses into the transom and doesn't take up any cockpit fishing space when not required. Behind that is access to triple batteries and some limited storage. Above is an extra large stainless bait board with a built-in bait locker. Our boat had a single transom walkthrough, but you have the option of one either side if you prefer.
Underfloor is a bigger than normal 230 litre fuel tank and a wet locker aft, with either side all airtight buoyancy chambers. One interesting change from the 681 is because the engines are smaller and can be pre-programmed for maximum tilt, the transom has been positioned 200m further, giving even more cockpit space, but without lengthening the hull. The platforms either side of the engines has also been increased, hence the 7.01m length. This also gives the impression of the engines being more a part of the boat rather than hanging out on pods.
The last time I tested a McLay hardtop on a lake it was Lake Te Anau in a McLay 690 HT and the water conditions were horrendous. A steep, short foaming mess whipped up by 30 knots winds screaming down the lake. Ugly and not the sort of weather you go boating in.. unless like us at the time, you had to.
However, this time around it was quite the opposite. Mirror smooth, glassy and ripple free all day. Snow capped peaks in the background and thick native bush to the water's edge made it quite surreal at times. Trolling around the edge of Lake Wanaka for trout proved a fruitless exercise, but what a relaxing way to spend a few hours on a Friday. With just one of the Mercury 90 CTs in gear we cruised quietly in the crystal clear waters at three mph.
This is the first twin rig McLay has set up with twin Mercury 90 CTs and while the boat is rated to twin 115s, the 90hp package is more than enough. Steve commented that the Premier Series is only available as a twin outboard rig, which sets it apart from other models in the McLay range.
With the throttle punched all the way down I managed to get close to 35 knots @ 6000 rpm for a fuel burn of 71 lph or 2.1 lpnm. Pull that back to a suitable cruise speed of 22 knots @ 4000 rpm and the fuel consumption drops to less than ½, at 32 lph/1.5 lpnm and a range with the 230 litre tank of more than 130 nm. If you like to travel a little faster on your way to your fishing grounds, then 5000 rpm @ around 30 knots returns a reasonably conservative 50 lph / 1.7 lpnm and the range changes by only 10 nm. I spend a lot of the time cruising on the mirror-smooth waters at around 4500 rpm @ 26 knots that had the fuel burn at a total 44 lph / 1.7 lpnm. With one engine trimmed up, the McLay 701 Premier will run at 26 knots @ 5200 rpm and 21 knots @ 4500 rpm.
This is a big boat that's destined more for coastal offshore fishing than on the lake and the calm waters for the test means I can't comment on the rough water capability of this particular boat. However having experienced some of the worst water I have ever boat tested in with the 690 HT, I am confident enough to say that the new McLay 701 Premier HT will more than hold its own.
Interestingly we had no tabs and just used the engine trim to level the boat. Steve informed me that they were still experimenting with the strake position down aft to get the balance and stability as perfect as they could. Some changes were made after the test and Steve says he is very happy with the placement. The boat planes very level with just two aboard, has more stern lift and is less susceptible to shifting weight while planning.
Boat Show Release MCLAY 701
The 2015 Hutchwilco NZ Boat Show is the planned release for the Premier Series, which will include not only the McLay 701, but also a larger 801, powered by twin Mercury 150s. The Premier Series is twin outboard only and no stern drives. If that doesn't suit, then McLay have plenty of other models in their standard hardtop range to cater for your needs.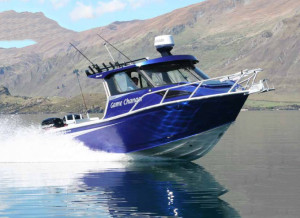 The new McLay Premier Series adds another dimension to the range, with a good looking dressed up hardtop, that is still very much a fishing boat first. It has all the attributes of the proven McLay hardtop range, and while it has been trimmed in more 'bling', it is still targetting the hard-core fisherman who wants something a little more classy.
Check out featured boat topics, boat reviews and more with the latest Alloy Boat Magazine