It continues to amaze me just how many new alloy boat brands keep entering the market, with now an estimated 70 plus manufacturers in New Zealand.
One of those is Nuline, a brand started by Woodbine Marine in Auckland in 2016, to cater for the entry-level buyer. Affordability, extremely high quality and the ability to offer custom layouts was what, Sam Harvey, MD of Woodbine Marine says they wanted to achieve when they introduced the Nuline range.
After now reviewing my second Nuline, I can assure you that those parameters have been achieved. I could not fault the build quality, from the smooth weld lines to the superior fittings throughout the boat. The Nuline 48CC is about as good as you'll get for a centre console of its size.
Nuline currently offers two hull sizes at 4.5m and 4.8m, and are in the process of building a new 5.2 model, which will have a larger beam, a 5mm hull, and be available as a centre console or cabin.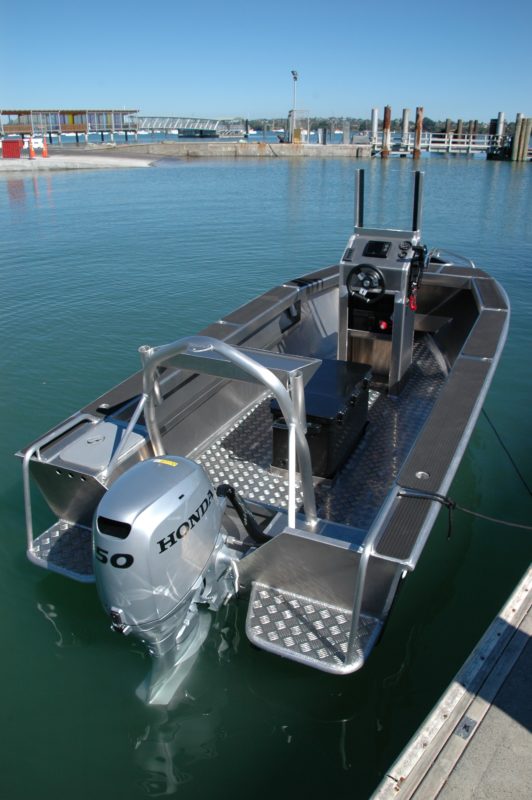 On the 4.5m platform, there is the 45DG open tiller steer (reviewed Alloy Boat #11), the 45SC and the 45CC, side console and centre console boats respectively.
There are three models using the slightly longer 4.8m hull, the 48DG tiller steer, 48CC centre console and the 48RB runabout. Both the 4.5m and the 4.8 share the same 1.9m beam, 4mm/3mm construction and 13 deg deadrise hull. It's just that the 4.8m has been extended by 300mm. Power options vary from 20hp- 60hp depending on the model.
Having already reviewed the smaller 45DG, I was keen to see the difference in the 48CC. Centre console alloy boats are hugely popular and it's a very competitive market. There are over 120 centre console models currently available locally, from 3.9m through to 8.5m, with some custom models even bigger. With the 4.5m-5m range offering over 50 different models from 30 manufacturers, what sets the Nuline 48CC apart from the others?
Sam says the larger 4.8 range stemmed from requests by customers for something a little bigger than the 4.5 but with essentially the same layout options. My first impression was quality, and a feeling that this is a boat built not only with excellent external appeal and looks but also precision engineering in the areas you can't see. Nuline has their boats built by a very experienced alloy boat manufacturer, who has a reputation for building tough boats.
Between the 4mm plate hull and 4mm cheque plate floor, are five full-length stringers, which help offer both strength and rigidity to the hull. It's all positive airtight buoyancy underneath. When I went for a run in the 48CC, I felt I had a seriously strong and solid hull under me and although the water conditions were calm, I am sure it's a boat that would perform well in the rougher water. You still have to remember it's only 4.8m overall, so there are some limitations, but it's got the legs to run well in moderate harbour sea conditions.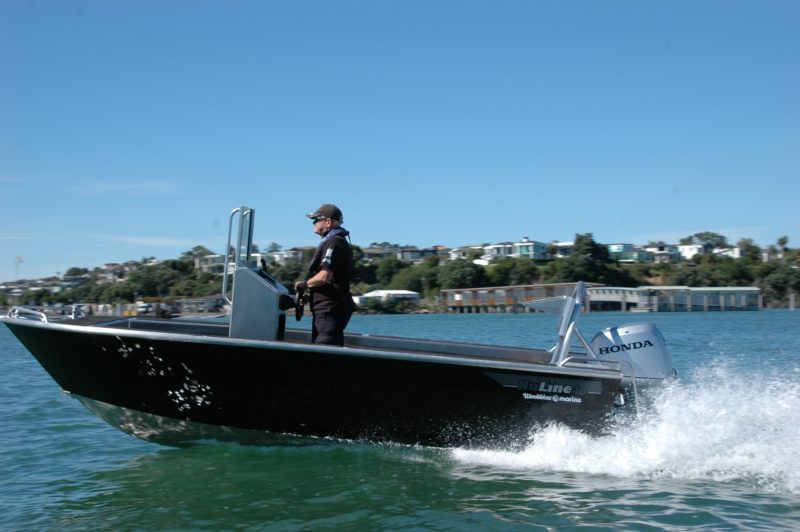 The 480CC is rated for outboards from 30-60hp, so our Honda 50 was right near the top of the recommended range. We saw 27.5 knots @ 6000 rpm on the GPS. While the 50hp was an excellent match, the boat would still perform well with lower horsepower.  I would expect around 30 knots if you went with a 60hp outboard.
The 48CC that Sam gave me to test was a reasonably highly spec-ed version and came with a few extras, such as a 70-litre Icy Tech cooler, Garmin 55DV sounder/plotter, ski-arch with bait station and internal live bait tank. The standard boat comes with the basic centre console and then you add all the extras.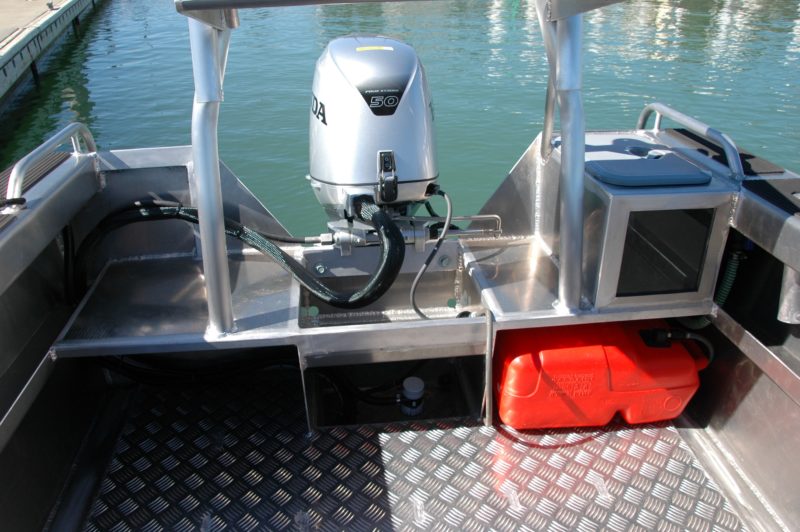 The transom area is customisable and if you prefer to have extra seating rather than a live bait tank, or the Portofino type transom it's all doable according to Sam. "It's all work in progress really as we are continually looking to improve what we have and to be able to provide a customer with exactly what they want without having to compromise".
Twin tote tanks fit under the rear seats in the standard boat, but if you go for the 50-litre underfloor fuel tank option, built under the floor, there is space under the rear bench seats for the live bait tank and an addition bait locker.
Seating is optional from nothing at all to a padded box seat that is big enough to slide the cooler bin underneath. The console unit provides plenty of storage options as well as a place to keep the battery, complete with an easily accessed isolating switch. The Honda controls mount on the side of the console and is perfectly placed when driving. Simplicity is the key when it comes to instruments with a tacho and trim indicator, a four-way switch panel and centrally mounted fish finder. A glass screen flanked by handrails offers some weather and wind protection. If that's not enough, you could always add a T Top style bimini. The front of the console features a padded bin seat with storage under.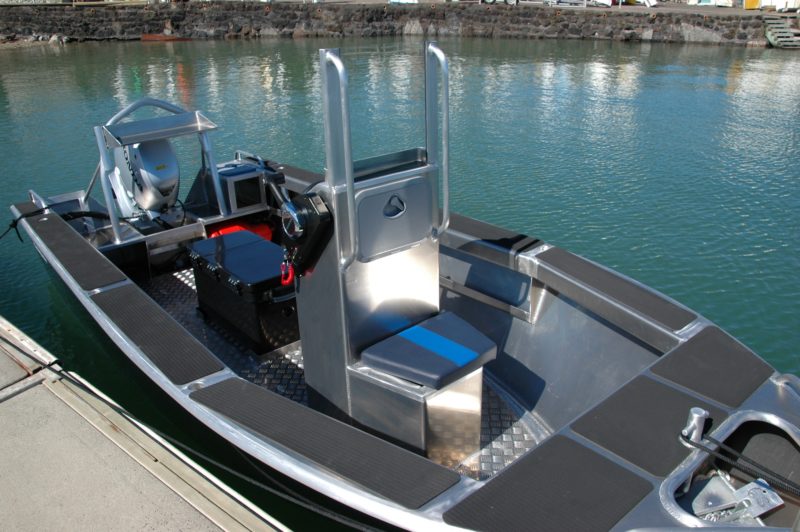 The bow area is common to all the models, with a large flat deck surface, open storage under and a reasonably large anchor locker. If you are like me and try to make your boating experience as stress-free as possible, then there is space in the anchor locker for a small drum winch. Options up front include a mounting plate for an electric outboard and customised bow rails.
The Nuline 48CC has been a very popular model for Woodbine Marine, with more than two dozen sold and more on order. Overall, an affordable and practical fishing and dive boat that fills a gap between a dinghy and small runabout. Having the ability to be customised allows you to get something a little more personalised for your needs, so the boat you get has everything you want.