Tailoring each of his boats for a client's particular requirements is something that Alistair McEwen specialises in. Every Pinnacle boat is bespoke and with only four available each year, their individuality makes them somewhat unique.
The Pinnacle 720 is a rebadged Pinnacle 660, (released 2014) but technically the same hull with a different hardtop. The windscreen has taken on an entirely new look with the curved corners replaced with flat panels. This was primarily designed to give extra strength to the hardtop, something the owner wanted as Manukau Bar crossings are on the agenda. It is still the baby of the range and joins the Pinnacle 830 and Pinnacle 930 hardtops. Alistair says that he chose to go to the top end of the trailer boat range as he wanted to sit apart from the mass production brands, which offer competitively priced boats for the broader market.
Alistair reckons that to build anything of quality requires commitment and that goes right from the concept stages, throughout the construction process and completion. Everything possible is done in-house, including engineering, electronics, and even the painting. While the hull and 'bones' of the boat don't change everything else is customisable.
"Every boat we build is different from the previous one, even though it may be on a similar hull platform, everything else can be adapted, styled and modified to give an owner exactly what they want.
"We start with an idea and we like to think that the result is as perfect as we can make it for our customer", says Alistair.
The Pinnacle 720 is constructed with 5mm standard and 6mm option for the hull plating, with 4mm topsides and 3mm superstructure. Alistair is one of only a few Lloyds registered welders in the country and takes pride in every weld. "I simply couldn't build them any better than they are", says Alistair.
The Pinnacle website says the company focus is on customising individually to every customer's requirements. Whether you're into diving, fishing, family fun, or a combination of all three, you'll have the opportunity to work hand in hand with the team to deliver precisely what you desire. On completion, your Pinnacle is a boat with your fingerprints all over it.
Smoke & Mirrors, the Pinnacle 720 I reviewed is all that and more and it is a boat that has been built with serious game fishing in mind and everything about the boat says, Game On! It's a boat set up for action, from the self-draining decks and live-bait tanks to step-through transom and huge fishing platform.
The monohedron hull was designed by Scott Robson, who has an enviable reputation for high-performing, soft riding blue water boats and the Pinnacle 720 is no exception. While I only saw a moderate chop in Mercury Bay, with 15 knots of breeze and a low swell, the Pinnacle 720 felt solid and secure. It's a slippery boat through the water and planes at around 11 knots @ 2500 rpm.
I liked the ZipWake interceptors which can be set in either auto or manual position and make a huge difference to the trim of the boat, especially in a beam sea.  Once configured for the boat they work perfectly in auto, although if you're like me, I still like to do the trimming myself.
Power options are both outboard and stern drive, with the 720 running one of the first Hyundai Seasall engines in the country. A 2.2 litre, four cylinder, 16 valve DOHC  common-rail engine, the R200S produces 200hp @ 3800 rpm, coupled to a MerCruiser Bravo One and 21" Mirage Plus propeller.
One of the key objectives in a boat like the Pinnacle 720 is to achieve the best possible fuel efficiency. That's why Alistair says he prefers inboard diesels. To date, all his boats have been diesel stern drive powered, although the next boat, another Pinnacle 830, is having a single Honda 250 outboard.
Maximum speed with the Hyundai Seasall R200S was 31 knots, which saw a low fuel burn of just under 40 lph and range of around 250nm. Considering that the boat has been designed for game fishing and long days towing lures, the main objective is best fuel economy at trolling speeds. We recorded 5.5 lph @ 7 knots and close to a 400 nm range. This was possible partially because the owner had opted to go to a maximum size fuel tank (350 litres) as opposed to the standard 200 litres. This has increased the range at trolling speed by around 120 nm.
When I asked Alistair if the layout of Smoke & Mirrors was typical of his boats, he remarked that there was no typical layout. "It's all about what the owner wants, so we start with a clean sheet of paper and work up from there".
Smoke & Mirrors is a fishing boat that some might say cuts a few corners in what you might expect in a boat this size. There is no fresh water system and no built-in galley, but both are available. The owner used the water tank and kill bin space under the cockpit floor to increase his fuel capacity and has a small bbq for cooking.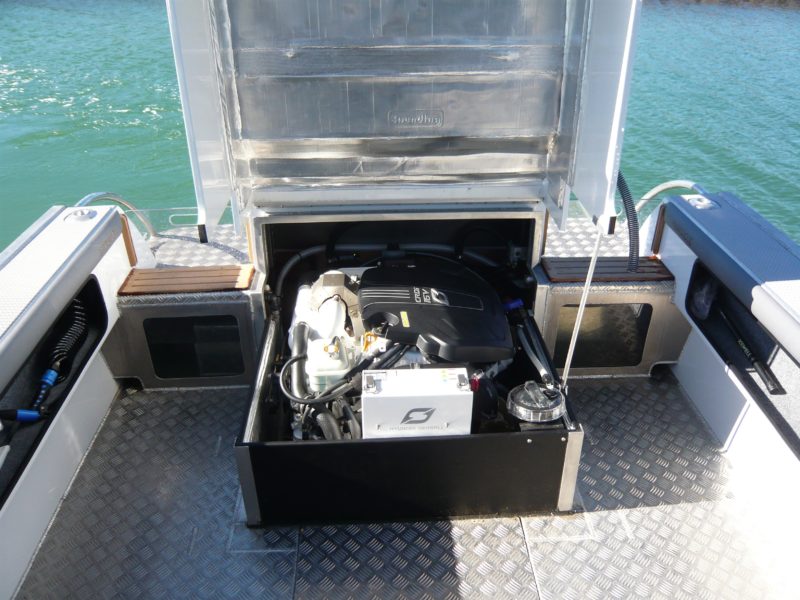 A sliding and lockable door closes off the cabin, so there's some security for your rods and gear when you're away from the boat, plus privacy for the head. This is built-in under the forward squab in the fully lined cabin and the 1.8m berths either side can be transformed into a big double with an infill. There is no storage under the side squabs as they are all reserve buoyancy. Alistair says 'on paper' the Pinnacle 720 has 120% buoyancy, so fully flooded it should still stay afloat.
The cockpit is large and uncluttered, with attention to detail everywhere and a lot of protection afforded by the 1.9m high hardtop. All the glazing is done by Seamac, who have developed a very smart sliding side window system, with the glass panels recessing back into hidden cavities. This offers a wider than normal opening either side of the hardtop. The front screen is 5mm clear, with 4mm tinted side panels.
This is a true blue fishing machine, so everything is about the catch. There's the customary overhead rocket launcher, Douglas outriggers with 6.7m carbon CTS poles, Hella Seahawk flood light, wide flat side decks with six recessed rod holders, coaming bolsters, electric reel sockets and long storage racks for tag poles, gaffs and rods.
Across the transom, there are step throughs with live bait tanks to the wide clear transom. The composite engine box doubles as the mount for the removable bait station and a small gas bbq with its own butane bottles, so there is no loss of space with gas cylinders. There's also a squab available when game fishing. In the outboard version this is removed, adding so much more open space and workable area to the cockpit.
The helm is custom designed to suit the owner's choice of electronics and controls, in this case, a Furuno TZ12 MFD, Furuno autopilot, GME VHF, Fusion 750UD with 10" Sub and 7.5" Signature speakers and engine management instruments.
Seating is all custom made and in Smoke & Mirrors, the owner has gone for a fixed single bench type helm seat with bolster and king/queen opposite. Pinnacle uses Silvertex vinyl for all their upholstery, which provides strength with a unique woven fabric look and feel. It is extremely UV resistant and an effective barrier against germs, abrasions, and stains.
Underneath the helm seat is the batteries, circuit breakers and access to the autopilot pump, with a pull out 111-litre Waeco bin opposite. This will be used as the 'kill bin' as that space has gone from under the sole with the extension of the fuel tank.
Interestingly the majority of Pinnacle boats sold to date have gone into the fishing charter business. Pinnacle has boats being used as far away as Wellington and Napier as well as Lake Waikarimoana. All boats are built to MSA Survey standards. Buyers of Pinnacle boats are not first-time buyers and are boat owners that know what they want and probably can't find it all in a production boat. "The ability to offer full custom, the highest standard of construction and fit out, plus having a hull that outperforms anyone else means our customers know that they are getting the perfect boat for their needs", says Alistair.  Hard to argue with!