When I asked Riviera marketing  manager Stephen Milne how he would best describe the company's flagship, the Riviera 77EB, he summed it up in one word. .. sensational! And quite honestly it's hard to disagree with him.
Riviera Australia have been building boats for 35 years and in that time they have given us some outstanding models within the almost 5100 boats they have launched. With 15 models and growing from four style ranges, plus two models under the Belize brand, Riviera has the market well and truly covered.
However, all those boats aside, in my opinion, the Riv 77 is their best yet. It is the piece-de-resistance of all Riviera's that have gone before and establishes a new benchmark for the company when it comes to quality of finish and appointments. This is unquestionably a boat that leads the rebuilt Riviera Australia into new territory and reinforces it as a global brand, the equal or better of any of its competitors.
The Frank Mulder designed Riviera 77 was born in 2008 as the Riviera 70,  grew into the Riviera 72, then 75 and now as the Riviera 77. Our boat was hull #10 from the series, although now very modified and the second of the new 77s, with a third under construction.  All those overall length changes have been made in the cockpit, where more working space has been offered and the hull extended accordingly. Those are transom to bow lengths and do not include the extra length of a stern platform, something that boat 77/04, as it was destined to be used for game fishing, didn't have. The superstructure has remained unchanged.
The extra length has been more than just an extension of the deck past the transom, with the running surface extended at the same time. Now around 2m longer on the aft running surface, the differences have translated into a better-balanced boat with improved fuel economy and handling.
Standing on the jetty at Runaway Bay, while waiting for the arrival of the Riviera 77 EB/4 and talking to Riviera Marketing Director, Stephen Milne about the new boat, I got a distinct feeling that I was about to be impressed. Over a coffee earlier, Stephen had given me a rundown on the concept and history of the new boat and I could tell from his vibes that he was excited and certainly passionate about the company's latest creation.
When the 77EB came into the entrance of the marina, I immediately saw why. Wow! The stylish lines of the Riviera 77EB are sensational. From the super dramatic split level window treatment in the hull to the bold profile of the superstructure and the massive fighting tower, the boat is dressed to impress!
Skipper Curt Goldring showed just how easy this 25m, 54,5000 kg boat is to manoeuver, Using the Twin Disc EJS, integrated with the Quick Shift gearboxes that then link in with the hydraulic bow and stern thrusts, he was able to spin the boat in its length and gently bring it alongside the jetty. The low profile cockpit coaming meant it was an effortless task to climb aboard.
Our test day was typical moderate seas off the Gold Coast, with a strong swell and a gentle breeze just enough to lift the odd caps off the waves. Cruising down the Broadwater in a boat as big as the Riv 77EB, with twin 1800hp MAN 12Vs working at around 1800 rpm @ 22.5 knots, I was super impressed with the quietness aboard the boat, especially in the flybridge, but also equally in the lower saloon. Once we headed through the seaway and into the open water, and with the throttle hard open at 2358 rpm @ 32.4 knots, the noise levels were still noticeably low, with just the whistle of the turbos breaking the silence.
In the short sea state, the Riviera 77EB presented a nice comfortable cruise around 1950 rpm @ 25 knots and it didn't matter how fast you were going, the handling and ride remained the same. Smooth, quiet and very pleasant. I felt like I could have carried onto NZ, it was that good.
If you are planning passage making with the Riviera 77EB then at 1100 rpm @ around 10 knots you have enough range to cross the Tasman to Auckland, travel up the coast to Darwin or head across to Noumea from Brisbane. If you plan to troll lures, then the standard fuel capacity of 9450 litres, will give you a massive trolling range from over 2000 nm to more than 3800nm depending on your trolling speed.
This is a very 'slippery' hull with the transition onto the plane hardly noticeable. The 3600hp on hand pushing the 54,500 kg hull up into cruise mode very quickly and without any fuss. All three of the Riviera 77EB's have been MAN powered, with #3 having the upgraded MAN V12 1900hp engines. Previous boats in this series have also been powered with Caterpillar C32s.
From an engineering standpoint, the Riviera 77EB is exemplary. In the 77EB, Riviera has incorporated strategically placed inspection ports, so if you ever need to run any wires or for servicing you have easy access to every system. All the pumps for the ventilation system are in the engine room so there's no noise coming through the vents and extract fans when you turn the air on. Even the cavities between the bulkheads have been filled with a closed cell foam to do again whatever is possible to bring noise levels to a minimum. Small things, but again illustrating the high attention to detail throughout the boat.
Riviera also now use C-Zone, with full interaction, which has allowed the large double door covered circuit breaker board to be replaced by an iPad. Everything on board the boat, including plumbing, electrical, lighting, tankage levels, alarm and engine and fuel management, etc. is all there on the convenience and flexibility of an iPad. Being fly-by-wire the runs of cable throughout the boat is also greatly reduced.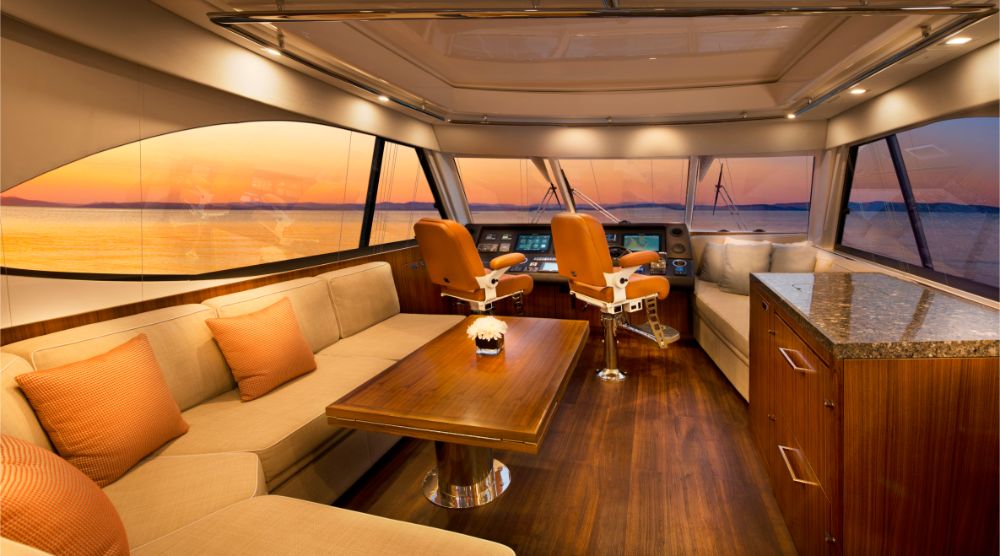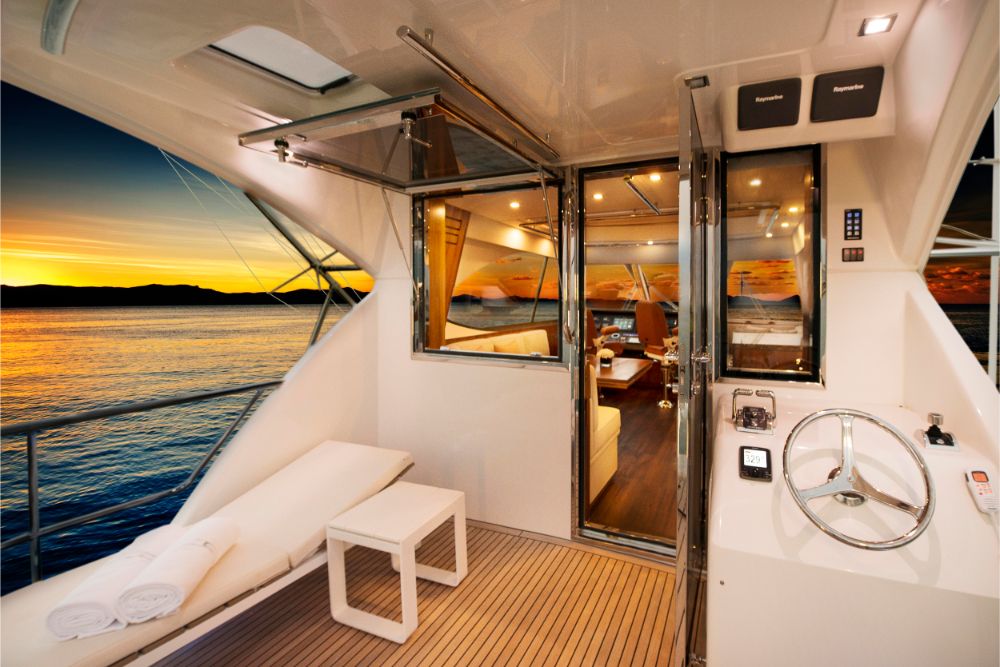 When you step aboard the Riviera 77, you can not help but be impressed by the quality of workmanship. From the leather inlays to the satin walnut timbers, the veneer wrapped alloy door frames and the leather furnishings, Riviera have upped the ante. Forget what you may have been told about production boats, the new Riviera 77 is right up there when it comes to presentation and quality.
The open plan saloon/galley layout of the Riviera 77 is very contemporary and clean, with the lounging/dining area all on one level. The saloon area is split into two dedicated spaces, galley aft and lounge dining area forward. The lounging and entertainment area has a ten seater U shape dinette, with hi/low table, a couple of free standing chairs, an entertainment cabinet, electric hi/low 60" TV, plus bottle & glass storage and a refrigeration section complete with wine cooler. The uninhibited window profile has been dropped down to maximise space. A lot of effort has gone into reducing the complexity of the lines, making it easy on the eye. Robust and uncomplicated.
If you like your cooking, then you'll love the galley. Placed port aft, it opens to the alfresco mezzanine area via an opening up rear window. With the rear saloon door open at the same time, there is great flow through of the inside/outside living spaces. A trend that I see now on just about every new large cruiser.
The galley has everything a serious chef or casual cook would want. Plenty of Corian bench space, four element induction cooktop, combo oven/microwave with integrated grill, dedicated crockery and cutlery drawers, dishwasher and a huge amount of fridge and freezer space. Again, if you want something different, then there is the option of a custom made breakfast bar with stools. While the sole in the forward section of the saloon is all plush carpet, the galley is finished in hardwearing vinyl.
Incorporated into the saloon and galley are four fridges and two freezers, but this can still be customised further. In our boat, there were many more in the cockpit and flybridge areas, catering for everything from drinks and ice to fish and bait storage.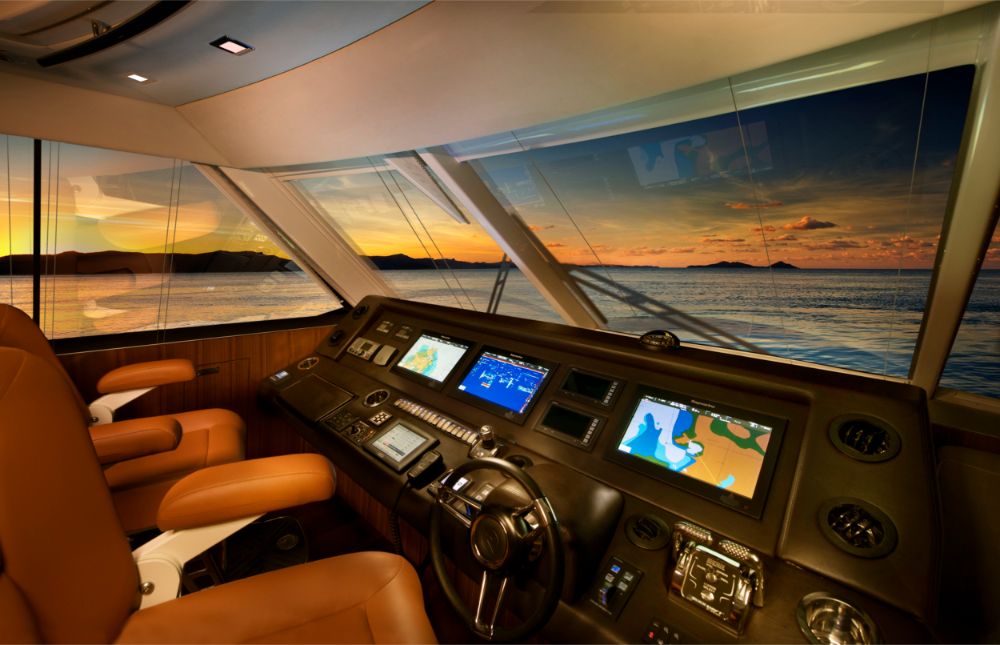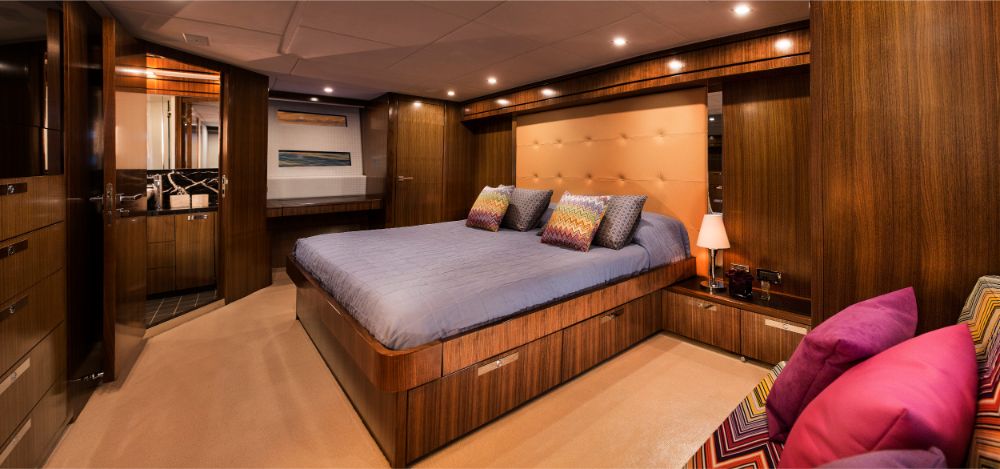 Access to the flybridge is via an internal staircase opposite the galley, which is unobtrusive, thanks to the high gloss floating teak treads that don't break too much into your sightlines. Below this is a small breakfast bar or space for your laptop if you find you have to do a little work while you're away. And, when you get upstairs you'll find a whole new world. Riviera has once again surpassed themselves and offer an enclosed flybridge that would be hard to better.
The staircase has been moved further aft, so there is now more space available for the wet bar and lounger on the starboard side. Opposite is an L shape lounge with a hi/low table. Even thought this boat had a game tower, it was still possible to maintain the huge opening sunroof.
There are again some layout variations available, especially in the seating options, with two or three helm seats available. Our boat was fitted with a pair of electrically adjustable Pompanette Platinum seats looking towards a massive console with a comprehensive array of electronic engine instrumentation and vessel controls. These include a trio of Raymarine GS 165″ MFDs, RS130 GPS, a 4kw 72NM HD radar scanner, and P70R/ACU-300 solenoid autopilot system.
A stainless steel rear bulkhead incorporates a hinged door and awning style window that leads onto the aft deck. Here you'll find an aft docking station, another small lounge, table, some more refrigeration and access to the tower. With a side mounted access ladder the crew can also go all the way from the engine room to the upper deck and the tower, without having to step inside the boat. Riviera 77EB/4 is fitted with a single platform custom designed tower, designed by Riviera and built by Riviera's in-house stainless steel fabricator.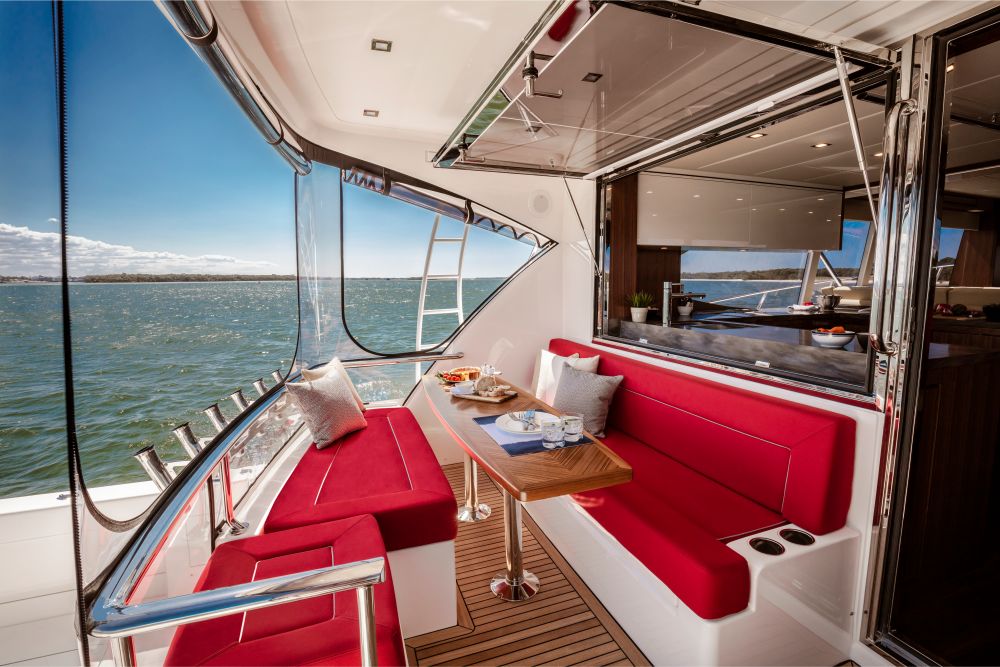 When you see all the specialist fishing gear aboard, such as the electric teaser reels in the hardtop, custom 24V deepwater downriggers, Tiagra 80 reels with 130lb line, kite fishing rods and Rupp hydraulic outriggers with triple-headers, it's easy to see that Riviera 77EB/4 has been set up as a serious offshore deep water sport fisher.
The cockpit is split into two levels, with a mezzanine dining area straight behind the galley, plus a wet bar opposite (more refrigeration). Drop down three steps and you are into the real business end of the vessel, where the owner plans to spend a lot of his time hooked into huge gamefish. Centre stage is a custom made fighting chair, with a quartet of tuna tubes in the transom. The cockpit includes a couple of massive fish lockers in the sole, one complete with an ice chipper, plus there are the customary live bait tanks, tackle storage and bait/lure prep areas.
If you don't want the sports fishing layout, you can opt for a transom module that includes a bbq, live bait tank, sink, rubbish bin and storage, all set between twin transom doors and a boarding platform.
For serious sunning or maybe quiet contemplation, nothing beats the sense of space and freedom on the massive foredeck. A recessed area in the deck can also accommodate a tender, making it more secure and less obtrusive from the side profile.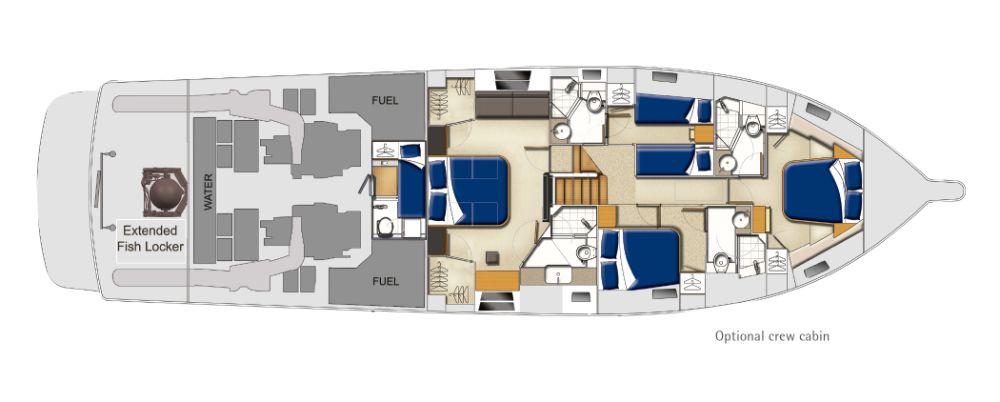 Riviera gives you a variety of options when it comes to the cabin layout, which includes either four or five cabins, albeit with a variety of berth configurations. For example if you are planning to have a full-time crew aboard, the forward twin cabins can be converted to a second crew cabin with access via a deck hatch. However, there is already a two-person crew cabin forward of the engine room. Ours was a four-cabin boat, with a single VIP cabin forward with twin midship cabins, one with three single bunks, the other with a Queen size double and an aft master with a king size berth. Just how you want the layout is totally your choice. In the previous 77EB the port side guest cabin was set up as an office.
The port side cabin's en-suite also doubles as the day head, with both the other two VIP cabins and the master all having their own en-suite. Stephen likens the fit out and finish of the en-suites to business class on Emirates and I would have to agree. All are decked out to a very contemporary design, with marble bench surfaces, raised porcelain bowls and large walk-in showers.
The full master stateroom has a king-size master in the centre with bedside tables with drawers either side, finished with leatherette inlays. The headboard is completed with buttoned upholstery and here too, you can make your choice to what style of finish or material/lining you want.  Storage throughout is plentiful with his and hers walk-in wardrobes with cedar linings, plus large recessed drawers under the berth, which also features reflective mood lighting around the base. 
To starboard is a timber and leatherette writing bureau, which comes with a concealed mirror and doubles as a makeup vanity or jewellery case. Forward is the extra large en-suite with twin vanity bowls, double size shower and all finished with Grohe quality bathroom fittings.
One of the great features I liked about the cabins is the expansive hull windows that not only provide plenty of natural light but are also great to see what's happening outside, without having to peer through a small porthole. They look great and they are very functional. All cabins are individually air conditioned by way of a trio of condenser units, so you can adjust the temperature to suit. All the AC controls are hidden away in cupboards, which attributes to the clean lines throughout the vessel. Other neat items are USB charger and HDMI inputs in each cabin. Electric blinds are also standard.
The Middle East has been a particularly strong market for the Riviera flagship, with the first three 77EBs sold to Middle Eastern buyers and further interest from New Zealand, Europe and the Americas. The overall package of the boat is impressive and certainly credit to the Riviera team.
The Riviera 77EB is a genuine and practical boat that is designed as a seagoing vessel, which is more than can be said for a number other competitive brands of a similar size. Once again Riviera has brought together the Kiwi/OZ style of combining indoor/outdoor living so beautifully well in a hardtop design. While unquestionably a boat that has the smarts to make it a favourite of the cruising set, it's also well placed to be a popular boat on the game fishing scene.  A task that Riviera 77EB/4 will certainly be used for.
Boat Design Name: Riviera 77EB/4
Year Launched: 2015
Designer: Frank Mulder
Builder: Riviera Australia
LOA: 24.74m
LOH: 23.52m
Beam: 6.32m
Draft: 1.82m
Displ  (Dry): 52,200 kg
Max Speed: 32.4 knots (MAN V12)
Construction: GRP
Fuel Cap: 9450 litres
Water Cap: 1000 litres
Engines Make: 2 x MAN V12 @ 1800hp
Gearboxes: Twin Disc MGV6599A
Drive Train: Shaft
Propellers: Veem 42 x 45 5 Bld
Generator: Onan EQD 22.5kW x 2
Inverter/Charger: Mastervolt
Air Conditioning: Cruise-Air
Watermaker: HRO
Bow Thruster: Twin Disc EJS hydraulic      
Stern Thruster: Twin Disc EJS hydraulic
Anchor Winch: Muir 4500
Anchors: Ultra
Steering: Hydraulic
Engine Controls: Twin Disc
Lighting: LED custom
Paint (Antifouling): Wattyl Paints
Hatches: Bomar
Wipers: Hepworth
Windows: Riviera
Porthole Hatches: Port light windows by Riviera
Heads: Planis
Woodwork: Walnut (Satin)
Liferaft: Sea-Safe
Davit Crane: Steelhead ES1500
Tender: Sirocco 310
Stainless Steel Fab: CBS
Saloon Doors: Aritex
Trim Tabs: Humphreys Autotabs
Helm Chair: Pompanette
Upholstery: Riviera
Searchlight: Sanshin
Autopilot: Raymarine P70R
MFD Screens: Raymarine GS 165 x 3
VHF: Raymarine
Ent Systems: Bose and Yamaha
Systems Mng: C-Zone
Price As Tested: AUD$6,265,000.
| | | | | |
| --- | --- | --- | --- | --- |
| RPM | KNOTS | LPH | LPNM | RANGE |
| 600 | 6.6 | 15.0 | 2.21 | 3842 |
| 900 | 9.2 | 52.0 | 5.61 | 1516 |
| 1200 | 10.8 | 133.0 | 12.31 | 690 |
| 1400 | 12.2 | 213.0 | 17.46 | 487 |
| 1600 | 18.5 | 265.0 | 14.32 | 593 |
| 1800 | 22.5 | 347.0 | 15.42 | 551 |
| 1950 | 24.7 | 426.0 | 17.25 | 493 |
| 2150 | 28.6 | 543.0 | 18.97 | 448 |
| 2300 | 31.8 | 624.0 | 19.61 | 433 |
| 2358 | 32.4 | 662.0 | 20.42 | 416 |