Two issues ago, we tested one of the very first new models of Sea Nymph to arrive on our shores, the 635 Oasis. This month Freddy Foote tests one of its close siblings, the 640 Blazer TT, a boat with rich heritage on the kiwi boating scene.
When you think of Sea Nymph some of the first things that come to mind are their legendary models such as Hustler, Regal and of course Blazer. Well, after a long absence, the Blazer is back.
If you look at this new 640 Blazer TT compared to the 635 Oasis we tested in May, you would think they aren't that too dissimilar. But according to Robbie Hopper, the man behind Sea Nymph, the boats are in fact entirely different.
"The hull is quite different. Where the Oasis 635 was based on an all new strakeless hull, the 640 Blazer TT enjoys the original Sea Nymph hull design that made the boat so famous all those years ago," says Hopper.
"This new boat is all fibreglass with no timber, and so it enjoys fibreglass stringers, floor, and is built to the international CE standard."
The Blazer is available with a rigid GRP targa top or as a traditional bimini top with a rocket launcher. Targeted at the fisherman, the Blazer also enjoys a healthy cockpit, twin transom walkthroughs and enough optional extras to make it a more than a capable fishing machine.
As you look across the transom, there are sizeable boarding platforms on either side of the Suzuki outboard. A boarding ladder is located on the port side. However, there are grab rails on both sides to aid in handling the boat or getting back onboard.  Removable inserts are in both corners allowing you to configure which side you would like to have your walk through on.
Across the stern is a full-width bench seating, made up of two removable bin seats. It's easy enough to pull these out once at the fishing spot and to move them forward out of the way or to simply leave them behind if you don't need them. The seating configuration forward consists of twin swivelling,  fully adjustable pedestal seats
In the cabin, a large V-berth provides storage underneath plus a toilet.  Two insert squabs are provided, one to cover the toilet, and a second larger one to convert the V-berth to a full double. A canvas privacy curtain easily zips into place to close off the cabin area.
The cockpit is very roomy and provides plenty of space to move around. Four-rod holders are built into the coamings and if you need more, then a rocket launcher can be fitted as an optional extra. LED cockpit lighting is also a nice feature.
Aft, there is a healthy sized underfloor storage locker, big enough for dive bottles, while ahead of that, and between the seats is hatch access to the 180L under floor fuel tank.
The cockpit is finished with Ultralon U-Deck flooring, which is a soft foam type finish that not only gives the boat a nice look but certainly makes it comfortable underfoot.
The seating position is very comfortable; the helm seat allows you to sit nice and high, with excellent visibility forward through the curved glass windscreen and there is a well-placed footrest below.
I found to stand and drive a bit of a stretch. I'm around 6'1" and I found the targa top above very close to the top of my head. So in rough conditions, it might be an issue. However, if you are shorter than 6'1" there won't be a problem.
Clears fit easily into place between the top of the windscreen and the targa top and slide into place on a track system much like a curtain.
There is a lift up bolster in the base of the seat, which gives you a bit of extra room behind the wheel and allows you to plant your feet firmly. 
Passenger comfort is aided by a sturdy handrail that runs along the entire inside top edge of the curved windscreen and there is another footrest below.
At the helm, the dash is very well presented with a single Suzuki digital engine gauge, with a Lowrance HDS 9 flush mounted MFD and  plenty of room to mount a larger unit should you wish. Either side of the helm area has sizeable side shelves to store small items, with additional shelving located below.
Test day conditions were reasonably calm in the waters off Gulf Harbour. The ride was comfortable and dry and any chop we did encounter the Blazer performed well. What was most noticeable however was just how stable the boat was as a platform. At rest, the boat was ultra stable and two of us moved around the cockpit with no excessive lean.
Our test boat was powered by a Suzuki 150hp four-stroke, but you have the choice of outboards up to 225hp.  The 150hp Suzuki on our test day managed to achieve 35.5 knots @ 6000rpm using 63.0 lph. At a comfortable cruise of 20 knots @ 4000rpm, the Suzuki was consuming 24.8 lph.
I found that the harder you pushed it, the better it went. Not too lively with the throttle hard down and very easy to trim. I suspect that on blustery days it will be prone to windage, so some trim tabs might be advisable. However, generally, you can trim the boat by moving some passengers around the cockpit.
Should you want to turn your Blazer into a game fisher – which can be done easily, we found that at 6.5 knots @ 2000rpm, the Suzuki 150 four-stroke was using 6.1 lph. Our test day performance figures were achieved with two adult passengers onboard and a full fuel tank of 180L.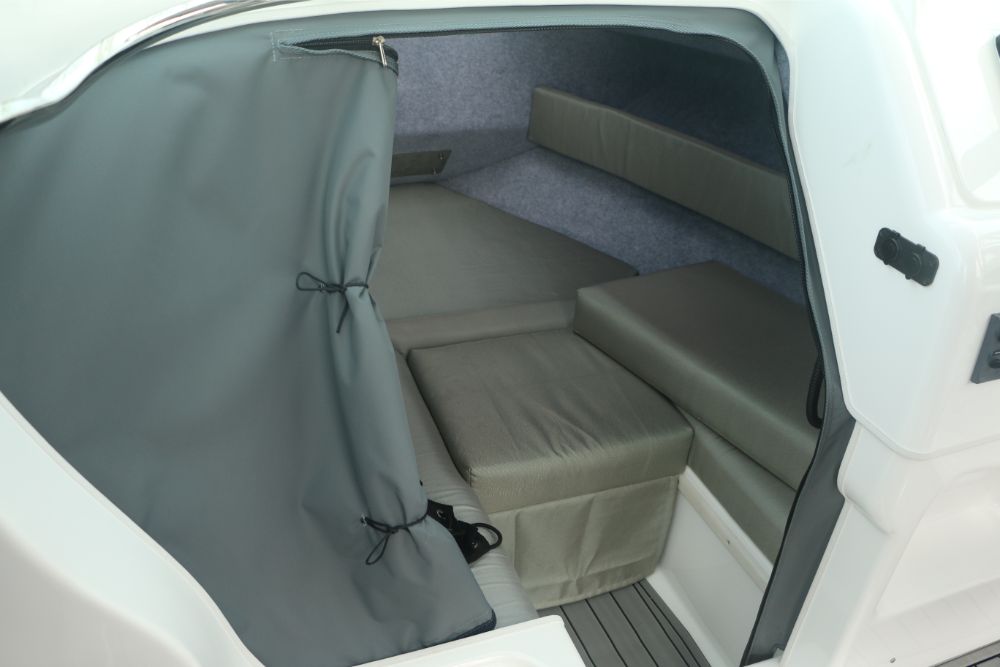 Like on the 635 Oasis, I found the 150hp performed well. Overall, it gave exceptional punch out of the hole and delivered respectable fuel figures. I think that a 150hp would be more than enough grunt for most applications, however, if you're planning on hauling quite a bit of gear then a 175hp or 200hp would be suitable and the hull will easily handle the extra power.
As tested, this example of the Blazer 650 TT was $89,990, with packages starting from $70,000. Included in the as tested price were a lot of features which ordinarily are considered as options by other brands, however, Sea Nymph have gone to the effort of packaging everything up as a turn key package. Overall, great value for money, and as I've said before, great to see the Sea Nymph brand back in NZ.
Model & Model:  Sea Nymph Blazer 640 TT
Priced from:  $89,990           
Price as tested:  $70,000
Type:  Cabin/Targa              
Construction:  GRP    
LOA:  6.4m     
Beam:  2.4m
Deadrise:  22 degree            
Trailerable weight:  1850kg
Test Power:  150hp Suzuki Four-Stroke    
Propeller:  19" 3 Blade         
Power options:  Single Outboard
HP Range:  150-225hp                     
Fuel capacity:  180L 
Trailer:  Tandem Axle – braked.
Notable Standard Features:
Ultralon, Targa top, Lowrance HDS9, bench seating, Two transom walk-throughs, drum auto capstan.
| | | |
| --- | --- | --- |
| RPM | Knots | L/h |
| 1000 | 4.0 |          2.1 |
| 1500 | 5.5 |        3.6 |
| 2000 | 6.5 | 6.1 |
| 2500 | 7.7 | 10.9 |
| 3000 | 10.0 | 15.0 |
| 3500 | 15.0 |        18.5  |
| 4000 | 20.0 | 24.8 |
| 4500 | 25.0 | 31.2 |
| 5000 |        29.0 | 37.0 |
| 5500 | 32.0 |        49.0 |
| 6000 | 35.5 | 63.0 |