The Adventure 1450CC is based on the same hull as the 1450D, with the main difference being the addition of a centre console. While the centre console unit does encroach on the open space of the cockpit, it does serve a practical and functional purpose.
When Russell Conder entered the alloy boat market, he wanted a boat that would cater for a broad spectrum of clients. After deciding on the hull shape, it was only then a matter of forming the cockpit design to suit a variety of choices. Based on the same 4.5m pontoon hull, the Adventure 450 is available in three versions; the 450D tiller steer, 450 CC centre console and the 450 Fisherman runabout. Russell has certainly made the best use of a great hull in offering three different variants in a cost effective way.
In the previous issue of Alloy Boat magazine, I reviewed the Adventure 1450D, a small compact and stylish tiller steer pontoon boat, built for Papamoa based, Conder Marine. Being tiller steer means the cockpit is all working space and uncomplicated in its design. I have a tiller steer boat myself and love the versatility that it offers, with room to move and room to fish all over the boat.
However, it's not for everyone and that's where the centre console comes in. In fact of all three models, Russell says that the centre console is the most popular of them all.
What the centre console does, is not only give you a dedicated steering station, but also adds storage and protection. The centre console of the Adventure 1450CC is a serious piece of gear and has been well thought out to offer the maximum use but with a minimal foot print on the cheque plate floor.
A separate unit, the centre console can be retrofitted to the open boat, if you decide sitting at the transom with a tiller handle isn't for you. There are fore and aft storage lockers kept watertight with So Pac hatches as well as a recessed storage tray on top. You have the option of putting your battery in the console if you don't want it exposed on the cockpit floor.
Forward there's a storage locker with a timber lid that can be optioned with a cushion if you want a little more comfortable seating. There is enough height in the forward locker to mount a small drum winch, which could be operated from the helm. Certainly something I would add if I owned the boat.
Although a small boat, you still need a dash big enough for a reasonable size fish finder or MFD and the centre console certainly provides that. You do have the option of a bracket unit with plenty of space above for mounting, our as on our test boat, a Raymarine Dragonfly fish finder set in alongside the Tohatsu binnacle controls.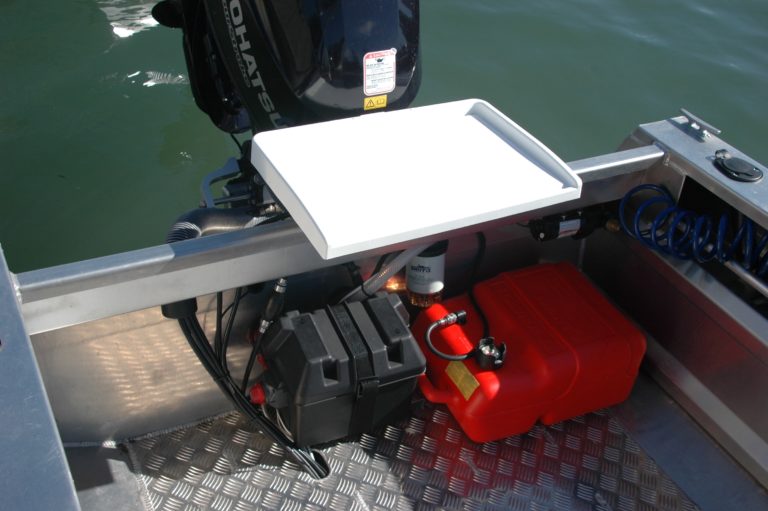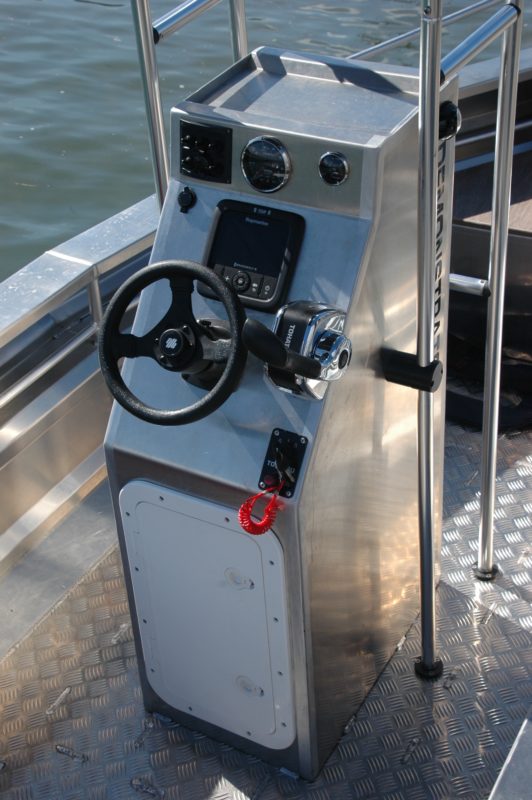 The other advantage of having a centre console is you have somewhere to mount the bimini. This not only gives you some shade and weather protection, – which can be enhanced with dro-down clears and a solid screen – it's also another option for rod holders and a rocket launcher. Adventure Boats us an Oceansouth Classic T-Top, which is adjustable to fit a range of centre console widths. The 32mm aluminium tube is strong and robust enough to also use as a handhold.
The Adventure 1450CC has a similar transom to the 1450D but without the full-width bench seat. The aft coaming is also higher, so there is less chance of any splash back when reversing. There is provision for a battery and a couple of tote tanks beneath.
There are a number of seating options, such as a single Softrider pedestal seat or a moulded bin with top cushion aft of the centre console. There's also space in front of the console for a smaller bin, giving you a couple of great fish bins and extra storage. This area can also be used for a second tote tank in a custom made locker.
At 1.4m wide internal beam, the Adventure 1450CC is a little wider than a lot of the competition, so maximum use has been made of the space available.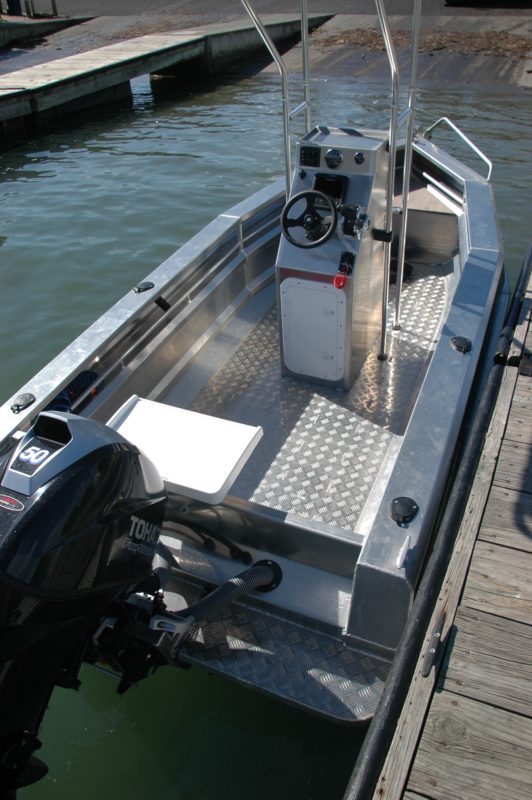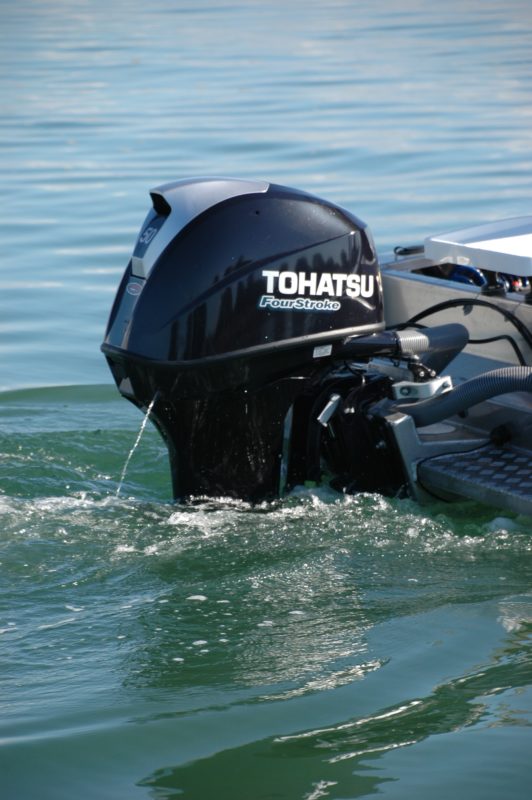 Our test day on Tauranga Harbour was windless, with mirror smooth water, broken only by our own wake. Naturally, the 1450CC performed beautifully. It rides like on rails and no matter how hard you turn it, it stays level. The wide down turned chines push the water away and even when we did head out through the harbour entrance and found some swell, there was never a hint of spray coming aboard.
The Tohatsu 50 4S on the transom gave us 30 mph @ 6000 rpm and 23.5mph @ 5000 rpm. Construction is 4mm hull with 3mm pontoons complete with three airtight chambers per side. The floor is sealed and acts as a huge buoyancy chamber, which Russell says makes the 450 unsinkable even when fully flooded. The outboard sits on a pod, with a cheque plate platform either side.
The Adventure 1450CC is a great little boat for diving and fishing which has found a lot of clients not only in the Tauranga area but also as far away as Wellington and Timaru. It's lightweight to tow, easily handled by one person and doesn't require a lot of horsepower. Overall a very cool and stylish centre console.