25 INNOVATIVE PRODUCTS FROM LAST 25 YEARS
Over the past 25 years we have seen an incredible number of new and innovative marine products, from outboard technology to electronics, deck hardware to materials. Firstly, in the pages of Propeller and then through MotorYacht and now PowerBoat, we have written about, reviewed, tested and closely followed their developments. The following is our take on what we consider 25 of the most innovative and game-changing products over the past 25 years.
ELECTRIC TROLLING OUTBOARDS
O.G. Schmidt invented the electric trolling motor in 1934 in Fargo, North Dakota, when he took a starter motor from a Ford Model A, added a flexible shaft, and a propeller. Because his manufacturing company was near the Minnesota/North Dakota border, he decided to call the new company Minn Kota. The company still is a significant manufacturer of trolling motors.
However, it is probably not until the last 20 years that the electric trolling outboard has entered into mainstream boating. It is now common to see them on boats from 4m to 8m and some manufacturers, especially of alloy boats, offer the engine mounting plate as standard. 
Twenty-five years ago, two-stroke outboards still ruled, with brands such as Evinrude, Johnson, Mariner, Mercury and Yamaha still in the 2-stroke mode. Honda led the 4-stroke market, with engines from 2hp-90hp.
The first 4-stroke Yamaha motor, the F9.9A, was released in 1984. This gave Yamaha a leg up on the competition when emissions regulations started being implemented in the 1990s. While Yamaha had been developing cleaner 4-stroke models for over a decade, neither Mercury nor Johnson/Evinrude had a single 4-stroke model in their line-up. A benchmark for Yamaha 4-strokes was creating the 100hp F100A in 1998 and then, for 2001, the ground breaking 225hp F225A. At the time of its release, the F225A had the highest horsepower rating of any 4-stroke outboard in the world.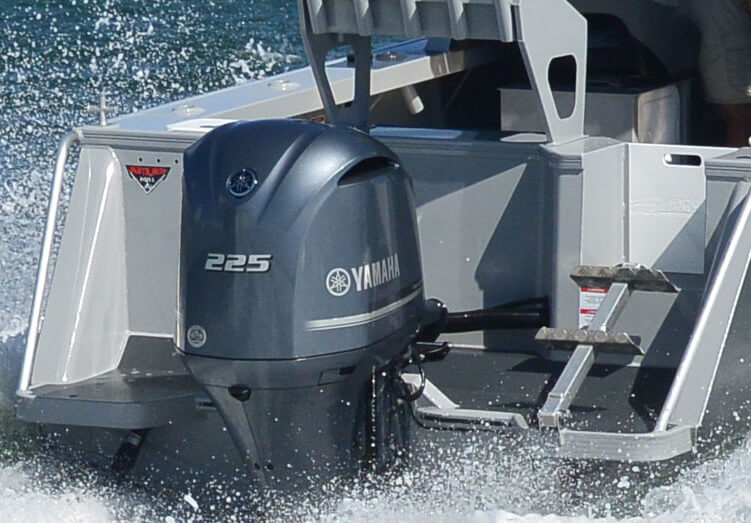 When the phased-in environmental regulations on marine engines took effect in 1996, Mercury met the new requirements with a complete four-stroke outboard line, complemented by its first-to-market, low-emissions, direct-injection two-stroke OptiMax technology. Suzuki were the first with a fuel-injected 4-stroke (the DF60/70), in 1998.
As for OMC, they went through new ownership and followed the direct-injection 2-stroke pathway. This eventually contributed in no small way to their final demise.
While the Yanmar D27/36/40 hp 3-cylinder diesel is no longer available, it was the first successful diesel outboard in the market. Today, diesel outboards have a resurgence, such as the Neander DTorque 111 (50hp), manufactured by Neander GmbH in Germany. At 175 kg, the 50 hp DTorque is far from light. Still, if, as has been mooted, the manufacturers are eventually able to raise the output to 70 hp without increasing either size or weight, then new market opportunities are assured.
However, newcomers in the market are the Swedish-built OXE, available in 125-300 hp outputs and the U.K. based Cox Powertrain with their CXO 300hp engine. This unit is listed as weighing 380 kg for the 25″ XL shaft version, but again, and as per the OXE, the weight will not be a significant factor on the types of boats to which the engine will be fitted.
Both the Cox and OXE and Neander diesel outboards have revolutionised outboard diesel technology, and there is more to come in the future.
Twenty-five years ago if you wanted a stabiliser for your boat, you had the choice of fins or 'flopper stoppers'. Although gyros have been around since 1743, it wasn't until reasonably recently that they started appearing in pleasure yachts. Around 2000, Mitsubishi Heavy Industries (now renamed Tohmei) teamed up with Ferretti Group with an exclusive agreement to put their gyros into the company's branded motor yachts.
Over time the market started to accept the gyro and other manufacturers like Seakeeper and Quick entered the market. In recent years the focus has been on developing more compact and lighter units that can be used on smaller craft like trailer boats. 
Mounted anywhere in a boat's hull, gyroscopes will significantly reduce a boat's roll and are now small and light enough for larger trailer boats. 
Soft plastics found their origins in the late 1950s and early 1960s, with small worms and grubs being moulded from hard rubber. The stiff rubber used and the basic shapes produced did not allow modern soft plastics' flexible action and effectiveness to be observed. In 1967, the first of the contemporary era soft plastic baits was released and by the early to mid-1980s, there were many new entrants into the market. In the past 20 odd years, the soft bait market has boomed, and now we have a wide choice of colour, shapes and sizes. 
Today soft baits have changed how many of us go fishing and have become a standard item in the tackle box. If you don't like the smell or handling pillies or squid, then soft baits are the way to go.
When we published the first issue of Propeller magazine in May 1996, drum winches were almost unheard of. While In 1995, Australian Dean Forster pioneered the drum style anchor winch to suit trailer boats, it took over five years to find it's way into mainstream trailer boating. And while drum winches were not a new concept, Forster perfected the application for small boats, recessing the drum winch into the anchor locker and below the deck profile.  His award-winning company Stressfree Marine is one of the world leaders in the manufacture and design of drum winches.
Jay Forster, Deans son also an engineer is now at the helm. He along with his wife Magda are a dynamic couple. They have taken the business to the next level particularly when it comes to innovation and custom products.
While the first trailer boat drum winches were seen as cumbersome arrangements mounted on the foredeck, today that has all changed. They did a great job, but they looked ugly and in many ways were very agricultural. The idea was right, but the profile needed some refinement.
All of a sudden, the drum winch gained acceptance, especially amongst the alloy boat manufacturers. The benefit they had over the fibreglass builders is they could easily adapt the anchor locker to accept the size of a drum winch and electric motor.
Today there are over a dozen manufacturers and over 40 models to choose from.
Light emitting material had been around since the early 1900s, but it is only in past 10-12 years that quantum leaps in the luminous intensity of LEDs per watt facilitated efficiency and intensity improvements in lighting onboard .
Gone are the days of hanging a tilly lamp off the rocket launcher to light the cockpit. Today LED lighting is mainstream, and New Zealand headquartered Hella marine has been at the forefront of the LED lighting design and development revolution with their unique 'fit and forget' durability proposition. Considered a world leader in the field, it wasn't until around 2005 that Hella marine released their first full LED navigation sets and as success bred success, Hella marine has rapidly expanded the portfolio to be the market innovators in all things LED since. However, Hella don't have it alone, with brands such as Quick, Lumitec also very active in the LED market.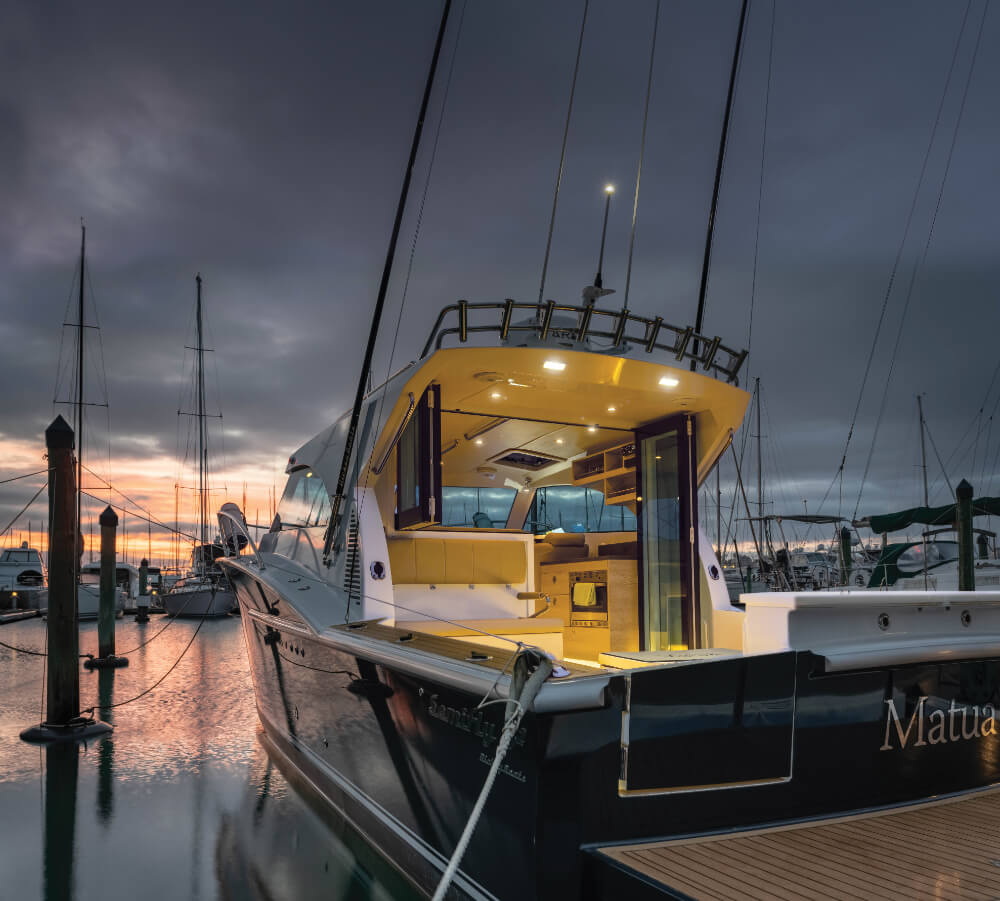 Without doubt, the single most influential driver for LED technology on yachts and powerboats is the considerable power saving on offer compared to incandescent lamps. Lighting systems are a significant part of a vessels electrical architecture where consumption can be dramatically reduced. The potential to save hundreds of amp hours is real and available now and has been proven worldwide by leading marine lighting manufacturers. Be it an overhead cockpit light or interior downlights, LED is where it's at.
Unquestionably, Kiwi alloy boat builders and designers lead the world when it comes to the style, the look, the practicality of the fully enclosed or semi-enclosed hardtop. It's now many years since the first hardtop boats appeared and we started to get used to the idea of what they could offer.
Early exponents of the hardtop, such as Ramco, promoted the serious fisherman's all-weather boating aspects. Their Ramco Explorer 760HT, released in the mid-1990s was one of the first big Kiwi hardtop models, and indeed the first hardtop, Editor, Barry Thompson had ever reviewed. In time all major manufacturers followed with their examples. Brands such as Stabicraft, Lazercraft and Southern even followed with fibreglass hardtops as an option.
Today, virtually every manufacturer offers hardtops in its range. Some start as low as 5m, but generally anything over around 6-6.5m is considered suitable as a hardtop model.
If you like the classic look of teak on your decks and floor, but don't want to go to the expense of real teak, then maybe you should take a look at one of the many synthetic equivalents.
Teak decking has been used in the construction of boats forever. However, this is not something that the average trailer boat owner would have on his 5-8m boat but is still acceptable on larger cruisers over 10m. 
With the advent of faux or synthetic teak, you can have the look of teak, but at a fraction of the cost and weight. Plus faux teak can be pre-cut on a computer and glued into place in a few hours for a fraction of the cost of real teak. 
There are quite a few different brands on the market, such as U-Dek, Flexiteek, Permateek, Seadek, Nuteak, Marinedeck 2000 and Nautikflor. In the main, they are all constructed from either lightweight closed-cell foam,or composite polymer based materials that are UV stable offering a high level of comfort underfoot and excellent traction in all conditions.  With the considerable cost savings involved and environmental issues, these deck alternatives are worth considering. Although each of the products gives a "teak deck look" there are differences. 
Back in the '60s, entertainment onboard would likely consist of an AM transistor radio, the aerial up and the signal coming in and out as the boat swung on the anchor. 
The '60s saw the advent of tape, encapsulated in a type of cassette, with the introduction of 8 track and later compact cassette players on the market. 
In 1983 Alpine introduced a marine-specific radio cassette – the 7235M (Marine). Still, it wasn't until 2001 with the Apple iPod's release that things started to hot up in the marine entertainment market. During the mid-2000s Sir Peter Maire acquired Fusion, a car audio company that would lead the world in marine stereo systems. Other big names to develop new product through the past few years specifically for the marine market are Clarion and J.L. Audio.
Stereo systems and speakers are now affordable, durable and practical and have brought sounds to everyone, no matter what size your boat.
We all know the problems that come with batteries, and when it is marine-related, it can be catastrophic. One of the best things to happen in the battery industry in recent years is lithium batteries' development.
Lithium batteries are primary batteries that use lithium to store energy rather than lead. They stand apart from other batteries with their smaller size, lighter weight, greater useable capacity, faster charging and greater cycle life.  While they are more expensive than lead acid batteries, when considering their greater useable capacity and far greater cycle life their cost per amp hour of energy delivered is less than traditional lead acid (Flooded, AGM or GEL) batteries.  In the marine industry Lithium Ion Iron Phosphate (LiFePO4) chemistry is primarily used due to its chemical stability and therefore inherent safety compared to other Lithium chemistries.  LiFePO4 batteries have a cell voltage of between 3.2 – 3.3V. A 12V nominal battery is typically constructed from 4 cells, whereas a 24V nominal battery is constructed from 8 cells.
Aside from the battery cells a correctly designed Lithium battery suitable for marine applications will have integrated cell balancing, to ensure the battery cells remain balanced, and a battery management system (BMS) that manages the battery and connected charge sources to ensure optimal performance from the battery.  The marine electrical standards (AS/NZS 3004.2:2014) clearly indicate what features a lithium battery BMS must have to make it compliant for marine use.  
If there is one boating style that Kiwi's unquestionably lead the world, it is amphibious boats. Three Kiwi brands, Sealegs (2004), Orion (2012) and Tectrax (2019) have continuously been pioneering the way forward for amphibious boating and in all cases taken it to the world.
While all three brands essentially provide the same amphibious system, technically, they each do it differently.
Wheelie boats or to give them the more common name, amphibious boats have gone from being on the fringe of boating to more mainstream, and it is three Kiwi companies that are leading the global design and development programme.
The Volvo Penta IPS was a revolution in marine technology when it was launched in 2005. It was initially seen by many as a system fraught with issues, with its forward-facing propellers. While the very early models did have its detractors, today the IPS system is seen as one of the most efficient and innovative marine propulsion systems ever designed. Today there are over 25000 units in use worldwide.
In 2019 Volvo Penta upgraded the IPS, focusing on updating the serviceability, reliability, and performance of its IPS. There are now four basic IPS models available, from the D6-IPS @ 300 – 480hp to the D13-IPS @ 701-1000hp.
Like trim tabs, interceptors are designed to trim a boat, but unlike trim tabs hanging off the transom horizontally, interceptors work by dropping vertically. While once the domain of larger vessels, they are now used extensively on trailer boats, especially the Zipwake brand. The first Zipwake Dynamic Trim Control system, the Series S, was launched in 2014. Volvo Penta's, Boat Trim System (BTS) and Humphrees have developed a wide range of models, especially suited to boats over 10m.
The main advantage of an interceptor system is the smaller blade and the speed at which it can deploy and retract. Interceptors move from fully retracted to fully extended in as quick as 1.5 seconds. That's four to five times faster than trim tabs, which typically take 6 to 8 seconds.
Since Underwater Lights introduced one of the first recognised underwater lights for the recreational boating market in 1991, the market has expanded with over a dozen international manufacturers. Deep-Sea released its first recreational underwater lights in 2003, and UK-based company Ocean LED and Australian based Aqualuma released their first underwater lights in 2005. Aqualuma has grown to become one of the world leaders in underwater light technology and continue to develop new and exciting products. They helped kickstart the evolution of light-emitting diodes (LEDs) for underwater lights in Australia and New Zealand. 
Other leading brand names now include Quick, Lumitec, Bluefin, Perko, Cantalupi and Sea Vision. As the name suggests, underwater lights are lights that work underwater, so obviously they are installed below the waterline for optimum heat dissipation and lighting effect. As well as looking good at night, they are perfect fish attractors, especially squid.
MULTI FIT TRAILER HITCHES
Why New Zealand still has two standard tow ball sizes is strange. We still have the 1″ 7/8 as well as the 50mm ball. You would have thought that since we changed from imperial to metric back in 1969, the Transport Dept would have had time to phase out the old imperial ball size gradually. But no, it is still very much alive and well.
There have been some ingenious multi-fit systems to counter the mismatched ball and coupling sizes, either by way of adjustable tow ball sizes to couplings that can be used for both sizes. Kiwi based company's CM Trailers and Trojan were amongst the first to come out with multi-fit couplings and quick change tow balls.
While inflatable live preservers have been around since the Mae West's invention in 1928, it is only in the past 20 or so years that they have become the life jacket of choice. While materials and design have changed over the years, the inflatable life jacket's fundamental technology and purpose remain the same. Inflatable life vests, or personal flotation devices (PFDs), are different from conventional life jackets in that they're intended to provide extra buoyancy for confident swimmers rather than to save the life of an unconscious person in the water. They are more comfortable to wear, give greater freedom of movement, and inflate manually or automatically.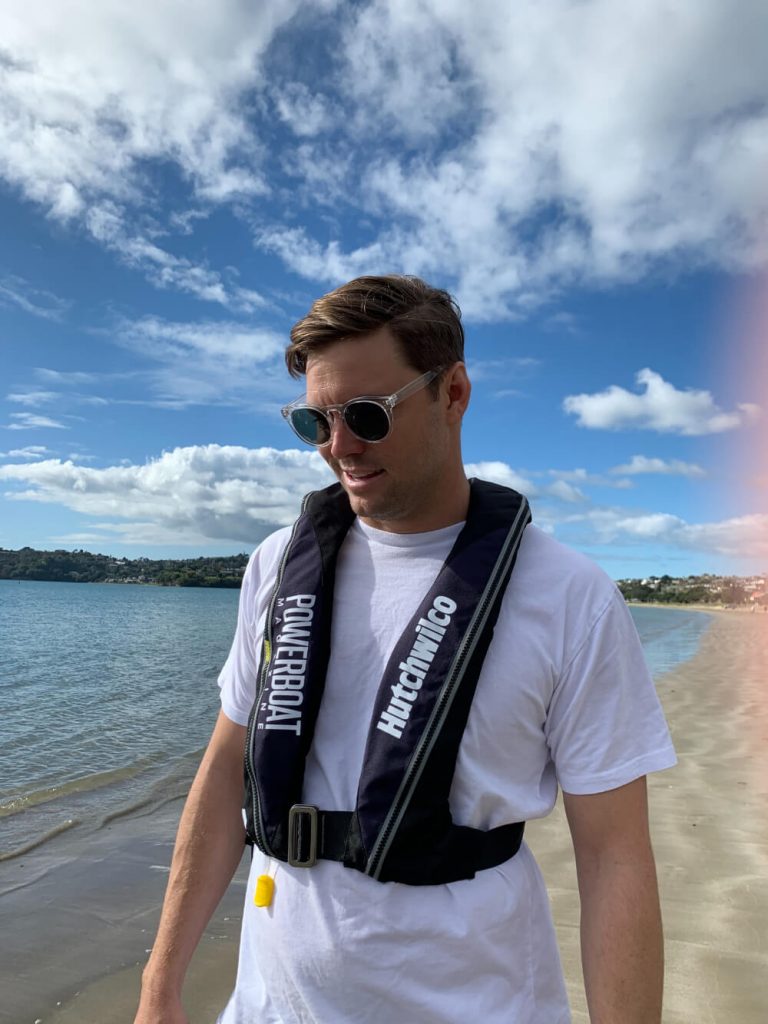 New Zealand company, Hutchwilco released its first inflatable jacket in 1988. Still, in 2006 they had a major redesigned of the classic lifejacket and introduced their Super Comfort Series which took the inflatable jacket to a whole new level. Since then continuous improvements and features have established the Hutchwilco Super Comfort Series as the countries most popular inflatable PFD.
Before a very smart Kiwi company, came up with Propspeed, there was very little on the market that you could apply to your underwater running gear to stop marine growth. Propspeed is the original propeller and running gear foul-release coating system, specially formulated to prevent marine growth from bonding to metal surfaces below the waterline.
Released in the early 90's Propspeed will last at least a year, or even two, although this depends on what sort of marine environment your boat is moored in, the water temperature, and how often you use it. Propspeed is now the market leader in marine growth protection for underwater metal surfaces.
Back in the day when we needed to flush our outboard, we slid on a pair of 'ears' around the lower unit water intake or used a canvas bag full of freshwater. Another common method was to squirt some dishwashing fluid into the hose line and let it circulate through the engine. Today it's a little easier with most modern outboards having a flushing port on the side. 
However, it wasn't until 2003 when Salt-Away, a new product made in the U.S., was discovered that we could get serious about flushing all the nasties from our outboard internals. Salt-Away, is 100% safe on all surfaces, non-toxic and biodegradable. Both are also ideal for spraying on your boat to remove any salt deposits. 
When it comes to electronics, nothing has seen more significant adaptations, upgrades, and functionality changes as the Multi-Function Display (MFD). When we launched Propeller Magazine in May 1996, the basic purchase was a fishfinder, that included, or not, a chart, with a 9″ screen considered large. While the integration of other functions such as radar and GPS were starting to be available, a fishfinder was more about reading the bottom shape. Black and white were still popular, and the colour renditions were mostly average. 
How things have changed with MFD's today still as compact as they were, although 9″ to 12″ is considered the norm in trailer boats, and for larger boats run-up to multi-screens 26″ and bigger. They can include just about every conceivable navigational, safety and entertainment programme and offer exceptional colours and clarity. And yes they even show fish. 
Kiwi engineers are always thinking of making something better, so when it comes to launching and retrieving your boat, there is probably no easier system than the Balex automatic boat loader. First released in 2016, the Balex Automatic Boat Loader (ABL) automates the launch and retrieval of your trailer boat. You don't even have to get your feet wet! No more clambering down the slippery boat ramp to attach the winch. No more cranking on the manual winch or slow unreliable electric winching. Simple, easy and hassle-free.
Nyalic is a transparent surface protectant that has been used extensively on alloy boats. Made in the USA and distributed in N.Z. by Nyalic NZ Ltd, (for the past 25 years) it is a nylonic, crystal clear polymeric resin coating that provides years of protection against chemical, environmental and ultraviolet corrosion on ferrous and non-ferrous metals, galvanised, anodised, powder coated and painted surfaces. It also works well on plastics, fibreglass, concrete, stone and masonry and even on wood but it is on the unpainted aluminium trailer boats that it has proven most popular in New Zealand. 
A boating application has the benefits of being highly corrosion-resistant, impermeable, will not crack or peel, impact-resistant, and non-chip. It also leaves a quality finish to an otherwise bland unpainted alloy hull.
SOFTRIDER & SUSPENSION SEATS
While early trailer boats all had permanently fixed seats, with no sliders and a swivelling set-up was a luxury, that has all changed. When David Goldsack introduced his first Softrider suspension seats, it was, as they say, a game-changer. Not only did they provide a softer and more cushioning ride, but they swivelled, could be raised and lowered and went forward and aft. Luxury. At last, a seat that you get position to suit your body size, rather than be forced into an uncomfortable position because the seat was fixed to the cockpit floor. The Softrider brand is now owned and manufactured in Hamilton, New Zealand by Hi Tech Plastics.
If you are serious about wanting a soft ride, you can always consider shock mitigation technology or give it its better known term, suspension seating. Developed over the years for military and commercial applications, they are now very much part of the marine seating business.
They are also not inexpensive when it comes to seating, but they do a fantastic job in providing a soft ride in all conditions. Several local and overseas brands are available, such as Scot seats from Hamilton-based HiTech Plastics and the Kiwi built Shark.
JOYSTICK DOCKING STEERING
If ever a product developed over recent years made docking a big boat less stressful and easy, it has to be joystick docking. Now you can bring a 20m flybridge cruiser effortlessly alongside the fueling jetty or into your marina berth, without panicking about scraping a pole or rubbing up against another boat.
Joystick steering has been around for some time in larger non-trailerable boats, and some of the best examples are from Volvo Penta, ZF, Yacht Controller and Dockmate. Now both Mercury Marine and Yamaha can offer joystick docking for outboards.
However, recently, Volvo Penta went one better with the release of, the world's first fully-integrated assisted docking system. The assisted docking system consists of the joystick that controls the steering input and the GPS-based Dynamic Positioning System antenna to know the exact position and heading. The Assisted Docking system integrates a software layer, with the GPS and IPS for a complete package including HMI (human-machine interface) at the helm. 
Having a device that enables you to mount your boating accessories on a base support with a universal socket and mounts, has been around now for a few years. The problem of having somewhere to put your cellphone, iPod, fishing rods, a glass of wine, or coffee was first answered by Wanaka based Peter Marshall when he invented the Tallon Socket.
Another New Zealand company, Railblaza, came to market in 2010 with a new approach to the universal mounting system. Railblaza began its life as a mounting system for holding things to the back of a quad-bike. Once the initial concept was developed, it was realised that this system had merits in the marine industry. It is now sold on over 50 countries.
The Railblaza StarPort mount and the Tallon sockets are continually being improved with new products continually being added. Now at least you have somewhere to put your tinnie when the fish strikes.