In the last 17 years, while there have been a lot of significant changes in the style of boats we go boating in, conversely in some sectors things have remained much the same. In our first issue in June 1996 we featured a Buyers Guide to 5m-5.55m cabin and cuddy cabin boats. While some brands and models have disappeared, there are a few that are still available, albeit with new livery, such as upholstery upgrades and graphics. Hey, why change something that is still selling?
Having had the privilege of testing and reviewing hundreds of boats over the years I have found that overall the standard of product is exceptional, especially from downunder manufacturers. In my opinion, Kiwi boat builders 'punch above their weight' and while 'imports' are now very much mainstream, the local builders generally match them boat for boat.
There are some areas such as bowriders and weekenders that are well and truly dominated by American brands and while local builders do offer some models into this sector, in the main it's the imports that rule the roost. If there is one area in which Kiwi boat builders have led the world, it's in aluminium, especially hardtops. I doubt there is a country in the world that has more trailerable hardtop models available from such a diverse range of manufacturers. A number of years ago we ran a feature on alloy boats over 7m and identified a staggering 75 models made in New Zealand.
In this issue you will see we have put together a buyers guide to alloy boats over 6m, many of which are available in hardtop form. What is pleasing to see, is that many of the manufacturers are enjoying an export market for their hardtops, to such diverse places as Sweden, Russia, Canada and Noumea. Australia is another strong market for NZ hardtops, as Aussies don't seem to have embraced them quite as enthusiastically as Kiwis have.
Local builders have always been innovative and when something interesting is released overseas at shows such as Miami or METZ, they are quick to take up new ideas. Over the years we have seen changes in everything from deck hardware to seating materials, hull laminates to windscreens.
If one thing has remained unchanged it is hull designs. The length to beam ratio of a trailer boat, be it 5m or 8m has hardly changed and neither have the underwater sections. Just about every mainstream boat, be it alloy or fibreglass, is based on a similar formula. A lot of alloy production boats carry a little less deadrise than their equivalent size fibreglass counterparts and the choice of strake patterns, numbers and placement is a designer's choice.
Some perform better in a following sea, some in a head sea and some don't like either. However, overall most production trailer boats perform okay – it just depends on the conditions you use them in.
While it is impossible to say which is the best boat I have ever tested, I do have a number of favourites for whatever reason. So I thought I would offer up 40 of them and some that are just worth mentioning for whatever reason. Some are still available, some have long since ceased production or have been superceeded by more current models.
What I find really interesting about the Atomix 600 is that they have bucked the system and been successful with a trailer boat built in
China. Designed by award winning NZ designer Brett Bakewell-White, the Atomix is one of the fastest selling boats in its class. This has enabled the brand to be established reasonably quickly, with very competitive pricing. To back up the quality of the product every Atomix comes with a 5-year warranty as well as being CE certified. That's standing behind your product. The 600C is an extension of the very popular 600 Sports Cuddy and Hardtop Fisherman, so you have a choice.
If you are into a cool family-style ski boat then the Bayliner 175BR isn't a bad choice. I tested one on Auckland harbour and my son and his mate were so impressed they bought one. They mainly used it for skiing, with a little fishing, but more often than not just cruising off to one of the inner islands in the Hauraki Gulf with their mates. The layout is trendy and the boat looks great with a wakeboard arch.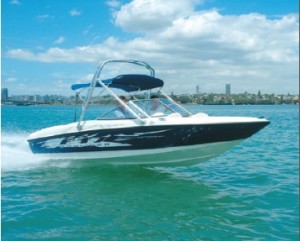 I had a 585 Sport for a few seasons during an engine evaluation series and it was at a time my kids were into learning about wakeboarding. We set up a homemade wakeboard tower and away we went. With a hull designed by Scott Robson, the rough water handling and performance was exceptional for a boat this size. I did many trips from Cooks Beach to the Mercury Islands, coming back in big seas….and loving it. A really cool family bow rider.
Following the success of the Bluefin 700HT, the Sportcraft Marine team released the 665 in 2009 at the NZ Boat Show. What they did was take the 700 and literally shrink it into a more compact version. The result is a very voluminous boat that offers a big fishing cockpit, but still retains plenty of cabin space. Jamie Black from Sportcraft Marine says it was their first real blue water boat with 17-degree V and the forerunner of models to follow. The hardtop version is still one of the biggest selling Bluefin boats today.
In 1988 when the first Billfisher 237 was released the only other similar boat on the market was the Bayliner Trophy. Buccaneer's Gerry Gerrand, being a keen fisherman, could see the potential for a locally built and designed similar walkaround and the outcome was the 237 Billfisher. An ex business partner of mine had one and we did a lot of fishing from it and it was perfect for the task. Buccaneer still produces the Billfisher walkaround in three variants, 550, 650, and 735, but they all have their roots in the original 237.
I have to include the 635DC as I owned one for over 12 years and used and abused it for everything from poker runs and towing wakeboards to serious fishing and diving. Buccaneer was one of the first of the local manufacturers to offer a big bowrider, but Buccaneer did it differently.
While the US imports were all about frills and fun boating, the 635DC was more aimed at the fishing market. With a full inner liner it was a simple hose out to clean. A great performer in the rough water, the 635DC is a fabulous all-round day boat that is still being made today.
Our new company boat which is now into its second season does everything we want. Having spent many years with a bowrider, the transition to a hardtop seemed a natural progression with the kids now away from home. The 685 Exess has proven a great choice, being an easily managed size and offers all the weekender requirements to stay overnight, plus a great cockpit for fishing.
Loved it in every respect. This is a boat that tells you right from the start you are going to have fun. I tested the 244 on the Gold Coast's Broadwater and I had fun. The layout is awesome, with pockets and lockers for everything. There's even a head, great sun cover, relaxing loungers and plenty of power in the MerCruiser under the hatch. It not only goes great, it also looks cool and the finish is superb. Not really great for fishing, but then why would you? Wake boarders and skiers will love this one.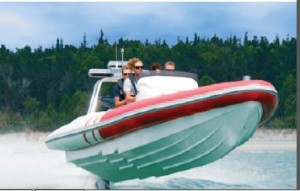 Released right on the cusp of the GFC, this English designed Cougar RIB really came to market at the wrong time. While awesome looking and backed by great performance and handling they never really hit the market in any numbers. I loved the layout with bolster seating and the stepped race boat derived hull. They looked fast and they went fast. Fabulous boat in either outboard or sterndrive and one is still used today as an official boat for the 2013 G J Gardner Offshore Powerboat Series.
Aluminium boats have been around for a long time now and ever since Fyran produced its first 5m Futura runabout, boats have been getting bigger. A year ago Fish City's Ross Christensen bucked the trend and released the FC 430, a no-frills open alloy runabout that set the small boat market on its ear. Although built to a price ($NZ15,000 complete with engine and trailer), the FC430 went one ahead of the competition, with heavy plate, superior layout and amazing stability for a boat this size. Such is the success of the FC series that over 90 were sold in the first 12 months!
No list would be complete without mentioning Fi Glass, and the Warrior has been very much part of the Christchurch builder's stable of boats since 1977. Again the market for the Warrior has always been family boating that is suited to all aspects of having fun on the water. Well priced, the Warrior today is a slick, well finished and very practical cabin boat that's rather vice less and an easy drive for novice boat owners. It is available in a number of different styles, including hardtop and with a full camper pack.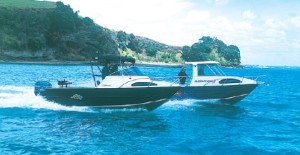 Released in 2004 as a replacement for the popular 550, the 580 found a sweet spot in the market. It was light enough to be towed behind the family car on a single axle unbraked trailer, powered by a 90hp outboard, rode well in moderate water and provided a great fishing cockpit. The full-length squabs in the cabin provided extra comfort and a dry area for storage. It was also available in a semi enclosed hardtop version. Today the Fyran 595 has replaced it.
It took Fyran Marine Ltd a long time to get into the pontoon boat market, but when it did in early 2012 it did it well. Fyran's first foray into this lucrative sector was the 599P (P for pontoon), which I tested during a special media day. The ride is great, the layout very practical and the finish right up to the usual Fyran standard. Pitched at a very busy part of the alloy pontoon market, time will tell if Fyran's pontoon boat has hit the right mark with potential buyers.
If you ever get the chance to go for a spin in a Thundercat then do it, especially in the surf. I bought one for my sons to race on the local circuit and man was it fun. They corner on rails and can handle huge surf. Powered by a 50hp Yamaha they have incredible acceleration and top end for a small inflatable cat. They also make great boats for inshore divers and I even used ours for fishing. Stable enough to stand when casting soft baits in work-ups.
With over 2000 SF535's on the water, this boat has been an industry benchmark for many years and it doesn't look like stopping any time soon. Released in 1987, the SF535 in every which way suits the kiwi buyer with its versatility. It doesn't matter if you use it to fish, dive, tow water toys or go family cruising, the SF535 is a perfect match for all purposes. Although it has undergone a few upgrades and refinements in recent years, the current SF535 has lost none of the charm of the original model. The SF535 is truly an iconic Kiwi family trailer boat.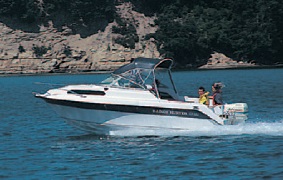 I put the Dorado on the same level as the Haines Hunter SF535. It is the epitome of a family cabin boat and ticks all the boxes as far as I am concerned. Right from the quality construction to its exceptional ride and wellproportioned layout, the Dorado is simply a great boat. We had a few over the years as our company boats and really enjoyed them. Built by CSB Huntsman, the Dorado is the boat that took the company into the mainstream and they have never looked back. The current Dorado retains the same original hull but above the water has had a few refinements. A fabulous boat for a first-time boater.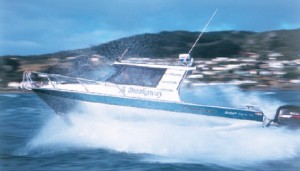 I had heard of the Image brand of alloy boats but it wasn't until early 2004 that I got a chance to try one out. Built in Invercargill, the brand had a reputation as a true blue water offshore fishing machine, so I sort of knew what to expect. I wasn't disappointed when I arrived for a two-day fishing trip to Stewart Island and saw the Image 7.85m. It looked strong, rugged and more than capable. However, horrendous conditions in Foveaux Strait put paid to that idea. Instead, we did an overnighter at Lake Hauroko. As serious offshore hardtops go, Image Boats Ltd certainly builds some of the better ones.
Back in early 2001 I got the chance to compare four similar sized pontoon boats and for me one came out a clear winner…the Kiwi Kraft 530. A simple, no-nonsense layout with twin swivelling bucket seats forward, some dry storage under the front deck and side deck extensions that doubled as boarding platforms. The handling and ride was a lot better than I would have expected from a boat of its size and I certainly gave it a good test in some rough water in the Hauraki Gulf. A great performer and really practical layout for fishing.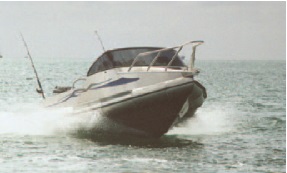 This was one of my more interesting boat tests, when we took the boat across to Stewart Island and back in atrocious sea conditions, before a run on Lake Te Anau also in some of the worst seas a lake could throw up. A boat designed for serious fishermen who don't mind doing it hard in rough seas, the McLay 775HT passed the test with flying colours. As a weekender or a serious fishing boat the 775HT ticks all the boxes.
This was one of those great boats that never really made it. Built in Hamilton, by Primal Marine, the Premacy 85 was probably the best finished aluminium boat I have ever reviewed. Attention to detail was outstanding. It was crafted, rather than built and a credit to all who were involved, from the design to the impeccable paint finish. While marketed as a walkaround fishing boat, I'm not sure I would have wanted to 'blood it'.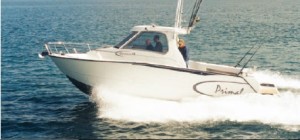 There's probably no RIB that has had more international success than the Protector, which was first released in 1997. Since it was first used in 2000 as the official America's Cup referee/umpire and team boat of choice, the 850 has gone on to become something of a unique phenomenon. Others have built similar, but none have even come close to the success carved out by the Protector, with hundreds on the water throughout the world. I have spent a lot of time running an 850 in poker runs and they are an incredible boat in the rough water. Although probably more suited to the commercial market, the 850 has also proven popular with recreational users.
One of the earliest boats to carry the Rayglass name, the 670 Sportsman was released in 1987 as a diving and fishing version of the 670 Sport Cruiser. This was clearly a boat pitched at fishermen who wanted something safe and comfortable to go out wide. An interesting feature of the boat was it was available with outboard or sterndrive power. Layout options meant you could decide what you wanted, with many sold with back-to-back seating that include a cooker and sink unit. Great all round fishing boat for the blokes. Was replaced in 2004 by the Legend 2300.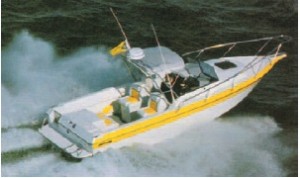 In 2006 Rayglass released the Legend 2500 as the replacement for the popular Legend 730. It was the start of a whole new generation of Legend series boats and was the result of an amalgam of ideas from the builders, designer and customers. At the time Tony Hembrow said the 2500 was an evolution that epitomised everything that was good about Rayglass. It is a real Kiwi weekender and is still a top seller after seven years.
And for something completely different how about a Yamaha PWC wrapped with a GRP hull and tubes. Rayglass has always been a company that comes up with innovative ideas and the Protector Projet was certainly no exception. It's hard to decide which is the host, the Yamaha PWC or the RIB as both are equally as important as each other. The package was put together because Rayglass was looking for a jet powered RIB and by combining the PWC they got the whole package, seating, steering, storage and power all in one. Great boat and fun to drive.
Like the Bayliner 175 BR, the Sea Ray 190 offers everything a family recreational skier or wakeboarder would want. From the drink holders to the ice chest they are exceptionally well spec'd. Like the Bayliner, you don't expect to see rod holders but you may like to think about a wake tower. Like most American bowriders they come over-spec'd compared to local boats. Plus with the deep-V hull they are not just calm water boats and perform okay in the moderate water.
This is unashamedly one hot fishing machine that goes a long way to being called the ultimate fishing boat. It's built in the USA by Scout Boats. I took the 262XSF for a fishing  trip with fishing writer Mike Broome back in 2010 and what a boat. Being a centre console, not only does it provide the perfect platform for fishing, but it also comes with a big enough central cabin for an enclosed head, small galley and berths. With twin V6 outboards it runs over 50mph and seems to go better the rougher the seas. Take me fishing!
The Scorpion 610HT was released in 2003 and became an instant hit for the builders, Sportcraft Boats. Through the years it has received a lot of tweaks and refinements after feedback from owners. What's so good about the boat is it incorporates a big cockpit as well as still offering a roomy cabin. It also comes as a key-start package with everything included, from the VHF and fishfinder to the canopy and fully lined cabin. It's a good all-purpose alloy boat that remains one of Scorpion's biggest sellers.
This is a boat that was designed for petrol heads. No rod holders thank you and forget about all-weather protection. Designed by Scott Robson and built by Fairview Fibreglass in Timaru, this trailerable powercat looks super quick even sitting on the trailer. I had a ride in one on Lake Rotoiti with a 225hp V6 Merc on the transom and it was a rocketship. Totally impractical for anything else but going fast, towing water toys and offshore racing. Perfect!
In 2004 Steadecraft released a very different boat from its usual range of family runabouts and cabin boats, by way of the Shadow SR721. The Scott Robson design performance sport boat ran over 80mph with a pair of Mercury 225hp outboards. This was a boat designed for speed. The cockpit layout included a triple rear bench seat and twin forward bucket seats. Steadecraft sold a couple but the boat never really took off.
I first ran a Surtees 5.5 Workmate with designer Neil Surtees on Lake Okataina in 1995 and quickly got to appreciate what he wanted to achieve with this simple, yet very practical small tinnie. From the fold-down alloy hardtop to the soft ride, the 5.5 always impressed me as the type of boat for those who didn't want any frills and perhaps weren't always as tender with their boat as they should be. A great boat for the first-time buyer. In 2011 it underwent a facelift, with a new transom, but the proven hull lines remained unchanged. Over 2000 have been sold and the 5.5 Workmate is still as popular as ever, with production running upwards of 100 boats a year.
Although I have to admit I have not had a lot of experience driving a Sealegs I just love the whole concept. Sealegs has been specifically designed and developed to take all the hassle out of the boat launching and retrieval process and nothing else does it better. Not only do you get all the benefits and versatility of a 6m RIB, you get a unique boat that turns heads every time you drive up the beach. Great to see that other manufacturers such as Smuggler are using the Sealegs technology on their own models.
This was New Zealand's first fully moulded fibreglass pontoon boat and was built to cater for those who wanted the benefits of a pontoon boat but didn't want alloy. Released at the 2008 NZ Boat Show it picked up the Innovation Award and certainly attracted a lot of attention. I loved the concept. The best test of any pontoon boat is its stability at rest and the 530 Mate passes with distinction. Great space for fishing and a lovely handling and performing boat with only moderate outboard horsepower.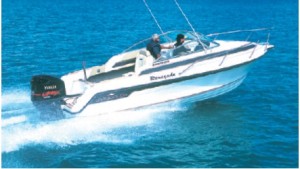 I tested the very first Smuggler Reefrunner in the early '70s and have been a fan ever since. With its market leading 27-degree deadrise this is a boat that is an ultimate rough water performer. Despite many changes to the deck and layout, the hull remains very much as it was when designed in Miami in 1964 and marketed as the Bertram 20. Built today by Smuggler Marine, it is still an outstanding rough water boat with few equals. The hull is also used for the Stealth 695 and 720, plus the Strata 750 and 770 RIBs.
As previously mentioned, the Strata 770 is based on the Smuggler Stealth hull, but that's where the similarities end. It draws its RIB design and layout from the Strata 750 but comes with the proven Sealegs technology. Smuggler's David Pringle is the first to incorporate the Sealegs system into a boat other than that made by Sealegs and what a boat. When you take the exceptional handling and performance attributes of the Smuggler hull and couple it to the innovative Sealegs amphibious system you have a winner.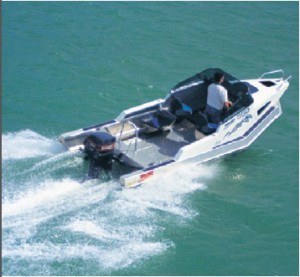 Released in 1996, the 550XC was the first Stabicraft built for the family and recreational market and was the forerunner of all Stabicraft boats that followed. Prior to '96 the company was building for the commercial market only. This was one of the first Stabicrafts I tested and the first pontoon boat so it was new territory for our readers and me. I said back then that if you are serious about your fishing and diving and want a quality, dependable and safe boat, then you would be mad if you didn't look at the 550XC. Since then the brand has just got better and better and is unquestionably a world leader in alloy rigid pontoon construction.
I loved this boat from the first time I saw it at my local Stabicraft dealer, Gulfland Marine. Sitting there in its bright green livery it wasn't going to be missed. Stabicraft has never been shy about colour schemes and the all over green 409 was no exception. It's a small, versatile boat that packs a lot of punch. An easy boat on the pocket for first time buyers and one that is well suited to fishing in sheltered waters.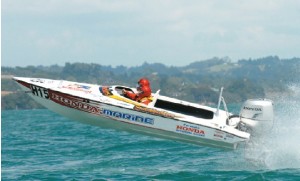 When I was asked by Honda Marine's Martin Wylie to find a boat suitable for the new Formula Honda class I had no hesitation in suggesting the Sonic 1900SS. It was popular both in ski racing and offshore and had the size and hull design to accommodate both. Over the years I rode in many Sonic 1900SS hulls, including Ross Christensen's ultra fast versions, one with MerCruiser 525, the other with a Mercury 300. Try taking photos at 100 mph!
When I first saw the 851 at a NZ Boat Show I couldn't help but be impressed. While Tristram Marine already had a reputation for buildingits boats a cut above anyone else's, it was the 851 Grandeur that sealed it for me. The 851  Grandeur was the largest and most luxurious Tristram available at that time, although it has since been surpassed by the Tristram 881 Offshore. The 851, since its release, has won seven Boat of the Year Awards and richly deserves every one.
Like all Tristrams, the 640 Cabriolet fit out and finish was 'Rolls Royce' standard and it showed. A development of the earlier 600 Cabriolet, the 640 was released in late 2003. I thought the 600 were about as close to perfection for a bow rider as you could get, but the 640 was even better. Based on the 641 Avanti hull, the 640 had the same style and layout as the 600, but it was bigger. The slightly larger hull gave more space inside and improved the handling with the longer waterline. A versatile multi purpose bow rider as close as to perfection as any builder is ever going to get.
I have only ever tested one White Pointer but their reputation as an offshore fishing boat is legendary. Built of alloy by Rex Briant and his team in Gisborne, White Pointers are pitched directly at the fishing market. My experience was with a White Pointer 750 off the coast of Gisborne in moderate to rough water. The fishing was great and the boat performed well. I loved the big workable cockpit for fishing and the protection in the wheelhouse when driving. Today, diesel power is popular and most of the White Pointers are hardtop models.