My first impression of the latest Aqualine models was when I arrived at Mana Marina to find three boats; a 495 Fisherman, 545 Sports and a 595 Sport HT. In the Jan-Feb issue of Pacific PowerBoat we ran a full report on the largest of the trio, the 595 Sport HT and kept the two smaller and somewhat similar 495 Fisherman and 545 Sports for this issue of Alloy Boat magazine.
The background to the Aqualine brand is an interesting one, as it started simply as a rebadged Kiwi Kraft. Designer and builder of the Kiwi Kraft boats, Rodney Harris felt that if he was going to have a successful export market in Australia he needed to ditch the Kiwi name and find something more generic. So was born Aqualine as the 'export' brand name and for a time there was not a lot of difference between the two brands. However in recent years there has been some significant changes and now even more so since Phil Butler and the team at Boat City in Paraparaumu got their hands on the boats and decided to market them in New Zealand.
"We have made a lot of changes to the boats, so they are in many respects different to the Kiwi Kraft equivalent, with distinct points
of difference. Most noticeable is the higher coaming and transom heights, plus we have improved on the fishability of the boats",
says Ian Coutts, sales manager for Boat City, the sole New Zealand retailer for the Aqualine brand. The dashes and walk through screens in some models have been altered and changes to the anchor lockers were made so they could better accommodate free fall drum winches. Aqualine boats are wider than their Kiwi-Kraft counterparts, (up to 100mm internally in the larger models) have the transoms further aft, which along with the extra width offers more internal cockpit space and more freeboard due to the higher coamings.
The Aqualine range starts with the 435, followed by the 495 Fisherman, with a 5.075m LOA, an external beam of 2.02m and internal beam of 1.40m. Dry weight of the hull is 380kgs and as a package has a towing weight of around 700 kg. The 495 Fisherman is a one person launch and retrieve and is light enough to be easily beach launched.
The 495 Fisherman layout is open and uncluttered with the standard seating
layout being twin swivelling bucket seats on pedestals from Hi Tech Plastics (upholstery is an option) and a full width sliding hardwood bench seat. A king/queen port side seat is also available. Top speed with the Yamaha 60 was close to 29 knots (33 mph).
The transom area is extremely well designed for fishing with a starboard side bait board and a walk through transom to port. This can be changed for a large bait locker or live bait tank, plus there are to 29 knots various bait board designs and sizes available. There is also the option of an underfloor kill tank. I liked the generous size boarding platforms either side of the outboard pod and the larger than normal handrail. Perfect for divers and swimmers coming back aboard. While the 25 litre tote tank comes standard with the boat, there is space enough for a 45 litre tote, which would be well worthwhile having as there is no underfloor tankage available. Twin hatches conceal the battery and extra storage. The main cockpit storage is provided in wide side shelves, which carry right forward into the dodger area under the foredeck. There's also a couple of pontoon storage lockers with circular hatches, so dry storage areas are well catered for. 
The forward area is too small to be called a cuddy and there is no provision for berths, so you'de simply regard it as a place to stow dry gear. A 200mm high storage rail stops anything making its way into the cockpit. There is also provision for an overhead cargo net for storage of items such as life jackets and wet weather gear.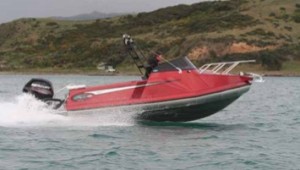 The 495 Fisherman has a walk-through screen, with the open anchor locker set far enough back into the deck, so it's easily accessible from the cockpit. If you fit a lockable chain bollard and fairlead then you can leave the anchor on deck and don't have the hassle of reaching into the deep anchor locker to get it out. Certainly makes anchoring chores a lot easier. But then there's also the option of electric
rope/chain winch or even a small drum winch, which can be custom fitted.
The small helm is designed to take a bracket mounted sounder, (up to 10"), or you may like to mount this on the other side ahead of the passenger seat. If you angle the screen a bit, it is easily readable from the helm. This way leaves you space for instruments and a few switches. A 6 way switch panel comes standard as does rotary steering and there's also built-in footrests for both the driver and forward passenger. Being a CPC rated boat the 495 Fisherman also comes standard with battery box and isolator, navigation lights and an 1100 gph bilge pump.
Power options are 50 to 70 hp, with our test boat running a Yamaha F60 four stroke. Top speed was close to 29 knots (33 mph) which is totally adequate for this size boat. If you run a 50 hp outboard I would expect the top end speed to drop to around 26 knots (30 mph) and if you decide you need more power, then a 70 hp is going to return you 32.2 knots (37 mph).
It's certainly a hull that can quite comfortably handle the speed and in some reasonably choppy water in behind Mana Island, the 495 Fisherman performed well. The hull is quiet through the water and easily driven, but there are limitations and you need to remind yourself that this is still only a 5m boat.
If you think the 495 Fisherman is just a little small and the 595 too big, then check out the mid-sized 545 Sports. At 5.52m overall, 2.18m external beam and 1.56m internal beam, it's just that much bigger than the 495 and being the Sports version, does have the bonus of being a genuine cuddy with upholstered bunks with a drop down floor. There is good sitting headroom and the berths are long enough for smaller adults or kids to lay on, but it's certainly not designed for overnighting. There is limited storage under the berths, plus like the 495 has a couple of pontoon lockers to keep stuff dry. In the 595 Fisherman model the chequer plate sole extends all the way to the bow, much the same as the 495 Fisherman, with no berths. From the aft of the forward seats, the cockpit and transom layout is identical to the 495 and is available with all the same options. The standard seats are a king/queen passenger seat and Softrider pedestal driver seat, but again you have options to change that to whatever suits. There is extra storage in the grp moulded king/queen seat base as well as in an underfloor locker. This can be converted to a fully plumbed kill/live bait tank and the 545 Sports also comes standard with a 150 litre underfloor fuel tank.
The dash area is also a lot bigger than on the 495 Fisherman, so you have more space for electronics, etc. In our test boat we had a Raymarine 5" GPS/Sounder, (there's room for up to a 12" screen), twin Mercury Smartcraft gauges, a Uniden VHF radio, 6 way switch panel and the controls to operate the Sav fastfall drum winch. Like on the larger models, Aqualine have done a neat job of hiding the large and obtrusive drum winch away below the deckline. With the drum winch fitted with a braided nylon rope, we had 120m of line available, which is way more than would be possible with a conventional auto rope/ chain anchor system. If you don't have an auto system, then it's an easy reach via the split windscreen and deck hatch to the open anchor locker.
Our 545 also came with a few extra options such as a rocket launcher with six rod holders and bimini. If you have a height issue where you park the boat, then a quick release system allows you to drop the canopy and your overall height on the trailer is down to around 2m.
A bigger boat means bigger horsepower engines are available and in the case of the 545 Sports the options are 80hp-115hp. With a Mercury 115 EFI, I managed to run the 545 Sports to 35 knots (40 mph). Acceleration was excellent with a very quick holeshot, with a 19" three blade Laser prop biting hard. We had no trim tabs, but as the boat isn't a hardtop it didn't really need them and I found it ran very level at speed and was responsive to engine trim. Best cruise was around 4500 rpm @ 23 knots, which according to the Smartcraft fuel gauge was using 24 lph. At 5000 rpm the Smartcraft indicated 28 lph, at 5500 rpm, 34 lph and flat out Flat out this increased to 45 lph and at 6000 rpm, the maximum flow was 45 lph.
495 Fisherman and 545 Sports – Quality Plus
One common thing about Kiwi-Kraft and equally Aqualine is the reputation the boats have for their soft ride, with the trademark Hush Tec hull. These are traditional pontoon boats with round tubes and soft chines that use trapped air between the sponson and the hull to contribute to the smooth ride. Buoyancy and stability are also very important and the Aqualine hulls certainly deliver where it matters. Each pontoon section is sealed providing massive buoyancy and in effect makes the boats virtually unsinkable.
The boats are also built to an extremely high standard and in some areas probably over- built, but that's something the factory will not compromise on. They have that solid, sturdy feel about them and there's no rattling or shimmering when underway.
495 Fisherman and 545 Sports Specifications