Designed for the serious fisherman who doesn't mind being in the open, the centre console is unequalled when it comes to workable space. The beauty is they come in just about any size you want.
While centre console boats are not for everyone, they do serve a great purpose as a fishing platform. With the massive popularity for inshore saltwater fishing and freshwater trolling, the centre console style has become increasingly popular with a plethora of models being built to cater for the fisherman. In the US, it is not uncommon to see 12m, triple and quad outboard powered fibreglass centre console boats, laced with all the gear for a day offshore game fishing. They go huge distances offshore to the deep canyons, so require the speed and handling to get there and back home in the shortest possible time. In this part of the world, we are not so obsessed with speed and we do our fishing a lot closer to land. Traditionally if we are going out wide we choose hardtops, a style of alloy boat that New Zealand leads the world in. However, not everyone wants the size or the protection that a big hardtop gives and this is where the centre console boat really comes into its own. When it comes to aluminium centre console boats, they are unashamedly targeted to fishing.
These are not really the sort of boats you buy if you are into family cruising, picnics and towing water toys, although will do all of the above no problem. A centre console is essentially a hull with no cabin or foredeck, with the helm station in the centre and total access all around the boat. When you talk about console style boats there are those with side consoles, which do much the same job as the centre console, it's just the console is over to one side. They are still marketed to the fishing clients. Manufacturers will often only list a few console models in the line-up, but in most cases any boat they have can be turned into a centre console, no matter what the size. In our list of around 90 production centre console boats available locally, they vary from under 4m to over 8m and everything in between. That is the beauty of aluminium construction, which allows the total customisation of a boat to transform it into what you want. Not every manufacturer will be prepared to chop their design around, but most will.
The centre console design is all about space, so the size of the console will be determined by the size of the available floor space. In the case of a 5-6m model, the console should be big enough to provide some dry storage area inside, have a dash that will handle a reasonable size MFD, plus all your necessary controls, VHF, navigation aids and whatever. When you start getting into the 7-9m style console boats, then the console can take on a whole new purpose and not only is it a storage area, it's also suitable for a toilet and if it's large enough a small bunk. You just need to make sure you have adequate head height. Seating is usually a single or twin helm seat, depending on the size of the boat and in some cases the box base is transformed into another storage area or somewhere for a small fridge. A reversible backrest bolster is a good option, as is a padded isky/chilly bin for an extra double seat. Again depending on the side of the console a forward seat can be built-in and again this gives you yet another dry storage area or another optional place for the fridge. There needs to be good access either side of the console, so if you are fishing you can work the entire deck. If you are into soft baiting, then you will appreciate why a centre console boat is so good. Wide flat side decks are also ideal so you have somewhere to sit between bites. We all know how crowded a cockpit can get when divers are gearing up for a dive, so this is where the extra floor space of the centre console really works well.
Centre console boats are lighter than the equivalent size hardtop or cabin boat, so you have the advantage of requiring less horsepower for the same performance. While there are some stern drive models around, most centre console boats are outboard powered. If there is one thing a centre console boat does not do well, is give you all-weather protection. Unfortunately, in New Zealand, we don't have that year round warm weather so that centre consoles can be cold and draughty. A bimini will certainly give you some UV protection and the alloy frame that holds it will serve as handrails for your passengers, somewhere to mount your aerials and also for a rocket launcher for the rods. The windscreen on the console will give those at the helm station some wind protection, but if you want to go one step further, then adding clears all round (right to the cockpit sole) is a good addition. While centre consoles are almost the norm when it comes to RIBs, and are not common amongst the fibreglass boat builders in NZ or Australia, they are growing in popularity when it comes to aluminium. We checked out some of the leading aluminium boat builders in the country and picked a real cross section of centre console models. It's a broad range of size and style, but essentially they all do the same job, it's just how big or small you want to go and how much you want to spend.
Commando Trooper Ready For Action CC 4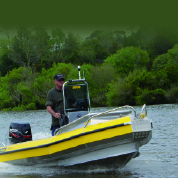 The Commando Trooper range of boats is available in a variety of hull sizes to suit your requirements. Commando Boats has for some time been building the 3.9 Trooper in open tiller steer, cuddy cabin and centre console options. Built with a whole raft of boating activities in mind, the 3.9 Trooper will ultimately appeal mostly to divers and fishermen who want to fish or dive close inshore. In a small boat, itǯs often difficult to find a place to stow a 25-litre tote tank so itǯs out of the way. 
Commando Boats has addressed that perfectly by incorporating a built-in 25-litre alloy tank across the centre of the transom. It even comes with a trio of rod holders, one of which doubles as the base for the bait board. Between the outboard pod and the pontoon hull extensions are large boarding platforms, with the option of a drop-down ladder on one side. Featuring a full height pontoon construction, and a massive internal volume, itǯs a boat that can easily carry and fish 2-3 adults. www.metaldesigns.co.nz
DNA 440 JETX Bush Meets Wrap
DNA's newest releases include some interesting and vibrant colour options as well as standard textures and colours currently available. They have added their custom themed bush camo vinyl wraps, available in a range of colours from fluro to more conventional camo patterns. With a lot of DNA boats sold to fishos who are also very interested in hunting, DNA felt it appropriate also to offer themed vinyl wraps.  The DNA 440 JETX was originally designed for clients fishing over the west coast bars and estuaries, where beach launching was restricted. 
With the DNA JETX it meant they were able to launch into a river and travel downstream to reach the salt and cross the bar safely. Fitted with a marinised Toyota 110hp engine running a Kawasaki ST X 15F pump – other engine/jet options are available -pushing a Solas impeller, the 440 JETX reaches a top speed of 69km/h and burns 13 lph. The engine runs a bowman type closed loop cooling system so no salt water is being circulated through the engine. www.dnaboats.co.nz
The Everyman 595 Centre Console is constructed using 5mm bottom and transom, 4mm sides and decks, and a 4mm chequerplate cockpit sole. The design of the 595 features a fine entry, variable to a 15° deadrise at the transom, with modest down-turned chines. This is a beamy hull with plenty of wetted surface and no planing strakes are required. The sealed chequerplate deck drains to a sump under the transom wall, from where water is removed via an 1100gph bilge pump. 
Hatches in the floor give access to storage holds in the bow and stern. An upholstered seat with backrest is built into the front of the console with grab rails on each side, and a hatched plastic tank underneath provides stowage. Further stowage is inside the helm bench seat, which also has a backrest that can be reversed when facing astern. Large side pockets add to stowage space and are wide enough to take dive tanks if necessary. The transom wall features a step-through on the port side, as well as a shelf that houses the two batteries and isolation switching behind a dome-on cover. Everyman Boats pay attention to detail and are willing to customise to owners requirements. www.everymanboats.co.nz
FC Boats are one of the fastest growing alloy brands to the New Zealand market, offering a wide range of console, open, cuddy and cabin/hardtop boats. The FC 600 CC is one of five centre console models and comes with some revolutionary features. The FC600 sees a separate ballast and flooding keel system incorporated into its design, which allows the driver to balance the boat perfectly for the conditions. One of the first prerequisites for the 600CC was a double console so that a driver and passenger can be immediately behind, with a further two standing behind that, and all four being protected from the elements.
The FC 600CC features a passive live bait tank meaning it doesnǯt have pumps and has been cleverly integrated into the aft floor area. There is plenty of dry storage under the console for all the days gear, which also accommodates the onboard systems such as batteries and oil etc. In the bow area, the floor has been raised to provide more surface area. www.fishcity.co.nz
Finlay Escape 5900 Summer Escape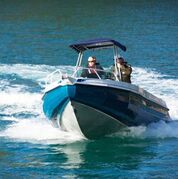 CC9 A follow-up to the Sports and Hardtop 5900s, the Escape 5900 opens yet another market for this new and progressive Timaru builder. The underwater sections feature a deeper deadrise than many pontoon boats of asimilar size at 20.5 deg (23.5 deg for the 6300) which goes a long way towards providing a soft, smooth bump free ride. The Escape 5900 is very traditional in its layout, with a large centre console helm area and an above waterline deck that drains into the sump fitted with a pump. 
Under the chequer plate sole, there is buoyancy both sides of two longitudinal stringers, with storage and the 180-litre fuel tank down the centre. Standard seating is a double bench seat with reversible bolster, all mounted on a pipe frame with a parcel tray. If you are looking for more storage, then the base could easily be made as full storage or a cooler bin, although this will inhibit access to the underfloor locker. Thereǯs a small raised casting deck forward and an optional clip on Engel storage bin/seat ahead of the console. The wide coamings come standard with eight-rod holders and an antiskid surface. wwwfinlayboats.co.nz
Frewza F16 Sport Console Southern Surprise
The Frewza F16 Sport Console is one of three centre console boats offered by Invercargill-based Frewza Boats. The other two, the F14 and the F18 follow a similar style and construction, itǯs just a matter of going bigger or smaller. The Frewza F16 Centre Console is a great all rounder boat having lots of space and is an excellent platform for fishing, diving and water sports. It can be custom built to suit your needs. It is a reasonable full bodied boat with a length overall of 4.95m and a beam of 2m. The hull is 4mm and the tubes 2.5mm, with a 16 deg deadrise at the transom and a dry hull weight of 320 kgs. 
The F16 is rated to 60hp. Itǯs a boat that is loaded with standard features, such as a boarding platform, bilge pump, deck hardware, a removeable bait board and a pair of padded Icey Tek/bin seats. The centre console unit offers a generous size facia for instruments, controls and an MFD, plus great dry storage behind a So Pac hatch. www.frewzaboats.co.nz
Kiwi Kraft 390 Jet PWC Package
CC11 Rayglass did it with a Protector RIB and now it seems that Kiwi Kraft has also done it, by taking a standard PWC and wrapping a boat around it. In the case of the Kiwi Kraft 390 Jet, a 160hp Kawasaki 4-stroke was planted into a 3.9 m pontoon boat. The centre jockey seat layout has been given the addition of a high screen and forward seat, plus there is a casting deck forward with storage under.  To be used for shallow
water fishing and white baiting, the all-alloy boat also has plug-in wheels. With these in place and a 12-volt winch the boat can be pulled over the ground and in extremely shallow water. www.kiwikraft.co.nz
McLay Fortress 571 All Round Perfection
The McLay Fortress range of boats are available in tiller steer, side console or centre console and are available in sizes from 4.4 to 5.5 m. Since the release of these boats they have instantly gained a reputation of being a very strong, great handling soft riding boat that is also very stable at rest. With lots of great standard features including extensive fitting of closed cell foam in addition to the air buoyancy to meet both Australian and CE standards that make themvirtually unsinkable.
The Fortress 571 uses the same proven hull as the 571 Sportsman and carries a 2.20m beam and a length overall of 5.65m. The centre console is carried well forward, giving maximum cockpit space aft. There are a forward casting deck and a large console, with a bimini for some weather protection. The back to back helm seat provides plenty of dry storage under and there are also wide side trays for extra gear. www.mclayboats.co.nz
Maverick Marine Double Hull
At 4.5m (LOA 4.9m) the Maverick power cat is crafted from tough marine-grade 4mm aluminium. This isnǯt just another mono-hulled alloy boat either, a Maverick is an asymmetrical planning catamaran, something that is not common in the trailerable alloy boat market. The centre console layout means all the boat space is usable for fishing. Power options are single outboards 60-90hp. One of the huge advantages of a power cat is the softer riding hull design, stability and as much as 40% more interior space than an equivalent length monohull. A Maverick isvirtually impossible to sink, with over 1600 litres of reserve buoyancy in multiple watertight compartments, to keep it afloat even when filled with water. www.maverickmarine.co.nz
Profile 585CC Safe and Steady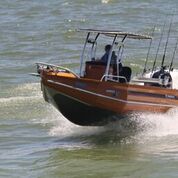 The Profile 585 Centre Console is a specialist fishing boat that offers maximum room for anglers. The complete walk-around design has a large raised forward deck specifically designed for casting flys, lures and soft bait. This fully pontoon designed vessel offers extra safety due to its multi-chambered construction (virtually unsinkable) and superior stability for passenger comfort. Standard features include a three years structural hull warranty, dry storage in the console, fully welded treadplate sole and portofino style stern.
The 585 CC also comes with the siganture transom wave deflector, designed to stop any ingress of water when backing up on a fish or launching in the surf. Forward there is a raised casting deck, which is a great place for soft baiting. There are the usual side and transom storage areas and the 585CC comes with an optional underfloor fuel tank and walk through transom. You also add a live bait tank, bimini with canopy and rocket launcher, cray pot davit, external grab rails and the boat is available either painted or unpainted. While the 585CC is one of only two centre console listed in the Profile model line up, (the other is the 4.3m 1410CC), the company will customise any of their range to centre console. www.profileboats.co.nz
Quintrex Plenty of Choice
With almost a dozen centre console models listed in their standard lineup, Quintrex offers more than any other alloy boat manufacturer. They are offered under two model ranges, Top Ender and renegade. They also offer a whole raft of open tiller steer, side console. Cuddy cabins and runabouts in the same size range. Originally invented for the Ǯtop endǯ, the Top Ender range (4.61m to 6.05m) is a popular fishing favourite Australia wide. The Top Enderǯs barra-bass tournament style layout, deep sides and the blade hull and flared bow combination make the range perfect for remote creeks, estuaries and open bays.
If you like sports angling, this is the boat for you. The Renegade Range is fast becoming a favourite among keen fisherman as a no-fuss, fishing machine. Complete with a front and rear casting platform the Renegade is capable of some serious fishing. These range from 4.60m to 5.48m. www.quintrex.com.au
Sea Blade Superior seakeeping
The Sea Blade is a joint US-NZ project, with US Company Navatek and Rotorua-based Orca Engineering Ltd. With the Sea Blade it is all about the hull design. It looks like an unusual trimaran with an aggressive central hull and skinny outriggers. Flat surfaces extend from the hull and the pronounced tunnels give the appearance of a modern art piece more than a highly efficient craft. The Sea Blade is the brainchild of Navatek Ltd, a Hawaiian company that claims to be at the forefront of innovative naval design.
The Sea Blade style hull design has been around for a few years in a rudimentary form. With Navatekǯs stable of innovative and talented designers they were able to throw modern technology at the design. Following on from those initial export orders, Orca is now offering the Sea Blade on the local market. Recently one was completed as a water taxi for Cathedral Cove and a couple of Sea Blade 22s have been built as RIBs, using Lancer inflatable Hypalon tubes, in an RIB open layout. www.orcaengineering.co.nz
Rēvo 551 Jet Pulling Power
Launched by Pacific Hydraulics in Whangarei, this Rēvo 5.5 metre commercial jet boat has been specifically designed to the customers need. Three key factors expressed at the design stage were the boat had to be stable, it had to be a good sea boat, as it works literally in the open ocean in all conditions. Plus it had to have good bollard pull. Also, the boat had to be powered by a diesel engine that was reliable, cost effective and serviceable anywhere in the world as the mother ship travels the globe.
Pacific Hydraulics marinised a 1kz Toyota diesel and this was matched up to a ScottWater Jet 851 jet unit. Displacement is 1150 kg including a fire pump in the bow. Bollard pull is 500kg and top speed is 30 knots. www.revoboats.co.nz
Senator RCC450 Built to Fish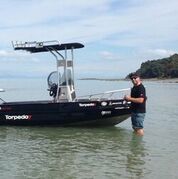 A truly multi-purpose boat that can access those out-of-the-way beaches hiding the best fishing spots, the RCC450 is one of five models available in Senatorǯs centre console range. The RCC450 is recommended for a 40-60hp engine. It is a very uncluttered boat with space to fish from and good storage for your tackle and rods. The layout leaves plenty of room for three anglers to fish from comfortably The seats conveniently lock into the sides, with a large storage locker in the centre console and two handy drink holders. There is a large anchor well with a lid and a good storage shelf running around the sides and rear of the boat. The boat looks like it is built to fish from. www.senatorboats.co.nz
Sealegs 6.1 D-Tube Land & Sea
The Sealegs 6.1m D-Tube is the only all-aluminium hulled craft in the Sealegs family, making it the perfect Sealegs for fishing trips and getting through rough terrain. The state-of-the-art sport console featured on the D-tube can be customised to suit your needs. The 6.1m D-Tube encapsulates the best of Sealegs technology in a rugged, agile package. The standard package includes an Evinrude 90HP E-TEC outboard, Fusion marine stereo, Simrad Go7 GPS chart plotter/fish finder, Simrad VHF radio, boarding ladder and dual floodlights. 
The 6.1m D-Tube also comes with Sealegs Amphibious Enablement System (AES). The AES provides a fully integrated, turn-key amphibious package, including a hydraulic transmission powered by a 22HP Honda engine, all-wheel drive, extended run time, ABS automatic braking system and power steering for land and water. www.sealegsrecreational.com
Stacer 449 Outlaw No Fuss Fishing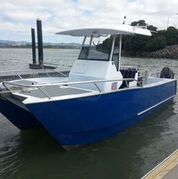 Stacer's Outlaw Range is already in high demand, with the 449 proving to be especially popular. The Outlaw Range includes a 429, 449, 469, 489 and 529 models in a variety of configurations including tiller steer, centre console and side console; meaning there is an Outlaw to suit every keen fisherman's needs. The 449 Outlaw, available as tiller steer, side and centre console, is packed with all the necessary fishing essentials. Designed for serious, no-fuss fishing, the 449 Outlaw features a large front casting platform with incorporated storage space and large side pockets, meaning the deck area can be kept free of clutter. 
Proving itself as a true fishing machine, the 449 Outlaw also comes standard with a rear casting platform complete with live bait tank and tackle box tray storage. The 449 includes a 50L underfloor fuel tank and is rated to 60hp. www.stacer.com.au
This is the ideal little cousin to the Bluefin 620 model walk around, but in a smaller and more affordable package. It is a great little boat for those into great for the soft baiting or fly fisherman in sheltered waters as you can follow the fish right around the boat. It's a boat that comes well features, including a fold down acrylic screen, separate anchor locker, battery box and switch, bilge pump, boarding ladder and platform and all the necessary deck hardware. There is a fully welded and sealed treadplate floor, with plenty of built-in buoyancy, plus a bin seat with upholstered top, rear seats with upholstery and hydraulic steering.
You can have the boat either painted or unpainted and ideal power is a 50hp outboard. All this on a single axle multi roller trailer. The 4.7m hull is constructed with 4mm plate on the hull and 3mm sides and has a towing weight under 1000 kgs. The medium vee 17 deg hull means yo get a great ride in the light to moderate water, with the 2.3m beam adding to the stability both at rest and underway.www.sportcraftboats.co.nz
Surtees 495 Pro Fisher Space Saver
The name says it all. The Surtees centre-console range opens up deck space at the bow, stern, as well as both port and starboard sides. For the fisho that wants nothing to get in the way of them and their catch, Pro Fisher is designed for you. Surtees 495 Pro Fisher is te smallest in their five boat centre console range and also their most popular. The all new 495 Pro Fisher, with an impressive 2m beam, comes packed with all the goodies youǯd expect from Surtees. Along with the strong, deep V hull and floor, the two flotation chambers, and the Surtees ballast system this fishing machine combines real stability at rest with a smooth ride.
Recommended for outboards 30-75hp, the 495 Pro Fisher features a six-year hull warranty and is built to CE safety standards. The console comes with a toughened tinted glass screen, large dashboard and footrests/luggage holders Extra storage is available in side storage shelves, an underfloor storage bin and in the fully adjustable seat bases. www.surteesboats.com
Stabicraft Frontier Carbon Footprint
Stabicraft's new 1600s are believed to be the world's first aluminium trailer boats to feature carbon fibre in their construction. Under the name Project Carbon, the new construction system has been used first in the companyǯs newly-designed 1600s: the centre console Frontier and the open cuddy style Fisher. The new console is made from carbon fibre and other composites and features some subtle ergonomics such as the recessed throttle control and deliberately angled, protected flat area on top for an MFD. Like other Frontier models, the 1600 comes complete with a handy chilly bin/helm seat.
In this case, however, provision has been made for the chilly bin seat to slide away into an opening in the base of the console, leaving the aft cockpit clear and uncluttered. In front of the screen is another padded seat, with a shallow open locker beneath. Another innovative addition is the forward casting platform, which comes standard with dry stowage below and is ideal for a wide variety of fishing styles. www.stabicraft.com