It had arrived – our first personal water craft. For many years we had been lucky enough to have friends with PWCs or through the magazine we had been fortunate to have access to the use of one here and there…. but this one was our very own.
As the dynamics of our family have changed and our team have grown from calm infants to active kids, to today's adrenalin craving teenagers, so have their boating preferences – from picnicking and exploring islands along with a little fishing here and there with a moderate tube tow thrown in, to "let's go faster and have some fun" which usually involves towing a biscuit, kneeboard or wakeboard, and of course, as always, the picnicking is obligatory – except now, we have to tow a fridge with us as well as the PWC!
Last year I put myself deep in it, by borrowing a Sea Doo GTR 215 for my son Liam's 14th birthday – and that was it! I did not hear the end of it from five kids and wife – I was far outnumbered. I managed to fob it off through to the end of summer, thinking they had gone off the boil and all was forgotten. Then the photos came out one winter's evening and freshened it all up again. I was pedalling hard with my argument, but being outnumbered I was gradually being worn down and starting to feel beaten. I slid out of the conversation with an 'I'll look into it!'
Speaking to a few mates with PWCs soon had me feeling a little more at ease with the transition for a season – they regularly head out for a fish – even for just an hour or two after work – they felt it was easier than preparing and dragging their larger boat out for a quick fish – and a much easier clean up afterwards.
My Sea Doo GTR 215 Arrives
Late November, our brand new Sea Doo GTR 215 was prepped and ready for collection from Woodbine Marine in East Tamaki – after a quick briefing I was on my way with GTR in tow – the kids' faces were beaming when I pulled in the drive – and within minutes, Facebook was on fire.
Hours and hours of family fun has followed – tow toys and wake boarding, fun for a dozen or so people. Over a period of a day fuel costs ran at about $100 to $130, which today equates to a pretty cheap day's entertainment for such a large crowd.
The Sea Doo GTR 215 has a 215hp supercharged engine and is able to hit 100km/h in 3 seconds – that is Lamborghini and Ferrari stuff – and demands respect – (some models are now in excess of 300hp). Luckily the Sea Doo, like most brands, comes with a learners key, for those who need/want to take it a little more cautiously – don't be fooled, they are still quicker than most other forms of boating. Whilst camping over Christmas, a friend of mine, with whom I once participated in motocross, decided to take the GTR out for a run. Thinking he had plenty of experience, he put the machine in the normal key setting along with the Sport Mode (which shows a warning on the display panel) he returned shaking his head in total disbelief of the sheer power and acceleration. His hands were still shaking ten minutes afterwards! He described his forearms as being rock hard (from holding on) like Popeye's after eating spinach! Mind you, he was quick to jump back on for another ride once he calmed down, ready for another shot of adrenaline. Around the camping ground for the next few days, there were reports of a motocross expert suffering from sore forearms and other little-used muscles – sorry Scott!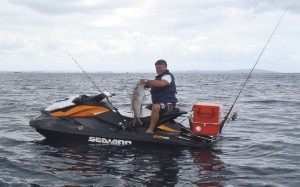 Fishing has been another form of adventure we have enjoyed. Fishing from a PWC is fantastic, there are many clubs now formed all over New Zealand (one I know of with close to 100 members). When it comes to fishing (and in general), PWCs are easy to launch and retrieve and are easy to clean afterwards – making a quick after-work fish very easy. If you had read our Jan/Feb issue, you would have read all about our great day out, returning with a good catch of snapper and kingfish for our families.
PWCs are quick and easy to operate while fishing and to manoeuvre as the fish move – boating a fish with a net is easy. Modern electronics can be easily fitted to help locate fish and check bottom environs. Bait stations, such as the Manta/Icey Tek unit that we have, make the whole fishing exercise that much easier to mount your rods, gaff and net, and obviously, great to preserve your frozen bait and keep food and drinks cool… and of course to keep your catch chilled and in good condition.
There are still many PWC adventures and activities that we are yet to tackle – one on the list is to try the latest PWC sensation, Flyboy – a PWC-Propelled Jet Pack. Apparently lots of people like the idea of flying like Ironman, or whizzing atop the earth like a character out of Lost in Space. Personal jetpacks are suddenly all the rage, showing up everywhere from YouTube videos to waterfront resorts. But unlike those packs of movies and television, these modern-day rocket packs are using something very familiar for their propulsion – the same jet of water that propels your personal watercraft.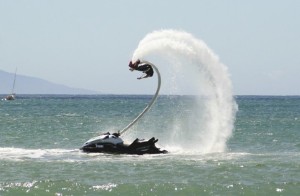 There are a few variations on the market – these products literally use your PWC, not some modified one-off unit. That means you can ride your craft one minute, then convert it to Flyboy use the next. The products link the Flyboy to the PWC via a 12m hose, which attaches to the PWC via a U-shaped pipe that bolts on in place of your jet pump. Connecting or converting your PWC back to normal use requires less than 30 minutes and minimal mechanical ability.
Of course, you will require a mandatory "flying" lesson, but they promise riders will be up and running in less than an hour. I look forward to giving it a go before winter sets in. For the more adventurous, there is PWC racing….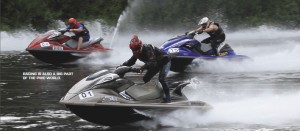 Various Jet Sport Associations around the country offer competition, recreational and family memberships to those interested in PWC sport. The sport of personal watercraft racing around New Zealand consists of "grass-roots" racing or the local club racing scene, the North and South Island Summer and Winter Tours, and the pinnacle, the New Zealand Jet Sport Nationals.
Many clubs around New Zealand offer a club-racing scene. Here you can participate in a competition in a relaxed, yet secure environment. These events are a great way to get involved and meet new people.
The NZJSBA sanctions racing both in summer and winter. Regional clubs host these events. In the summer, racing consists of shortcourse rounds. These are event where you can compete against other riders on similar craft on a closed course in racing that is described as motocross on water. In winter, clubs host endurance rounds, these consist of a long course endurance race.
The NZ Jet Sport Nationals is an annual event that features the best of NZ's riders competing at world-class level in closed course racing. To be eligible to compete at the Nationals you must compete in at least two summer tour rounds (in the Nationals season). For more PWC racing information and the licenses necessary for participation, visit the following websites: Auckland Jet Ski Assoc. – www.ajsa.org.nz or the Tauranga Jet Ski Assoc. – www.tjsa.co.nz

There are a variety of accessories for your PWC – but one of the coolest I spotted over the summer break was a product called the Holster – an addition that makes possibly the most versatile craft even more versatile – an easy transformation from PWC into a boat in just minutes. The idea of a hull powered by a PWC that could be detached has been around in basic form for a while now in different forms, but these guys seem to have got it right.
The 5.6m Holster, which is rated to carry up to 6 people, offers the user total flexibility, where the fun, speed and excitement of a personal watercraft can be shared with family and friends. The additional waterline allows your jet ski to move more efficiently across a choppy sea without sacrificing too much in the way of speed. The inflatable tubing (reinforced PVC or Hypalon) keeps all aboard safe and dryer. Imagine traveling across to an island with six friends, unclipping the Holster and having the use of the PWC for an afternoon, returning back to the dock at the end of the day in relative comfort with the Holster clipped back on.
PWC…Versatile, compact and easy in every way. They are easily stored in your garage or in the corner of your yard – in a market where the price of land is becoming more expensive and sections are becoming smaller, a PWC is ideal to store on these smaller sections, and being so compact they are easily towed behind an average sized car. Ours, sitting on a stylish DMW Premier trailer, looks and tows great. It followed us everywhere over our summer period.
A 'must have' I personally found are the rear guide poles, which made reversing easy – guaranteed to save the embarrassment that can ensue when you lose sight of your PWC when reversing down ramps or onto the beach. We have had a fantastic season with our PWC and are looking forward to many more. There is always someone queuing to get out on the water for another adventure – our kids, friends and family. For an outlay of around $20,000 for a brand new craft (loaded with features) combined with the versatility and fun offered – this would have to be the best $20,000 spent, to get you and your adventurous family out on the water.