A Seakeeper 3, neatly installed under the helm seat provides the required stability for this Seavee 37.
In Part Two of a two-part series on gyros, we look at the AC options.
In the previous issue we looked at DC gyros that were suitable for the larger trailer boat and small cruiser market, where batteries could handle the power requirements. However, when it comes to the bigger units a generator is generally required and that's not a common option in a trailer boat. In this article, we look at AC gyros (some of the smaller units are also DC) for the big boat market.
 Gyros first started appearing in pleasure yachts around 2000 when Mitsubishi Heavy Industries (now renamed Tohmei) teamed up with Ferretti Group with an exclusive agreement to put their gyros into the company's branded motor yachts. Over time the market started to accept the gyro and other manufacturers like Seakeeper and Quick entered the market.
The stability of a boat is influenced by several factors, such as the hull shape, the displacement, the mass distribution, the gyro installation position and sea conditions. The rolling motion is the most dangerous since it affects the vessel stability and it's therefor the one on which the first reduction studies have been carried out. More overside rolling is the main cause of sea sickness, especially in case of long waves.
Rolling is the oscillation of the boat around its longitudinal axis. Since vessels are much longer than larger, as a consequence side oscillation scan be felt much more.
All gyros consists of three fundamental parts; flywheel, gimbal and dampening system. The flywheel's size and speed of rotation determine a factor called angular momentum. The gimbal allows the flywheel to rotate around an axis perpendicular to the spin axis. The velocity at which the gimbal rotates (precession), in reaction to the boats roll, is a factor called angular velocity. The Damping system controls the rate at which the gimbal is allowed to precess. Damping systems can be passive or active depending on manufacturer.
A single or multi gyro set-up doesn't have to be on the centreline and in fact can go just about anywhere convenient.
When installing a gyro it does pay to take into consideration the boat's centre of gravity and balance. Deeper in the boat is probably best. You also need to ensure there is plenty of ventilation if installed in a confined space and because they are not totally silent it's advisable to install in a soundproof space, e.g. engine room.
You also need to ensure that the selected place is steady enough to transfer the generated torque to the hull. The primary structural beams are a good choice. Last thing you want is a wayward gyro spinning at thousands of rpm detaching its mounts and exiting the boat through the side of the hull.
There are three recognised gyro brands available in New Zealand/Australia; Seakeeper, Quick and Tohmei. As discussed in the previous issue they all do the same job of stabilising your boat, but each has a different take on why their systems work so efficiently. While Part One went into a lot more detail about how each system functions, we thought it would be prudent to offer a condensed version to at least understand the principles.
Seakeeper promote angular momentum as the true measure for how effective a gryo is. Angular momentum is a force and measured in Newton-meter-seconds, or N-m-s, that determines the total amount of torque available over time.
Greater angular momentum indicates a higher roll reduction potential for gyroscopic stabilisers. The Seakeeper 18 (18,000 Nm of angular momentum) is more powerful than the Seakeeper 1 (1,000 Nm).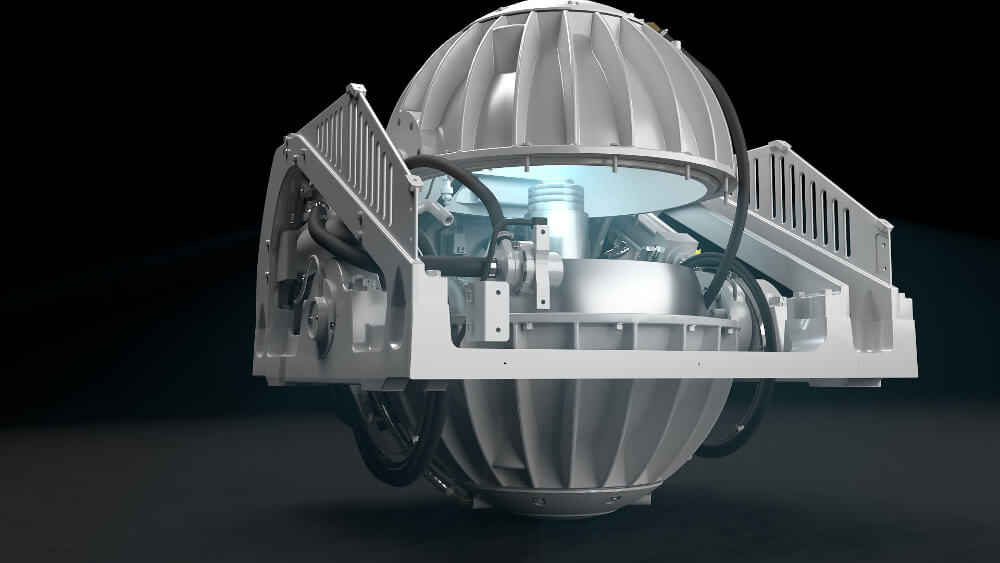 The faster a gyroscope precesses, the higher its peak torque value. However, a faster precession speed significantly reduces the amount of time the peak torque can be applied Seakeeper point out that a wave going under a boat is what is what they refer to as a wave period doesn't happen instantaneously. Seakeeper say that because of this, the most effective use of a gyroscope's angular momentum is to spread the torque over a period of time that matches the wave period.
Seakeeper's range comprises eleven AC models, if you include the three HD units that are specifically designed for commercial and military vessels. Add in the three DC units and the total is 14. The smallest AC unit, the Seakeeper 5 weighs in at 395 kg and is designed for 12m – 14m boats with a displacement of up to 18 tonne. The Seakeeper 6 packs a punch in a compact, efficient package suitable for boats between 15m -16m, and up to 22 tonne. There are a lot of factors that go into determining that one 14m vessel should have a Seakeeper 5 while another should opt for the Seakeeper 6. For example, the Seakeeper 5 and Seakeeper 6 are the same footprint, but the Seakeeper 5 costs less for less stabilizing power. Most people don't opt for multiple units unless they need to so it pays to but the one that is best suited to your boat.

Seakeeper name their units by the Nm of angular momentum so if you see a Seakeeper 9, then you know it has 9000 Nm of angular momentum as a Seakeeper 26 will have 26000 Nm.
The Seakeeper 35 is a beast, with 35000Nm of angular momentum, weighs in at 1778kg and is designed for boats up to 90 tonne, with an LOA of more than 26m.
Quick promote the torque or maximum torque as the main contributor to roll reduction and have a number of unique features. Firstly they are the only gyro with a vertically spinning mass (not horizontal). This generates the same anti-roll torque / output torque as traditional horizontally spinning gyros but in a simpler smaller way. The side bearings "share" the weight of the mass as opposed to the bottom bearing doing all the hard work. This means a comparatively heavier mass that spins at lower RPM can achieve the same anti-roll performance.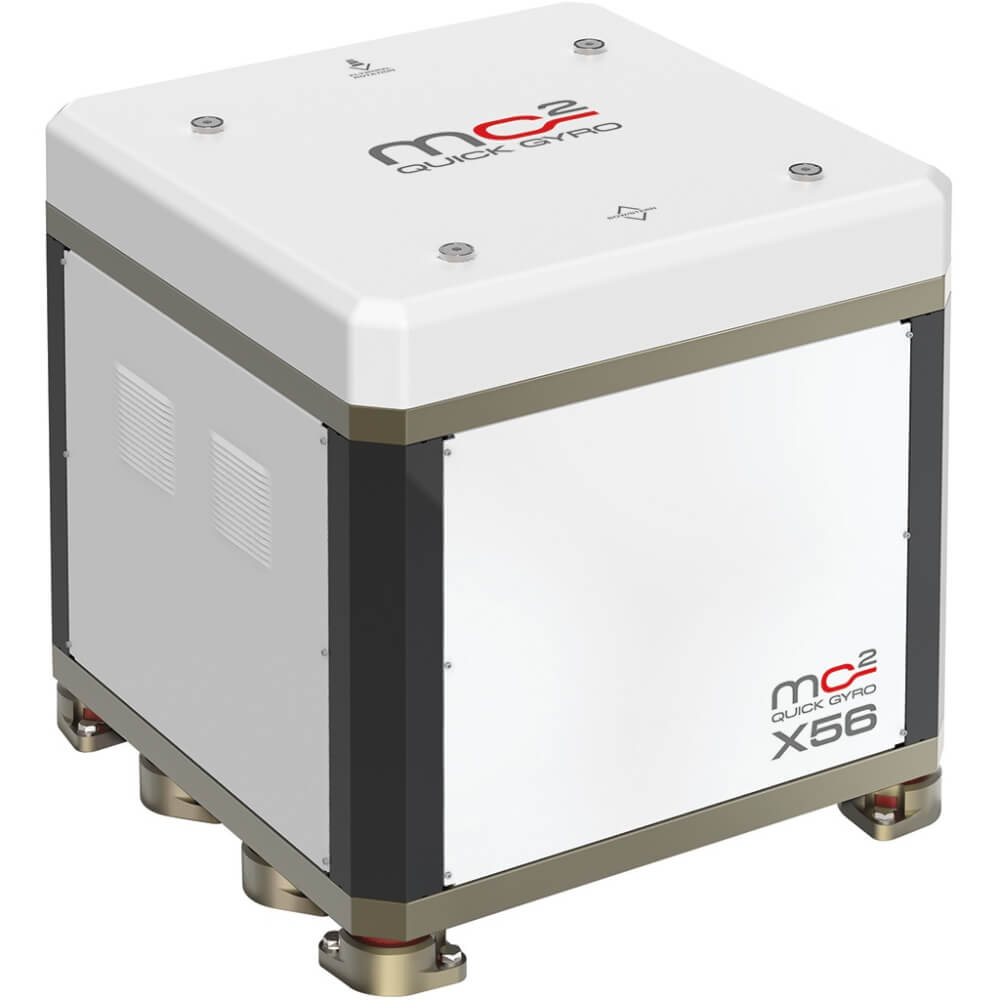 Quick claim that the unique vertically spinning mass also means reduced track deviation even in big following or beam seas. They are all air cooled (not water cooled) bearings which means there are no water pumps to operate and maintain, no risk of electrolysis, no anodes to replace, no risk of air getting into the cooling pumps and causing them to stop working.
Australasian distributor for the Quick gyro, Pierluigi Gambacorti (Gineico) points out that one of major benefits of the Quick DC gyros is their fast spool up and simple switch off and walk away spool down.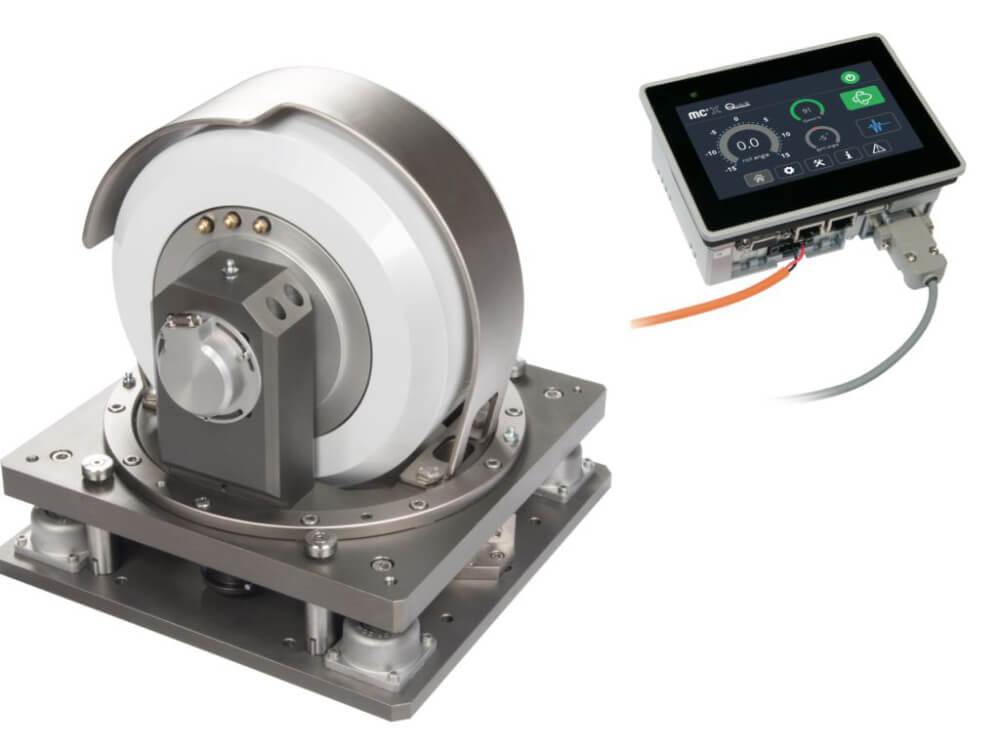 Quick have just released two new models, MC2 X10 and the MC2 X75, to compliment their existing nine model AC range. The MC2 X75 is Quick's highest output unit with an output torque of 75000 Nm and designed for the superyacht market.  The MC2 X10 fits in between the MC2 X7 (6678 Nm of torque and the MC2 X13, with a rated output of 12850 NM. Overall Quick have sixteen models covering the DC and AC range with units suitable for the largest trailer boats to mini superyachts.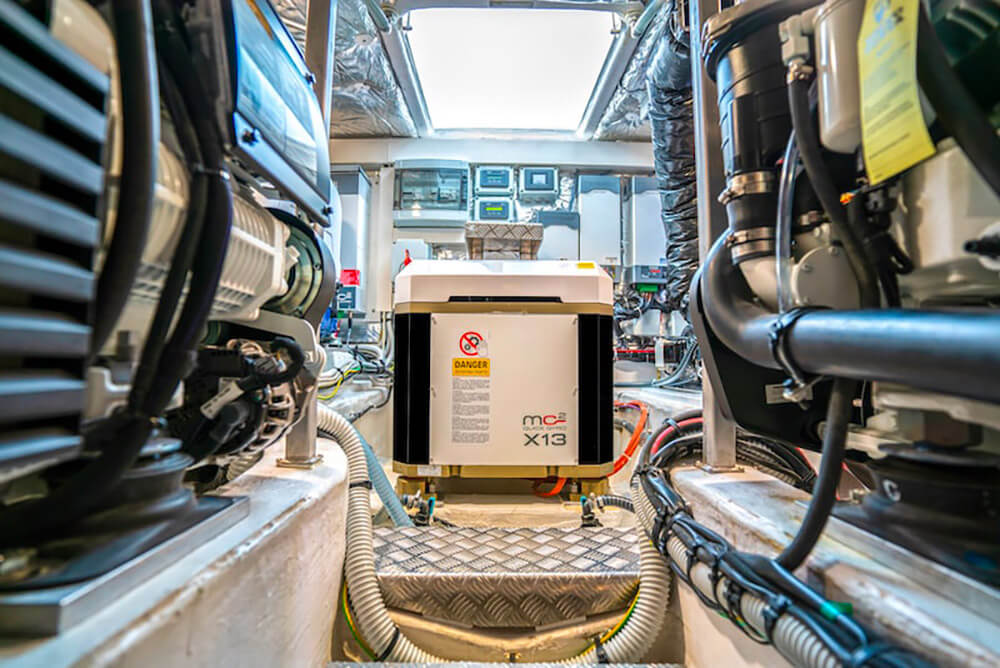 Their eleven AC models range in anti-rolling torque output from 5560 Nm to 55882 Nm and overall, they also have the smallest footprint are generally the lightest and the patented vertical spinning mass in the MC²X makes the units more compact. The smallest of the AC units, the MC2 X5 weighs in at 255 kg and with a base that measures not much more than 1/2sqm it is well suited to larger trailer boats or small cruisers where a generator is an option.
The X13 AC has been designed to be installed on smaller size boats and is perfect for larger centre console or day boats. However, if you want something with a little more grunt, then there is the X16 (16359Nm) and X19 (18700Nm), which are all housed in the same compact shroud.
Mitsubishi Heavy Industries has a long history in the development of Gyro's for stabilisation purposes. From 1981 to 1987 MHI developed a gyro for space station stabilisation. This system obviously had to be built to very high standards and be very reliable.
From 1991-2000 MHI conducted various studies and trials on passive, active, vacuum chambers, helium filled chambers etc with the goal of commercialising the gyro product for other uses e.g. vessel stabilisation. The previous developments and the results of the studies resulted in the development of a robust and reliable passive design. The marine products were recently rebranded Tohmei.
The Tohmei Anti Rolling Gyro stabiliser (ARG) is a passive gyro stabiliser system based on simplicity with no high-pressure water and hydraulic hose systems, and with no computer controls. Their passive control does not require an electric control unit, resulting in few failures and a high level of safety. Also, the passive system does not require any regular maintenance other than visual inspections from time to time.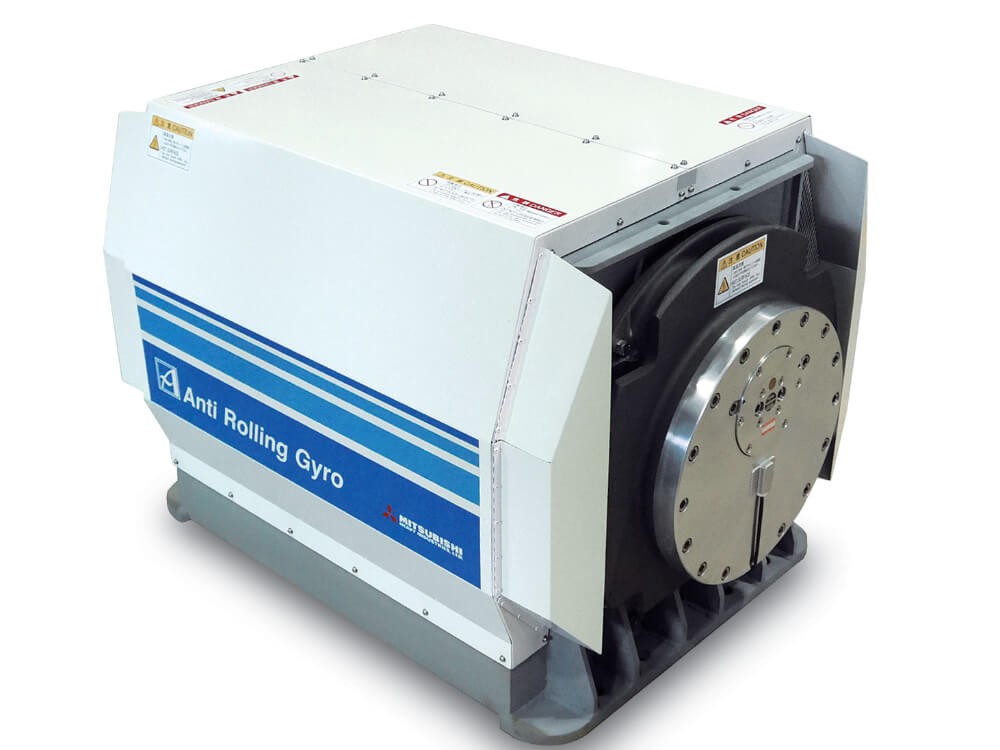 Of all the gyros they are probably the least complicated and have an excellent reputation for performance, robustness and durability. The ARG is designed to cool itself with air flow in the unit generated by a spinning flywheel. There are no external water hook-ups, no hi-pressure oil lines and no exposed moving parts making it safer and more reliable for everyday use.
The ARG starts with the flick of a switch and works efficiently at trolling and zero speeds.
Tohmei have a five-models line up with the ARG50T (DC Powered) and ARG65T (AC Powered) for smaller vessels to 10Tons of displacement. The three larger models, ARG175T (17500 Nm of torque), ARG250T (25000 Nm of torque) and the top of the line ARG375T (37500 Nm of torque) are all AC only and destined for larger motor vessels. Multiple units can be installed where more anti-rolling torque is required than a single unit can provide.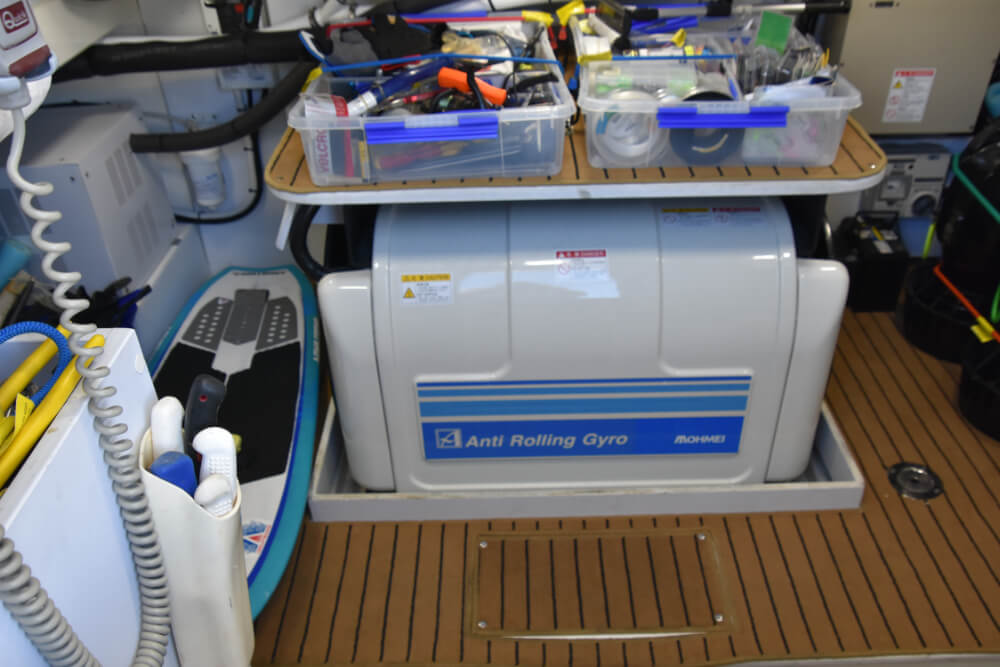 Auckland based Motor Yacht Service Centre have installed more than 10 Tohmei gyro's in vessels ranging from 48' to 72'. Legacy Marine in Whakatane have selected Tohmei ARG product for their Legacy 70.
 
Spool-Up Max rpm
OperatingPower
Angular Momentum
Output Torque 
Size (mm) 
Weight
SEAKEEPER 5
27 minutes
1050-2300 W
5000 Nm
13075 Nm
756 x 755 x 626
395 kg
SEAKEEPER 6
42 minutes
1050-2300 W
6000 Nm
15690 Nm
756 x 755 x 626
395 kg
SEAKEEPER 7HD*
30 minutes
1000-2000 W
7000 Nm
14630 Nm
852 x 903 x 708
550kg
SEAKEEPER 9
55 minutes
1000-2000 W
9000 Nm
18810 Nm
852 x 903 x 708
550 kg
SEAKEEPER 12HD*
25 minutes
1000-3700 W
12000 Nm
19900 Nm
1069 x 1096 x 853
1030 kg
SEAKEEPER 16
40 minutes
2300-3700 W
16000 Nm
30720 Nm
1069 x 1096 x 854
1030 kg
SEAKEEPER 18
50 minutes
2300-3700 W
18000 Nm
34980 Nm
1069 x 1096 x 854
1030 kg
SEAKEEPER 20HD*
61 minutes
1000-3000 W
20000 Nm
31160 Nm
1338 x 1419 x 1023
1365 kg
SEAKEEPER 26
90 minutes
1000-3000 W
26000 Nm
56000 Nm
1338 x 1419 x 1023
1365 kg
SEAKEEPER 30HD*
65 minutes
2000-3000 W
30000 Nm
44500 Nm
1342 x 1419 x 1076
1778 kg
SEAKEEPER 35
88 minutes
2000-5000 W
35000 Nm
73000 Nm
1342 x 1419 x 1076
1778 kg
* Suitable for commercial and military
 
 
 
 
 
| | | | | | | |
| --- | --- | --- | --- | --- | --- | --- |
| BRAND | Spool-Up Max rpm | Operating  Power | Angular Momentum | Output Torque  | Size (mm)  | Weight |
| TOHMEI ARG50T | 30 minutes | 700-1000 W | 1000 Nm | 5000 Nm | 525 x 536 x 741 | 234 kg |
| TOHMEI ARG65T | 30 minutes | 700-1000 W | 1300 Nm | 6500 Nm | 525 x 536 x 741 | 234 kg |
| TOHMEI ARG175T | 35 minutes | 3500-4300 W | 3500 Nm | 17500 Nm | 630 x 620 x 950 | 380 kg |
| TOHMEI ARG250T | 40 minutes | 3500-4800 W | 5000 Nm | 25000 Nm | 700 x 720 x 1020 | 700 kg |
| TOHMEI ARG375T | 45 minutes | 4500–5500 W | 7500 Nm | 37500 Nm | 780 x 830 x 1120 | 910 kg |
| | | | | | | |
| --- | --- | --- | --- | --- | --- | --- |
| BRAND | Spool-Up Max rpm | Operating Power | Angular Momentum | Output Torque  | Size (mm)  | Weight |
| QUICK MC2 X5 | 18 minutes | 650-1000 | 1811 Nm | 5560 Nm | 480 x 480 x 573 | 255 kg |
| QUICK MC2 X7 | 20 minutes | 700-1200 | 2174 Nm | 6678 NM | 480 x 480 x 573 | 290 kg |
| QUICK MC2 X10 | 24 minuted | 1200 – 1900 | 3120 Nm | 10342 Nm | 480 x 480 x 573 | 300Kg |
| QUICK MC2 X13 | 32 minutes | 1500-2200 | 4185 Nm | 12850 Nm | 610 x 610 x 657 | 470 kg |
| QUICK MC2 X16 | 35 minutes | 2000-2400 | 5325 Nm | 16350 Nm | 610 x 610 x 657 | 500 kg |
| QUICK MC2 X19 | 43 minutes | 2000-2400 | 6090 Nm | 18700 Nm | 610 x 610 x 657 | 553 kg |
| QUICK MC2 X25 | 32 minutes | 2000-2400 | 8293 Nm | 25464 Nm | 800 x 800 x 814 | 880 kg |
| QUICK MC2 X30 | 32 minutes | 2000-2400 | 9878 Nm | 30333 Nm | 800 x 800 x 814 | 965 kg |
| QUICK MC2 X40 | 36 minutes | 2000-2400 | 13132 Nm | 40324 Nm | 950 x 950 x 980 | 1250 kg |
| QUICK MC2 X56 | 40 minutes | 2000-2400 | 18000 Nm | 55882 Nm | 950 x 950 x 980 | 1600 kg |