Author : Barry Tyler
Mention the above heading in the same sentence as a Chinese vessel and often you are met with more than a little cynicism, even blatant disbelief, but in the case of the Activa 5100 the marriage is indeed a cruising boat package of extraordinary depth and substance – value without compromise!
The Chinese element is however only a relatively minor part of the equation for this boat is in fact a veritable 'United Nations' of contributors. A necessary part of this story therefore is to first put it all into perspective, before we even contemplate perusing the end product that was born of a Kiwi living in Australia, who engaged a Taiwanese builder, who just happens to have his yard in China, in the heart of China's boating capital of Shanghai.
Company founder and current President Charles Chang is an affable and extremely respected naval architect and marine engineer who over 20 years ago began production of a range of cruisers and motor yachts under the banner of Hi-Star Yachts. Building vessels for the discerning, from 11m to 23m (36ft to 75ft), it didn't take him too long at all to appreciate that labour in Taiwan was becoming too expensive, and moved part of his operation to Mainland China. The business in effect was split into two yards and now following the opening of a new 3000sqm temperature-controlled facility on the banks of the Lou River, Activa Yachts becomes the third entity of Chang's sprawling Activa Marine conglomerate.
The story for this particular 'Australian' variation of the Activa Yachts range began primarily through the efforts of ex-pat Kiwi Kevin Sulzburger, who had sold his business interests in the USA and had moved to Australia to put together his long-harboured desire to build a range of good wholesome top-quality cruising boats – at an affordable price. The owner of a number of cruisers over the years, his next 'mission in life' was to design and build what he considered his version of that perfect cruising platform. An inventor and designer and with an extensive and diverse engineering background, he had very definite ideas on specification and layout. He wanted only the very best of equipment and engineering mentality, and while he adhered as much as possible to the Australian-made principle, he was astute enough to realise it would have to be built offshore.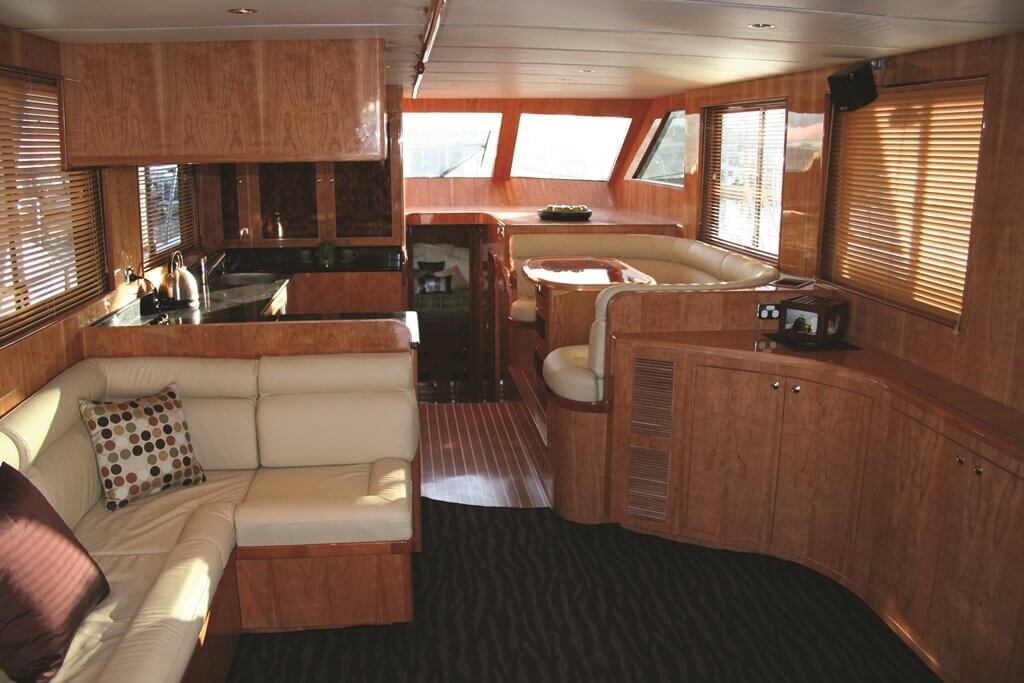 The next problem considering the state of the Australian dollar, was where, for it had to be a credible as well as cost-competitive builder and after much research and deliberation he settled on Taiwan as the obvious region in which to begin his search, a country incidentally many today recognise as the boat-building capital of the world. The rest of course is history, Activa Marine was chosen, and after much negotiation by both parties a new company (AMA – Activa Marine Australia) was formed, to market the brand down-under. Finally, Sulzburger would be able to accommodate his plethora of ideas into a Charles Chang-designed, Activa Marine-constructed, 'Australianised' version that would appeal directly and purposefully to people of our South Pacific region. 
The design profile would be typical motor yacht style on the outside, but the layout would be as people of this region would expect, a practical, user-friendly 'entertainers delight' with an expansive and well-equipped galley on the same level, and three cabins and two bathrooms on the accommodation level below. He insisted on generous use of traditional timber, mandatory in a long-range live-aboard cruising vessel, but above all the most noticeable aspect for me was his seemingly obsessive attention to matters mechanical that saw the boat engineered to an almost sublime level of quality and specification – it would never break down or fail.
Ironically, it was this latter single-most impressive feature of the vessel that sadly would be lost to all but the most discerning and knowledgeable of prospective clients, for most people having a quick look aboard would not even notice the myriad of engineering and mechanical features that for the most part, were predominantly hidden from sight. It was only by spending a weekend away on this boat that I was in fact able to obtain a true and thorough appreciation of just what this vessel was all about. Quite simply it was built to overkill, equipment whether it be in the galley, or the beds, the engineering masterpiece that is the rear overhang to mount the inflatable tender, or the mechanicals such as the steering, helm chairs, bow and stern thrusters, aft underwater lights, generator, engine controls or pumping systems – all were well above the anticipated level of specification.
The saloon was exactly as AMA stipulated, very homely, very spacious in the context of lounge and entertainment area, dining area and galley. There is of course an option of a downstairs helm but really what is the point, this expansive room was better presented with a probably larger than normal galley and dining aspect – so important in an extended-stay situation. The lounge was just that, a nice combination of wall panels and polished cherry and burl wood finish complementing the U-shaped settee and opposite, the wall-length entertainment module that included a bar and the obligatory pop-up television also.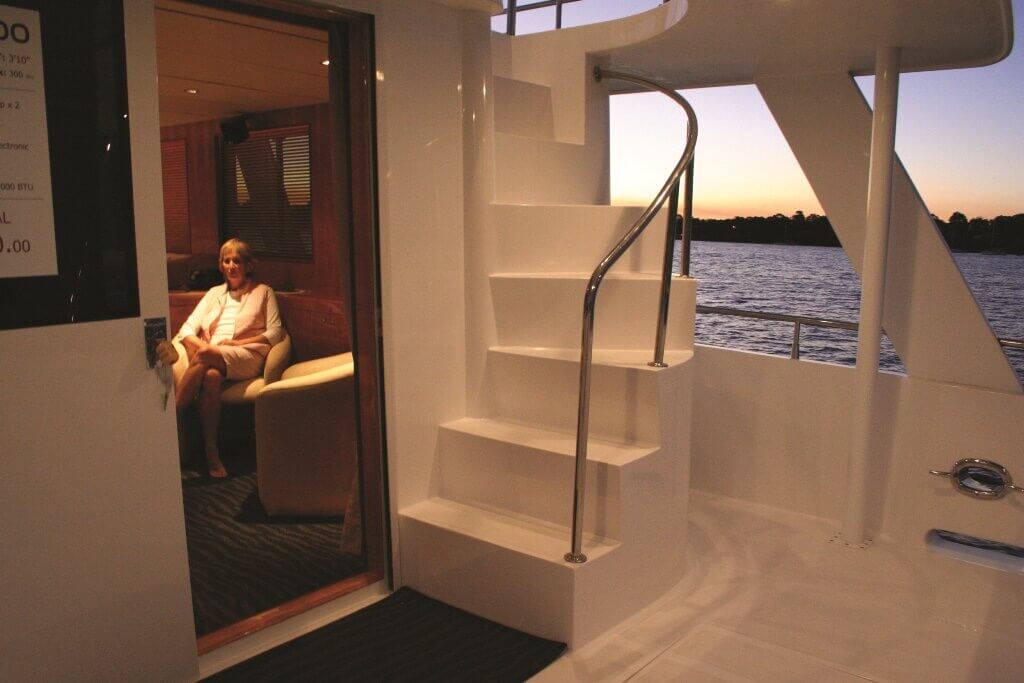 As darkness fell, the mood lighting and rheostat-actioned switches enabled a most ambient almost candle-light scenario to unfold as two couples sat comfortably around the dining setting forward of this lounge. The really nice aspect of this forward part of the Activa saloon was the styling or presentation of the grandiose galley opposite, that so complemented this dining area – it was seemingly part of it, rather than an area you were obliged to put somewhere! Yes, as expected there was every conceivable feature a gourmet cook could ask for – teak and holly flooring, huge genuine granite topped benches, three-burner electric stove, convection oven and two 140-litre refrigerators, to name but a few of the features. Visibility was great, but just as easily with the wooden venetian blinds, you could completely privatise this room.
The beauty of building to our localised expectations was that while the layout below was what I would have expected, with three bedrooms and two bathrooms, being a semi-custom-built vessel there are another two layout options that would perhaps better suit single couple situations. This 5100 model was however very definitely suited to owners plus a guest family of parents and two children. The owners' cabin featured a generous 'wood' theme and was complemented nicely with plush vinyl panelling. Full length wardrobes (complete with auto lighting), mirrors, down- and mood-lighting and an overhead hatch, complemented the queen-size berth that came complete with a most comfortable innerspring mattress. An attached and entirely appropriate ensuite, complete with separate shower, completed the 'picture'.
Located aft of this master stateroom were twin-single and double bedrooms, and of course the obligatory house bathroom – all incidentally of the same specification and level of presentation, as that of the master. Standard equipment for the Activa range is a 10.6kW air-conditioning system that nicely cools the whole boat, but Sulzburger specified an extra 2.9kW – just to be certain it was all appropriate!
As in any cruising motor yacht, the upstairs flybridge level is where you live during the day and so you expect it to be of reasonable proportions. I must say that once again the designers have excelled with the space allocation, for while the large single helm station at the front of this level was space consuming, especially with its two Springfield game-style chairs taking pride of place, the floor space left was demonstrably large. Topped off with a soft-top bimini structure of very 'substantial' proportions, there is also the option of a hardtop version with clear sides, and further down the track Activa has plans for a fully enclosed version.
The other features I really enjoyed about this flybridge level were the ease of movement, the attention to safety criteria such as grab-rails and appropriate seating for guests, and in particular the very user-friendly semi-spiral stair access up from the rear cockpit. So many designers/builders forget the little things in fact when it comes to this safety consideration, but Activa has approached this very important issue in a most responsible fashion. Outside too, grab rails are aplenty, the outside walkways to the bow are nice and wide, and the bulwarks aft and the bowrail on the foredeck level – are of a sufficient and safe height.
Activa has obligingly managed to incorporate one hell of a lot of living potential into a 16.15m (51ft) hull with a 4.63m (15ft) beam and as such there was a trade-off – a very small trade-off however, in the form of a perhaps smaller than traditional rear (teak-lined) cockpit. For me though it was a 'no contest' choosing between the upstairs flybridge level and a larger cockpit. When you have what is available just a few steps away, on the next level above, realistically I could never see the cockpit being used for anything other than boarding and disembarking. And of course providing access to the most innovative rear lazarette below this that doubles either as crews quarters or in this more practical guise, as a storage room for the laundry, a huge upright freezer, access to the filters, 2500W inverter, 12kVA generator and huge bank of batteries, and of course the engine room. Yes, like the water system that nearly blasted you out of the boat with its impressive water pressure, there was plenty of on-board power to have all the heavy users such as a microwave convection oven, air-con and kettle, all on at the same time.
On the subject of power, Sulzburger again threw the cheque book away and instead of a 'single-pot chugger' opted for enough power to offer a reasonable top speed should it be required. More importantly though, came the inherent ability with this extra power, to be able to throttle off whilst still maintaining a reasonable cruising pace so as to maximise fuel efficiency during those longer passages. Twin 380hp Cummins 'electronic' diesels powering through ZF 80A gearboxes and conventional shaft drive to 28" pitch Faster propellers, were his choice of power that resulted in a top speed of 17 knots and a most respectable cruise speed of 14 knots. "In the context of a cruising boat that was exactly where we wanted to be," an enthusiastic Sulzburger commented. "If you are in a hurry you can get there at a reasonable pace, otherwise you cruise nicely with the engines ticking away most efficiently. We have struck a happy medium all round but if speed was your passion then a pair of 480hp engines will give you 20 knots top speed. Hardly worth it in my opinion though – all that extra expense just for another three knots."  
Boat Design Name: Activa 5100 Motor Yacht
Year Launched: 2006
Designer: Charles Chang
Builder: Activa Motor Yachts
LOA: 16.73m
Beam: 4.57m
Draft: 1.19m
Displacement: 18.5 tonnes
Max Speed: 17 knots
Cruise Speed: 14 knots
Construction: Hand-laid GRP & Composites
Fuel Capacity: 3000 litres
Water Capacity: 1500 litres
Engines: Twin Cummins 380hp
Base Price: $925,000
Price As Tested: $995,000