Start Your Adventure
The Adventure 1430D is a stylish, compact, uncomplicated boat, available exclusively through Papamoa-based Conder Marine. Barry Thompson checks out their latest tiller steer model.
Adventure Boats started less than 12 months ago and currently offer four models; the 1430D tiller steer and 1450 that is available in a centre console, tiller or cuddy cabin. According to Conder Marine's, Russell Conder, the most popular has been the centre console, followed by the tiller steer dinghy and the fishers.
"We developed the Adventure range of boats to suit the type of boating that a lot of our clients use their boats for in our area especially", says Russell.
He adds that the boats not only had to have a sharp modern look, with a practical layout, but also be great performers.
"We reckon they punch above their weight (size) when it comes to ride and handling and the feedback we get from customers is they aren't afraid to run them hard in the choppy water".
Our test day on Tauranga Harbour was about as calm as you would find the harbour and despite heading out through the entrance and past The Mount, the best I could find was a low swell.
While virtually the same hull, the 1430D has a 3mm hull and the 1450 a 4mm. The pontoons are split into three chambers per side with full buoyancy under the sole, making the boat virtually unsinkable.
Externally the pontoon shape is flat, with none of the rounded looks of earlier pontoon boats. It not only looks good, but it also allows for maximum use of the beam. Wide side decks make great seats and the coamings are high enough to be safe when you have youngsters aboard. A chequer plate sole gives some degree of surefootedness and you can always add tube matting.
The internal layout is straightforward and practical and much as you would expect to find in a big open dinghy. Seating is provided with a sliding rear bench seat and a padded cushion (optional) at the bow. The bench seat can be moved almost three-quarters forward from the transom. You can add another second bench seat or other seating options such as fixed pedestal or cantilevered, but personally in a boat this size the openness is what makes it so appealing.
 I found that steering the boat from the bench seat was very comfortable and works well with the standard tiller. If you had an extended tiller, you would simply slide the seat further forward to achieve the desired position.
The bow seating is essentially just the padded top on the locker. This is also where you find most of the boat's dry storage with plenty of space for a couple of small gear bags. It also doubles as the anchor locker, so you may want to have a separate bag or bin for the anchor and rode, so the rest of the space stays dry. There's also enough space here for a small drum winch.
Being an alloy boat, the position of the forward bulkhead could easily be moved aft and without encroaching too much on the cockpit floor space, you could significantly increase your storage space. This also acts as good casting deck if you are into your soft baiting.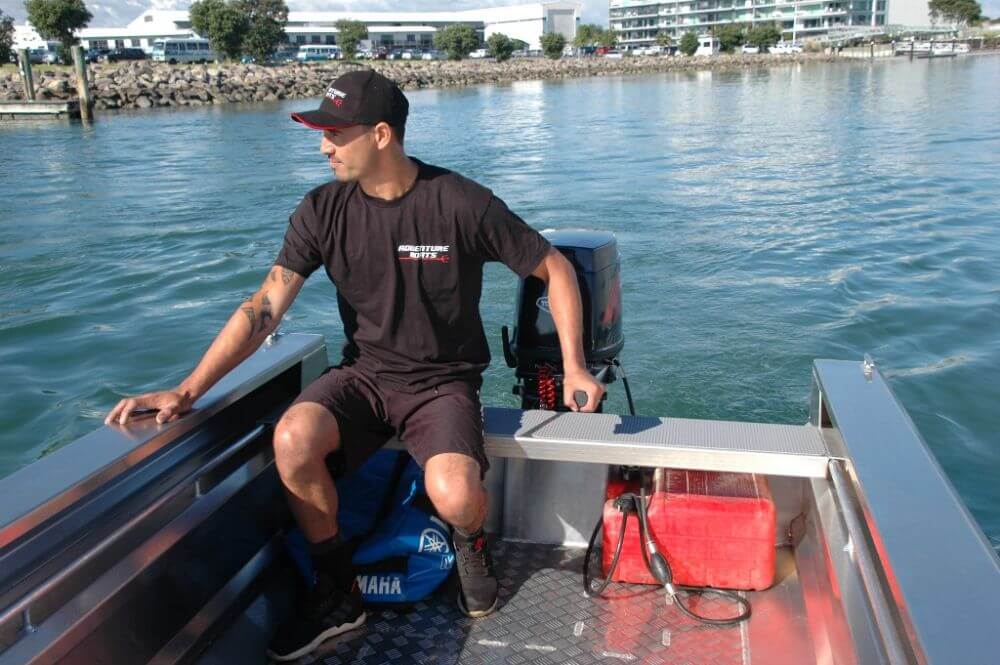 A storage shelf runs all the way around the boat under the wide flat gunnels. Our boat came with a tube rail, but my choice would be for a solid up-stand, so small items don't end up in the bilge. One advantage of the tube is it provides a convenient handrail.
Apart from that, the cockpit is open and ready for your fish and bait bins, tackle gear and rods. The standard boat has four-rod holders, two in each side deck. The boat comes with a short boarding platform either side of the outboard and there's an optional ladder available.
We ran a 40hp 2S Tohatsu, which was fed from a tote tank. You could easily fit two totes under the rear seat, but it's probably not necessary. While we didn't have a fuel gauge, in fact any instruments, my best estimate would be the 40hp wouldn't use much more than 8-10 lph @ around 4000-4500 rpm. Plenty if you are just inshore fishing. Flat out the Adventure 1430D ran at 28mph on a calm Tauranga Harbour.
The Adventure 1430D is rated for outboards from 25hp-40hp, tiller steer only. If you don't fancy the tiller steer option, there is the 1450CC, which is a centre console version of the 1430D or the 1450R runabout model. These are rated a little higher from 40hp-50hp.
My run on Tauranga Harbour quickly showed how stable and agile the boat is. Throwing it into hard turns, I found it hung on so tight I had to brace myself to stop sliding off the seat. I also made sure I had the kill switch lanyard around my wrist. While it's only a small boat,  it's got all the attributes to handle some reasonably choppy seas.
Overall a nice boat that is exceptionally well finished and ideal for anyone looking for an easily handle, easily towed and indeed easily maintained small fishing boat. It's also priced well, with the total package that I reviewed around $16000. Being an alloy boat, Conder Marine are happy to talk customisation and can offer a lot of different layout options.
Make: Adventure 1450D
Builder: Adventure Boats
Price As Tested: $16000
Priced From: $15000 (30hp 2S)
Type: Tiller Steer Dinghy
Construction: 3mm
LOA: 4.5m
External Beam: 1.8m
Internal Beam: 1.4m
Deadrise: 15 deg
Trailerable Wgt: 300 kgs (est)
Power: Tohatsu 40 2S
Propeller: 11" 3bld alloy
Max Speed: 28 mph
Power Options: Outboard only 25-40hp
Fuel Capacity: Tote tank
Trailer:  Hoskings