Heard of an Agapi 800? Nope? Well, neither had our writer.  Freddy Foote checks out the newest European brand to hit our shores.
Agapi is new to New Zealand, distributed here by brokerage firm Pinnacle Marine and Automotive, also the agents for Azimut Yachts, Elan Yachts, Impression Yachts, Monterey and Nacra Racing.
The brand is manufactured in Sweden, which soon becomes apparent when you notice the edgy styling that the 800 model enjoys.
Agapi is a reasonably young company and has a fairly small model line-up, in fact, there are just two, this model which is joined by a longer and wider 950 offering.
The 800 is a new model for the company, based on what was their popular and successful 750.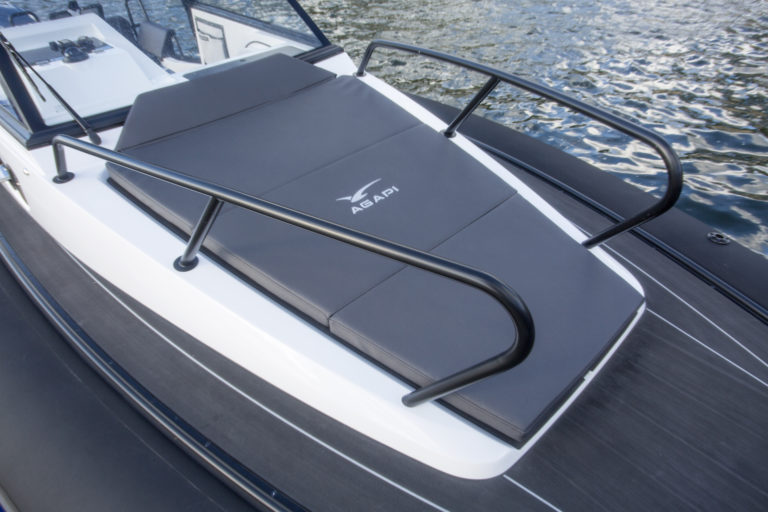 When it was released, the then 750 opened up new dimensions for modern boaters in several European markets and won "Boat of The Year- People's Choice" in Sweden 2013. After three seasons it was time for Agapi to take the boat to the next new level.
The new Agapi 800 is the result of product development based on a thorough evaluation together with their design team and users. Utilising the same praised hull designed by notable Swedish designer Håkan Södergren, the 800 has gained some length, and the deck and cabin look deceivingly much the same as the 750 model at first glance but has received a number of updates.
The design brief for the Agapi 800 was to build a boat that could be trailered behind a family SUV, be safe and easy to handle,  combined with an outstanding performance. So, have they done it?
Now the Swedish are a clever bunch, that design some pretty cool stuff and having spent some time aboard the Agapi 800, they have achieved the cool factor here as well. Though it is a high-performance RIB, the interior layout is designed to suit entertaining and family boating.
The position of the helm allows for a very large and spacious forward cabin area. The main berth is big enough to accommodate two adults, has plenty of legroom,  storage underneath and a toilet located behind the helm bulkhead.
For extra security and privacy, a sliding door can lock off the cabin from the main helm area. There are also some stylish looking round portholes that open to allow you to ventilate the cabin area and let in natural light.
At the helm, the seating consists of a large bench seat that's big enough to accommodate the skipper and a passenger. The carbon fibre dash has a large Simrad MFD, with Yamaha engine instruments below.  To the left of the MFD is a sturdy mount to accommodate tablets,  stainless cup holders and the controls for the bow thruster below. Opposite there is a handy layered pocket, which allows you to store small items.
With an accent on entertaining in the cockpit, the helm seat lifts up to face aft towards the cockpit, revealing a sink and gas burner below. With the helm seat now facing aft, a cockpit table can be installed.
Under the aft bench seat, there is further storage, with this seat also converting to form a large and comfortable sun lounger. Should this sun lounger be occupied, then a squab can be fitted to the area on the foredeck to create a second lounging spot.
Over the cockpit, the sizeable carbon fibre hardtop extends quite far aft, providing shade to those reclining below.  LED lighting above helps set the mood.  Our test boat was finished with the optional teak, although there are a number of finishes available.
There is a ski pole in the centre of the transom, which has a removable cup holder to put in place when needed. There is also wet storage lockers built into the transom, with an over the side boarding ladder as an option.
Navigation to the foredeck is relatively easy with plenty of foot room available via the Hypalon tubes and hand holds on the top edge of the targa top. A solar panel on the targa also ensures the battery systems are fully charged.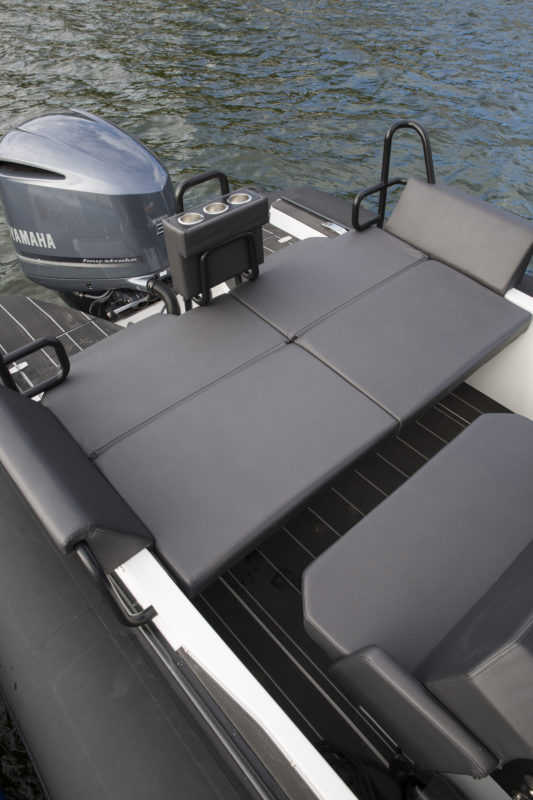 Our test Agapi 800 was powered by a Yamaha F300 four-stroke and with that power, you can expect 45-50 knots, depending on fuel load and gear/passengers on-board.
We found a nice cruise speed of 25 knots @ 3500 rpm with the 300hp Yamaha using 32 lph.
Flat out, we managed to get 45 knots @ 5700rpm, using 101 lph. 50 knots is achievable, but we didn't hit it on our test day.
The Agapi 800 hull is rated for outboards up to 300hp and you would get away with a 250hp. However, this is a performance boat so I'd go for the 300hp.
Underway, the Agapi 800 was confidence inspiring to drive. You could point it in any direction you wanted, no matter what the water conditions the hull would just eat it up.
The hull is well balanced and the more you push it, the better it went. It didn't need too much trim, and even when flat out, you felt very confident that the hull would perform as it should. The ride is reasonably soft and despite hitting a few larger waves, it never came down hard on re-entry.
It's a boat even a novice could drive with confidence and you'll soon be throwing it through the swell and chop like a pro – an immensely fun boat to drive.
The helm position was very comfortable, with a well-placed footrest below and there is plenty of visibility forward and out to the sides.
We ran our test boat with the 'clears' in place between the windshield and the targa top above – it was June after all!
Should you want to take the boat out for extended trips away, there is canvas pack that fully encloses the cockpit. It's probably not big enough for a whole family to overnight comfortably on, however it has enough space and amenities for a couple to venture in for a night or two comfortably.
Overall, I loved the Agapi 800. The RIB cabin market used to be quite a niche, however, it recent times it has certainly changed, with a number of different sized models and configurations now available locally from a wide variety of manufacturers.
The Agapi 800 has a superb finish, with serious bluewater performance to boot and is the ideal vessel for those who want to get to their on water destinations quickly and comfortably no matter what the conditions.
What's more, it's hugely versatile and packs a lot of features into a boat that we're not used to seeing marketed in this part of the world.
With some weight saving here and there, though it's a big boat, the trailerable weight for the Agapi 800 is just 2000kg, which means on New Zealand roads it's easily trailerable, and compared to boats of similar length it's not oversize.
As tested this rig is $179,000 without the trailer.  Some might think $179,000 sounds expensive, but it's really not.
When you start adding up the carbon fibre construction, the teak finish, the 300hp Yamaha outboard, bow thruster, electronics package, it soon adds up and you, in fact, have a lot of boat and features for your money.
Definitely, one of the best larger performance RIBs I have tested for a while and should be on everyone's list if you're looking for a boat of this size. The Swedes seem to love it, and I think Kiwi boaties will too.