While the size range is the same, any similarities between the Alaska 46 Flybridge Gen I and Gen II models finishes there, for basically, apart from the same side profile, the two models are worlds apart.
As is so typical of the approach of Dean Leigh-Smith and his team at Leigh-Smith Cruiser Sales (LSCS), each new model is better than the last and while the quality remains consistent it's  the little things that make a house a home – a boat a pleasure to be aboard. It's an evolutionary thing if you like, for Leigh-Smith very much listens to the comments of his clients and ensures that their ideas find their way into later models.
I have mentioned in the past how the Alaska product has come a long way since it first appeared on our shores some eight or nine years ago, both in quality as well as in aesthetic appeal (the sharp edges have been rounded off), now the Leigh-Smith team are further refining the creature comforts and practicality side of the Alaska range. The earlier Alaska 46 Flybridge model we tested was perhaps best described as a good coastal cruiser, but this new Gen II (second generation) goes one better again, for it more closely follows the ideals of a passagemaker.
Set up for coastal cruising the Alaska 46 Gen II really only needs the owners input as to what "specific" electronics package, tender & storage system they would prefer fitted; however if the intention was to venture farther afield then there is a pre-plumbing set up for desalination, provision for solar panels & increased battery capacity, with the small addition of some of the aforementioned this vessel is definitely a fully capable 'passage-maker'.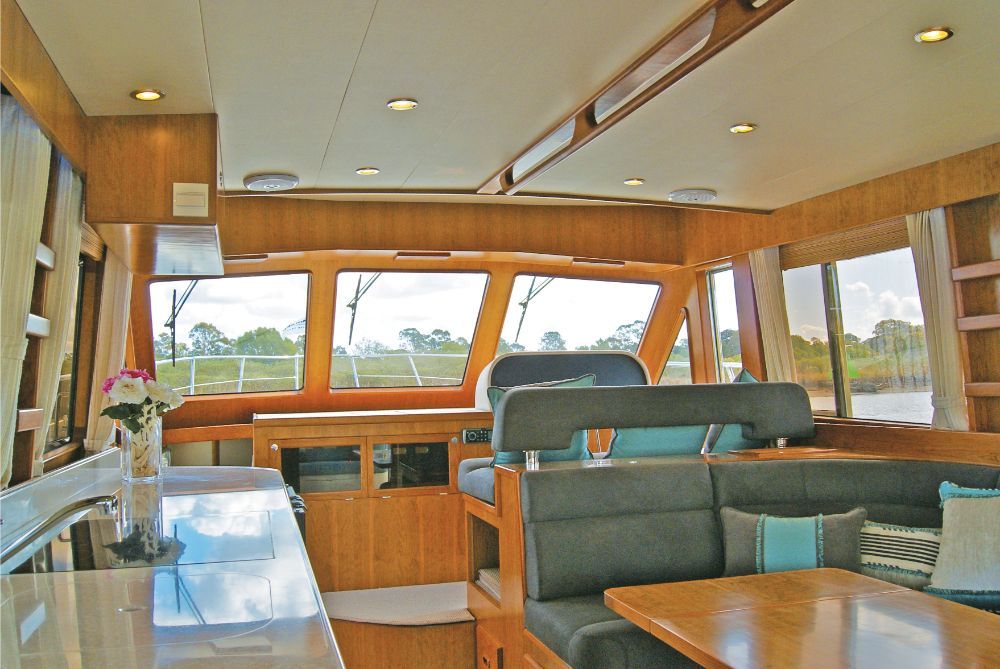 And speaking of venturing farther afield, there was one other aspect that hadn't changed; the under-hull shape remained as per the status quo so as was the case in the earlier model, we know it handles and performs as you would expect from an accomplished bluewater cruiser, and of course it enjoys the same rather mind-boggling range characteristics. Nothing more needs to be said in that respect.
From a perception perspective, the Alaska 46 Gen II was more your traditional style of vessel, more of an open-plan live-aboard all-rounder style of layout, with now more features than ever, some subtle, some obvious, that are standard issue. Items such as, for instance, the aft stainless steel Hopper window and the bi-fold opening doors at the saloon entry, which cleverly provided a pleasant flow-through draft effect, venetian blinds as well as curtains throughout, standard bow and stern thrusters, a 7kVA Onan genset and its associated inverter/charger, the Bennett trim tabs, the capable twin-gypsy Muir winch complete with chain counter, the Vetus wipers – and so the list went on.
From the stern quarter the layout was fairly predictable, with a sensibly-sized teak-lined boarding platform with hoops that in this instance were used to support the bait station and BBQ, but would also have been suitable for mounting a small tender in an upright position. Neat steps then led up through transom gates (each side) and onto a vacuum-bagged teak-lined cockpit. 'Arvo drinkies' features included the rear lounge (with fridge under the seat base), a nice wooden table, a sink module with icemaker below, and, off to the side in the walkways forward, fuel and water re-filling outlets and vents. They're up off the floor, so you don't even have to bend down for that chore!
The impressive hawse holes and cleats caught the eye, as did the hatch in the floor, which opened to reveal a spacious lazaretto which in this instance housed a teak and S/S access ladder, the two 378-litre water tanks, the heavy-duty Capilano hydraulic steering assembly, the 11.7kW Marine Air air-conditioning and the stern thruster. All this, and there was still plenty of room left for either a laundry, dive compressor or whatever else your little heart desired.
Other points of note were the sensible-height bulwarks which circumnavigated the entire vessel, which now have an oval-shaped (as against round) bow rail extension assembly on top, and two 'fashion plates' each side which attach the bulwarks to a flybridge overhang which now extends from cockpit transom gates to the port and starboard pilothouse doors (yet another 'standard' feature!). From there forward to the two-anchor bowsprit and Muir anchoring feature (including deck-wash) on the raised foredeck, the walkways were non-skid gelcoated decks complete with raised bow-rail assembly.
While the Hopper window and the Aritex saloon doors were a powerful statement in their own right, sharing centre stage with these was very definitely the neat and quite upright but entirely safe (grab rails each side) and supportive teak and GRP moulded staircase which led up and onto the flybridge level. Again, a most efficient use of space, this level was enhanced further by some very good thinking when it came to layout and (user-friendly) features. To keep the area safe, a hatch dropped down over the entry 'hole', plus the whole living area of this level was encapsulated by a sensible-height stainless steel pulpit-style rail assembly. The skipper and a friend sat on two Springfield helm chairs towards the aft of this level, behind what in this instance (awaiting an owner to make a decision on electronics) was a rather bare upright helm console. 
In saying that though, like the main helm down in the saloon, it still boasted features such as a Fusion stereo remote, thruster controls, a Raymarine Ray55E VHF radio, an ST60+ Tri-data read-out, Bennett trim tab buttons and of course the SmartCraft engine data read-outs and DTS 'fly by wire' remote controls.
Protected from the elements by an overhead very substantial GRP hardtop supported by an equally strong, rigid and vibration-free S/S frame assembly, guests were able to be seated forward of the helm on a huge U-shaped lounge, which just happened to be alongside the fridge and sink module. After dark, an infill transformed this lounge into a huge berth – great for the kids!
Also up on this flybridge level but separated from the carpeted formal area by the aforementioned pulpit rails, was an aft overhang large enough to house a decent sized tender plus a davit crane on the already appropriately-strengthened mounting point on the floor alongside. This was precisely why I earlier described this level as an efficient use of space, for it capably combined business with pleasure, far enough apart so it wasn't inhibiting or impacting.
Dropping down from this flybridge level, prior to entering the saloon, an open hatch at the door beckoned me to investigate. I was glad I did, for this hatch led to the engine room which was effectively in under the cabin sole, which offered me a graphic overview of what this Alaska 46 Gen II flybridge model was really all about. First impressions were – what an incredible room!
Entered via an almost upright teak and S/S ladder, from a presentation perspective the teak ladder and the carpet on the floor sort of set the standard. The way each and every item was laid out and labelled, the insulation presentation, the stainless steel engine bearers (mount beds), the filter presentation, the clear access to each and every mechanical facet – all suggested this was designed by someone who definitely understood a boat from the skipper's perspective; or if not the skipper, then surely the service agent entrusted with maintaining the vessel.
Pride of place in here was surely the two 480hp Cummins QSB-5.9 480 through ZF Marine 85-A (ratio 2.50:1) gearbox and conventional shaft drive, to the 4-blade Hung Shen propellers. Also in here was the Onan genset, with gas/water separator and sound-shield, the banks of two house and two engine 200Ah AC Delco N200 batteries, a Victron Energy 12V/3000W/120A inverter/charger, and of course the two 1135-litre 'wing' fuel tanks.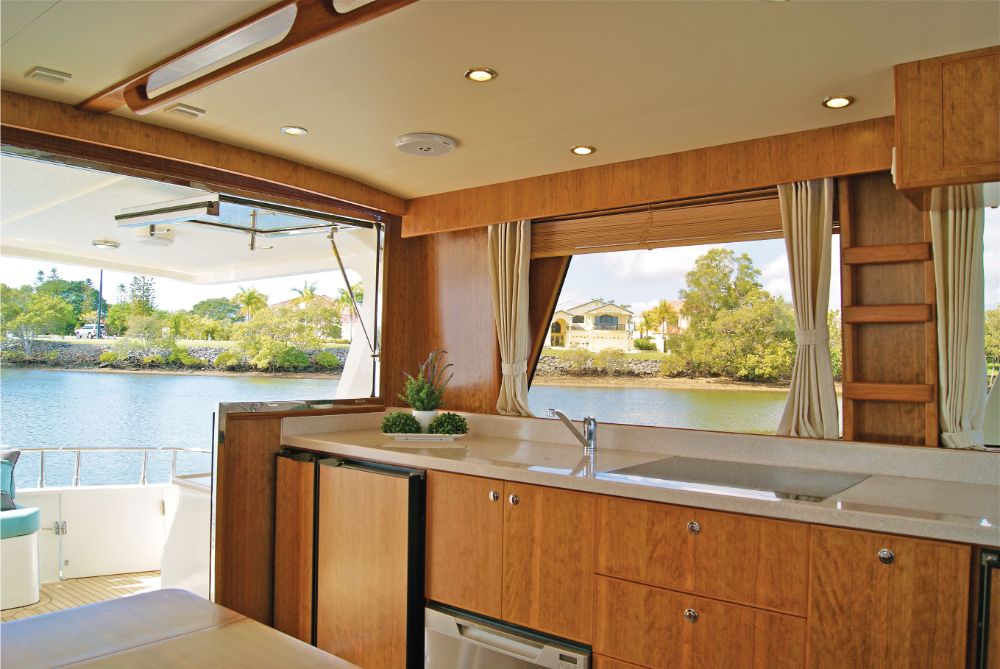 Traditional style of saloon
The saloon was very much your traditional style of room, plenty of wood finish, in this instance satin finish (love it), long and wide in dimension, and surprisingly spacious. To starboard was an elegant four-person dining setting complete with L-shaped lounge (with good storage within the base) and a solid fold-up round-edged cherrywood table which, incidentally, dropped down after dark to form an additional double berth.
Opposite this was a galley virtually the full length of the portside saloon wall. As such, there was everything the cruising skipper would ever need; dishwasher, two sets of side by side Navacool refrigerator and freezer combos, an icemaker, convection microwave (within the helm chair base), four-burner electric cook-top, overhead cupboards, Corian bench-tops, pull-out pantry – very comprehensive!
Ahead of the dining setting and subtlely segregated by the helm seat base inclusive of the pop-up television, was the lower helm station. As alluded to earlier, in its raw state awaiting the new owners' choice of electronics, it was certainly your typical cruising helm set-up with good visibility, upright dash, two-person (three intimately) bench-style (macro-suede) helm seat, chart drawers atop the front bulkheads and below the helm bench, the BEP Marine switch-board.
I must say I very much liked the softer satin-finish North American cherry woodwork around the vessel, very serviceable and I think more aesthetically pleasing and ambient. It was the same below decks also, with the contrast of vinyl overhead panels, wood and soft furnishings which were very easy on the eye. While the floors were all teak and holly strip-planked, a nicely edged carpet was of the drop-in variety, throughout the whole vessel. Just another great feature, that was standard!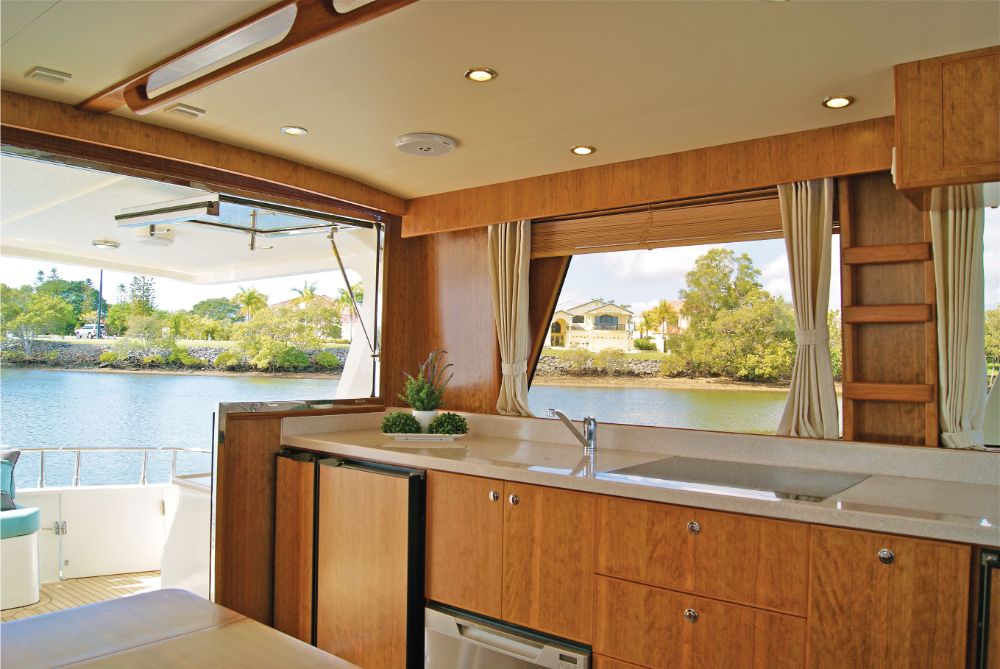 New approach to accommodation
The accommodation level below decks was unique, a really refreshing and innovative break with tradition. Even considering that, I must say I still liked the way LSC again had not tried to do too much with this style of boat that requires its own definitive areas of 'space' – for they had opted for two bedrooms and two bathrooms over a three-bedroom, one-bathroom layout.
The uniqueness if you like manifests in the main bedroom, where an 'arrangement' where the two doors met on a 45-degree angle, thereby privatises as well as maximises space in this 'mid-master' stateroom. Stately features in there included a genuine queen-size berth complete with storage underneath, vanity, overhead hatch and side 'opening' portholes which create great cross-drafts, his and hers wardrobes, bedside tables and generous head height throughout. Off this room was the ensuite bathroom which included vanity and separate shower and head – everything you would ever want in your own special bedroom!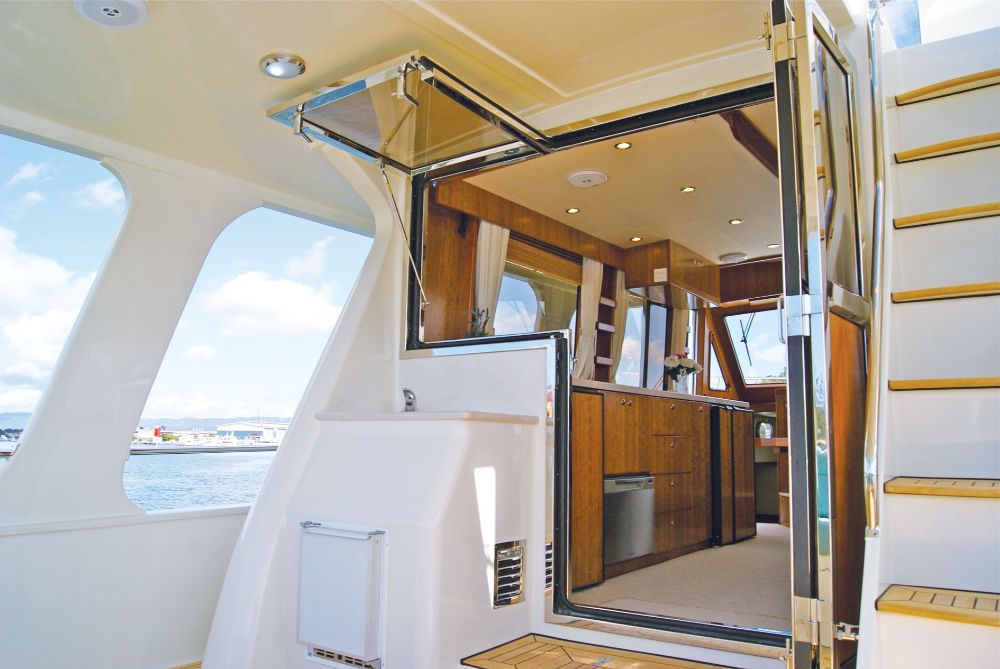 Because of the layout of the master stateroom and the adjacent companionway, the for'ard cabin was certainly very 'open plan' and as such was obviously open to multiple layout and berth configurations. It might be a single berth and office, a 'double' fore and aft berth, a single below and double above configuration following the port and starboard walls of the 'V' of the bow section; or it could be as in this particular instance, two 2.4m upper and lower single berths which again followed the 'V' angles each side of the bow section – surely the perfect location for the wee ones or indeed a couple with inhibitions.
Just prior to the portside berth was the house bathroom, a little smaller in dimension than the master ensuite, but nonetheless capable, with vanity, shower and head. I must add that attention to detail was impressive even down in the bathrooms, with teak and holly floors, Corian bench-top and teak slats on the shower base. There was plenty of storage in both bedrooms and even in under the lift-up staircase to the world above, where a huge void which extended aft from this staircase would be the perfect spot for clothes storage racks, a laundry (if you didn't want to site it in the rear lazaretto/pump room), spare parts storage, food storage – the options were limitless.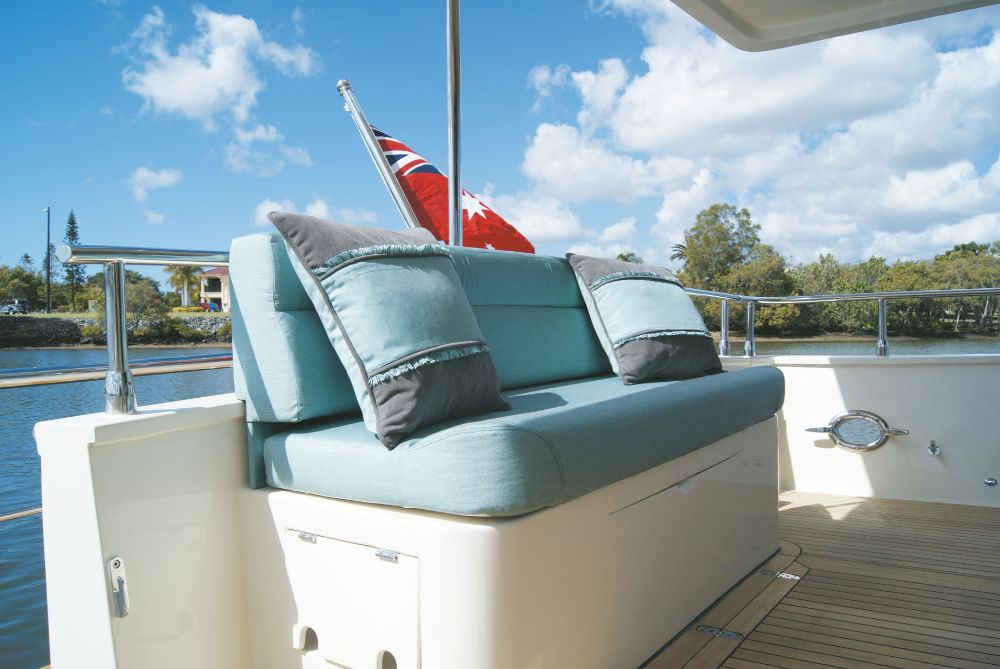 For me, the Alaska 46 Gen II flybridge model ticked the box in every respect. Impressive was the build quality, presentation, the stainless steel work, the woodwork, the teak flooring, even down to the impressive carpet presentation; the whole way through this for me was a very satisfying experience to find a boat that adhered to the kiss principle, with so many engaging and user-friendly features that genuinely 'worked'. Nothing was surplus to requirements. We already knew how it handled and performed during our earlier test of this hull and even with the larger 480hp Cummins diesels you could still slow cruise at 8.7 knots and enjoy a range of just under 1000 nautical miles. The best part for me though was the bottom line; I felt $A860,000 for a boat of this ilk, in this coastal trim, surely represented good value-for-money boating.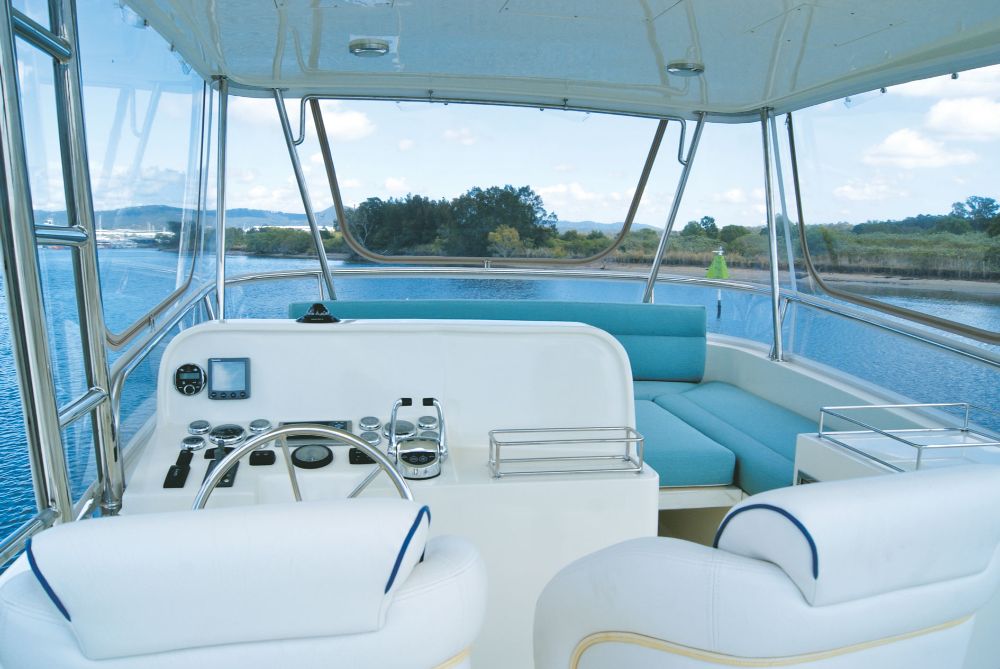 Design name: DHS 46 Alaska Flybridge GEN 2
Builder: DHS Alaska
Country of origin: China
Designer: DHS Alaska
Interior designers: DHS Alaska
Year launched: 2011
LOA: 15.10 metres
LOH: 14.02 metres
LWL: 14.02 metres
Beam: 4.25m
Draft: 1.07m
Displacement: 16,500kg
Max speed: 25 knots
Cruise speed: 18 knots
Fuel capacity: 2270 litres
Water capacity: 756 litres
Construction: GRP composite
Classification: Rina / CE / ABYC / NMMA
Engines: 2 x 480hp Cummins QSB-5.9
Gearboxes: ZF
Drive train: Shaft Drive
Drive couplings: Poly Flex
Propellers: 4-blade Hung Shen
Generator: 7kVA Onan
Inverter/charger: Victron Energy
Air conditioning: Marine Air 11.7kW
Bow thruster: Sidepower SE100
Stern thrusters: Sidepower SE100
Trim tabs: Bennett
Lighting: LED
Underwater lights: 3 x Aqualuma
Anchor winch: Muir Cheetah HR2500
Anchors: Manson Plough 2500 S/S
Steering: Capilano
Engine controls: SmartCraft
Wipers: 3 x Vetus
Paint (antifouling): International Micron
Stainless steel fabrication: DHS Alaska
Saloon doors: Aritex
Deck hatches: Man Ship
Portholes: Man Ship
Heads: Tecma
Wood finish: North American cherry
Upholstery: Macro Suede
Helm chair(s): Springfield
Entertainment systems: Fusion
Depth sounder: Raymarine ST60
VHF: Raymarine Ray 55E
Engine instruments: SmartCraft
Wind instruments: Raymarine ST60
Switch panel: BEP Marine
Vessel management: SmartCraft
Price as tested: AUD$860,000