In the past we have become accustomed to the sedan or flybridge style of alaska motor yacht. but there is another guise fast gaining attention in their range, the flagship alaska 57 pilothouse model.
Those sedan and flybridge cruisers within the Alaska range are certainly very capable coastal cruisers in their own right, but in the instance of the 57 Alaska Pilothouse model one is left in no doubt whatsoever as to the very serious passagemaking nature of this particular model. Long-range capable in every facet of operation, layout and specification, just as obvious is the input and guidance of the master dealer for this region, Leigh-Smith Cruisers. These are boats that are purposedesigned to be attractive to Australian and New Zealand boaters, with styling just as important as the appointments and mechanical peripherals.
Layout and specification are one thing, but boats need to be attractive to the buyer also and in this respect the Leigh Smith factor has seen a definite effort by Alaska to endear itself to the boating public, by way of a 'raised' level of luxury styling and features. The boarding platform and general presentation of that and the cockpit level is one classic example, for the 800kg ADC rise and fall platform offered a whole new dimension in opulence.
A huge level which allows for a tender or jet-ski to be mounted there during the day or perhaps when you weren't on a full-on passage – still leaves enough actual deck space for swimmers, divers or water-skiers. Lowering down to 600mm below water level, imagine what a perfect spot this would be to lay the deck chairs out, lower the platform down, grab a Margareta and generally relax in the (expansive) ready-made swimming pool!
Stepping up from this lower level, stainless steel gates led through and onto an aft 'cocktail' setting which featured a solidly mounted, polished cherry wood table in front of a rear lounge which was recessed into the transom beam. I mentioned solidly mounted, but rather innovatively it still unlocked and tilted up easily by hand so as to provide unobstructed access to a floor hatch that led down into the large lazaretto. Busy as well, for housed in here were the Hynautic steering, the platform hydraulics, the inverter/charger combo, two additional 450-litre fuel tanks, the watermaker and the 'reverse cycle' air-conditioning.
Forward of this was another hatch which provided access into the equally voluminous engine room. Down a quite magnificent teak and stainless steel ladder assembly and into a virtually full head-height engine room, it was patently obvious from the outset that this was a most capable cruising boat. Watermaker, house-size hot-water cylinder, workshop, an Onan 13.5kW genset, and a battery bank of 200Ah AC Delco AGM batteries, two engine and four house – were all standard issue.
Taking pride of place though were a pair of 11.1-litre, 670hp Cummins QSM 11 670 HO diesel engines which ran through ZF 325-1A (2.037:1 ratio) gearboxes and conventional shaft drive, to 4-blade propellers. Surprisingly, these engines were mounted a lot further apart than most, thanks I suppose to the generous 5.1m beam of this Alaska 57; but where the surprise arose was the fact that located on the outside of these engines were the 1500-litre fuel tanks, one to port and the other to starboard.
I must add that at the time I had some reservations about power for a pair of 670hp diesels appeared a little on the miserly side for a 57-foot, 30-tonne passagemaker. But as I subsequently discovered, underway it was fine. They proved more than suitable in fact, in this guise, for the top speed was a creditable 24 knots at the maximum 2250rpm.
As in any passagemaker guise, often important things have to go hand-in-hand with the 'pretty' things and in this respect three features stood out, the first being the appropriate fridge and freezer combo against the saloon bulkhead. Secondly, immediately on the other side of the wall from this, in the walkway, was a hatch which opened out to reveal a remote throttle, gears and thruster control station.
These walkways incidentally, well protected from the weather by the flybridge overhang above, were generously wide and very safe places to be. The teak flooring, impressive 'fashion plates' and the typically-passagemaker high coamings with grab rails on top – all contributed to what was an 'easy' passage forward, past the pilothouse door (starboard side only) and onto the foredeck.
The highly polished S/S vents, hatches and portholes were stand-outs up for'ard, but what really caught my attention was the anchoring feature right at the bow. It was all serious gear; S/S anchor (and room for a second), a massive anchor guide cum fairlead assembly, a Muir windlass, deck-wash, fender holders, foot-pads for the windlass activation, and inspection hatches each side of the windlass – all included within the one compact and impressively presented raised platform!
My third 'cockpit delight' was off the starboard side of the quite magnificent (each opens then folds in half again) saloon doors which frankly, were entirely befitting of a superyacht. A moulded staircase, wide and with substantial grab rails each side, safely guided me up and onto a rather hospitable flybridge level. Encapsulated in a hardtop, clears and a sensible-height dodger, this area was very much a combination of work and play. 
Seated at the Navigator helm chair, the skipper had at his/her disposal a virtual duplication of the helm station in the pilothouse, even down to the wooden helm wheel and the ITIM vessel management system. For guests this rather convivial area offered seating either on the starboard side bench seat or at the L-shaped dining setting to portside both of which allowed for close interaction with the skipper. With Sunbrella fabric lounges and a solid triangular cherry wood table, it was not too hard to handle an hour or two up there on that level.
Outside the confines of the hardtop the teak floor gave way to a gelcoat GRP floor finish, flanked by two further illuminating and indeed endearing features. One was the outside galley complete with electric BBQ, sink, refrigeration and storage. The other was the rather large raised sun-pad which would surely be a magnet for the sun-worshippers. Sensibility may reign supreme however, for on a passage this aft area would arguably be better served as an area on which to mount your tender and davit crane.
Alaska had done a good job of segregating the various exterior areas of this model so you could very much have your own space at any given time; the interior was more of the same. The saloon was not a huge expansive room but in saying that certainly every creature-feature that you would expect to find in a formal saloon, was there in the one beautifully presented, intimate and inviting package.
Features included icemaker fridge, wine cooler, wall-mounted 42" Samsung pop-up television, two lounges, low-slung coffee table, and LED lighting (throughout the boat in fact). Neat window alcoves completed the picture; the satin-finished darker cherry woodwork being an absolute fashion statement in itself. Seemingly no expense had been spared, a typical example being the use of venetian blinds as well as heavy fabric curtains.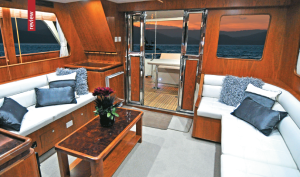 Four steps up and onto pilothouse level, the 'opulent' theme prevailed. Sensibly, and this was where the trade-off with the saloon space became obvious, this was your day area of the boat, the working area and as such it was roughly a third larger in area again, than the saloon. To me this was the perfect balance, especially so considering this busy room boasted the galley, an ornate staircase for internal access to the flybridge level, a dining setting and the helm station.
Immediately to portside upon entering this level, was this ornate semi spiral staircase to the flybridge, with forward of this the appealing and congenial C-shaped five seater dining setting. Nice and close to the skipper, this was elevated enough that it provided panoramic views of the bay also.
Opposite the stairway to heaven was the comprehensive U-shaped galley, long-range capable may I add, in every aspect. Features included house-sized refrigeration, a Blanco convection microwave oven, Gala Miji four-burner electric cook-top, range-hood, trash compactor, good lighting and most importantly for the chef, generous bench space and appropriate drawer and cupboard storage provision.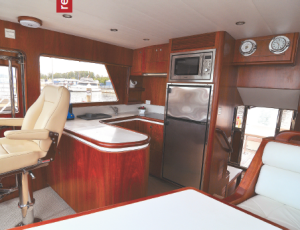 The helm was off to the starboard side, immediately adjacent to the pilothouse door. Compact rather than a full-width flagrant abuse of space, it featured a Navigator helm chair, Hynautic steering and the locally sourced Raymarine electronics package of Raymarine C140 GPS/plotter/sounder, ST 60+ Tri-data read-outs and ST6002 Autopilot. What I did especially like about this helm was the 'thinking' way it had been laid out, with the most impressive traditional helm wheel conveniently surrounded by the above.
Other mandatory features there included the Icom VHF, three Exalto windscreen wiper switches, the SmartCraft DTS remote controls and Cummins/MerCruiser engine read-outs, the remotes for the Side-Power bow and stern thrusters, and the various read-outs and push-button pads for the ITIM CAN-Bus vessel management system. Busy, yet oh so practical and user-friendly; and the woodwork presentation with the dash facia, helm wheel, the wind-screen mullions, the window mouldings – just superb!
Three-cabin Accommodation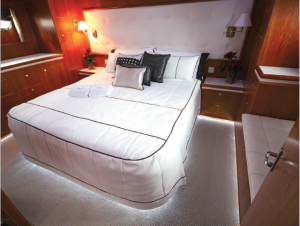 Below decks, the majestic seven-step staircase statement of contrasting timbers led down and onto a companionway which then fanned out into three distinctly different bedrooms. Of note in this companionway was the very deep cupboard which because of its proximity to the laundry in the foyer of the master cabin would be the ideal linen cupboard. Natural light rather thoughtfully (companionways are often 'dark' areas of a boat), was provided by an overhead hatch.
Immediately to portside was the twin single Pullman style cabin, complete with hanging wardrobe, drawer and cupboard storage provision, side and overhead hatches, curtains, television and stereo, good lighting, air-conditioning and even a grab handle. Not bad, for what was effectively the kids' room!
Directly opposite the door to this cabin was the main bathroom comprising a tiled floor, side porthole and overhead hatch, and a separate shower (with seat), Dometic SeaLand VacuFlush head and vanity which was nicely intermingled with a Corian bench-top and extremely generous lashings of cherry timber-work. Not surprisingly this house bathroom was a two-way affair, being as it was privately accessible to the VIP cabin in the bow also.
This room featured a queen-size island berth (with the 1200-litre water tank built into the base), alcove windows, overhead hatch and opening portholes, vented and wood-lined hanging wardrobes, bed-base storage, television, one of the brilliant new Fusion do-everything stereos, two levels of carpeted floors and classy little feature corner tables each side of and adjacent to the foot of the bed.
The amidships full-beam master bedroom was a stateroom in every sense of the word, designed specifically for the discerning skipper who enjoys the finer things in life. Down another three steps off the companionway (offering some insight into the volume of this boat), again wood-dominated and with the same eye-catching bed linen theme along with matching 'feature' headboard, this was a nice 'warm' room simply because the accent was on creature comforts rather than an over-zealous attempt to present luxury before comfort and practicality.
There was a neat, respectable-sized bedside table each side of the central king-size (plus) berth, his and hers wardrobe and drawer combos of huge proportions, mood lighting, a lounge to portside of the berth, and a chest of drawers and a ladies' vanity area off to the starboard side.
Each side of the stateroom entry door, effectively at (nearby) the foot of the berth, were to starboard a bathroom proper, complete with vanity, mirror, and cupboards above and below the sink, and a separate shower cubicle complete with opening porthole for ventilation. On the other side of the entry door was another smaller room complete with head and vanity, wall cupboard, opening porthole and even curtains for that porthole.
Attention to detail, even in the head, was certainly beyond my expectations, and the other point that caught my eye was the better than generous amount of head room in this and indeed all the accommodation rooms below decks.
The Alaska 57 Pilothouse was an nicely flowing, intimate, inviting boat yet there were still very clearly defined and separated areas of formal saloon, cockpit, flybridge, pilothouse and even the foredeck, where you could very much have your own space – so important in a genuine passagemaker situation. It's a 'plodder' sure, where it enjoys a cruise range of 1377 NM at a cruise speed of 8.7 knots, but the nice part about this package is it will also fast cruise at 18 knots and if you really need to outrun a pending storm, skirt around the edges, it has the power and performance to stretch its legs and sprint at up to 22-24 knots, depending on engine specification.
Brilliant woodwork, quality fittings, an awe-inspiring amount of storage potential, properly-opening and shutting doors, cupboards and the like (15-jewel movements!), and 'even' door gaps which provide clear evidence of the level of expertise by the craftsmen who built the boat; I couldn't help but think this branding had come a very long way from whence it was first introduced into Australia a few years back, by Dean Leigh-Smith and the team from Leigh-Smith Cruiser Sales.