Text by Freddy Foote
Having tested Allenco's 6.7m HT model over a year ago, a smaller offering from this niche custom builder is now available. Freddy Foote went to Tauranga to test the 6.25HT model and to see how two blokes from Matamata build boats that are in such hot demand.
This particular model from Matamata's Allenco Marine has been in the hands of its happy owner for almost a year. He came to the custom alloy builder wanting a tough and heavy duty no-nonsense boat, specifying that he also wanted it with an unpainted finish.
"Before he came to us, he had thoroughly checked out the alloy boat market and decided that what we could do from a boat building perspective filled all his requirements," says Martin Douglas of Allenco Marine.
However, before signing on the dotted line, he was sent to Napier for a test run in a similar sized boat, which is used extensively around Mahia and the Napier coastline.
The test went so well, that he stopped in at the Matamata factory to discuss his preferred options and layout on his way home to Auckland.
"This boat is very much a customised model, as is much of what we do," says Harvey Allen – the other half of Allenco Marine.
The boat was built with a strong accent on fishing, and the owner's enthusiasm for gamefishing out from Tutukaka to the Poor Knights Rise.
The list of requirements read along the lines of generous use of LED lighting, no bunks – a cabin for storage only, an alloy trailer with a catch hoop for beach launching/retrieving coupled with a drive on skid on the trailer.
Starting forward in the lockable cabin, it's really just a place to store gear and to keep the cockpit uncluttered. Two sizeable side shelves run the entire length of the cabin area, while the owner had specified that he wanted two large removable storage bins to be fitted. So, after the bins were supplied, two mounting brackets were constructed to keep the bins secured while still allowing easy access to whatever is inside.
Bearing in mind that this boat was customised to the owner's requirements, the roof height of the hardtop was the only aspect I struggled with, as with my taller frame (6'1″) it only gave me about an inch of clearance, though it would be perfect for the owner who is a bit shorter than I am!
The boat had also been specified with a lower roof height so it would fit in the owner's shed. For this reason, no rocket launcher was fitted above the roof, but one can be, should you wish. So apart from having to watch my head while standing and driving, the overall driving feel for the boat was really pretty good.
The dash area was really quite plain, a simple aluminium dash to house engine gauges, trim tabs and anchor winch controls. This particular model had been set up with a large Garmin multi-function unit that mounted on a bracket above the dash and was accompanied by a VHF, also mounted on a bracket. The boat spends a fair amount of time on a mooring and in a berth, so for added security, the expensive electronics can be removed to deter the opportunists.
Passenger comfort was excellent, with plenty of forward grab rails immediately in front of the passenger seating as well as rails for standing passengers behind.
Plenty of side access to the foredeck and sturdy handrails built into the roof, which we made good use of on test day when getting on and off the boat during our photo shoot.
Rods can be stowed either in long side trays that run the full length of the cockpit, or in one of six rod holders built into the coamings and a handful of rod holders built into the bait board aft.
As I mentioned earlier, the boat does spend a lot of time over the summer months in the water on a mooring and in a marina berth, so a number of bollards have been welded into the boat during construction to aid with securing the boat into place on such occasions.
As in the entire Allenco range, all seating in the cockpit area is optional, and our test boat was fitted with a Softrider single pedestal each side. Aft, there is a removable bench seat that runs across the transom.
Three lockers across the rear of the cockpit take care of onboard fuel systems and the batteries. As this is a trailerboat with an accent on fishing, I was expecting to maybe see a walkthrough in the port after corner, but there wasn't – especially considering the ultra heavy-duty boarding ladder that was fitted on the opposing boarding platform. Though this owner didn't specify a walkthrough transom, rest assured, one can easily be specified at the time of ordering.
You will notice in the photos there are some grinding marks on the tread plate floor of the cockpit. Allenco's signature central live bait tank had been a prominent feature here. However soon after launching, the owner decided it was not going to suit his fishing needs, so tuna tubes are being customized for installation over the transom.
Also, there is no under floor storage, thanks to the ultra large 280L fuel tank, however, 280L isn't for everyone, so opt for a smaller tank and you may be able to find yourself some under floor cockpit storage.
As already mentioned, the owner does use the boat for game fishing regularly, so from the factory, provision was made for game poles, as well as brackets built into the bow rail on each side, to securely hold the poles down when not in use.
The 6.25HT has a fairly broad power rating – able to be powered by an outboard from 150hp to 225hp. You aren't limited to just single outboards, as twin options are available and the hull is big enough to handle an inboard sterndrive if that's what you require.
Our test boat was fitted with a 150hp Honda four-stroke outboard – the smallest engine suited to the 6.25HT. It's no rocket ship when it comes to the speed department, and on our test day we managed to get 36.6 mph @ 6000rpm. However it was never really the owner's intention for this boat to be a rocket – its purpose was to get out to the fishing spots and then troll for hours on end in the hunt for the elusive game fish. Given the boat's substantial underfloor fuel tank, and Honda's awesome fuel economy, visits to the pump will be few and far between.
The boat still performed pretty well with the 150hp engine, though being that it's a 'big' 6.25m boat I'd be inclined to fit a 200hp outboard, but that's just my personal opinion.
Test day conditions were pretty good, Tauranga's inner harbour presented us with some choppy, blustery conditions, and out through the harbour entrance a big rolling and breaking swell gave us a quick opportunity to test the boat is some tough conditions.
We punched into the water about as fast as we dared, coming off each wave, although we took a lot of water over the foredeck and windscreen, the ride was quite soft, with practically zero noise reverberating through the hull, the 6mm alloy hull really coming into its own. Trim tabs are fitted, and most definitely a must when tackling a quartering sea. Overall, it's a fairly easy boat to drive with no odd handling characteristics to contend with.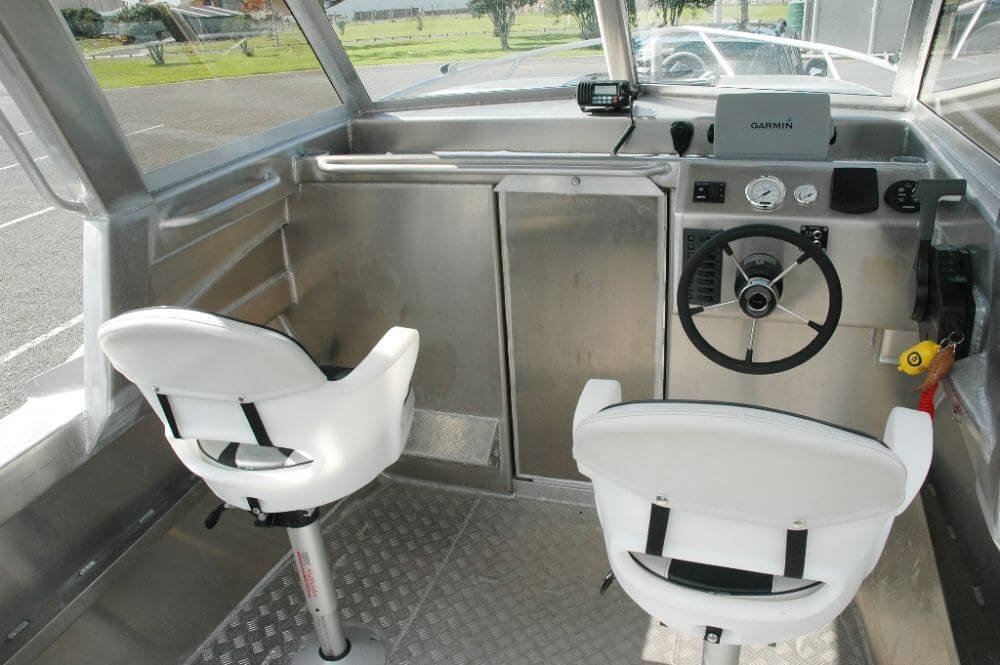 They don't do things lightly at Allenco. This 6.25HT boasts a 6mm bottom, 5mm sides and 5mm decks all surrounding a full-length girder construction underneath.
Launching and retrieving was really easy, with the owner specifying that he wanted to be able to launch and retrieve the boat from the beach, but without anyone getting wet. So fairly simply, the boat is driven up onto the trailer utilising the guide poles, then a catch hook on each side of the trailer is hooked onto a plate on top of the gunnels – once secured you drive up the beach and secure the rest of the boat onto the trailer out of the water. Pretty clever, really!
Allenco Marine is really a classic case of alloy boatbuilders who pride themselves on total customer satisfaction and customer input on projects.
"I think the thing with us, is that not only do we own the company, but we also build the boats, so when a customer comes to us with an idea, we implement it instead of handing it on to a foreman who hands it on to someone else." says Harvey.
What's more is that the company accomplished quite big things in boat construction considering the only staff it has are the two owners and their apprentice, 'Forklift.'
"We find that customers really enjoy being 'involved' in a project, and we have them regularly stopping by and seeing progress and discussing ideas as the build moves forward. Plus, it's handy having that third pair of hands when we need to move some of the heavier material!"
So if you are in the market for your ultimate custom alloy craft, then I would suggest a trip to Matamata is in order – just don't be surprised if you're asked to give them a hand when you're there.
Price from: $38,000
Type: Hardtop
Construction:   Aluminium
LOA: 6.55m
LOH: 6.25m
Beam: 2.25m
Deadrise: 18 degrees
Trailerable Wght: 2140kg
Engine Capacity: 150-225hp
Power Options: single/twin outboard/sterndrive
Fuel Capacity: 280L
Revs
Speed MPH
750 rpm
2.9mph
1000 rpm
3.8mph
1500 rpm
5.6mph
2000 rpm
7.5mph
2500 rpm
9.0mph
3000 rpm
12.0mph
3500 rpm
15.6mph
4000 rpm
21.0mph
4500 rpm
26.0mph
5000 rpm
30.5mph
5500 rpm
33.5mph
6000 rpm
36.6mph