A little different from the predominant 'loved the boat so bought the agency' scenario so very common in this day and age of imported boats, the Aquabay 70 range evolved through a very learned boater who knew exactly what he wanted in his 'ideal' vessel, but couldn't buy it or indeed couldn't get anyone to build it to his satisfaction. His simple solution in the end was to design and build it himself!
Having owned several large cruisers in the past, retired Sydney businessman Mick Smith had some very definite ideas on what he expected in and of a vessel. After relentless and exhaustive research he still came up short on answers and choices and after consultation with numerous other experienced boaters who had suffered the same fate, he decided that if he couldn't find his dream boat out in the market-place, then he would have a custom build – he would dare to be different!
Ensuring he would go down the correct 'paths' of ideology, design and construction, again he spoke to countless boaters, designers, builders, anyone he could glean information from. Then, incorporating all this new-found knowledge into his portfolio of ideas, finally he was able to draw up his own business plan for not only his own ideal boat, but more importantly a vessel specification, design and build that would appeal to a greater boating audience around the world.
He realised early on in the exercise that he would also need instant credibility, credibility that he could only evolve through using a world-recognised designer, and like-wise a builder. The first two designers on his shopping list were Alan Warwick and Peter Lowe and while he ultimately settled on Peter Lowe as his designer and naval architect, it was Alan Warwick's advice he followed when he went to Taiwan and enlisted the services of a yard he (Warwick) insisted was one of the best in the world.
That yard was the third generation family owned TC yachts, or by its full name, Tachou Ship Building, situated on the banks of the Taiwan-Tam-Sui River in Taipei Hsien. A company whose origins stretched back to 1902, their standard of workmanship, their stainless steel work, their engineering expertise and arguably most importantly the price competitiveness were, Warwick maintained, second to none.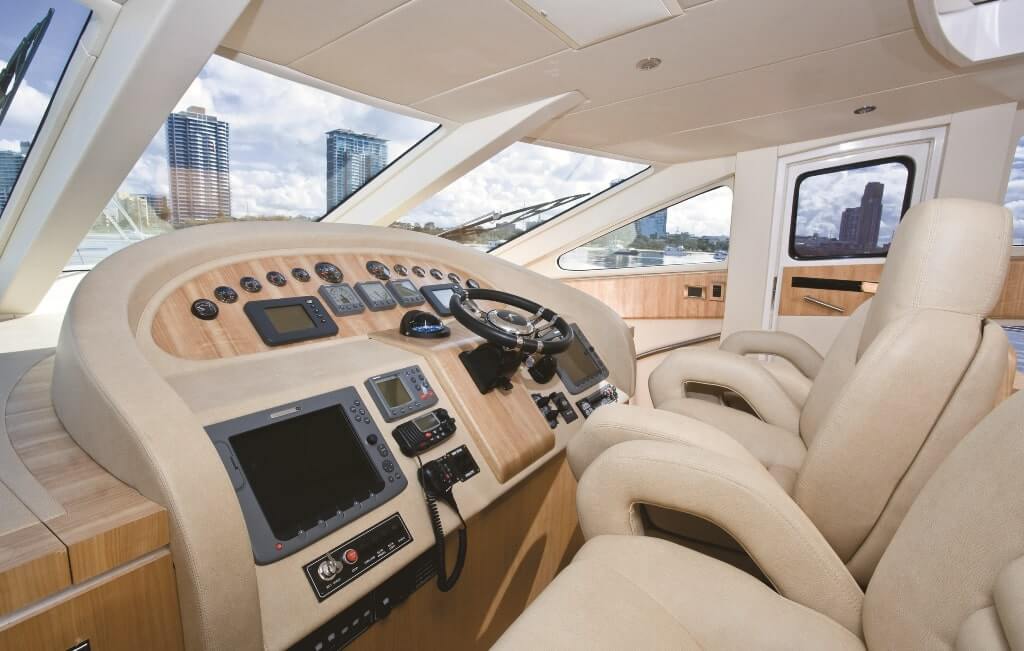 So evolved the Aquabay 70 Motor Yacht – designed in Sydney, built in Taiwan (where it is fitted with Australian-made & supplied electronics and componentry) and offered to the world as a true-blue down-under practical as well as stylish vessel designed for the discerning boater.
Interestingly, this first model produced will, following the forthcoming round of Australian Boat Shows, enter the luxury corporate charter market. As such, while the exterior design will remain the same, the interior design in this instance has been conceived very much with longevity and practicality in mind, from a multi-use perspective. In other words, it has been designed to be idiot-proof, bullet-proof, and maintenance friendly, so as to withstand the typical 'rigours' of chartering.
Having explained this aspect of presentation, it must also be emphasised however that while there was Amtico flooring throughout, rather than carpet, perhaps more gelcoat finish than there would traditionally be, and the joinery was a square-edged more easily-replaceable almost mass-produced commercial style of interior decor (things tend to get more knocked around when you don't own it!); this was still very much a luxury vessel and its air of individuality both inside and out was inspirational. Everyone has their own very personal ideas on choice of décor and woodwork anyway, so this particular version will bear little resemblance to future models produced.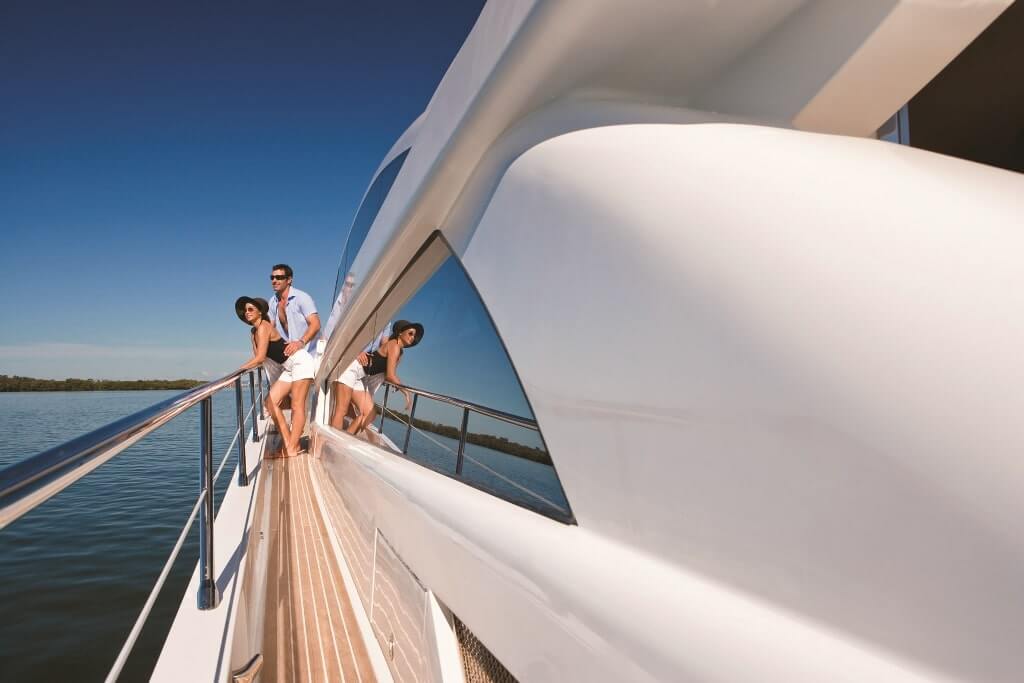 Conservative then in this 'charter' guise, features such as the aft garage door which lifted to reveal an impressive Williams Turbo-Jet tender that simply launched itself at the flick of a switch, the sensible steps up to the elevated cockpit level, the huge cockpit table and lounges, the bar stools at the servery, the aft saloon hopper window that created an alfresco feel between saloon and cockpit, the retractable overhead cockpit canopy – were all refreshingly different.
The hawse holes, cleats and bollards, the hand-rails that fully encapsulated the bow, stern and walkway areas, the substantial port and starboard pilothouse doors and the saloon door, all served to admirably substantiate Alan Warwick's appraisal of TC Yachts' stainless steel manufacturing prowess. Even seemingly mundane aspects, such as the anchoring features at the bow and the overhead stainless steel radar support assembly, were absolute works of art on their own.
While some aspects for the presentation may well have been 'toned down' for the charter scenario, impressive also was the teak work on the boarding platform level, aft steps, cockpit level, side walkways and bow area. And as well, the idyllic forward bow lounge scalloped into the foredeck was something quite different. A virtual circular lounge around a similar-shaped teak table, this was yet another work of art rarely if ever seen on a vessel of this size.
The design of the walkways was sensible too in that the bulwarks and then the stainless steel railings on top of that were of sufficient height and strength to provide appropriate safety in all conditions. These rails also alleviated the need for hand-rails along the cabin sides, such was their effectiveness both when moving from bow to stern and when alighting from the pilothouse doors.
Enter the multi-faceted saloon and a contemporary theme prevailed. The portside aft servery was particularly convenient, with its copious quantities of bench space. Secreted within this servery, beneath one of these bench-tops, was internal access to the crew's quarters below. Down a spiral staircase this crew area was a surprisingly bright and spacious area certainly devoid of the traditional claustrophobic feel of such areas. As well as the crew's quarters of bedroom and ensuite it was also home to the laundry as well as access to the engine room.
The rest of the saloon aft was a typically formal area comprising entertainment and bar facilities, the dining feature to port and a lounge to starboard. Again the saloon was a very light and bright area courtesy of the quite different, very futuristic twin-level side window design that demonstrably impacted on the interior as well as the exterior profile. Aesthetically pleasing it was, and even more pleasing when on a lovely day the huge overhead retractable sun-roof was open to the heavens. Interestingly, Smith is still of two minds whether or not this electrically operated roof was too large, over the top so to speak, but my thoughts were that it complements nicely the lifestyle image this vessel embraces.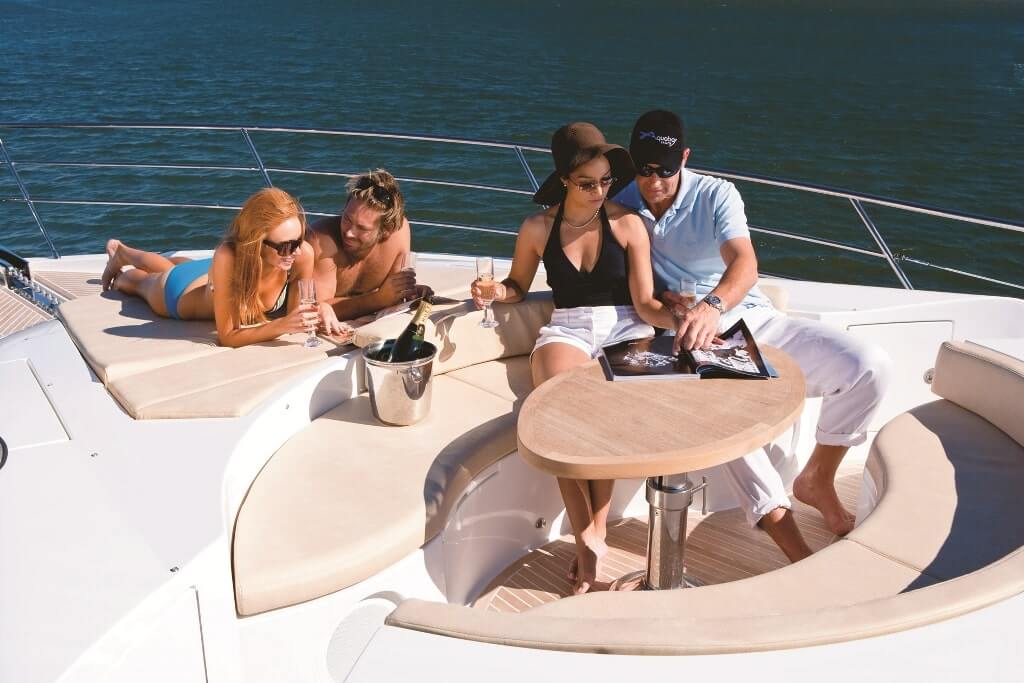 Forward of this formal area was the helm station. By design cleverly separated from the formality of the saloon, the aft side of the seat module was the bar facilities, the forward side housed three large Besenzoni helm chairs. Helm chairs incidentally with wooden panels in the back so as to further 'soften' the image of helm chairs in a formal saloon situation – clever I thought! The helm was an angled padded eye-lid arrangement, impressively and more importantly practically displaying among other things the Caterpillar engine instrumentation, ZF remotes, Hynautic steering, the Raymarine electronics package complete with two screens, and the Lewmar bow and stern thruster controls.
The accommodation and galley were down a level and accessed via a sensibly wide spiral staircase to the starboard side of the helm. At the base of the stairs was the galley. Stealth was a word that sprung to mind to aptly describe this feature of the boat – very modern, very fresh in appearance. Fore and aft and to portside, it featured all the modern conveniences expected of a live-aboard vessel – including appropriate-sized refrigeration, microwave convection oven, electric oven, two-burner stove, range-hood, dishwasher and plenty of cupboard and drawer storage provision.
There are of course a number of different layout options available, in this instance the Aquabay 70 featured the perhaps more traditional guest stateroom forward, a twin-berth cabin to port and the step-down master stateroom aft, in under the sole. Perfect for a charter situation, and also a two-family situation where there are two lots of children involved, the crew quarters aft would double as a fourth bedroom. Certainly these quarters lacked none of the creature comforts such as television and stereo/DVD, air-conditioning, lighting and wood finish that the other bedrooms featured.
Impressive was the generous size of the berths, and also the subtle attention to detail in all accommodation. Detail like for instance the feature wall above the berth in the master stateroom (rather than a mirror or simply a padded panel), the contrasting use of 'feature' wood and vinyl panels, the rather special entry doors each side of the master berth, where you entered the huge walk-in wardrobe to port and the ensuite bathroom to starboard; and the portside office and starboard side lady's vanity, within this full-beam master stateroom.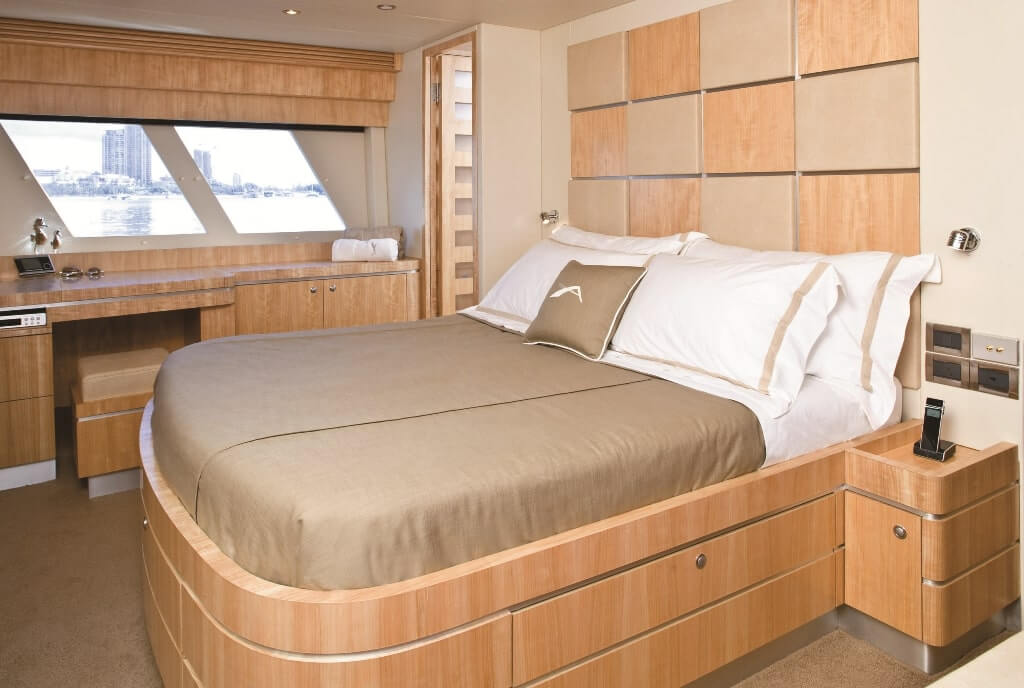 The modern 'square-edge' look of the woodwork was seemingly a lot softer in these downstairs accommodation areas and even in the bathrooms, the tiles on the wall panels were broken up by a contrasting row of coloured tiles. All seemingly incidental to some people, but to me it was indicative of the effort that had gone into creating a virtual luxury extension of someone's own home.
Clever too, I thought, was the use of the crew quarters the other side of the aft wall of the master stateroom, which served as a noise buffer for the engine room. Under way, despite the fact you had two massive 1015hp C18 Caterpillar diesels (through ZF gearboxes to ZF V-drives) thundering away – albeit housed inside a well insulated engine room – the noise level was quite acceptable when underway.
Mechanically in fact, the Aquabay 70 was a work of art, with peripheral equipment almost of overkill proportions. There was a 25kVA Onan Genset with an 11kVA back-up, 10 AGM 210Ah batteries for house and engines, Hynautic trim tabs, two Trace battery chargers and one Trace Inverter, 24.6kW of CruiseAir air-conditioning, a 95L/h Aquamiser watermaker, and Sealand Aquaflush macerator heads throughout. The engines, as already mentioned, were C18 Caterpillars, which probably indicative of the efficient hull shape, provided a top speed of 29 knots (at half ships) at the maximum 2300rpm. More importantly, it still boasted an efficient cruise speed of 25 knots and a return Sydney-Brisbane low-rev range at 10 knots. Handling also was in keeping with the rest of the vessel, good uphill and downhill, and stable both at rest and underway – no need for stabilizers on this boat!
One word, spectacular, and certainly value for money at under $A3million for a 70-foot vessel! The crying shame for me was presented in this 'charter' guise, it very much under-stated the quality of the product. One thing I would suggest is, try as I did to imagine this Aquabay 70 perhaps with a darker blend of wood, more rounded edges to the wood, and carpet on the floor – all items that are optional fit-out – and you would surely enjoy an image every bit the equal of its European and US counterparts. With a 76-footer model already in the stable and design plans underway for an 85-foot model to be released in the near future, I have a sneaking suspicion we are going to see and hear a lot more about this new Antipodean range.
Design name: Aquabay 70
Year Launched: 2008
Designer: Peter Lowe
Builder: TC Yachts (Tachou Shipbuilding)
LOA: 22.164m
Beam: 5.4m
Draft: 1.1m
Displacement: 44,000kg (Heavy Ships)
Max Speed: 29 Knots
Cruise Speed: 26 Knots
Construction: GRP & Multi-axial composite
Fuel Cap: 4,250 litres
Water Cap: 1,200 litres
Engine Make: Twin Caterpillar C18 1015hp