Built by Kiwi Kraft, Aqualine boats have an enviable reputation for quality, performance and handling on both sides of the Tasman. Barry Thompson checks out the 545CC, one of two centre console models in their range.
I have always had great respect for Rodney Harris and his Kiwi Kraft Boats, ever since I reviewed my first one back in 2001. That was a Kiwi Kraft 530, and it was part of a quinella of similar sized pontoon boats that I compared. I said at the time that it was super impressed by the ride, handling and finish, and now, after taking a 545 CC home for the weekend, I can see that the company has maintained those high standards. A few years ago, I also reviewed the 545 Sports, a cuddy version of the 545, and again I couldn't fault the boat. High praise but well deserved. 
Built in Invercargill, the home of some of this country's leading alloy boat builders, Aqualine is built by Kiwi Kraft. Now that may sound a little confusing, but there is a positive reason for the name. 
The Aqualine 545 CC was developed initially for the Australian market where the Aqualine name replaces Kiwi Kraft. Designer and builder of Kiwi Kraft boats, Rodney Harris felt that trying to sell a New Zealand built alloy boat into the Australian market with Kiwi in the title wasn't a smart move. However, changing to the more generic, Aqualine was. Since the first Aqualine boats entered the Australian market in 2004 over 200, have been sold to both private and commercial owners.
The Aqualine 545 CC featured, is the sistership to a fleet of six that was delivered a few years ago to the Northern Territory Police. However, not wanting the Ozzies to have too much of a good thing, national Kiwi Kraft/Aqualine dealer, Boat City, started promoting the model locally.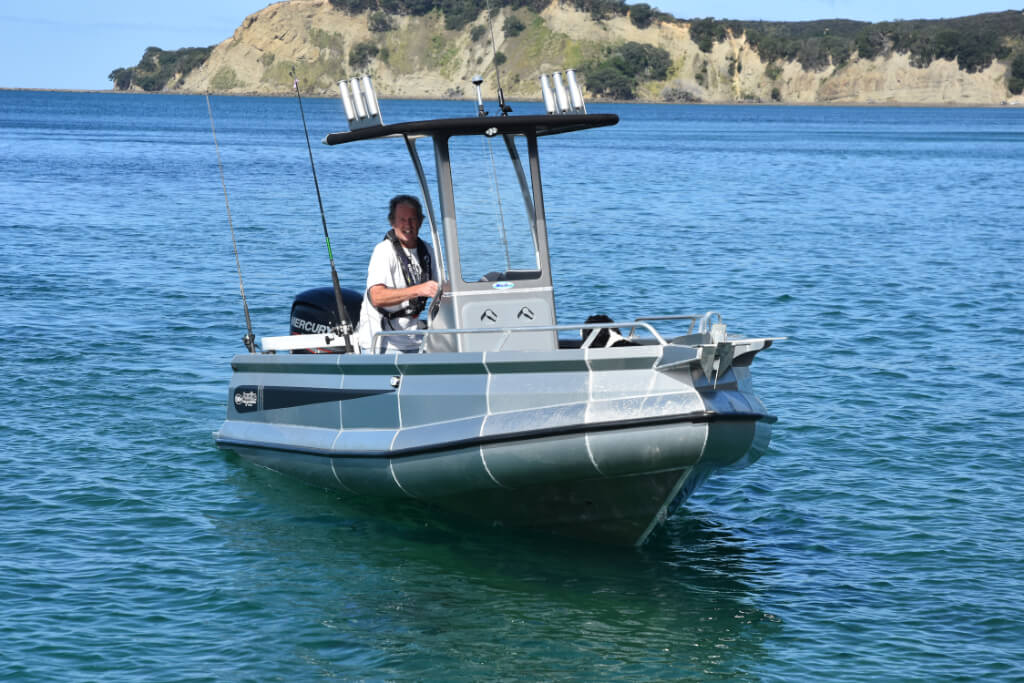 "It is a great boat that we see being ideal for the Kiwi fisherman, with not only a fabulous ride and finish but also it's affordable", says Mark Presnell, sales consultant at Auckland Marine Centre, Auckland dealers for Kiwi Kraft and Aqualine. While our boat was highly speced, Mark has ideas to offer the Aqualine range as a more basic entry-level package.
"We plan to offer the Aqualine as a no-frills model built by Kiwi Kraft, that maybe lacks some of the extras and features, but takes nothing away from the ride, performance and finish.
"Sort of Commodore as opposed to a Calais", says Mark.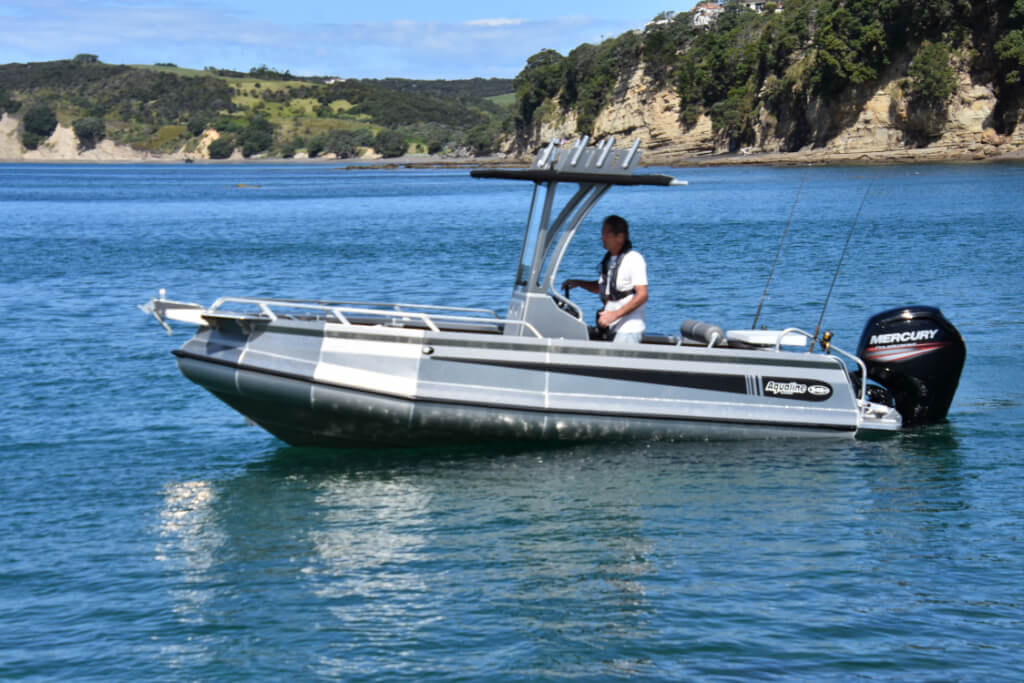 It's a boat that is unashamedly being market to the lure fishing market, with 400mm walkways either side of the centre console and a forward raised casting deck. Floor to gunnel, the 545 CC is 800mm, with 200mm side decks. No matter where you stand or sit in the boat, it is fishable. Interestingly when I was fishing from the rear of the cockpit, I spent quite a bit of the time seated, with my feet up against the transom. Almost like fishing from a game chair. 
Right from the bow to the transom, every space in the boat has been perfectly utilised with no wasted areas. The bow features a built-in anchor pulpit, with a trolling motor mounting plate alongside. The anchor locker is massive and completely open, with plenty of space to mount a small drum winch. You could have the factory close this in with a solid deck and fit an auto capstan, but I would go for the drum winch and leave it open.
Below the forward casting deck is a 250mm deep locker, which drains into the cockpit should you want to stow wet gear. There is a secure dry locker either side, which is a great place to store the safety gear. Keeping it dry and also easy to reach in a hurry. The bow area can be left clear or as in the case of our boat, came with a 55 litre Icey Tek bin. Interestingly this is mounted onto a side-opening hatch in the cockpit sole, that lifts to reveal another substantial wet locker, deep enough for dive bottles and scuba gear.
The size of the centre console is such it still leaves ample room around it, while a large enough dash for instruments, controls and an MFD. In our case, a Simrad GO9, with binnacle mounted Mercury controls. A tray at the base of the perspex screen proved ideal to keep my phone and tractor keys dry. Storage in the console can be accessed both from the front or rear of the unit. 
As is customary from Kiwi Kraft the T-top is over engineered with heavy guage alloy framing and a soft bimini complete with an extension. There are also six-rod holders to add to the four already in the side decks.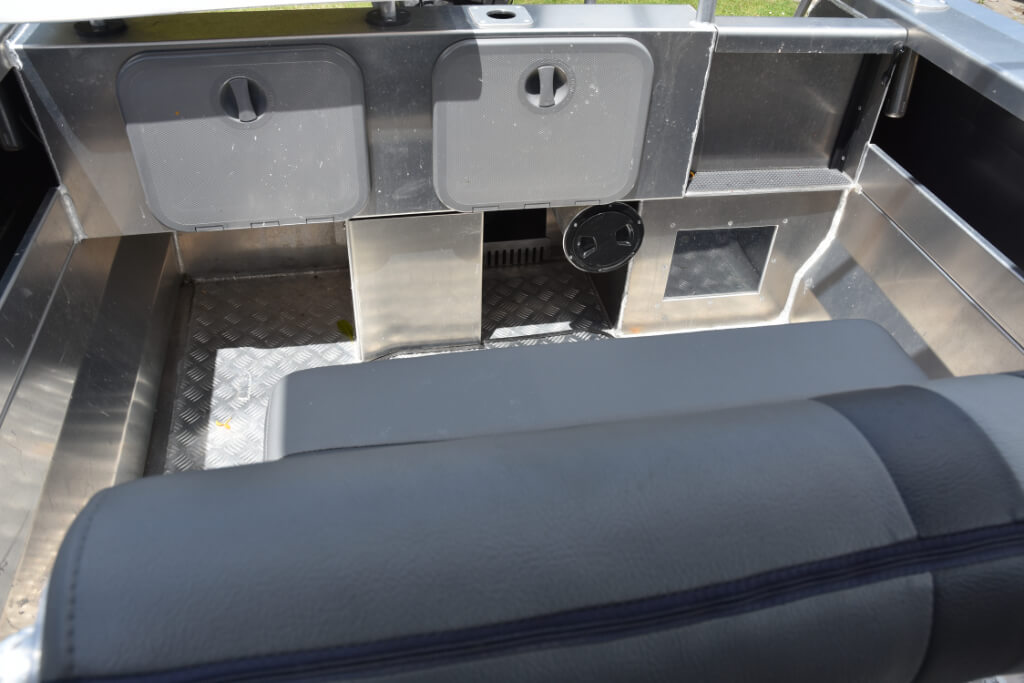 In line with making this a no-frills boat, the standard seating is none at all. However, I feel most people would spec the boat with something to sit on. We had a removable 155 litre Icey Tec bin complete with reversible backrest. Makes a great fish or bait bin. 
Rather than build in a dedicated tube under the cockpit cheque-plate floor for all the cables, there is a slightly raised panel down the centre, aft of the centre console, that provides space to run controls and steering cables back to the transom. Clean, tidy and out of the way.
Running the full length of the 545 CC, including right up into the bow is open storage trays, capable of taking your longest boat rods. These are recessed into the tube sponsons and again show the thought gone into the overall design concept of this small boat. 
Aft it's quite busy, with a battery locker to starboard, a small storage locker in the centre and a step through with a live bait tank under to port. There is space for a spare tote tank and two if you don't have the live bait tank option. Our boat had a 110-litre underfloor tank. We also had a sizeable optional bait station and a separate wash down pump fitted. There is even a place to drop in a pole if you want to tow some water toys.
Multiple sealed chambers for extra buoyancy and safety, mean you can effectively leave the bungs out and the boat will not sink. Full-length underfloor stringers are fully welded with a cross brace system for added strength & safety. The round tube pontoons which are designed to provide a softer and quieter ride are all part of what Kiwi Kraft call their Hushtec Ride hull design. The large pontoons offer excellent stability, as I experience with two of us and a dog out fishing.  
Sea conditions when I took the boat out started mirror smooth with 5 knots of breeze, but gradually rose to 20 knots and whitecaps. Coming home, it was hard on the nose, but with a little playing around with the engine trim, I got the boat sitting perfectly on the close wave pattern. No spray, no bumps and the dog fell asleep on the floor. Just like all Aqualine boats I have reviewed, I found the ride and handling exceptional.  
We had a Mercury 115 on the transom which I managed to squeeze out to 31.5 knots @ 6000 rpm, running a Spitfire 17″ four-blade. Unfortunately, I wasn't able to get the Mercury Smartcraft to give me the fuel readings. Well, actually, I was not smart enough to figure it out. So based on what my own Mercury 90 does with the same prop on a similar size boat, I reckon maximum would be around 27 lph. Bring that back to 4500 rpm @ 26 knots, and figures around 21 lph would be reasonably close.
If you like what you see in the Aqualine 545 but want something bigger, smaller or with more weather protection, then there are plenty of other options. There are seven models in the Aqualine range, including a 595 Hardtop, four cuddys from the 435 to the 565 and two centre consoles, the 495 and 545. 
Mark points out that while he sees a market for a bare-bones version, either in centre or side console, he will still be offering the highly speced 545CC as well. 
Model & Model: Aqualine 545 CC
Priced from: $59,995
Price as tested: $71,155
Type: Centre Console
Construction: 4mm hull /3mm Alloy
LOA: 5.52m
Beam: 2.18m
Beam: (Internal) 1.56m
Deadrise: 20 degree
Dry weight: 1420kg
Test Power: 115 Mercury 4S
Propeller: Spitfire 17 4 bld
Max Speed:
Power options: Outboard
HP Range: 90-115hp
Fuel capacity: 110 litres
Trailer: Mudgway
Rating: CPC