The Aquila 36 Sport rides higher and dryer as speed increases.
By Mark Rothfield
Photography by Mark Rothfield and supplied
BLADERUNNER
Borne on America's Cup foiling technology, the Aquila 36 Sport power catamaran certainly rises to the occasion when it comes to performance gains.
Newton's third law of motion states that for every action, there is an equal and opposite reaction, which in powerboating terms is fairly elementary  – the more you apply throttle, the faster you travel and the more fuel you burn. It's one of life's givens.
So, old Sir Isaac might've been scratching his hirsute head somewhat when trying to fathom the Aquila 36 Sport power catamaran's quite remarkable performance.
At 20 knots (37km/h), its twin 300hp Mercury V8 outboards burn 80lt/hr of juice combined. At 30 knots (56km/h), they're still burning 80lt/hr total. That's 10 extra knots for nix. Nada, zip, zilch and squat. Which is incredibly counterintuitive.
So what's going on?
Well, Aquila calls it the Hydro Glide Foil System, and it's as exciting as it sounds, foils being the new 'black' when it comes to extracting a major performance lift. We've seen America's Cup yachts transformed from toilers into hyrdofoilers; likewise with Moth dinghies, sailboards, and so on.
There's a resulting perception that foils are futuristic, yet a quick history lesson reveals they've been around since the early-1900s. As a kid, a Manly hydrofoil ride on Sydney Harbour was literally a "high". That thrill of flying over the water, like in those dreams when you levitate instead of run across untamed terrain.
The Manly foilers were phased out in the early 1990s and replaced by conventional cats because of maintenance issues. The foil concept was thenceforth parked until some canny sailors saw the merit many years later.
BORNE FREE
As it happens, I tested the standard Aquila 36 some years ago and remember being impressed by how easily driven the big, twin-cabin power catamaran was. That boat also ran twin Mercury Verado 300s, albeit they were supercharged in-line 6-cylinder powerplants, not the current V8s.
We saw about 33 knots (61km/h) back then, and fuel burn was again around that 80lt mark at more moderate cruise speeds. Handling and ride were notable: "Rounded forward sections cleave through harbour chop that would have most monohulls backing off, downturned chines simultaneously taking care of spray. The hull typically turns flat through corners  …" I opined at the time.
So the already efficient hull was ripe for the picking when it came to adding an underwater appendage. Also, its tunnel is relatively wide, allowing the wing to be high-aspect.
The main vee-shaped foil spans the tunnel amidships, supported by a strut, while two inward-facing fins aft provide lateral lift and stability.
Aquila's designers haven't gone too extreme, firstly because you have to berth the boat, secondly you don't want to increase draft too much, and thirdly because a cruising boat needs to be more sedate when it comes to lifting and lowering under acceleration and deceleration respectively.
The blades are fixed, so you don't need a pilot licence to fly this baby, nor do you need crash helmets.
What the designers wanted was to improve mid- to high-range performance. The beauty of a foil is that it generates hydrodynamic lift, like a wing. The faster you go, the more you rise. Less wetted surface equals less drag, more efficiency  – hence the aforementioned fuel anomaly.
In the Aquila's case, it's not until around 15 knots (28km/h) you begin seeing benefit. So if you mainly potter around at lower speeds, save your bucks. At 30 knots (56km/h) they reckon the hull is riding 15cm higher than the standard boat. From 35 knots (65km/h) to the maximum of 40 knots (74km/h), you're reaping full benefit.
You can't feel the transition, as there is no perceptible bow lift. Acceleration pushes you back into the seat though, while Mercury's Active Trim system then automatically levels the ride with the two outboards.
The wake flattens and you get better seakeeping as the hull rides higher over the waves with more tunnel clearance. This, in turn, frees up the bows to slide through remarkably tight corners with negligible speed loss.
Close-quarters manoeuvring with the standard Joystick Piloting control is nicely responsive, too. Aquila says the efficiency enhancements are in the order of 35 to 40 per cent. In this game, grandmothers are sold for mere 5 per cent gains, so that claim is remarkable. Honestly, I can't recall a high-speed boost so profound, yet so simple.
Average fuel savings are in the order of 30 per cent  – 30 per cent!  – which means three things: happy polar bears, more money in your wallet, and increased range from the two fuel tanks totalling 1350lt. Increased range suddenly opens up new coast-hopping cruising opportunities.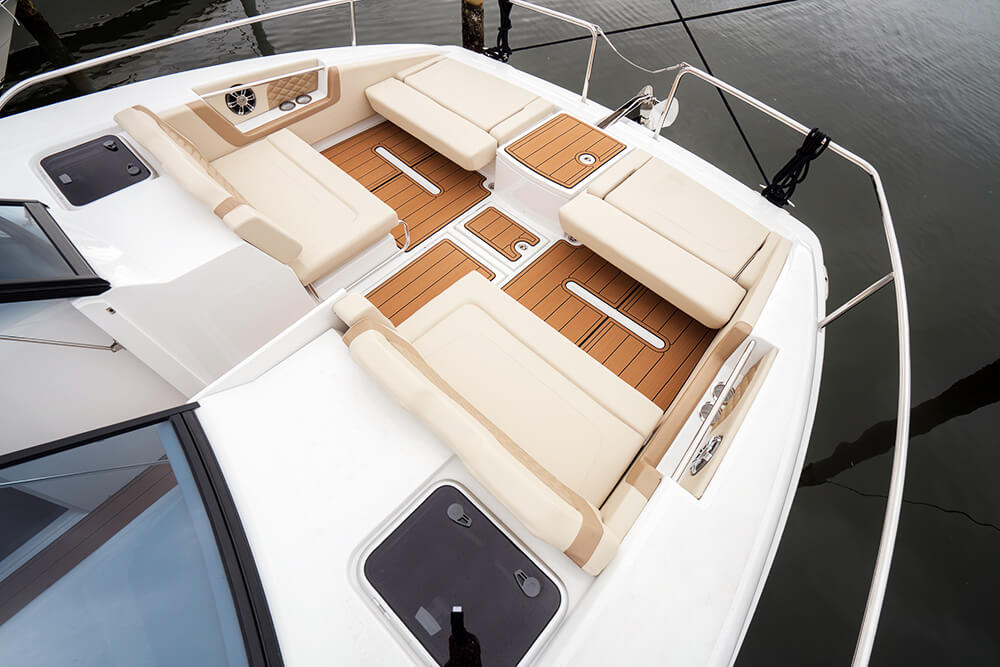 The foils, incidentally, are only compatible with the 300s. Twin 400 Mercs are an option, but there's only marginal speed gains for considerably more fuel burn  – indeed, twice as much at some revs.
Drawbacks? Draft is one, because you could bring the standard boat comfortably into the beach. It drew 60cm whereas the foiler is 92cm. There's also the risk of striking a submerged object, although in fairness the outboard legs would otherwise cop that blow.
Cost is another consideration, with the Hydro Glide being a $30K-plus option. Fuel savings and resale will help offset it.
SEE CHANGE
Performance wasn't the only difference I saw between the older and newer Aquilas, mostly a result of owner preference. For example, where the 2017 test boat had a runabout-style, half-height windscreen and open hardtop, our 36 Sport featured a full-height windshield, side windows and three-panel sliding door aft.
Inherent to the Cruiser Package, these transform the Aquila's persona and functionality, affording fully enclosed, all-weather comfort in a 40-knot sports vessel. A dayboat/overnighter becomes a genuine long weekender. Lockability is another bonus for secure marina berthing.
In the cockpit, the test boat also sported hand-picked items from Aquila's Fishing Package, comprising an electric barbecue to starboard and livewell to port, spanning a central, back-to-back lounge that can convert to a sunbed. The swim platform, incidentally, is counted in the 36ft designation, with hull length closer to 32ft (9.75m).
That said, the vast bow-riding area is where the magic happens. A walk-through windshield provides access and, once there, the seating can be configured in multiple ways. It's so sociable.
Add an L-shaped dining area with folding table in the saloon, along with the forward-facing helm and passenger bench seats, and they say you can have 26 people on the 36 in smooth waters. I'd suggest a few fewer, maybe 15 to 20, for comfort.
The Aquila also has two separate companionway entries leading to deceptively spacious cabins with a double bed and en suite apiece. Headroom is 1.98m, while the mattresses measure 2m by 1.4m wide. A cosy retreat for two couples.
The 36's galley is minimalistic  – more of a wetbar in the test boat's case  – but there's generous fridge and storage space.
Really, such is the flexibility, you can run the 36 Sport any way you like. So seldom do you find outboard-powered cats of this size and scope that its rivals mostly come from the express monohull ranks. Within Aquila itself, the 36 has smaller outboard-powered sisters in the 32 and upcoming 28, while the inboard range comprises 44, 54 and 70 models.
Construction quality is evident all-round, from the PVC-cored hull infused with high-quality vinylester resin, to the stainless-steel fittings with polished welds. Light displacement is 6.7t, while fully loaded, in Cruiser spec, it's around 9.2t.
That's a hefty amount of boat to lift, but the Hydro Glide foils are more than up to the task. I reckon they make an already good boat a whole lot better.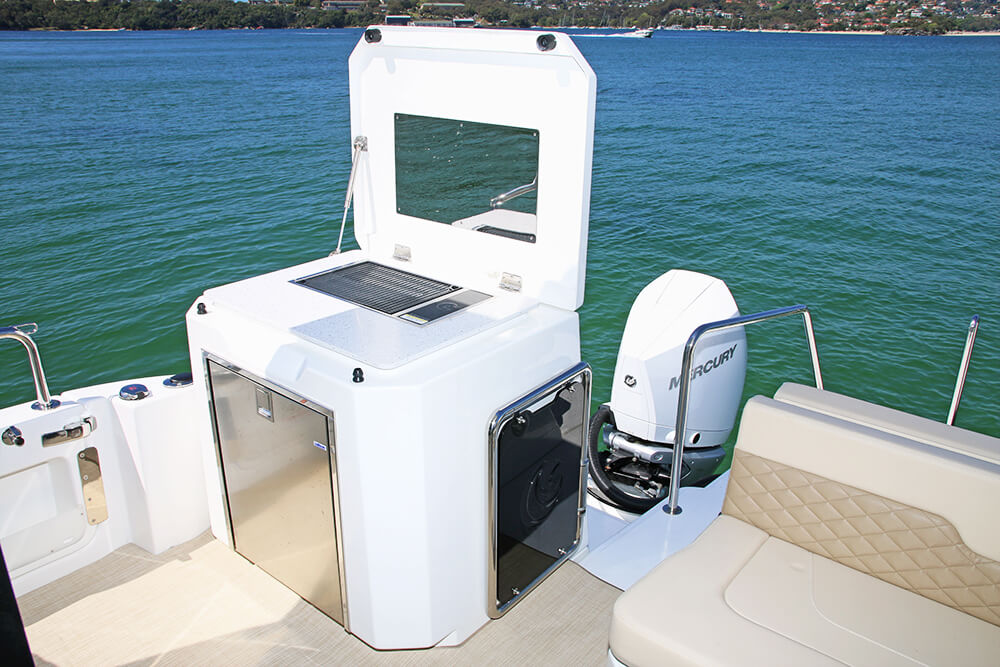 Boat Design Name:  Aquila 36 Sport     
Year Launched: 2021      
Builder: Aquila
LOA: 10.96m
Beam: 4.45m
Displ (light): p6700kg
Draft: (with foils): 0.92m          
Max Speed: 40 knots          
Construction: GRP
Fuel Cap: 1350 litres           
Water Cap: 200 litres           
Engines Make: 2 x Mercury 300 Verado 
Drive Train: Outboard
Generator: 
MFD: Raymarine               
Winch: Lewmar­­               
Ent System: Fusion
Price of Boat: 
Performance Data
rpm
knots
L/h
L/NM
range (NM)
600
2.8
4.9
1.8
693
1000
4.2
10
2.4
515
1500
5.7
16
2.7
446
2000
7
25
3.6
335
2500
7.6
39
5.1
239
3000
10.5
53
5.1
239
3500
15
65
4.3
280
4000
19.4
79
4.1
298
4500
27.5
95
3.5
350
5000
32.7
111
3.4
358
5500
35.7
155
4.3
280
5700
38.3
181
4.7
257