One of the largest power catamaran builders in the world, Sino Eagle Yachts has undergone an impressive growth spurt since it first launched in 2012. Their Aquila range of power catamarans is now established as one of the market leaders in the mid-size power catamaran segment, and its growth doesn't look like stopping anytime soon. Barry Thompson visited their impressive ultra-modern facility in China to learn more about how these boats are built and why they are so highly regarded.
It has been a decade since Aquila launched their first power catamaran, the Aquila 48 and from that one vessel, the company has grown in the past 11 years to be a global leader in power catamaran production. In 2012 Lex Raas started Aquila with Bill McGill, CEO of MarineMax, and the Xiong family to focus 100% on power cats. This partnership was first established when Sino Eagle Group began building the Aquila 38 specifically for MarineMax's new charter business – MarineMax Vacations. 
In 2012, Sino Eagle Group, J&J Design Group, Seaway and MarineMax collaborated to expand the Aquila range by developing a new, purebred power cat. The result was the first true Aquila Power Catamaran, the Aquila 48. Based in Hangzhou City, China, Sino Eagle Group, recognised as a leader in high-tech composite manufacturing, established a dedicated new Aquila factory in 2012, which provided the Aquila brand with full in-house manufacturing capabilities. This has since been expanded with the 110,00 sqm site comprising four massive construction buildings, an indoor test pool, riverside launching facilities and an ultra-modern administration block. Aquila's complex in Hangzhou is impressive. Hangzhou is often revered as one of the most beautiful cities in China, and the Aquila factory reinforces that sentiment. State-of-the-art is an often-misused description of a modern, technologically advanced production facility, but in the Aquila factory's case, it is absolutely warranted. While the factory has not gone to full robotics, they prefer to use a dedicated staff of 510 artisan tradesman and admin staff, the construction methods, quality control, and overall management of every aspect is exceptional. Their aim is for perfection in every aspect of the build process. It is also a 'green' factory with every effort made to reduce emissions. Sino Eagle Group have invested heavily in environmental protection to look after the environment and their employees. There are expansive solar panels on top of the factory roof, designated cutting rooms with strong evacuation fans to prevent dust collection inside the factory and a filtration system for grey water.
CLEAN & GREEN
Sales Manager Tommy Qian adds, "We believe that the cleaner the environment in the factory, the better the quality of the parts and ultimately the better the finish of the boats." Production levels have risen from 13 boats annually 10 years ago to 148 in 2022, and the company has a target of closer to 200 for 2023. Qian says that could be affected by supply chain issues, which is still a problem, especially with larger components such as engines, generators and air-con systems. Composite materials and timbers are easier to control due to being available locally. While the USA is by far their largest market, taking 75% of the company's production, Europe and Australia continue to grow. In 2018/19, Aquila produced just under 60 boats a year, and then in 2021, that jumped up to 110 boats, and there has been nothing but positive growth since. Qian says that this is largely due to having a strong professional, and passionate team, the highest quality construction, a strong dealer network and one of the best designers in the world drawing up their boats. Qian feels that another reason for the success of Aquila is all the boats are built using high-tech composites, high-density PVC foam, with vinylester and resin infusion. Construction also includes high density PVC/fibre, resin-infused/foam composite bulkheads rather than ply. "Every component in an Aquila power catamaran is as good as we can source, either locally or from overseas suppliers, and we never compromise on quality", added Qian. A computer system tracks work progress on the production line with the ability to pull up drawings for the workers. As part of the quality control, every component has a barcode and every worker an ID. Each product is allocated time to complete whatever the task and employees that go over that time are recorded on KPI's. They receive a bonus if they undercut the time and still pass the required quality checks. "We work closely with our staff so that if they can see a way to make our processes more efficient, then we listen and, if necessary, implement the changes. That way, we are all working towards producing the best products we can in the most efficient time frame", says Qian.
MULTI DESIGNERS
While Slovenian based, J&J are the anchor designers for Aquila and have penciled the Aquila 48 Yacht, 44 Yacht, 54 Yacht and the Aquila 70 Luxury, they are not exclusive. While they are currently working on three new models in the Sport, Yacht and Luxury segment, Aquila also has reached out to other world renowned powercat designers. These include VPLP from France that pencilled the Aquila 42 Yacht and also are currently working with the company on another model under development. Chris Peart Yacht Design (CPYD), a new up and coming designer from South Africa who was responsible for the Aquila 47 Molokai and is also working on another Molokai series. He is also responsible for a soon to be announced Aquila 46 Sport with a patented foiling system. "This will be a break through design and incorporate a lot of the latest foil technology in the world. This is a super exciting boat and initial hull testing commences in August for a late 2024 launching" says Lex Raas. Kirk Clarke from Hawaii designed the Aquila 28 Molokai in conjunction with Aquila's Chief Designer Jure Zule, and Morrelli and Melvin (M&M) designed the two small RIBS, plus did the design work of the foils on the Aquila 36 Sport.
All designs (apart from the Aquila 28 Molokai) are CFD and FEA (Finite Element Analysis) tested for structure stresses to identify the high load areas. Raas says that this is extremely important in the bulkheads of higher speed power cats and it is why boats like the Aquila 70 Luxury and Aquila 47 Molokai ended up with their forward and aft bulkheads 100% epoxy infused carbon to be strong enough to accept the torsional loads and not get to heavy. "Whenever we are moving into new areas we will also do a full test program as soon as we can get a splash out of the hull. We will place a basic deck on and then ballast up to expected weights and then will rigorously test. This was done on the Aquila 36 Sport and Aquila 28 Molokai and we will be doing the same with the Aquila 46 Sport", added Raas. Production of composites at Aquila Boats shipyard is based on emission-free closed moulding technologies used for all GRP components, from the smallest to the largest. The results are clear, lighter and stiffer boats. In addition, this technology is environmentally friendly by eliminating styrene emissions and protecting workers. Vinyl ester resins are infused, and vacuum bagged, and Resin Transfer Moulded (RTM) is used for hatches, which are frequently opened providing a gelcoat finish on both sides. Technical fibers, like biax, triax or quadriax rovings, are applied on specific high-stressed areas, and UDs (uni-directional fibers) and carbon fibers are also installed. All structural panels, even small flat wing bulkheads or bracings, are made from PVC- cored composites, and high-density foams are taken to supplement plywood, which is never used except to produce furniture. Special care is taken to keep the workshops clean, well lit and dust free. All areas where infusion is made have temperature and humidity controls, and constant monitoring systems with displays are installed. "We run full pre-delivery checks on every boat, either on the river or the smaller boats in our indoor test tank, before shipping them to our dealers. Once the boats are finished, depending on size, they are either trucked or barged to the Port of Shanghai for worldwide distribution", says Qian.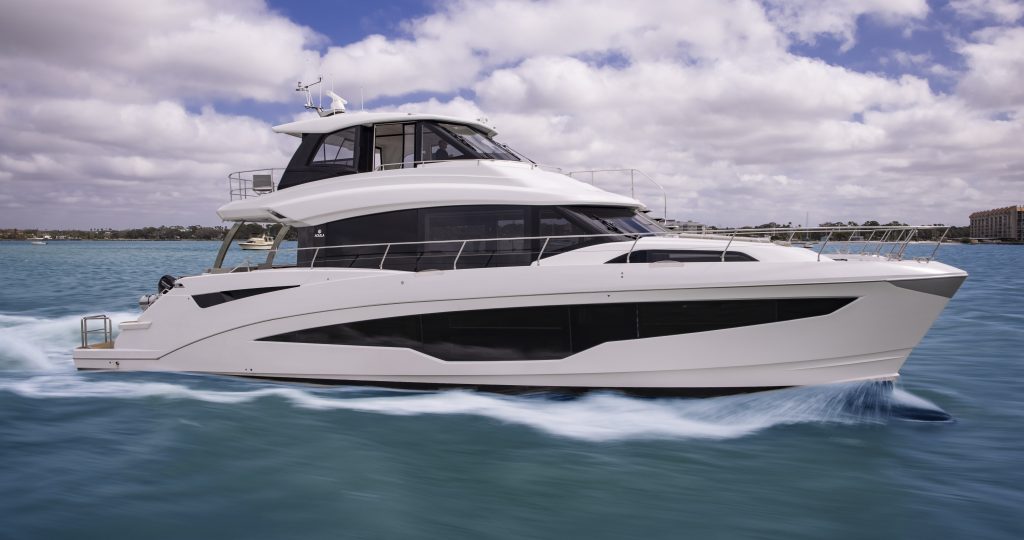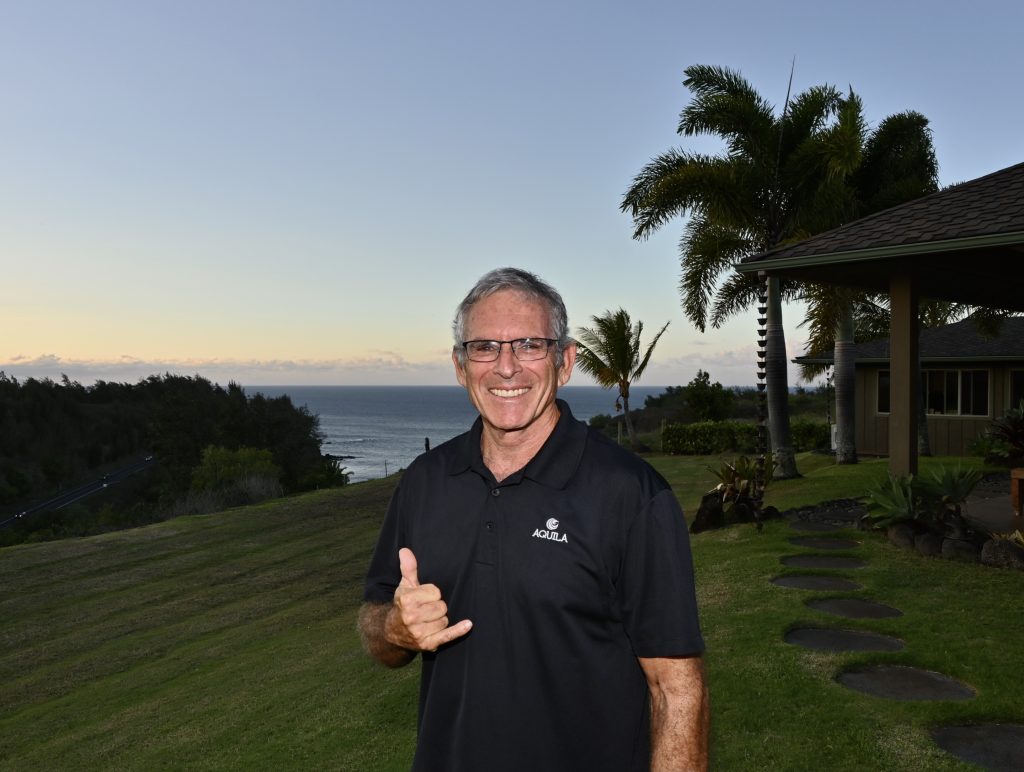 PROPELLER OPTIMISATION
One other area that Aquila spend significant time on is propeller optimization. Every boat the company launch undergoes an extensive in-house testing program with props and engine heights and when they are satisfied they have got the best results they go to market. "The differences we have seen from recommended props to the final ones we have settled on are quite different. There are so many variances that this is clearly not only a science and requires a vigorous testing process", says Raas. He adds that adding in foils to the equation presents a whole new set of opportunities for optimisation.
RANGE EXPANDING
Aquila offers eight power catamaran models in three categories; Offshore, Sport & Yacht, from 9.38m to 21.26m. The most popular model has been the Aquila 36 Sport, with more than 200 sold. Also, an Aquila favourite is the Aquila 44 Yacht, also with over 200 built and then the Aquila 54, which is currently enjoying hot sales worldwide with 90 sold. Depending on the model, delivery times are between 12 -24 months, with the 54 Yacht out till late 2025. The unique Aquila Hydro Glide Foil System, on the Aquila 36 Sport is designed by catamaran and foil specialists Morrelli & Melvin Design & Engineering, and the Aquila 42 Yacht by foiling experts VPLP, enhances performance, consumption, and handling. It consists of a main hydrofoil attached slightly aft amidships to each hull and bridges the tunnel. It lifts approximately 40 per cent of the hull's weight out of the water at cruise speeds. Farther back, twin fins act like an aeroplane's horizontal stabilisers to prevent porpoising at higher speeds. With an eye on the burgeoning USA outboard performance power catamaran market, Aquila has recently added the Aquila 47 Molokai to its range. Along with the well-established 28 Molokai, it combines fishing capabilities with luxury appointments. "The 28 Molokai has been extremely successful for us, and we see the high-performance centre console outboard power catamaran market is one of the fastest expanding segments in the US, so the Aquila 47 Molokai, I am sure, will be a big seller for us", says Qian. The Aquila 47 Molokai is a mid-70 mph boat and is the company's first double-stepped hull with quad outboards. Jean Raas, one of the sons of founder Lex Raas is running all of Aquila's new projects, and his leadership is bringing exciting new ideas. Raas's other son Alain is the Aquila Brand Manager at MarineMax. The first show for the Molokai 47 will be the 2023 FLIBS. Qian added that they are continually developing new models as market influences dictate, so there will be much more from Aquila over the coming years. "We are always open to suggestions and love the feedback from our owners and dealers on how we can make what we already consider a great boat even greater". Aquila offers a 5-year structural hull warranty, and all other equipment is under the manufacturer's warranty. Aquila also produces 4.2m and 5.3m powercat RIBs, often chosen by Aquila Yacht owners for their boat's tender.