Another Option
Atomix is certainly not a name that has been widely known in the New Zealand marine scene; understandably so, since the company has only been around for about six months in New Zealand.
What sets the company apart from others is its production methods, with the boats designed, engineered and funded from New Zealand, but manufactured on the other side of the world, in China! Freddy Foote checks out a couple of the first prototype models.
Atomix Boats originated in New Zealand and is a New Zealand owned company, and stemmed from some kiwi boating enthusiasts who wanted to manufacture their own range of trailerboats, all from a more cost effective viewpoint.
"Originally we had an opportunity to go to China and manufacture pretty much anything we wanted. We worked through a set of criteria to find a product that there was an international market for – not just here, but also in Europe, Australia, North America, and domestically in China. A product that could take advantage of New Zealand's existing expertise and reputation and also take advantage of China's lower production costs via labour and materials," says Joseph Clapp, managing director of Atomix.
It was at that point that the company decided to venture into the world of boat manufacture.
They got well known kiwi designer Brett Bakewell-White onboard, who has recently enhanced his reputation amongst the offshore powerboating fraternity for designing the 2007 championship winning boat Sleepyhead and third placegetter, Pro Floors, both 34ft Phantom catamarans. Bakewell-White soon drew up designs for a number of new models.
Atomix also drew on the expertise of High Modulus, a world-leading supplier of composite technology and structural engineering services to the marine industry.
High Modulus consulted in relation to the required structural engineering, composites materials.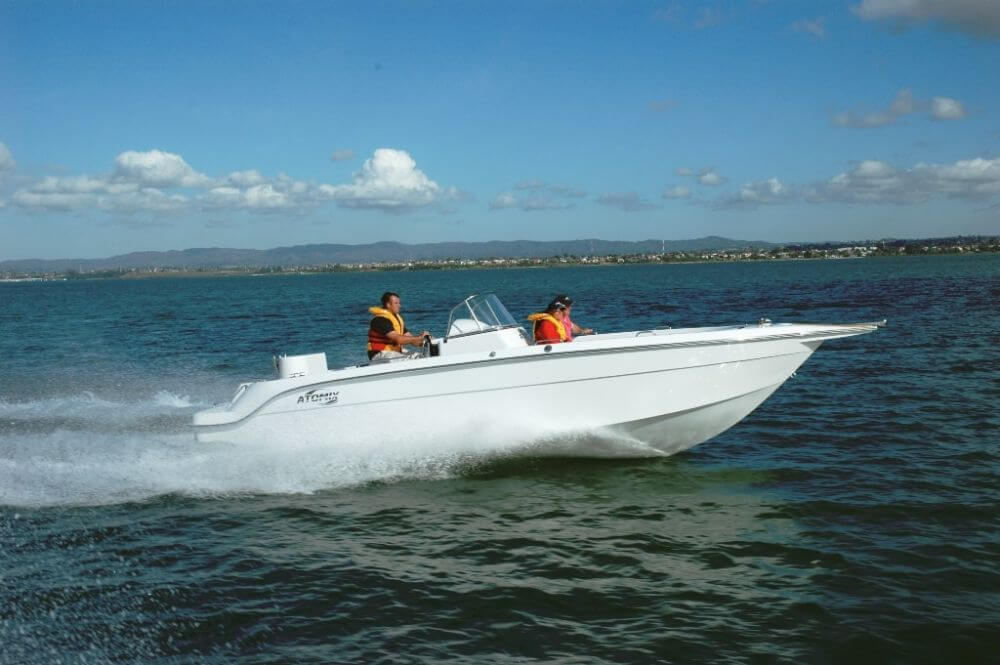 The directors of the company have certainly copped a lot of scepticism from other New Zealand boat builders about quality, with the derogatory 'made in China' comment. However, this has not deterred them from attempting to make their mark on the New Zealand and world markets.
"At the end of the day there are boat builders in every country in the world and we've chosen to work with New Zealand designers because we want to keep promoting the whole New Zealand marine industry alongside us," says Clapp.
Currently Atomix has a number models available here with more to come. At the moment a 5m RIB has been produced as well as a sport cruiser, centre console, RIB and bowrider from the 8m range.
In the near future and as the company plans to gather momentum they will introduce more models through into the 5-7m range, including some smaller bowriders, RIBs and cabin boats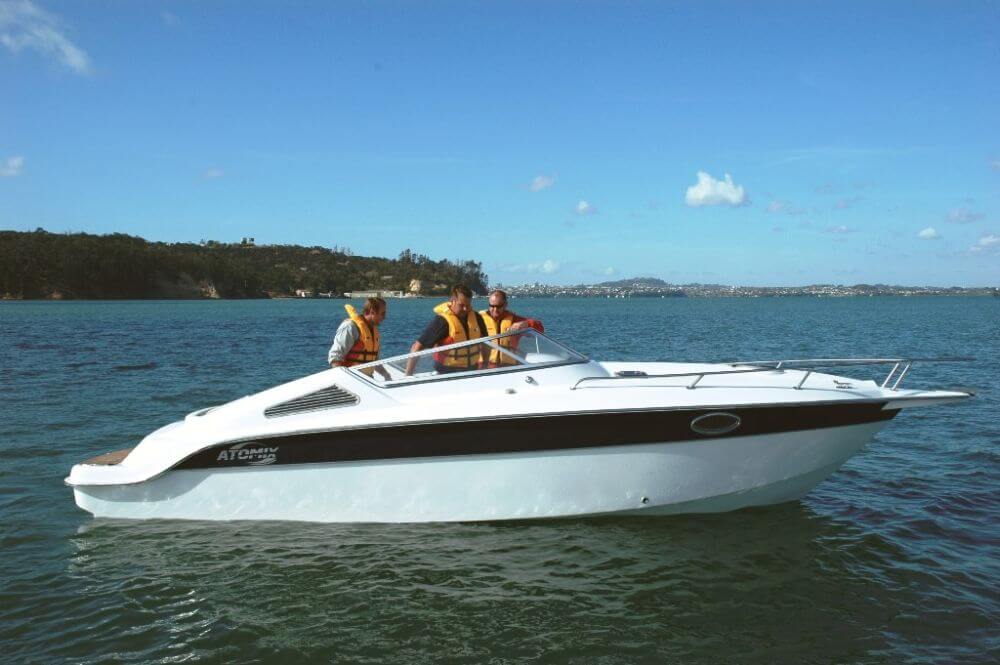 "Surprisingly, we've had huge demand and enquiry for our 5m RIB, which has been fantastic. We've tried to make our one a little bit beamier and heavier than those that are already on the market," says Clapp.
The Atomix boats are quite different dimensionally from what has traditionally been the manufacturing norm. The boats are a bit narrower that what you'd expect; this is primarily due to the fact that they have to be a certain width to be able to fit into a shipping container and to make them trailerable. The Atomix design team have tried to turn this into a positive attribute; giving the boat pretty good rough water handling characteristics.
"The first thing we had to tackle was designing an 8m trailerable powerboat that would fit into a container. The second parameter was designing a boat for New Zealand and Australian users; we looked at typical boating conditions in both countries and set about designing the boat to suit," commented Bakewell-White.
The end concept was to go with quite a deep vee and also no strakes; acknowledging that having no strakes means the boat will absorb a bit more horsepower, but you get a much softer ride.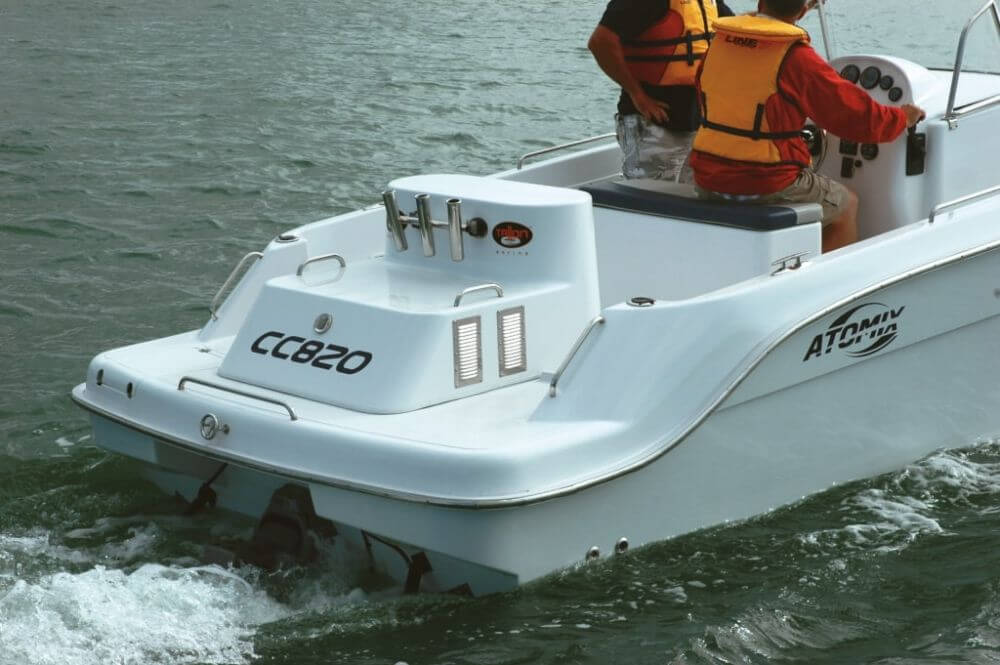 Obviously with the boat being quite a bit narrower; they have tried to make up some of the dynamic stability by giving the boat quite wide chine flats.
In the 8m range, the one hull shares a number of different layout configurations; the sport cruiser, bowrider, centre console and RIB, so Bakewell-White has designed the hull in a way that it can be multi purpose and suit all the different layouts.
For our test we had two of the first prototype models on the water, the 820 Sport Cruiser and the Centre Console model.
Understandably, the Sport Cruiser offers all the amenities and layout to make it a great day/entertaining boat with overnighting facilities included.
There is a teak trimmed boarding platform and the port corner of the transom has a walkthrough with a closing door. The teak finish continues right through the cockpit. For passenger seating an L-shaped lounger runs down the starboard side from behind the helm and then across the transom, providing more than enough room for six people to sit. All the seating incorporates storage underneath.
On the starboard side a large moulded unit houses a 25L fridge and icebox, while above there is either a gas stove or an optional BBQ. There is another option to have the galley area further forward in the cabin area.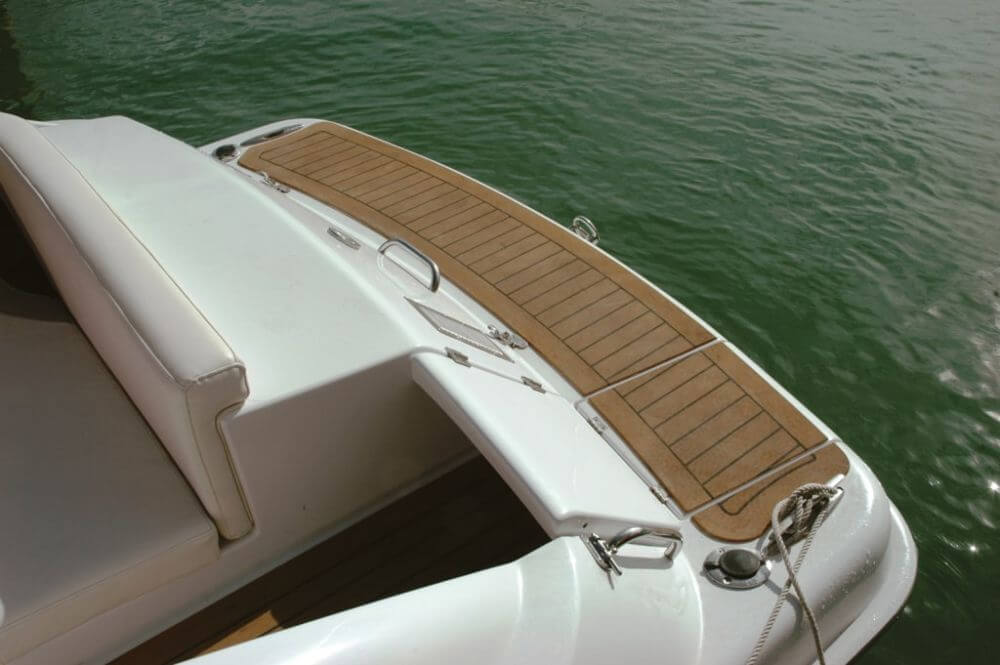 Helm and passenger seating consists of two pedestal seats which can swivel. The driving position was quite comfortable, allowing you to sit below the profile of the windscreen and out of the wind. If you wanted extra forward visibility there is more than enough room around your feet to be able to stand comfortably.
The forward cabin area can be locked up with the door in place. A V-berth is standard, with the head located to starboard. The cabin is reasonably roomy, but of course limited in the number of people you can have down there.
The Centre Console model has been thought out to make it a big volume and roomy fishing boat, with more than enough room for a multitude of anglers to fish right around the boat.
The 820 Centre Console has a large boarding platform aft, with a walkthru in each aft corner, giving plenty of room for divers to climb aboard or to drag that stripey into the cockpit.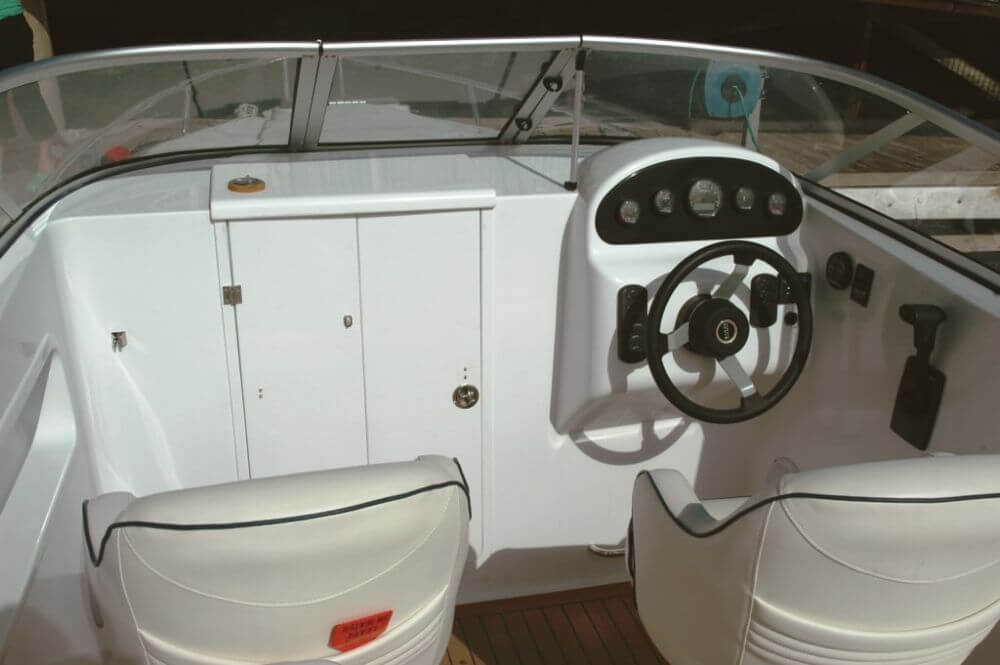 A large helm console provides plentiful storage space underneath, while there is seating for two people behind the console at the helm seat. Further seating is located forward of the helm console; albeit a little more blustery when underway. I would have liked to see a bit more seating, as after all this is a big volume 8m boat, so it is to be expected that there will be more than three or four people going out at once. Perhaps a fold-down bench seat aft would be a nice option.
Both boats were running Volvo Penta petrol sterndrives. The Sport Cruiser was powered with the 270hp 5.0L V8, while the Centre Console had the 225hp 4.3L V6.
The boats definitely had a soft ride; although it was hard to get the full picture given the flat conditions on the day. Given the narrow hull design, trim tabs are a major necessity; and it does take a lot of getting used to when you first drive the boat; as it handles quite differently to anything I've driven before.
Atomix Boats New Zealand is a distributor/retailer of the product and has every intention of keeping it that way.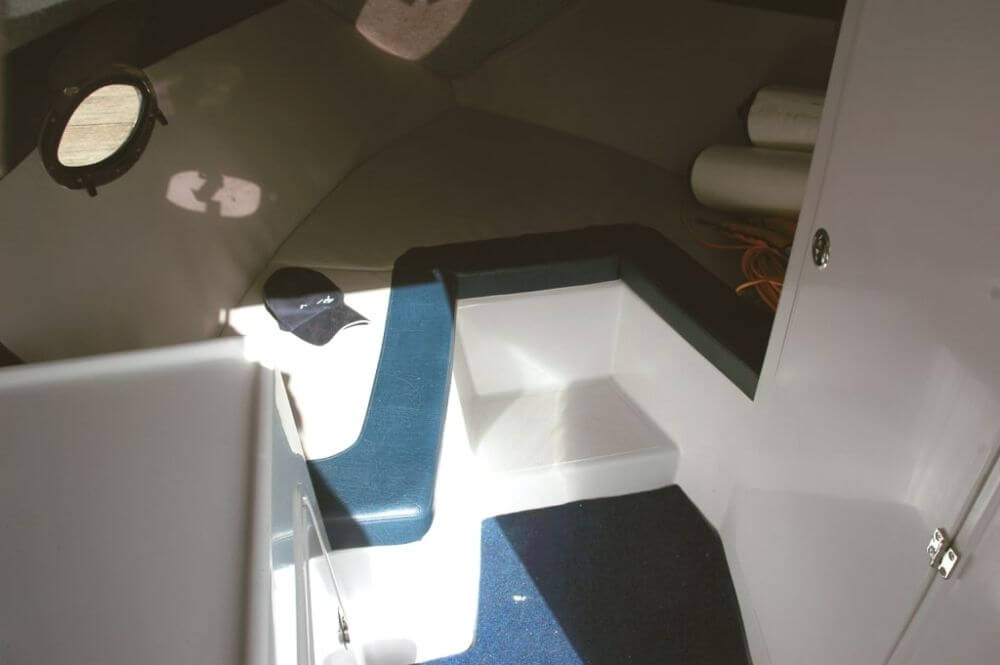 "We don't see many advantages in getting a dealer network established at this stage, as that would just add a level of cost. Our aim is not to come back here and make the boats really expensive and make as much money as we can. We've built the boats in China and we know how much it costs to land them, we add our margin to that, and that's what we sell them for. So in some cases we're running to almost half the price of some other boats out there," said Clapp.
For a first effort and obviously taking a big gamble to start manufacturing boats offshore, the Atomix team haven't done too bad a job. The hull work is top notch, but a few of the smaller finishing touches let the boat down. However, these are just cosmetic things and are easily fixed.
The concept of the Atomix is to provide the type of boat that kiwis love and adore; but at a significantly lower price. I don't think the brand will impact the market greatly as far as taking sales from other builders is concerned, but rather open up the market to a broader range of buyers, offering a more cost effective option.
Model:  Atomix 820 Sport Cruiser & CC
Prices as Tested: SC – $105,995, CC – $82,995
Designer: Brett Bakewell-White
Material: GRP
Type: Sport Cruiser/CC
LOA:  8.2m
Beam: 2.37m
Deadrise: 25.8 deg
 Trailerable Weight: 2150kg
Max. Power: 300hp
Power Options: Sterndrive only
Fuel Capacity: 280L
Performance - Volvo Penta 5.0l @ 270hp
800 rpm
 
4.4 mph
1000 rpm
5.5 mph
1500 rpm
8.0 mph
2000 rpm
9.0 mph
2500 rpm
13.5 mph
3000 rpm
22.5 mph
3500 rpm
28.5 mph
4000 rpm
33.5 mph
4500 rpm
38.0 mph
5000 rpm
40.0 mph
Speeds recorded on a Lowrance GPS and rounded off to the nearest 1/2 mph.