Author : Barry Thompson
The Back Cove 37 is the largest Back Cove model to date and continues with the same practical features, usability and low maintenance, which have built the popularity of the Back Cove brand since its inception.
The Back Cove 37 follows on the success of the 26, 29 and 33 footers. Back Cove Yachts' goal has always been to design simple, low maintenance boats that are easy on the eyes and easy on the fuel bills, thanks to the single engine package, and this has certainly been achieved with the newest addition. With over 300 Back Coves in operation around the world today and the fleet growing rapidly, the Back Cove 37 was a natural evolution and there's no doubt it will not be the last.

Like other Back Cove models, the 37 has a single diesel engine and bow thruster combination that is more fuel efficient than a twin-engine option and because of fuel costs these days it is becoming a more acceptable power decision by owners.
The first Back Cove 37 to arrive in Australia (hull #4) made it in time for the recent Sydney International Boat Show, where it attracted a lot of interest. Its wholesome, traditional looks coupled with its innovative and up-to-date engineering and power package set it apart from a lot of its contemporaries.
When you first see the Back Cove 37 you instantly recognise its Back Cove family heritage: the spoon bow, the long sheer line, the low profile, the hint of tumblehome. In keeping with its lineage, it has everything you would expect in a well-built, well-balanced Downeast boat. (See sidebar)
Our Back Cove 37 on Sydney Harbour was powered by the very latest Yanmar 6CX-530 common rail electronic engine, the first to be seen in any recreational boat in Australasia. This is an interesting engine, with a 30hp boost over the Yanmar 6CXM-500, which physically has the same external dimensions and weight. The increased horsepower in this straight-6 engine is obtained from a longer stroke, along with a more aggressive turbo/intercooler and tuning settings. It also features 4 valves per cylinder and an extra-high-pressure common rail fuel injection system. The 6CX530 is supplied with the NMEA 2000 fully electronic engine control system and LCD displays.
New electronic diesels of the type installed in this and other Back Cove models are cleaner running and quieter thanks to common rail and other modern fuel injection technologies. Electronic engine and shifter controls are always smooth and predictable.
Back Cove lists three different engine options, starting with the 480hp Cummins QSB 5.9 which delivers a top speed of just short of 25 knots @ 3450rpm. The Yanmar 6CXM-GTE @ 530hp pushed the BC37 at a respectable 27 knots @ 3050 rpm and if you want a couple more knots then the 600hp Cummins QSC 8.3 will give the boat close to 29 knots @ 3070 rpm.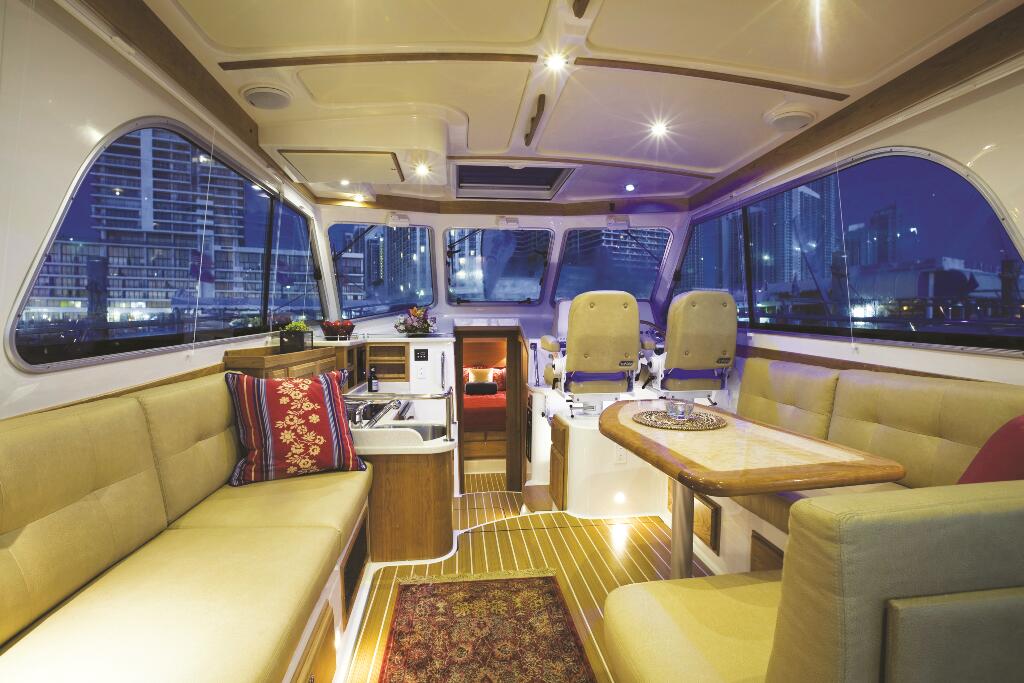 According to figures supplied by Back Cove, the fuel consumption and range for three different engines at various cruising speeds are as follows: the Cummins QSB 5.9 does 20.4 knots @ 3000 rpm burning 57.5 L/h giving 2.82L/NM for a range of 362NM, the Yanmar 6CX-530 does 19.2 knots @2400 rpm burning 53.4L/h giving 2.78L/NM for a range of 368NM and the Cummins QSC 8.3 does 20.8 knots @ 2400 rpm burning 61.3L/h giving 2.95L/NM for a range of 347NM.
During our cruise from Roseville Marina the Yanmar instruments showed an idle speed of 5.1 knots @ 650 rpm and we recorded a quiet 66 dBA sound reading at the helm. Around 1800rpm @ 11.8 knots it was still a respectable 76 dBA and at 2600 rpm @ 21.9 knots it rose to a moderate 81 dBA, which is still quite acceptable and it's easy to converse with all aboard.
From the spoon shaped bow to her gently sloped transom, the design elements of Back Cove Yachts speak to a Maine lobster boat heritage. The Back Cove 37 hull is a vee-style with downward turning chines forward. This allows the boat to get on plane easily, with very little bow rise. Secondary spray rails throw water down and away from the hull at speed to ensure a dry deck and windshield. Aft, the hull turns to a 16deg deadrise and the single propeller runs in a shallow propeller pocket to reduce draft and running angle.
A slight tumblehome in the aft topside sections and signature spoon-shaped bow add an elegance to the profile. The reverse transom is practical as it adds to the amount of useable space on the swim platform. The transom door is flush mounted and opens outwards to allow for the largest possible cockpit for fishing and for socialising with friends and family.
The wrap around seating in the Back Cove 37 cockpit will be the centre of attention on family trips or evening cruises with friends. Each corner seat offers additional storage space for safety gear and ground tackle and below the cockpit sole there is a large volume of storage space for the gear that a long-range cruising person would wish to bring along.
Around the foredeck area, sturdy hand rails are always within reach; a slight rise in the deck bulwark to prevent a foot from slipping overboard, an aggressive diamond patterned anti-skid surface and extra high perimeter rails all add to the feeling of security on the deck. Forward, a deep anchor locker offers plenty of volume for storage of lines and fenders as well as for ground tackle.
Back Cove yachts are built in a modern 240,000 square foot facility in Rockland, Maine. Construction is vacuum infused GRP, using vinylester resin and multiaxial E glass and a white iso-npg gelcoat. Back Cove Yachts is part of the Sabre Yachts group, which consists of Sabre Yachts, which builds Sabre brand power and sail yachts from 34ft to 52ft, North End Composites that produces tooling and fibreglass components and Back Cove Yachts. While there are some similarities between the Sabre and the smaller Back Cove models, the two lines are different though complementary. Back Cove is a simpler, single engine, less expensive family day boat or weekender, whereas Sabre is designed for family cruising. The advantage of Sabre's longevity as a builder (it started in 1970) in the same locations are evident in all aspects of its work: joinery, electrical and mechanical installations that have certainly flowed through to the Back Cove 37.
The layout of the main saloon area is open and spacious with large windows letting in plenty of light. It's a bright and comfortable area that makes you want to relax the minute you step inside. Several windows open wide to allow fresh air to flow through this luxurious space. This entire deck is raised to the height of the steering pedestal so as to provide the same views for helmsman, crew and guests.
The entry doors to the saloon allow the cockpit to become a part of the social gathering on the helm deck. The port side swings open and the starboard side door bi-folds to open wide the entire aft end of the saloon. Enter the main saloon and there is a two-person seat to port and to starboard, a full L-settee that converts for additional sleeping accommodations when needed. A high gloss inlaid high/low table is the centrepiece, a standard television is cleverly concealed in the headliner and innovative LED lighting systems are employed throughout. Two air conditioning/heating systems supply cool or warm air. An interesting feature is that the saloon cabin sole raises on a hydraulic/electric ram to provide exceptional access to the engine compartment.
At the helm, two Stidd seats offer great sight lines of the waters ahead and a large helm pod offers space enough for all of today's navigational electronics.
Looking forward, one sees the designer's "space within a space" concepts play out. With two steps down to the galley the crew is always a part of the scene in the saloon and still retains good sight lines to the waters and the scenes passing by. This full galley with solid surface countertops and elegant cherry cabinets provides the facilities needed for great meals prepared on board. A drawer style refrigerator, microwave oven and ceramic cook-top are all provided and there is an abundance of storage space for provisions and cooking gear. In addition to the galley storage there is a very large space below the helm for additional storage of provisions and gear. This space is accessed through a large hatch below the helmsman's feet.
Step down again to the sleeping cabin area, where there are two cabins, each with double berths. Opposite the guest stateroom is the full head with stall shower complete with built in vanity with solid surface vanity, full-length mirror on the door and a moulded seat in the shower with storage beneath. Standard is a macerator with overboard discharge, electric head and holding tank and a waste tank monitor. Access is available from both the passageway and from the owners' private stateroom forward.
The guest stateroom to starboard, below the helm, offers a large Pullman-style berth with bulk storage and drawers below. A moulded headliner has padded panel inserts and a cherry headboard with reading lights adds a nice warm feeling to the cabin. A pocket door provides privacy for this cabin.
The master stateroom offers the comfort and convenience of a full-sized centre-island berth. Below the berth there are three very large drawers and forward of those, additional bulk storage space accessed through a hinged berth top. To port is a large cedar-lined hanging locker and to starboard a full set of drawers. Storage is plentiful and the flow from one space to another is unconstrained.
Teak and holly is used on the cabin sole, with cherry fiddles on the outboard shelves and cherry panelling throughout the hull sides and cabin head.
The Back Cove 37 is an attractive boat that encompasses all the best attributes of design, quality and finish and is certainly a fitting flagship for the Back Cove brand that is so synonymous with the Downeast tradition.
Design Name: Back Cove 37
Year Launched: 2009
Designer: Kevin Burns / Back Cove
Interior Designer: Kevin Burns / Back Cove
Builder: Back Cove Motor Yachts
LOA: 11.59m
Beam: 3.96m
Draft: 1.00m
Displacement: 10 tonnes
Max Speed: 28 knots
Cruise Speed: 22 knots
Construction: GRP
Fuel Capacity: 1136 litres
Water Cap: 454 litres
Engine Make: Yanmar 6CX-530
Base Price of Boat: $Aus 650,000