Secret Exposure
While the Barchetta brand name may not be one that you recognise, it's one that you should. The Barchetta 502DC Deluxe is an outstandingly good little boat in every aspect. Barry Thompson flew to Queenstown to try out one of Timaru's best kept secrets.
Barchetta is not one of the better-known brands, but in Timaru, it has certainly made an impact. Built by Fairview Fibreglass Ltd, better known for its Stealth 605 high performance powercat, the Barchetta range of runabouts and cabin boats represents a whole new approach to the market. Whereas the Stealth 605 was designed to cater for the 'petrolhead' buyer, the Barchetta is strictly a family boat. But don't let its smooth clean lines and traditional layout fool you. This is a boat that by the very fact that it was designed by Scott Robson – the designer of the Stealth and some of this country's most successful offshore powerboats – is enough to know that this is not going to be just another 5m cabin runabout.
"We asked Scott for a compact family boat that incorporated the best handling characteristics and principles of his performance boats, and the cockpit and cabin layout of a traditional small runabout that was useable and practical", said Don Weir, managing director of Fairview Fibreglass. 
The secret it seems is under the water and while at first glance there is nothing too obvious, when you take a closer look you start to see things that I have no doubt Robson has learnt from years working with high performance boats. Firstly there's a vacuum break step in the forward outer chine that is designed to help release the hull free from the water much quicker when getting onto the plane. It's subtle and not as intrusive as a full step across the bottom. The deadrise at the transom is a steep 21 degrees, but this doesn't seem to cause any problems with stability at rest – at one stage we had three guys on one side and the boat remained very stable without excessive heel.
The forward hull sections have a very sharp entry at the bow and although it doesn't really appear to have too much flare, we had no hint of spray aboard in a nasty side chop across Lake Wakatipu during the test. The wide, downturned strakes run parallel with a double chine arrangement that provides quick lift when getting onto the plane and offers more boat in the water when at rest. Full beam at the transom on the waterline is close to 2m.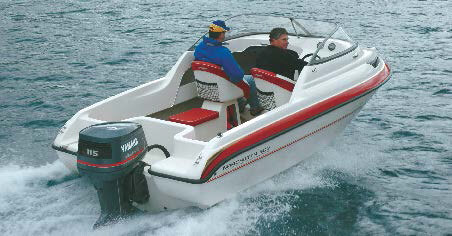 Although initially I was just going to test the Barchetta in Queenstown, Don decided a few days before entries closed to run the boat in the Latimer Hotel/NZ Propeller magazine Poker Run on Lyttelton Harbour. I decided to go along as 'crew' to find out more about this little boat in what would probably be rougher water, while still conscious of the fact this was only a 5m boat.
On Lake Wakatipu the Yamaha 115 was good for 45 mph with two aboard and gained 1 mph when I gave it a squirt on my own. As we were 310m above sea level on a fresh water lake, I am picking a gain of about another about 1mph to 2mph on salt water – perhaps even a little more when the brand new engine has a few more hours on it.
The 17" 3-blade alloy Yamaha propeller provided instant bite and I was able to reach maximum rpm of 6000 very quickly. In fact, I was hitting the rpm limiter at 6100 rpm so we knew we could go up a size in pitch. With a 19" 3-blade Yamaha prop fitted for the Poker Run the speed jumped to 50 mph @ 5800 rpm and 45mph @ 5200 rpm.
Lake Wakatipu was relatively calm and the Barchetta proved a little rocket ship. It leaps onto the plane and responds instantly to any alterations in direction. With half-trim the Barchetta 502 can be hooked hard into turns and it really hangs on with no slipping, excessive heel or any hint of the hull breaking free.
With no adjustable helm seat slider and the seat base too far forward I was unable to find a comfortable position to stand and drive. However, Don assured me that from the next boat out of the shop the seat base would be moved a little aft and an adjustable seat base fitted as standard. When seated I had no complaints – apart from feeling that a foot rest would be a nice addition – with the expansive Perspex screen doing its job in keeping off the cold Queenstown wind. With only a central joint and support stay, there is a clean uninterrupted view through the two-piece Taylor screen.
Running at 30 mph, beam onto a nasty little lake chop from Frankton Arm to Cecil Peak in Collins Bay, there was a noticeable 'bump' or two but no more than you would expect from such a small boat. The Barchetta 502 is in fact only 4.95m overall and although a boat of this size does have limitations, the 502 tends to extend them a little more than most.
The Poker Run out of Lyttelton Harbour however presented a whole new set of wave patterns from a gentle swell to a short cross chop and even a following sea that tested the Barchetta in a variety of conditions. What a honey of a boat! Although the Poker Run is not a speed event, someone forgot to tell Don, who drove the little Barchetta reasonably hard all the way around the 45 mile course.
Overall, the ride and handling was exceptional for a boat of this size and although the builders rate it to 150hp I don't think it needs any more than 115hp and even then that's more then enough for most people. A 90hp would be a neat match and not too much power for an inexperienced boat owner.
There are even a few 502's around with Mercruiser 135hp, four-cylinder sterndrives which require an adjustment to the transom moulding and only encroach into the cockpit by a further 250mm. Performance is much the same as that of a 115hp outboard.
The Barchetta 502 EC Deluxe is the top of the range and differs only from the 502 Sport in fit-out. There's carpet on the sole, more upholstery and upgraded seating. Everything else is the same. There is also a runabout version available in both Deluxe and Sport versions. The first runabout was launched in 2002 and this was followed by the cabin version 12 months later. Since then, sales have been steady, with 15 cabin models sold of which most have been direct from the factory.
"We don't have a dealer network as such yet, but that is something we will be working on in 2006. It's hard to grow the brand just selling from the factory in Timaru", said Don.
The layout is certainly practical and very useable, with a number of seating options available. While the most popular is the single swivelling helm and back-to-back passenger seating you can have a combination of either. There are also two jump seats aft with clip-on cushions that can be folded down so you don't step on them when boarding. Cockpit storage is generous with full-length side trays for rods, under the fibreglass moulded seat bases and in a fully moulded underfloor locker that is ideal for waterskis. It would also make a good wet locker or somewhere to keep the day's catch.
While our test boat came with a pair of tote tanks neatly stowed in their own moulded stands under the aft deck area, you have the option of a customised underfloor stainless steel fuel tank in excess of 100 litres. Battery and oil tank are fitted in the bilge on a raised platform and are easily accessed for servicing.
Attention to detail throughout the boat is very evident when you see all the skin fittings are stainless steel, rather than the cheaper plastic, the retractable boarding ladder which is cleverly recessed in to the aft boarding step and the chrome edge trim around the inside of the cockpit.
The helm area features a split-level dash with plenty of flat areas for flush mounted electronics and instruments. However, Don commented that most of the 502s fitted with electronics have so far been sold with bracket mounted fishfinders and GPS/Plotters. A deep recess can be used for key, wallet and cellphone stowage and there's also another shelf alongside the passenger seat.
The cabin area is very traditional with split squabs with small moulded storage lockers either side. There is sitting headroom for two (900mm cabin headroom) in the fully lined cabin and a massive side opening forward hatch giving access to the internal anchor locker and large pulpit mounted bollard and fairlead. The 'berths' are only 1500mm long.
The 502 EC Deluxe is the second Barchetta NZ Propeller magazine has tested, and just like the runabout it is an outstanding example of what a 'small' quality boat builder in collaboration with an internationally recognised designer can achieve. Had it not been isolated from the lucrative North Island markets through the lack of a dealer network, the Barchetta could by now be a major seller in its size range. The addition of a cabin model in the 6m-6.5m size would certainly do a lot to assist the company's acceptance in the market.
However, it may only be a matter of time before the Barchetta joins the ranks of the known brands and I for one think it deserves to be up there. Don Weir is a perfectionist when it comes to building and presenting a boat to market and the little Barchetta is a perfect example of his work and dedication to producing a quality product. It is a very easy and forgiving boat to drive, has the highest standard of build quality and finish and is ideally suited to first-time boat owners who lack the confidence in a larger and more powerful vessel.
Model: Barchetta 502 EC Deluxe
Price Boat Only: $16,795 (incl. GST)
Price as Tested: $34,000
Designer: Scott Robson
Type: Cabin
Construction: GRP
LOA: 5.02m
LOH: 4.95m
Beam: 2.20m
Transom Height: 20" or 25"
Height on Trailer: 1.95m
Deadrise: 21 degrees
Trailerable Weight: 950kg
Engine Capacity: 70hp – 140hp             
Power Options: Outboard or sterndrive           
Fuel Capacity: Tote tanks
PERFORMANCE YAMAHA 115 2S
600 rpm
 
3.0 mph
1000 rpm
4.5 mph
1500 rpm
6.0 mph
2000 rpm
7.5 mph
2500 rpm
9.5 mph
3000 rpm
19.0 mph
3500 rpm
24.0 mph
4000 rpm
28.5 mph
4500 rpm
33.0 mph
5000 rpm
37.0 mph
5500 rpm
41.0 mph
6000 rpm
45.0 mph*
All speeds recorded on a Lowrance GPS  and rounded off to the nearest 1/2mph. * With 19" 3 Blade Yamaha the 502 recorded 50mph @ 5800rpm and 45mph @ 5200 rpm