If we had to come up with one word to describe the all-new 170 OB from Bayliner, it would have to be "affordable versatility." (Ok, so it was two words).
There are two options packages that caught our eye. First was the ski and fish package. The second was even more exciting…a wakeboard series package.
We tested the Bayliner 170 OB powered by a 115hp Mercury and measured a top speed of 40.2 mph (with the Bimini down) and a best cruise of 20.6mph.
You board the 170 OB from the aft swim platforms, of which there are two – one to either side of the outboard as usual, and I like the raised steps to more easily board from. Some may call it obsessive compulsive, and I can live with that, but I hate having to step on upholstery to board any boat.
Bayliner was thoughtful enough to add a boarding step under the aft port seat cushion. I'd like to see a non-skid hatch cover under the seat cushions on both sides of the bench seating so no matter what side you lay up against the dock you have a place to put you foot when boarding.
Just ahead of the re-boarding ladder was a convenient grab handle, and I've noticed that's lacking on some other models. Our test boat also had the optional ski tow pylon fitted to the centre of the transom.
The aft end of the cockpit was occupied by a three- or four-across bench seat (depending on whether they are kids or adults), and storage is reserved, as mentioned, for the starboard seat. The space under the port seat is inaccessible, and under the double wide centre seat cushion is plenty of room for a carry-on cooler – except on our test boat. In the boat we tested, the 170 OB was fitted with the optional "Ski & Fish" package that calls for a 30.3-litre aerated baitwell in this space. A classy touch was having the centre seatback embossed with the Bayliner logo.
I'd like to see an option for snap-in/snap-out carpet if I'm going to be fishing on this boat.
The 170 has a max beam of 2.11m and that allows for nearly 1.8 m of width back in the cockpit. That, in addition to 0.7m from the bench seat to the dual bucket seats, gave the cockpit a surprising feeling of roominess. The bucket seats are not wrap-around, and that makes it easier to swivel your body in and out of the seats without having to reach under to release the seat swivel mechanism. That release, by the way, is a triangular type that lifts on one side to swivel, and the other to slide.
As is usually the case with small Bayliner boats, there is no interior fibreglass liner. That saves weight and cost. The builder has left the bulwarks open, and cargo netting has been fitted to small tie-down cleats to add storage utility to this open space. I'd like to see a coaming strip along the bottom to add even more utility. Our test boat also had rod storage in this space.
The observer gets a stereo, glove box, and drink holder. The helm is quite basic, and rightfully so, with only two gauges, but fuel and battery gauges are embedded into the speedo.
I found the seats to be uncomfortably low (I am 1.74m), and that makes the engine control high on the arm. The upside to the low seating is that you're looking through the windshield and not staring directly at the windshield frame. There is no flip-up bolster offered.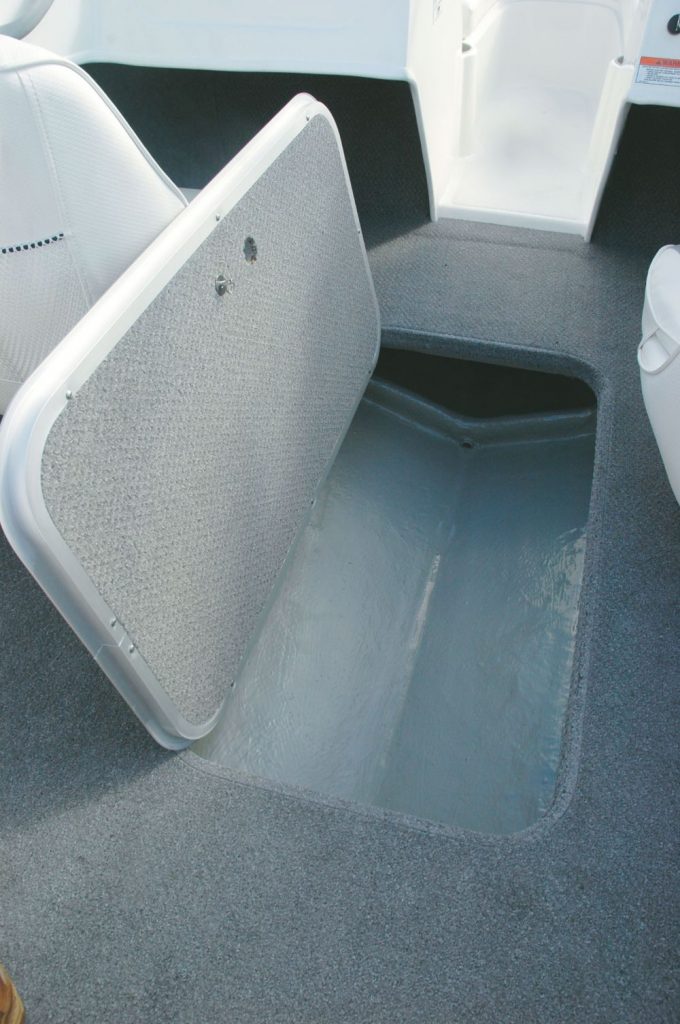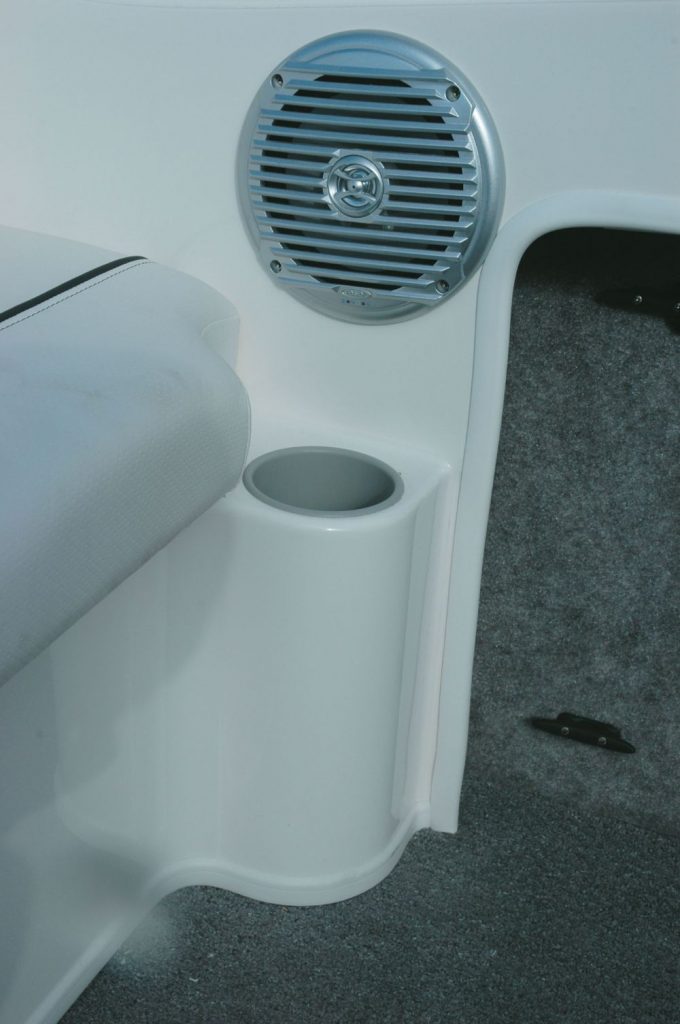 The consoles are separated by 400mm and sole storage is located between. Inside the storage compartment is space for boards and spare items, but I'd like to see a rubber mat at the bottom to protect the equipment. The walkthrough windshield has a gasket to prevent annoying vibration when closed and opens against a rubber stop. I'd add a snap and strap to hold it in the open position against winds blowing it closed. I've never seen it happen but the added security makes me more comfortable.
As our test boat was fitted with the ski and fish package we had a casting deck, pedestal chair, and trolling motor. The battery for the trolling motor was located under the port console. This is not something that is much in demand in New Zealand or Australia, but it is a neat option if you are into lake fishing. There were the usual storage compartments under the side bow seats, and I'd add an insert to convert one, or both, to facilitate use as fishboxes. I was able to convert the bow area from the fish package to a normal bow rider in a little under three minutes.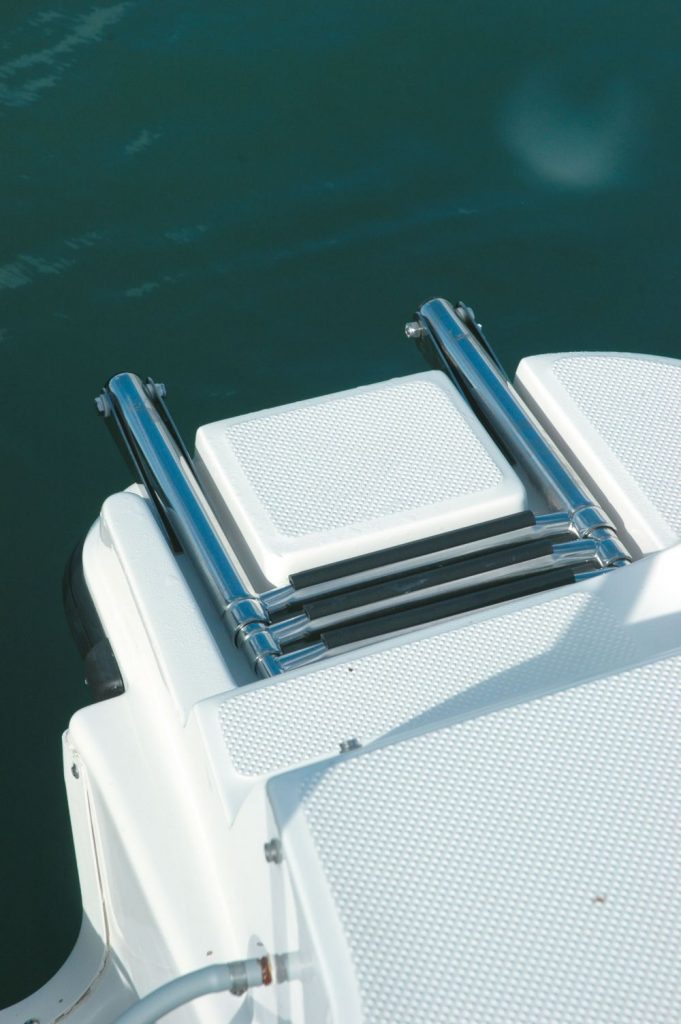 The handling of the 170 is textbook Bayliner. That is to say that it's not only safe but very docile. Powered by a Mercury 115-hp outboard, when I entered a turn the 170 bled off speed to prevent occupants being thrown off to one side, and in fact, there's little need to be hanging on. Between the bank of the turn, and the slowing speed, it's just a simple ride around to a different direction.
I got about a 17-degree bow rise when hitting the throttle to get on place but because the bow is so close I lost no visibility.
Trim is basic and once you get up on plane you just start trimming up. You'll see the spray move from below the helm, back to the quarters, and feel the boost in speed. You'll also feel the steering loosen up a bit, and then you know you've hit the sweet spot. If you go any further, you'll ventilate the prop, and then you just have to back down a notch or two on the trim switch.
I reached a top speed of 40.2 mph at 6000 rpm. At that speed I measured a 40L/h fuel burn and a range of 72 miles. Best cruise was 20.6 mph with an 11.7L/h fuel burn for a range of 127 miles. We had a surprisingly quick time to plane of 2.9 seconds and reached 30mph in 9.4 seconds.
Our test boat was fitted with a 115 Merc FourStroke, but the alternative option is a 125-hp DFI, Mercury OptiMax. Our Merc 115 seemed to be plenty up to the task.
Bayliner also offers the 170 with a Flight Series package for wakeboarding. I went and found someone wanting to give it a try (alright, not a hard search) and set out to see for myself.
Sure enough, I pulled the 90.7kg rider up on top before the prop wash even reached him. While he cranked back and forth I was able to keep a nice straight track, and the 170 even produced enough wake to allow him to get some decent air under the board. So, go figure, a wake tower is a viable consideration in this Bayliner 170 after all.
All said, I had a lot of fun testing the 170 OB. It responds so well to inputs from the helm, that you really become a part of the operation. It's almost as if the boat is an extension of yourself.
Model: Bayliner 170 OB
Priced From: $NZ37995
Type: Bowrider
Construction: GRP
LOA: 5.33m
Beam: 2.11m
Deadrise: 19 degrees
Trailerable Weight: 1000kg (est.)
Engine Capacity:  90-125hp
Power Options:    Outboard
Fuel Capacity: 79.5 litres
Notable standard features on test boat
Boarding ladder, swim platform.
| | | |
| --- | --- | --- |
| rpm | mph | L/h |
| 1000 | 3.4 | 1.1 |
| 1500 | 5.1 | 2.6 |
| 2000 | 6.6 | 4.5 |
| 2500 | 7.2 | 7.2 |
| 3000 | 11.7 | 9.8 |
| 3500 | 20.6 | 11.7 |
| 4000 | 25.2 | 15.1 |
| 4500 | 28.9 | 18.2 |
| 5000 | 32.6 | 25.4 |
| 5500 | 36.8 | 31 |
| 6000 | 35 | 40.1 |
Notable options on test boat
Cockpit cover, CD stereo.
Make: Mercury
Power: 115hp
Model: FourStroke
Cylinder Config.:  4 cylinder in-line
Displacement: 1.7L
Max rpm: 6000
Propeller: 3 Blade Alloy 17″
Retail Price: $NZ18535
Make: Bayliner
Braked: No
Suspension: Leaf springs on single axle.
Std Equipment: Pads, jockey wheel, winch, sub lights, swing-away tongue.