We've never been one to sit on our laurels, so when Bayliner changed its most popular model we were pleased. If the single-edged razor morphing into four blades and cassette tapes giving way to MP3 players has taught us anything it's that there is always room for improvement. We think Bayliner has managed to make some decent and well thought out changes.
The Bayliner 175 BR and the 170 OB (for outboard) are two different models built on the same hull. The length, beam, deadrise, and fuel capacity (79.5L) are all the same. Only the weight and the draft are different. If you are dead-set against a sterndrive boat and only want to consider an outboard, stop reading right now.
Our Bayliner 175 BR test boat was fitted with the optional extended swim platform which added 600mm to the 305mm moulded platform. This platform not only reaches over the lower unit when it is in the down position, but it is also lower to the water which makes a convenient staging area for putting boards on.
If you like this optional platform, just remember that it is one of the aspects of a stern drive boat that you can't get with an outboard model. A three-step re-boarding ladder is recessed into the starboard side of the extended platform.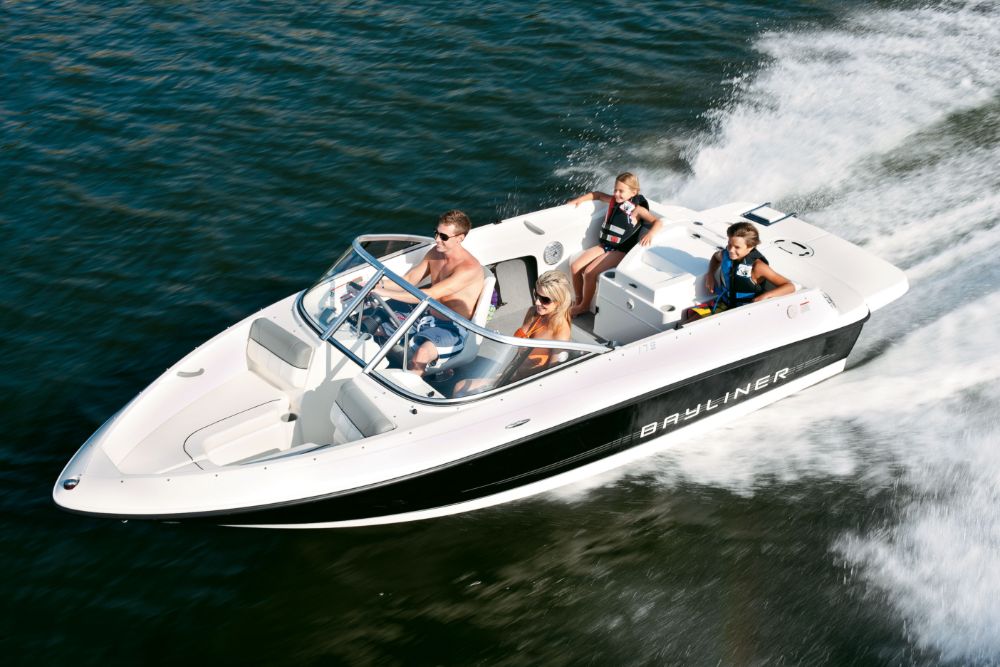 There are two notable options available for the 175 BR. One is a fish and ski package that consists of a casting platform, pedestal seat, trolling motor, fish finder, and 30L livewell. The other option is the "Flight" series package consisting of the extended swim platform, a wakeboard tower, and cool hull side graphics.
One of the most notable changes to this year's design has been the engine box. I've always believed that a plain engine box could add a little bit of utility, and Bayliner seems to have adopted the same line of thinking. There's a large, flat non-skid surface on top, a lower recessed utility area for putting" stuff", two drink holders to either side, a fire extinguisher discharge port to the starboard side, and tie downs for both tubes and a carry-on cooler.
I also like the fact that the engine box has positive latches to keep it closed, instead of relying on gravity to do the job. When opened, the lower portion of the box is cut low enough to allow easy maintenance access all around the engine. The standard engine is a 135hp 3.0L MerCruiser and there are no upgrade options.
Perhaps one of the biggest differences between the new 170 OB and the 175 BR other than the propulsion and the optional swim platform is the seating in the cockpit. While the 170 OB has a wide bench seat big enough for four kids or three adults, the sterndrive version has twin jump seats, one on either side of the engine box. They seat two kids or two adults, and lift out if you wish for better access to the stern.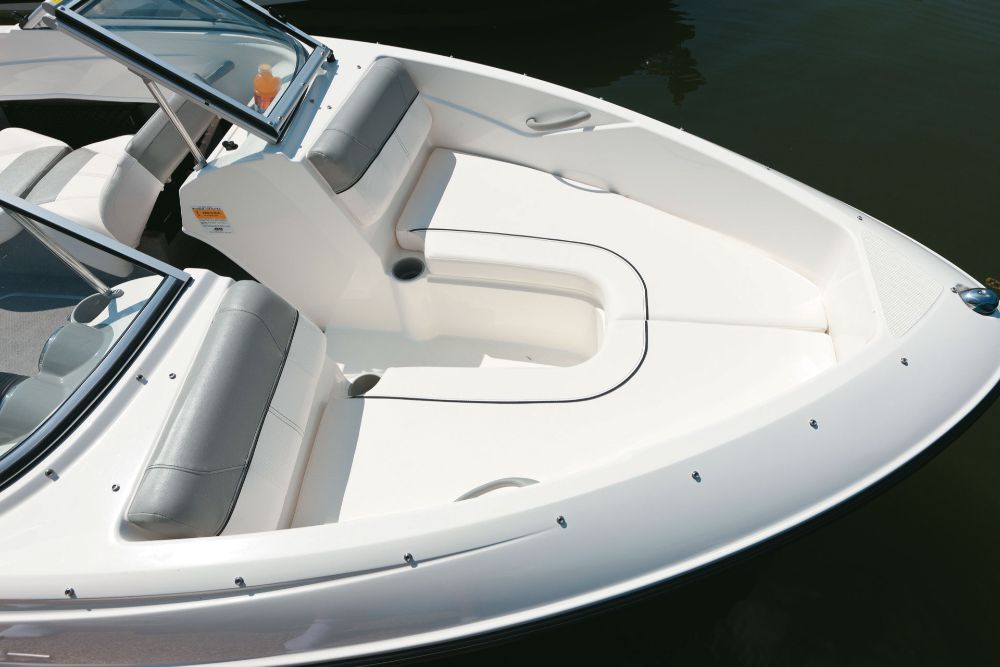 The companion seat on the 175 BR is the conventional "back-to-back" design that we have seen for 40 years or so, which makes it ideal for spotting when towing and the seat will fold down for sun bathing or a nap. The 170 OB has only a swivel seat for the companion. The helm seat on the 175 BR is extremely low and was not particularly comfortable for me. (I'm 1.74 m with a popliteal measurement of 406mm.) Because of the low freeboard and the cockpit, there is little else the designer can do and still make sure that the skipper is looking through the windshield and not directly at the upper windshield frame.
Given a choice between a higher seat and looking at the windshield frame, I'd go for the low seat as Bayliner has done. While the seating remains largely the same as on the previous 175 BR, the passenger gets a little bit of an upgrade at the console. I had found that the old passenger console had an open empty space that allowed for things to go bouncing around, and out, and I found it to be more than a little inconvenient. Apparently, others agreed with that assessment. Now there is a closed compartment along with the stereo, MP3 player, and 12V power supply.
The new helm layout has been streamlined considerably from the older versions, and entry-level boaters may find it much more pleasing. Bayliner thoughtfully added two drink holders, one to either side of the helm, and that's a convenient feature as one inevitably gets used for carrying anything but drinks. Below, lighted toggle switches flank a standard tilt steering wheel.
The two consoles are separated by 410mm, and while the sole storage is roomy I'd like to see a rubber mat on the floor of the storage as well as having the compartment drain overboard rather than into the bilge, if at all possible. There are gaskets on both sides so that when the walkthrough windshield is in the closed position the annoying rattle I have heard on some boats is eliminated. The windshield opens against a rubber stop but I'd like to see a snap and strap to hold it in the open position. The bow seating is comfortable enough, and while I was in the lounging position I had more than enough room to stretch out my legs. The usual storage accommodations are underneath both seats.
The 175 BR had a 17-degree bow rise upon accelerating, but because the bow is so close to the helm I lost no visibility of the horizon. Trimming is very basic and straightforward: when you get up on plane you begin adding trim. You will see the spray move from below the helm area back to the stern quarters, as well as an accompanying boost in acceleration, followed by a loosening of the steering. When you experience these three things you'll know you have hit the sweet spot for trim. If you advance the trim up even further, you will begin to ventilate the propeller. At that point, just bring in a couple of down clicks and you'll be set.
Turns are calm and docile. As it happens, the 175 bleeds off enough speed as you enter the turn to keep things comfortable for your guests. Some may view this as a downside for watersports, but I am not one of them. If you're towing, then when you enter a turn you just simply add power to maintain your speed.
I reached a top speed of 41.4 mph at 4500 rpm. At that speed I measured a 40.5L/h fuel burn. Best cruise coincided with the best feel at 3000 rpm and 26.5 mph, or 2.42km/L, giving the boat a cruising range of 173km, allowing a 10% safety margin.
Since there was no engine option above our 135hp test engine, I questioned whether this boat would be able to tow a wakeboarder. To find out, I decided to tow a wakeboarder.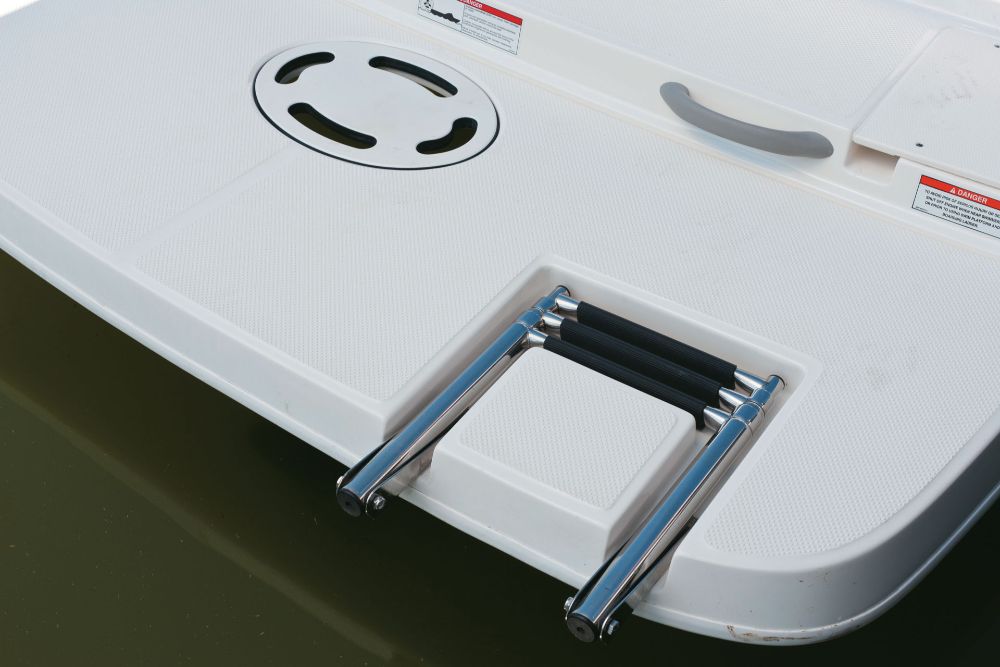 As it turns out, the 175 was more than capable of the task. I was able to get the 90kg waking dude on top of the water before our prop wash reached him. As he began carving turns from side to side I was able to maintain a straight and true track. Additionally, the 175 was able to generate enough of a wake for him to get decent air under the board. As it turns out the 175 BR is quite a capable watersports platform.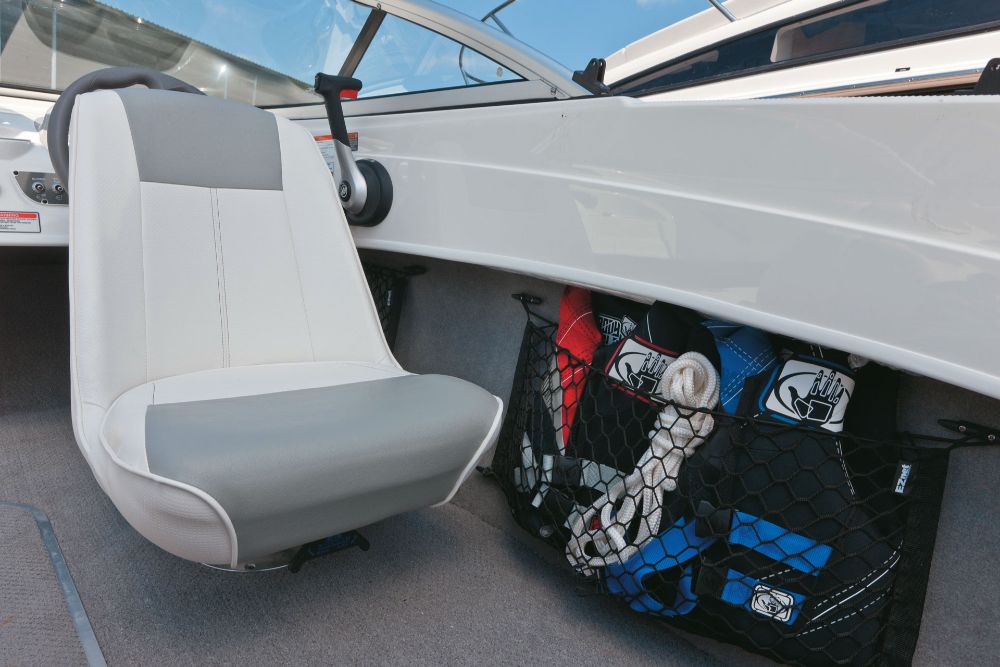 Bayliner has built its reputation and following by offering good boats for a low price. It is able to achieve the low-price point with efficient manufacturing, eliminating the frills, closely monitoring the hardware that is put aboard, avoiding some interior fiberglass liners and otherwise not lavishing money on amenities that many people will never use or appreciate. That is why it has an extensive option list, so consumers can pick and choose just the add-ons needed, and not waste money on things not wanted.
Over the years that has proved to be a winning strategy and the brand is probably held in higher regard today than ever before. If you are looking for your first boat, or if you are buying a boat for your kids or grandchildren, then we think the Bayliner 175 BR should definitely be on your short list.
Model: Bayliner 175BR
Builder: Bayliner
Country of Origin: USA
Designer: Bayliner
Priced From: $NZ37000
Price as Tested: $NZ339995
Type: Bowrider
Construction: GRP
LOA: 5.33m
Beam: 2.11m
Deadrise: 19 deg
Height on Trailer: 1.80m
Trailerable Weight: 1087 kgs (dry)
Engine Capacity: 135hp
Power Options: Sterndrive Only
Fuel Capacity: 79.5 litres
Steering: Power assist
Entertainment: Jemsen/MP3
GPS/Plotter/Sounder: Garmin TM150 (Option)
| | | | | |
| --- | --- | --- | --- | --- |
| RPM | MPH | Knots | NMPG | NM   |
| 650 | 4 | 3.5 | 8.7 | 164 |
| 1000 | 5.1 | 4.4 | 8.78 | 166 |
| 1500 | 6.6 | 5.7 | 5.74 | 108 |
| 2000 | 8.3 | 7.2 | 2.58 | 49 |
| 2500 | 19.6 | 17 | 4.66 | 88 |
| 3000 | 26.5 | 23 | 4.96 | 94 |
| 3500 | 31.7 | 27.6 | 4.59 | 87 |
| 4000 | 36.6 | 31.8 | 4.16 | 79 |
| 4500 | 41.4 | 36 | 3.38 | 64 |
Make:  MerCruiser
Power: 135hp
Model: 3.0 Litre MPI
Cyl. Config.: 4 cyl
Displacement: 3 litre
Max rpm: 4500
Propeller: 19" alloy
Drive:  Alpha One
Make:  Bayliner
Braked: No
Suspension: Springs         
Features: Tongue jack and swing away tonque, dip lights.