Bayliner's executives view their range of boats from 16 through to 31 feet as middle of the road – with a range of options as standard that while not being of absolute 'luxury' proportions, are most certainly not the 'poverty-pack' option either. They are good wholesome practical packages that are built for families to enjoy, and in the case of the Bayliner 195 Runabout, it is for the family who like to enjoy it – in the fast lane!
Perhaps the most endearing feature of the package however was its obvious appeal to those who simply wish to walk into a showroom, see the boat they like and drive away an hour later – with their boat. The Bayliner 195 was very much a turnkey package, presented complete with items such as ski hooks, the integrated rear platform complete with rear boarding ladder, all the appropriate instrumentation, steering and remote controls, seating for nine adults, three sun-loungers, a stereo, carpet, a bow tonneau cover, and even an overhead bimini that was fitted in New Zealand, specifically to address New Zealanders' expectations in their overhead protection. Really, the only items you could fit as aftermarket would be a ski pole, stereo upgrade, curtains for the bimini, or perhaps a transom shower (necessitates a 45-litre fresh-water tank). Bayliner, a well-respected imported 'stayer' in the New Zealand market that we now almost sub-consciously accept as a local, has amassed that turn-key ready to go reputation from the branding's ability to present over 70 packages in the range, that are singularly suited to virtually every water-borne leisure pursuit.
The boats therefore are very much multi-faceted in design, and in the instance of the 195 which was ostensibly a sports boat with its bowrider for'ard feature, it also very much had the 'sport' credentials to go with it in the form of appropriate V8 power. While still only a 5.79m boat, with incidentally a 'street-legal' 2.41m beam, its sterndrive (only) power options were either 4.3 litre (L-190hp or MPI 220hp) V6, or this 260hp 5-litre MPI V8.
The interior was a typical bow-rider 'family' style of layout, with a generous-sized cockpit despite the intrusion of the rear-mounted engine. Seating was a little different though in that there were generous removable corner seats each side of the typically American non-intrusive (they do it better than most) engine cover. An engine cover incidentally that was innovatively designed to double as convenient access to the rear boarding platform, for the skiers. Remove the top (domed-on) pad, use the non-slip step up onto the embossed non-slip top, and you have the perfect place to put your skis on, then spin 180-degrees round then step off the back. The back-to-back seating was another break from tradition and while it appeared at first glance to be a further intrusion on cockpit space, it in actual fact took up deceptively little room in the context of an area that seated six.
This seat assembly even folded down to offer the added bonus of a full-length sun-lounge. While it didn't appear as such, there was also a generous amount of storage provision in innovative features such as the lined side pockets, the ice-box in the port dash, under the bow squabs, in under the rear corner seats that could also double as ice-boxes for drink storage, and brilliantly in behind the back rests in the bow section, effectively utilising all the space in behind the port and starboard dash modules. There was even more storage in the base of the passengers' seat assembly, although it was a bit 'messy' to get to, to use just for minor incidental storage. A very special feature offered with the Bayliner 195 was the huge underfloor locker in the centre of the floor and just forward of the 132-litre underfloor polypropylene fuel tank, that would house several sets of water-skis. The helm itself consisted of these well separated (there was a nice wide walkway forward) substantial port and starboard modules, very stylish in appearance, which presented the driver and passenger with a typically-American 'sports-orientated' helm station.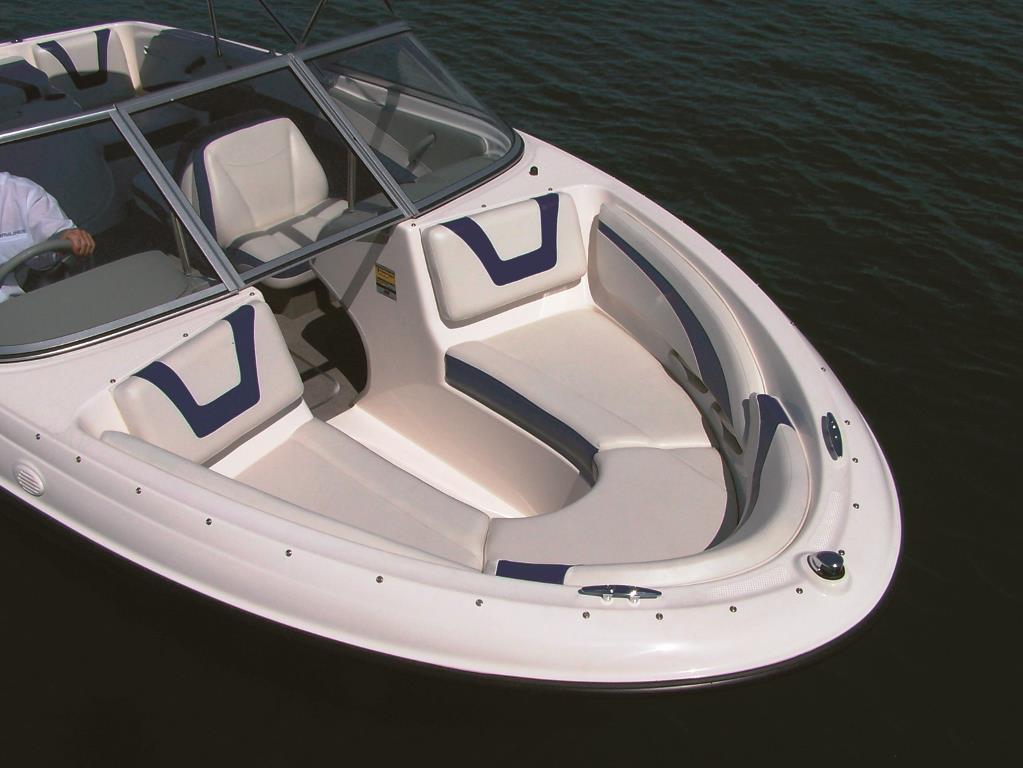 For the passenger there was a huge glove-box come ice-box come storage that had in-built provision for a stereo and a VHF radio. Typically American was perhaps a little misleading though, for the driver's side was blessed with a dash that certainly had all the usual MerCruiser instrumentation, side remotes, (in-house and power-assisted) tilt- steering, ancillary switches and sports wheel, but no 'gadgetry' surplus to requirements. In other words, you weren't paying for things you would never ever realistically require. Whilst definitely not a stand-up style boat, with the overhead bimini, it did however fit nicely into the ideal of a genuine 'sit down' version with a true sports driving position – a good hold in the sturdy seat, good grip and purchase from the wheel and foot-rests, and good visibility through what was an un-blemished, 'clear' glass wraparound windscreen that sheltered you completely from the elements. Bow configurations can be most imposing at times, but in the instance of the 195 it was simply another passenger-carrying fun aspect of the boat. Sensibly the seating in this instance would suit three, but it was also a nice place for two to sit back in style in the two lounges, and simply enjoy the occasion.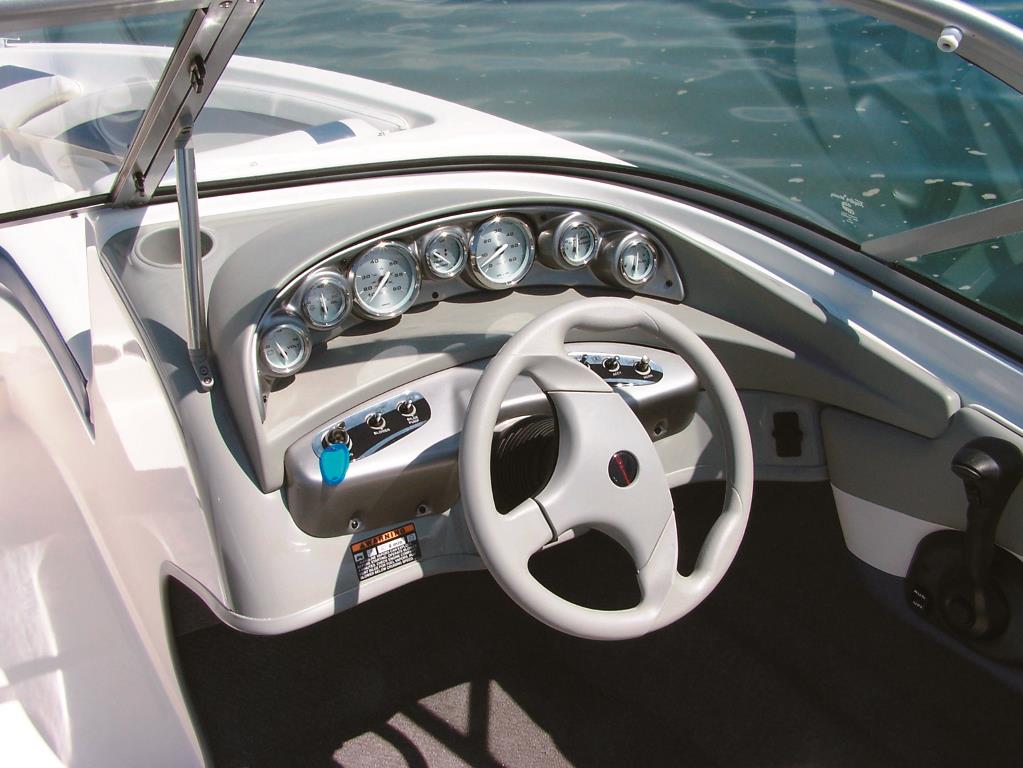 Nice little back, side and bow pads, and even hand-grips for the front passengers, added a special ambience to this area. There was plenty of leg room, and plenty of seat room, but the small 600mm coaming tops meant you were very close to the action, right at the bow of the boat. There was no anchoring feature, bowsprit or anything like that, and to be brutally frank it was not hard to concede that the bow section and in particular the anchoring facilities were certainly underdone in the context of New Zealand expectations. Despite this though there was still a couple of (protruding) anchoring cleats, a baby port/starboard nav light set, and provision for an anchor, chain and warp. New Zealand Bayliner dealers will fit a custom made timber or fibreglass bowsprit and fairlead to suit an owners requirements, although surprisingly more and more owners – especially those into their skiing – are opting to stay with the standard American bow layout.
Power for the Bayliner was just a tad over 'sufficient' – a 5-litre MPI V8 EFI MerCruiser petrol engine through an Alpha One stern-leg to an ordinary everyday garden-variety 21-inch pitch 3-blade alloy propeller. To me, the V6 option really would have been more than adequate – but it is still nice to
have that much power at your disposal! Very accessible from its mounting point right at the rear extremity of the hull, the rear section of the full GRP interior liner also housed the battery, filters, and the power assistance to the rack and pinion steering rack at the helm. The engine was completely smokeless, it was very easy to start (not an entirely common trait with inboards), and most quiet even at full throttle – you didn't have to yell to get your point across. The whole package in fact was refreshingly quiet, the engine as well as the hull that surprisingly wasn't filled with foam, to dampen the noise. To me this equated to a hull that also handled very well – a 'soft' hull that knifed its way effortlessly through waves without harshness or banging and crashing. I have my own special little test-pad, a stretch of water no more than a half kilometre long, that offers up every conceivable sea condition, and in this instance this Bayliner passed with flying colours. Even in the larger cruiser wakes we encountered, it rode them with ease – when crossing them in a head on or 'three-quarter' angle of attack. From the moment we set off we could tell this brand new Bayliner hull was certainly efficient, certainly quite different from previous models. Even construction is the very latest in technology, with hand-laid layers of chopped strand matt intermingled with layers of woven rovings and multi axials. As such the hull was strong, and of course most rigid.
The underhull shape was new also, with two reverse angled strakes each side, a tapered flat chine that extended from nothing at the bow to 100mm at the transom, and a step arrangement that Bayliner refers to as its 'Delta Step Pad' which rather than being a square sided horizontal square shape like most 'stepped' hulls, follows the deadrise of the hull for about 200mm, then drops down to the hull level to in effect become another strake. The hull planed very efficiently, as indicated during the speed test where it was easily up on the plane at 2500rpm, and underway it was certainly a responsive hull. I first noticed it when I was taking the running shots for this story – the boat literally appeared to turn on a dime. When I took over the helm, I truly appreciated the phenomenon, for its turning ability was just sublime – even at a good cruise speed of around 45-50mph. It maintained speed and it didn't cavort and buck its way around the turn, it just lay into the turn and went round albeit without much rear end slip – just so positive! At full speed it felt like it was on rails, which was a refreshing scenario not often found in a 'runabout' hull fitted with a V8 – normally they are absolute 'morons' to control effectively and keep in a straight line, when you are in any sort of harbour jobble. It was definitely responsive to trim, yet it would not over-trim and become 'flighty', before it blew out (cavitated). The underhull shape was quite obviously purposefully designed to safely and capably accommodate the ramifications of a V8 powerplant – in other words, while it handled the extra power, it was also a most docile and stable hull that offered no visible bad habits in a sudden change of sea conditions.
There was a temptation to describe this boat as a sort of hot rod of the ocean, but really it is a far more refined 'sports version' for it capably handles the requirements of the additional power – it has the performance skills and attributes, the pedigree – to match. It was a most practical and user-friendly layout, even I would imagine with a full complement of nine aboard – not too many comparative-sized boats could genuinely handle that sort of payload. A lot of thought has quite obviously gone into the styling of the boat too, the screen angle, the rear platform and the ratio of bow, helm and cockpit space I felt were all spot on, and for me the 'local' bimini was the icing on the cake, complementing the boat so much more than the traditional American canopy configuration. They claim this is a 'middle of the road' boat as far as specification goes, but I feel they do themselves a complete injustice – especially so when you consider the on-water price of $49,995 (in the V8 guise, and obviously less still with the V6).
Model: Bayliner 195
Priced From: $44,995
Price As Tested: $49,995
Designer: Bayliner
Material: GRP
Type: Bowrider
LOA: 5.79m
Beam: 2.41m
Rear Deadrise: 19 deg
Trailerable Weight: 1610kg approx
Engine Capacity: Mercruiser 5 litre MPI @ 260hp
Power Options: Sterndrive only
Fuel Capacity: 132 litres