The Belize 66 Sedan is a capable cruiser with a unique style that blends contemporary elements with a retro look and feel.
Distinctive styling, elegant, purposeful accommodations combined with the performance and handling knowledgeable boaters desire help the Belize 66 stand out. The Belize concept is the idea of Wes Moxey (current CEO of Riviera) and was originally developed while he was away from Riviera during the 2008 American recession. After receiving feedback from boaters that too many current model boats look the same, he wanted to create a vessel that stood out. The original Belize 54 has proven to be popular with over twenty-five built so far.
Belize Motoryachts are known for their retro-modern styling, but also for their sensible yet sophisticated use of space, and quality fit and finish. How these attributes would translate into a larger model was a question many were asking, particularly existing Belize owners eager to step up to a bigger boat. Moxey and designer Stephen Ford worked tirelessly for two years to perfect the design of the Belize 66. Input from current Belize owners, and extensive use of the latest CAD software allowed them to create 3D computer mock ups and even a digital "virtual tour" of the vessel. This helped them refine the layout and design during development stages and insure that the new larger Belize has both the branded styling and the accommodations that new and existing owners want.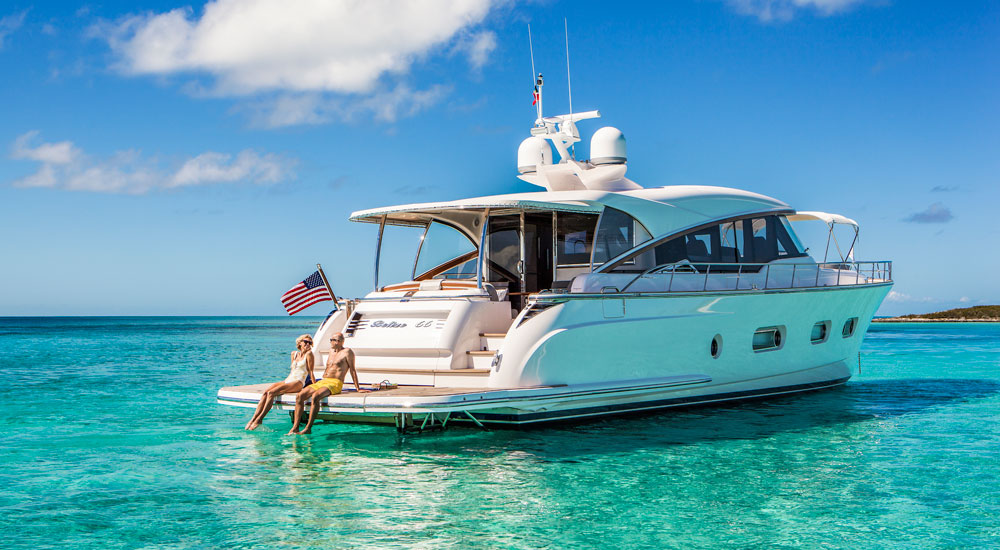 The first Belize 66 arrived at the Ft. Lauderdale boat show in November 2018 where I was able to catch up with her. As she made her way up the channel to pick me up for a test drive, I noted her distinctive almost ship like appearance from the bow with rounded hull windows and portholes. Minimal bow overhang, a sleek narrow entry, and a soft curving hard top with raked back radar arch make her look different than other modern designs, which is a big part of the Belize appeal. Owners want the accommodations, quality finishes, and modern technology of a new boat but want their boat to be special with a look and feel all its own.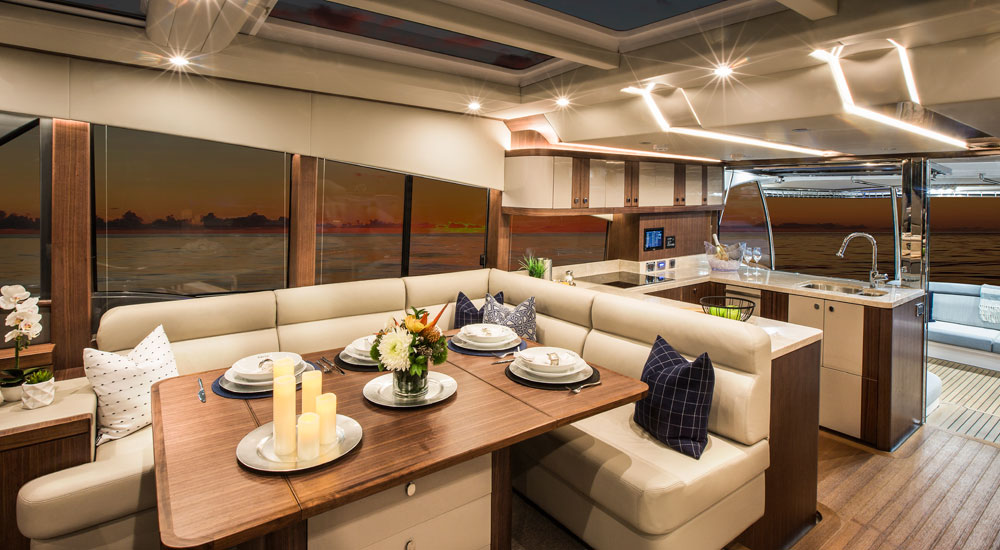 The Belize 66 delivers on that premise with high tech materials and construction techniques combined with modern engines and equipment showcased in a vessel with unique styling. Belize became part of Riviera when Rodney Longhurst bought the company and brought Wes back in 2012. This gives the brand worldwide distribution, service and warranty, as well as strong financial backing. Unlike Rivieras that are built in Australia the Belize 66 is constructed in Taiwan by experienced craftsmen working under the direction of both Asian and Australian boat building professionals. The attention to detail and high level of fit and finish is evident throughout the vessel.
As we set out for our test drive, I sat comfortably in one of the twin helm seats that provide easy access to the dash and controls. The wheel is centerline with buttons, gauges, and triple Garmin displays set up in neo-retro leather covered pods. Throttles are to the left and the joystick to the right on the arm of the helm chair, additional joysticks are in concealed wing stations in the cockpit for docking. Visibility is excellent from the helm and companion seat. The sunroof above provides ample light and air although we kept it closed while testing to measure sound levels which reached only 73dB at full throttle. (Normal conversation is around 60dB).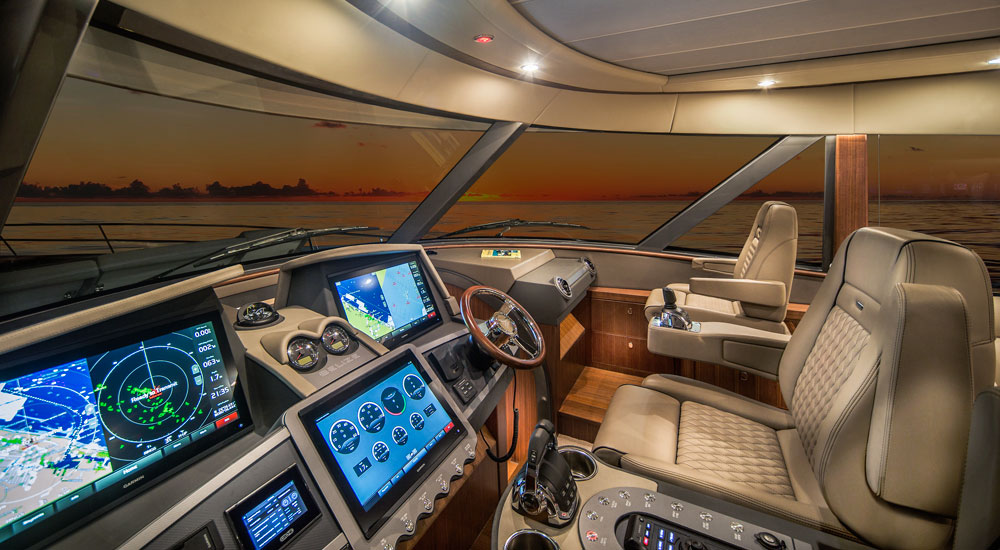 The Volvo Penta IPS 1350s accelerated smoothly up to a peak speed of 35knots.         
At a fast cruise of 30knots (85% load) we burned 310 l/h providing a range of 391 nautical miles. Slowing to 20knots range increased to 455nm (at 90% of fuel capacity) and fuel burn a more reasonable 178 l/h or 9 l/nm. Running hard at 29 knots she leaned steadily into the turns making tight little circles of about 3-4 boat lengths. Conditions were mild but she cut through boat wakes with no noise or fuss. She was balanced and steady regardless of the speed or direction of turn. The Belize 66 is fun to drive and performs easily and confidently belying her 34.5 tonnes and 21 m. With IPS and a bow thruster she is simple to manage when docking too.
Her performance and agility are not her only attributes. Belize offers three different below deck accommodation options that revolve around a full beam master cabin with a king size bed. All of them have a VIP double cabin forward plus a twin cabin that can convert to a double, both with ensuite heads. The Presidential layout features twin cedar-lined hanging lockers, a desk/vanity with chair and a massive full beam head that takes up what would be the entire crew quarters in an alternate configuration. A recessed area behind the master headboard with power and USB ports for phone charging and other details are well thought out.
I measured the cabin at 15m/sq without the head. The shower is nearly 2m long and a meter wide providing plenty of room to splash around while bathing with a friend. 1.9m headroom in the master is ample for most, and a gentleman I met on board who is 1.95m said he had no trouble. Thoughtful touches in the head include twin sinks on separate counters, heated towel racks and a floor system with removable teak veneer panels and drains below for easy cleaning. The engine room can be accessed from the cockpit above or from the oversized master head which in alternate configurations can be crew quarters.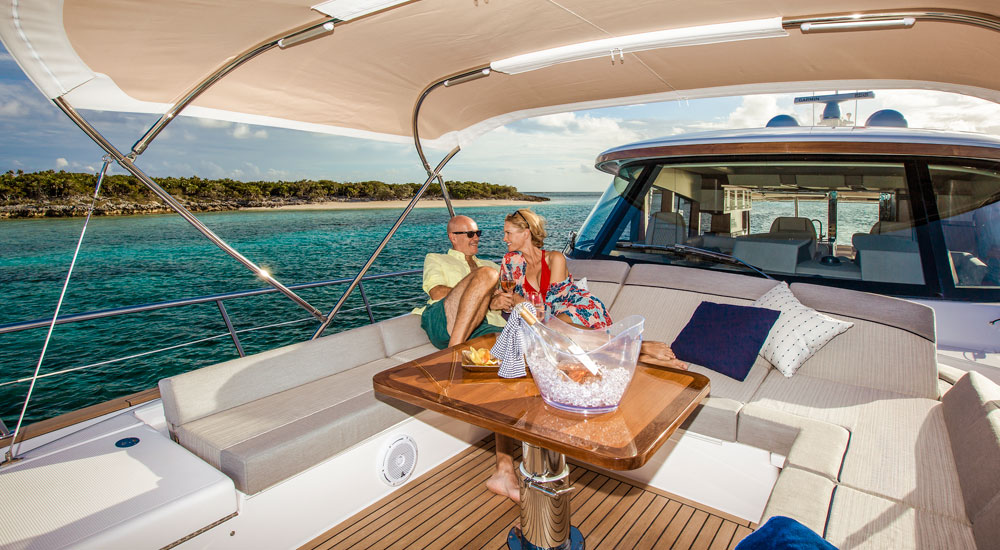 The engine room is thoughtfully laid out with all sea strainers except for those servicing the main engines coming to a single access point. AC systems are to Starboard, DC to port, and pumps and filters have their own centralized locations. Head room is 1.76m or better in some places but the tender garage centerline does restrict overhead space particularly above the 29kw Onan generator. One unique factor is that the engines are not mounted side by side. The port engine is a meter further forward than the starboard engine. Both run jackshafts back to IPS drives that are aligned. It seems a bit odd at first glance but when driving the boat there is no perceptible difference even when turning in alternate directions, and trim and balance did not seem to be affected.
Above deck a teak clad cockpit is complete with opening side doors for boarding, covered seating and a varnished timber table with stainless drink holders. A flip top buffet conceals twin electric grills a refrigerator or Icemaker. The galley is adjacent to the cockpit with easy access via a stainless slider and a pop-up window. Amenities include a deep double sink, induction cooktop, convention oven/microwave and multiple drawers for refrigeration, freezers and a dishwasher. A tall pantry is to port and a fold out pantry to starboard provides corner access. The central location of the galley and plentiful counter space makes serving aft into the cockpit or forward into the saloon equally easy.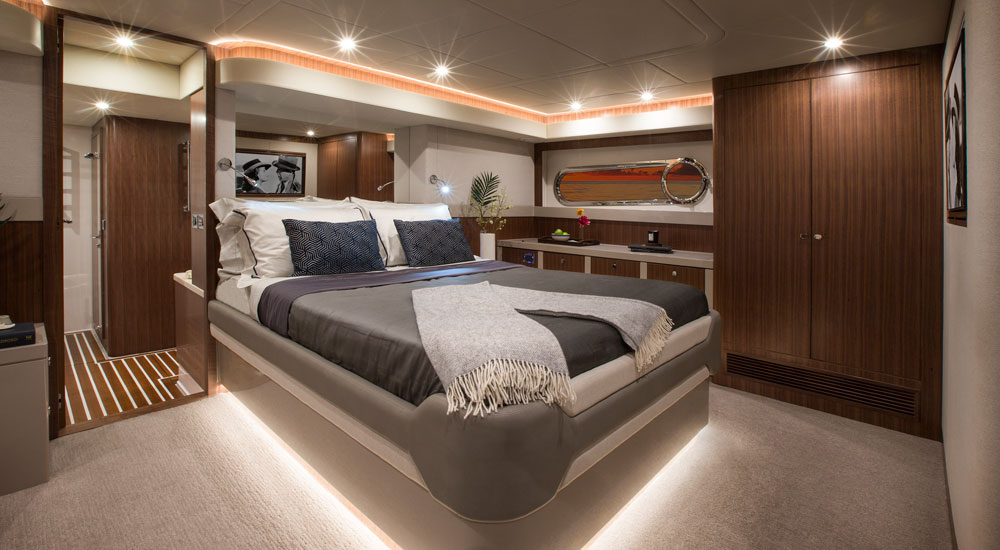 Ample side decks recessed in the gunnels with stainless rails lead forward from the cockpit. The port side includes a locking watertight door to the saloon. On the foredeck a large center seating area can be arranged with a table under a lighted Bimini or top down converted to a sunpad, complete with drink holders and a JL Audio system with 4 speakers.
For docking and anchoring there are storage compartments on both sides, a Muir windlass with devil's claw, and a custom chain washing system that sprays the chain with alternating nozzles as it comes up the bow tube. Well thought out details and positioning of equipment like a spotlight on the bow, and high-pressure fittings for pressure washing both forward and on the stern are details that demonstrate forethought and an understanding of how the boat will be used.
Tenders are a fun part of cruising, but an exposed tender would ruin the cool curved contours of the Belize. Realizing this they created a large tender garage, designed to hold a BRIG 330 or a Palm Beach 1200 tender with a folding transom that can handle up to a 40HP Yamaha Outboard. The centre of the swim platform lowers, and a transom hatch raises on hydraulic jacks to launch and retrieve the tender. A nice touch is the section of the platform that remains, providing the operator a dry and safe place to stand while launching and retrieving the tender.
For buyers that dare to be different, the Belize 66 is a boat that has a distinctive retro look with the accommodations, performance and reliability of a modern cruiser. Quality construction, excellent joinery and finish work round out the package. A "daybridge" model is also available that will provide additional exterior space and the fun of driving outside. The Belize 54 proved the popularity of having a contemporary boat with unique styling. The Belize 66 demonstrates this concept works on a whole new level.
Fuel Cap: 4500 litres           
Water Cap: 700  litres                   
Engine Make: 2x Volvo Penta D13-IPS3–1350 (1,000HP)            
Drive Train:  IPS                  
Generator: Onan 29kW   
Anchor Winch:  Muir               
MFD: 3 x Garmin GPSMap 8422 
Entertainment: JL Audio          
Fuel capacity: 4500    litres
| | | | | |
| --- | --- | --- | --- | --- |
| RPM | Knots | L/h | L/NM | Range  (NM) |
| 600 | 6.4 | 10.6 | 1.700 | 2300 |
| 1000 | 10.0 | 43.5 | 4.400 | 920 |
| 1250 | 11.9 | 75.7 | 6.400 | 630 |
| 1500 | 15.3 | 125 | 8.200 | 490 |
| 1750 | 21.1 | 176 | 8.400 | 480 |
| 2000    | 25.9 | 232.8 | 9.000 | 450 |
| 2200 | 29.9 | 308.5 | 11.000 | 360 |
| 2400 | 33.7 | 384.5 | 12.000 | 330 |
| 2400    | 28.5 | 244 | 8.600 | 470 |