The new Beneteau Gran Turismo 45 sets new standards in terms of functionality and onboard hospitality.
With its large windows, vast sundeck and U-shaped cockpit seating, the GT 45 fosters conviviality and the enjoyment of a great indoor-outdoor experience.
Designed with versatility in mind, the Gran Turismo 45 offers unrivalled adaptability to changing conditions, allowing the crew to elevate onboard liveability to another level. 
With its sleek lines and sporty hull, this 14.78-metre yacht boasts elegant details such as the "fashion plates" fixed to the sides of the hard-top and on the engine air intakes. These plates are finished in metallic grey paint, giving the boat a look reminiscent of a luxury sports automobile. Thus adorned, the Gran Turismo 45 takes all the best features of its 
predecessor, the GT 46, and adds to this Beneteau's GT evolution markers.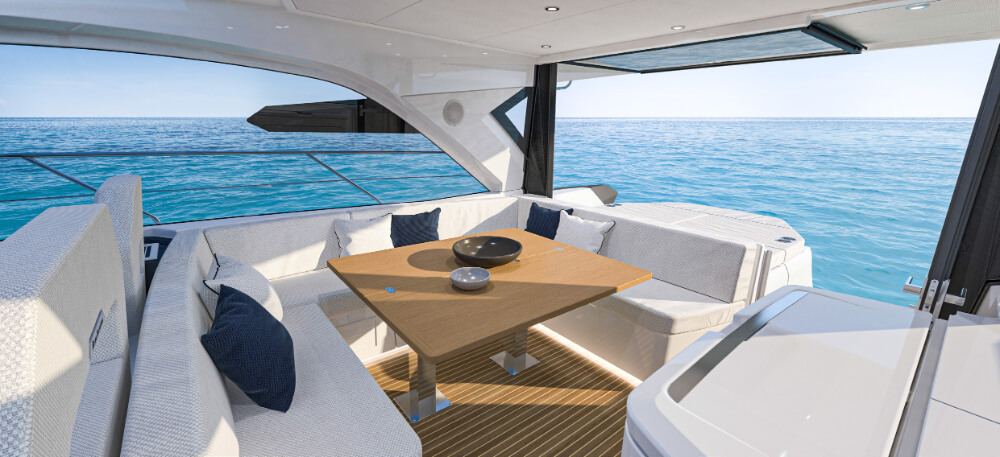 This approach extends to the yacht's layout and interior design, which is at once spacious and convivial while protecting the outdoor environment. «The development of the Gran Turismo 45 was driven by a desire to offer the same sailing qualities as the GT 46 while rethinking the boat's highly successful dynamic design to provide even greater comfort and practicality. 
The modular design of the Gran Turismo 45 enhances both its functional aspects and its capacity to cushion passengers from the outside environment. The aft sun deck conceals an ingenious tender garage with an electric door. Another clever functionality is the discreet electric grill housed in the extension of the sun deck, ideal for alfresco dining.
There is a full-width owner's cabin with a private head with a separate shower cubicle to aft. The VIP cabin in the bow area is fitted with scissor berths that guests can arrange as a double bed or two singles.