New brands often appear on the aluminium boat market. Freddy Foote checks out a new arrival on the alloy boat scene in New Zealand – Big Eye Boats.
Whilst the Big Eye name might be new to the alloy boat market in New Zealand, it's a brand that has plenty of alloy boat building heritage behind it.
Big Eye Boats is the production boat division of Skelton Craft. With a proven 15-year history of designing and constructing sleek alloy boats, director Mark Skelton, partnered with David Pearce to form Big Eye Boats, endeavouring to offer a quality range of boats but at a more affordable price.
"All of our boats are CAD designed. We started off with a 550 and a 585 model. Then we had a customer come and want a 450, so we just shortened the boat on the computer. We've even done a 7m model. It's all based on the same hull design – it's just a matter of shortening or lengthening where required."
The Big Eye 585 HT is really a bit of an all-rounder. Take a few blokes out and you can be at your favourite spot and fishing comfortably; throw in some dive gear and a couple of bottles, and you can dive, too. Add some extra seating aft, and you've got a good family boat too, with enough storage for'ard for the day's gear.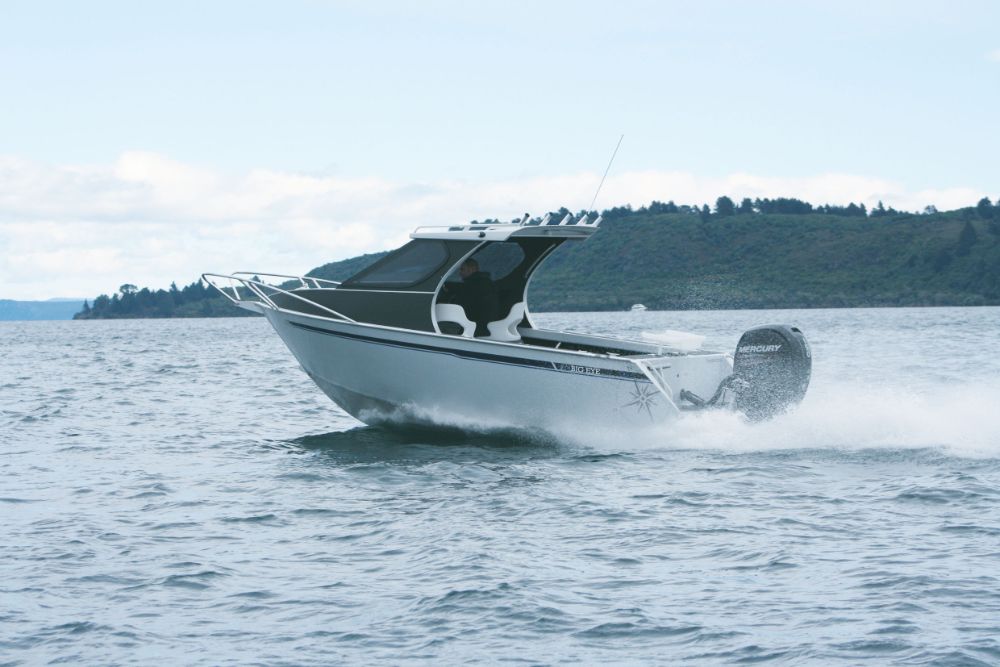 The layout is quintessential kiwi tinnie – bare (it doesn't have to be) but extremely practical.
The cockpit is fairly sizeable, with long side shelves adorning either side. Two rod holders each side are situated along the coamings.
However, should you specify from the factory, you can elect to position the helm a little further aft to extend the forward cabin, or have it as it is to maximise cockpit space.
Aft, an adequately sized boarding platform is on either side of the outboard pod and the port corner has an aluminium boarding ladder fitted. A grab rail has also been welded onto the rear of the transom to help swimmers, water skiers and divers re-enter the boat.
The transom has a shelf built into it, ideal to store any miscellaneous items such as tackle boxes, etc.
Up front, seating consists of two basic single seats, with storage space underneath. If you want more seating, especially for the kids, king/queen style seats can also be fitted. In fact, Big Eye is happy to accommodate whatever the buyer specifies.
Additional small storage shelves are on either side of the helm – a great place for keys and cell phones. A neat storage space complete with cup holders is built into the extended area to port of the helm itself. A handrail runs right along the edge of this forward dash area, and is great for passengers to grab onto – especially if things get rough.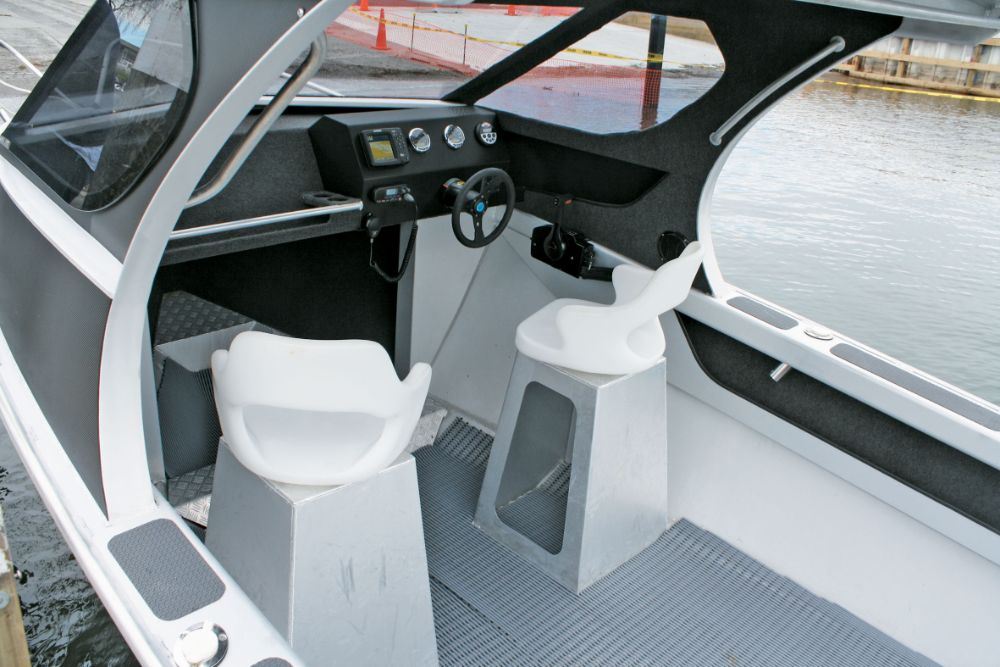 Forward in the well-protected cabin, there is plentiful storage space available in the cabin sides, in the form of two large side shelves, as well as large storage compartments underneath the squabs.
Underway at the helm, the driving position was pretty good. I was able to drive the boat while seated and had plenty of visibility forward, while standing in front of the seats was not an issue either. Given that the Big Eye models are sold largely direct from the factory, there would be plenty of opportunity for buyers to customise the exact layout of seating at the time of build.
The dash was finished in a carbon fibre vinyl wrap, which I think looks really cool. The carbon look carries on to the outside of the boat covering the top of the cabin and sides. Mounted into the dash was a VHF, a small Humminbird chartplotter and the engine instruments.
One thing I noticed with this particular 585HT, was due to the fact that the cabin had been shortened to gain cockpit space, it has also sacrificed a forward deck hatch. If you go for this configuration, than an auto anchoring system will have to be fitted, as there isn't really enough room to navigate safely around the sides to the foredeck to carry out anchoring duties.
You'll also notice the windscreen configuration on the 585HT is a two-piece windshield with sides. Big Eye has gone away from a curved windscreen, largely due to cost and wanting to keep the base price low.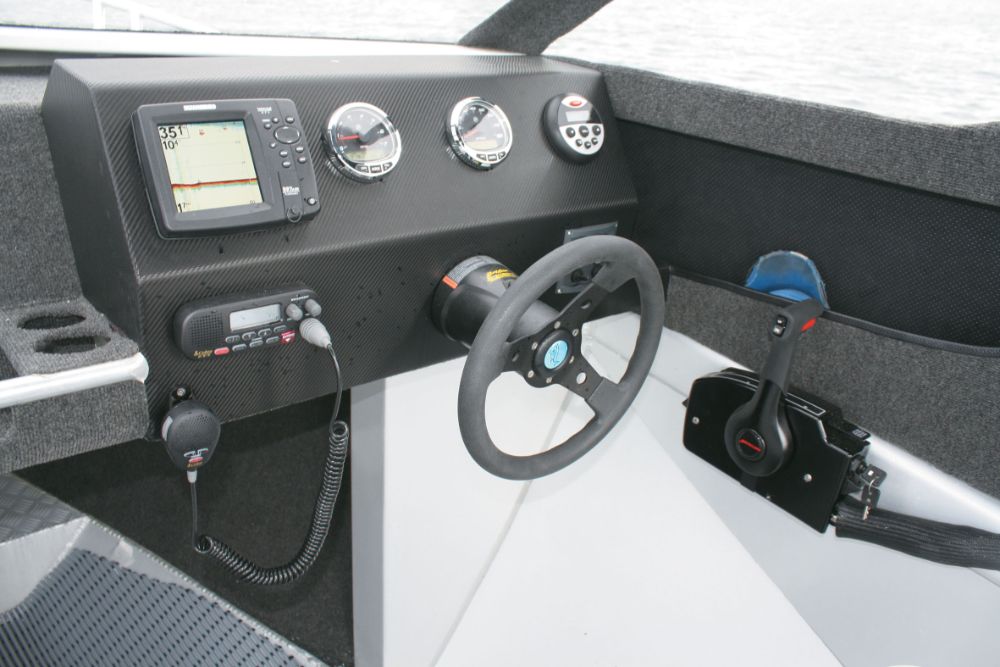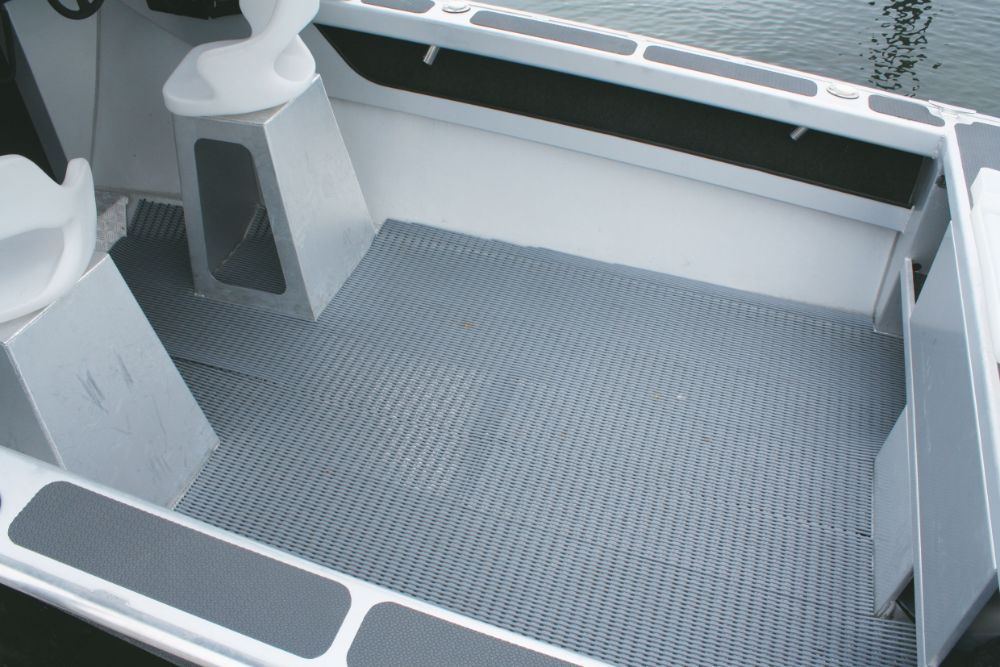 The 585 HT has 5mm aluminium in the bottom and 3mm in the sides. I found the 585 HT an easy and fun boat to drive, not requiring too much trim to get it running nicely. I was really quite surprised as to how well the fitted 150hp Mercury FourStroke performed. It had more than enough power to get up onto the plane quickly and smoothly, and gave a top speed of 43mph.
We ran the boat very light. There were only three of us aboard, no gear and a light fuel load. If you're going to use the boat regularly with four people and their gear aboard, then the 150hp option will be ideal, otherwise you could get away with a 115hp.
Test day presented us with choppy and cold conditions on Lake Taupo.
Handling was overall pretty good for a 6m tinnie. The ride was ok, throttle response was good – even with the 150hp, and you could throw it into some tight turns and put the power on without experiencing any prop ventilation.
Although I didn't get to test the boat in any really, really rough water, I'm quite confident that the boat would perform well. The flooding keel is a stability bonus when the boat is at rest and is quickly released as soon  as you accelerate forward.
I would say the 585HT is the kind of boat that will instil plenty of confidence in a skipper when conditions rough up and will be able to handle most sea conditions it is faced with.
Back at the ramp, and utilising the excellent launching facilities presented to us, loading and unloading was a pretty easy affair for two of us with the help of the massive bow rail. It would be quite easy to retrieve the boat on your own, too.
Given that the trailerable weight is only 960kg, beach launching this boat is a real possibility, too. On the open road, towing with a large family sedan is possible.
Whilst this boat was a demonstrator and fairly light on the options, there is a whole raft of extras you can fit such as a walk-through transom, transom live bait tank, dive bottle holders, bait station and a ski pole.
As tested, this particular model was $66,000 and packages start from $65,000.
The hull price is $27,000 and the extras are added from there.
Model: Big Eye 585HT
Priced from: $65,000
Price as tested: $66,000
Type:   Hardtop
Construction: Aluminium
LOA: 5.85m
Beam: 2.41m 
Deadrise: 17 degrees
Trailerable weight: 960kg
Power: Mercury 150 4S
Propeller: 16" SS
Power Options: Outboard only 115-150hp
Fuel capacity: 150 litres
Trailer: Dunbier
Notable Standard Features:
6-year hull warranty, toughened tinted windscreen, 6 rod holders, hydraulic steering and 150 litre fuel tank.
Notable Options on Test Boat
Walk through transom, water tank and pump, ski pole, dive bottle holder, live bait tank and dive ladder.