NOTE LEAD PIC SHOULD BE BIG 4 WITH APPROPRIATE WORDS
LOOKING BACK -Part One
THE BIG TRAILERBOATS FROM 20 YEARS AGO.
So what was the trailerboating scene like 20 years ago? We thought it would be cool to look back into our archives and see what we wrote about in the year 2002. What was really interesting is things have not changed a whole lot in boat design, with 100s of fibreglass and alloy boats still available, although there are now many more alloy brands and a lot less fibreglass manufacturers in New Zealand. The imports were few and just from the USA or Australia, but that to has changed with many more brands from throughout the world. Where the biggest chances have come from are then the technical side of boating, namely outboards and electronics.
In Part One of a two part, series we look at the bigger fibreglass and RIBs over 7m, a size that is still very popular today. In fact, there were over 125 boats available in aluminium, fibreglass and RIBS in either production or semi production form and they came from just about every boat builder in the country. In Part Two (May-Jun issue) we look what was available in the 7m plus alloy boat market.
For many years, Aquapro have concentrated on the tender and sports boat market with an extensive range of inflatable RIBs. For the coming season they have added their first full cabin RIB, based on the Wavemaster hull. Called the Wavemaster 790, the new RIB features a full GRP cabin that offers twin berths, head and holding tank, plenty of storage and more than adequate headroom. The cockpit comes standard with twin back-to-back king/queen seats and there is the option of a bimini or hardtop. The hardtop is available with solid screens or clears and provides massive protection for the helmsman and passengers. Power is available in single outboards or sterndrives.
Based on the same hull, the Offshore 790 is a centre console version, with three options available. The 500 Series centre console is large enough to provide a head and storage area and all models are available with bimini tops.
2020 Once one of New Zealand's leading inflatable boat builders, Aquapro long since ceased production locally and the boats are now build in China. The range now only consists of tenders and small RIBs.
They don't come much bigger than Bayliner and in the 7m plus category they offer a lot. The Capri range covers a broad mix of bowriders and cuddy cabin boats that offer one of the deepest vee hull forms in the Bayliner range. Depending on the model they are available in either outboard or sterndrive. The Ciera cruisers are all weekenders and amongst the largest of the trailerable boats, they offer a lot in a compact space. Heads, showers, galleys, 2-4 berths and raised helm stations are all a feature of the Ciera series. If there is one thing the American boats have, it's exceptional use of the available space. Power is exclusively sterndrive.
If you are seriously into your fishing, then take a look at the Bayliner Trophy range. These boats, from 7.14m through to 8.31m are all specifically designed for fishing and the layout is such that it even includes tackle boxes, live bait tanks and serious rod stowage.
All Bayliners come standard with just about everything and in some cases you don't even need to add your electronics.
2022 One of the few US brands that has survived in New Zealand through all the ups and downs of the marine industry. Today they offer a couple of weekend cruisers; the Ciera 8 and the 742R plus there is the centre console TC22CC Trophy.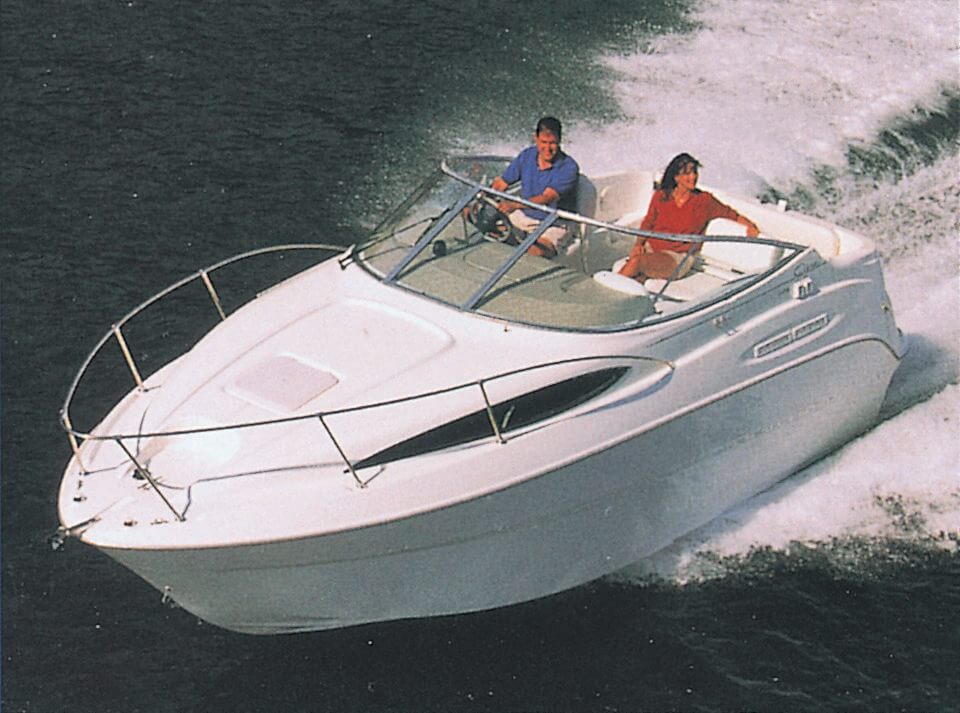 One of New Zealand's major trailerboat manufacturers, Buccaneer Boats of Hamilton produces two boats in the 7m plus category, both based on the same 7.5m hull. The Billfisher 720 is a special sportfishing machine and offers a stable fishing platform with safety and comfort. A true walk-around, the Billfisher 720 has a cockpit that is designed for fishing with built-in fish bins, flush-fitted rod holders and a 300 litre long range fuel tank. The spacious cuddy cabin sleeps three in a double bed and quarter berth and also comes with a galley and ice chest.
The 720 Elite XL is designed as a day cruiser and weekender with a fibreglass moulded galley unit with stove, 50 litre fresh water tank, huge cabin and is also available in a hardtop version. Both boats are suitable for sterndrive or single/twin outboard power in the 150-225hp range.
2022  Another brand that has stood the test of time and is still a dominant force today. Their big boat range includes the 635, 685 & 735 Exess hard top models, and 685 El Dorado mid cabin. The Billfisher range comprises the 650 & 735.
For some time now, Te Puke based Challenger Boats have been increasing their model range and with it expanding their potential to fulfil market needs. Not one to be left behind in the big boat stakes, the company is offering the Challenger 680 Hardtop Offshore, which at 7.2m overall fits well within the 7m criteria.
The layout is simple. Twin swivelling forward bucket seats and a v berth forward with everything designed to cater for the fisho. Deep storage lockers, plenty of rod holders, a walkthrough transom door and coamings that are flat on top and at a nice height for fishing. The hardtop with its twin glass forward panels is open at the rear, although a drop door set of clears will soon provide a comfortable enclosure.
2022 While the Challenger brand has been somewhat dormant for quite a few years, it has recently been reserected and is back on the market.  The new owners list the 720HT as an available model.
The Cresta Craft 7.3 has been around for many years and is now available in both enclosed hardtop or with an open bimini. The layout allows for four berths with a double in the cabin, which also houses the head, two more in the forward area of the cockpit, which also features the galley. Although in the 7.3 there is no separate shower, the larger 8.0m does have an internal shower capability.
The 8.0m version is basically just a stretched 7.3m hull and you have the option of either a larger cockpit or cabin, with custom layouts and appointments. Power options are outboard or sterndrive in the 150-300hp range.
The Cresta Craft 900 was released in 2000 and four have been sold since. This is a big trailer boat that is more like a small launch and incorporates everything you'll need for extended cruising. It sleeps four comfortably and comes standard with a full galley, head, shower and lockable cabin.
2022 Cresta Craft were one of the biggest names in the 1970s-90s and although it went through a series of new owners it quietly faded away. Rumours are that the Cresta 900 may resurface under a new name, and a total modernised layout.
Haines Hunter is one of the most established names in New Zealand boating and their SF700 has been around in various forms since 1988. Designed primarily as a sports fisherman with overnight and weekend facilities, the 700 is now available in a sedan bridge (SS700) and sports fisherman (SF700).  The latest models feature all the best attributes of the 700s that have gone before, but with a new style deckline, windscreen and an improved layout. The new screen also allows for the addition of a sedan top ((SS700) due to the increase in standing headroom
The 720 series, released in 2001, also caters for both the sedan bridge market (SS720) and the sportsfishing market (SF720). While the outward profile is certainly different, the large spacious cabin with twin berths and even the optional pipe berths, small galley unit, head and copious storage remains the same. Both the 700 and 720 Haines Hunters are available with single outboard or sterndrive options.
2022 Still a market leader in New Zealand, Haines Hunter's over 7m range comprise the 660 and the 725, both available in open or hardtop variants.
When it comes to building luxury inflatables, Lancer is considered one of the best and their range of tenders and sportsboats has gained world-wide recognition. Lancer has the capability to build everything from 2m tenders to sportsboats for superyachts.  They use hypalon in all their larger boats and were the first NZ marine manufacturer certified ISO 9002.
The RD 750 RIB is a centre console model with a high bow and wide beam design to help in adverse conditions. It is suitable for a variety of layouts, with teak bow steps, 300 litre fuel tank and bench seat all standard.
The RD950 is a high speed. Hi-load carrying RIB that like the RD750 uses a GRP hull and hypalon tubes. It can be powered by sterndrive, outboard, or jetdrive and is available with total custom layout.
2022 A few years ago Lancer Industries was sold to Sealegs mainly for their tube manufacturing and commercial business. The Lancer range of RIBs is no longer built.
The Mirage 7000 is built in Dunedin, although it started life a number of years ago being built in Auckland. While it has never been a mainstream boat, the Mirage 7000 is certainly one of the more stylish GRP boats of its size and has recently undergone something of a style change. The original low profile curved screen was replaced with a larger three piece design and the boat is available with a full bimini and canvas pack for weekending.
Features include a separate enclosed head, lock-up cabin, full galley and accommodation for 3-4 adults. There is a also a moulded swim platform and a very stylish instrument panel. Trailerable weight with a V8 sterndrive is around 2200 kg and the Mirage 7000 has a standard 200 litre fuel tank and 30 litre water tank.
2022  As the name suggests, the Mirage brand is now a mirage. While the moulds still exist, there has not been a Mirage 7000 built for many years.
Naiad Inflatables has built a solid reputation over the years for its rescue and patrol boats, both locally and overseas. While they tend to be known for their larger boats, they also produce a number of sports type cuddy cabin boats, which feature aluminium decks. The Sportline range of boats follows the same stylish lines of conventional sports runabouts, with short foredecks, cuddy cabins and wrap-around screens. Their current 7.3 and 8.5 Offshore Sportline boats are a superb example of how this type of hull form can be adapted. Naiad use a polyurethance/pvc belnd which is exceptionally strong and durable.
The layout incorporates a generous V-berth forward and seating for up to seven in the cockpit. Sportline models are based on aluminium hulls and are also available in smaller 5.3m, 5.8m  nd 6.8m models.
2022 Naiad now has Australian owners and they are still busy producing recreational and commercial RIBS. The Sportline range is still available as a custom build.
Since Rayglass first released the 730 Legend, it has proven to be the most popular production fibreglass boat of its size in the country. Currently there are more than 100 730s on the water, ranging in power from single or twin outboards to diesel and petrol sterndrives. Standard features include toughened glass windscreen, fully automatic anchoring system, lighting package, electric toilet, two burner stove and pressure water system.
The larger 850 Legend follows most of the same features of the 730, however the extra length is noticeable in the extended cockpit, making this a favourite amongst fishermen and divers. A full internal fibreglass liner is used and there is also an underfloor foam buoyancy system.
The Cruisemaster is the weekender version. Based on the same 730 hull, this is a true home away from home and more likened to a small cruiser. Ideal for 2-3 people for extended cruising, the Cruisemaster is sold in Australia under the Whittley Cruisers brand.
2022 The association with Whittley finished many years ago and the entire Rayglass range has been revamped. At 7.7m the Legend 2500 is the smallest model that fits into the over 7m category. The big winner has been the Legend 2800, which is Rayglass's biggest selling model. over 
The Rayglass Protector gained an enviable reputation during the America's Cup when it was used by the race committee as referee and judging boats. Since then the success of the Protector has seen Rayglass develop a world-wide dealer network and currently exports account for a substantial part of the production.
The Protector is available in either centre console as a 750 or full cabin as in the 850. However, look for a new cabin version also of the 750 coming soon. Both models are suited to sterndrive or outboard power, with twin V6 outboards certainly being the most popular. The 850 cabin provides a substantial area, with twin berths and a unique forward door for access to the bow section of the boat. The handling and rough water ride of the Protector is exceptional and with its special drop down bolster seat can be driven either seated or standing in total comfort.
2022 A Kiwi success story that is stronger today than it was 20 years ago. Now owned by Brunswick Corporation, parent company for Mercury Marine, the Protector RIB range includes nine models from the 250 Chase (the only technically trailerable model) through to the 410 Chase/Targa.
Manufactured in New Zealand by Rosborough Boats in Christchurch, this versatile range of traditionally styled trailerable boats  is based on a Canadian design. Initially boats were imported from Canada, but today the semi-displacement GRP boats are built locally. The Rosborough 22 comes in a wide variety of versions, although all based on the same hull, the topside styling varies considerably. They range from a completely open dory style, through to centre consoles and full cabins. The 22 Seaskiff has proven a popular choice for those looking at the commercial aspect of the boat and the all-new weekender version which has just been released is certain to be popular with kiwis.
This is the sort of boat you would happily cruise the Bay of Islands or Marlborough Sounds in. In the weekender version you have all the comforts of a 'caravan on water'. They perform well with mid-range outboards or small diesel power. You have the choice of a model with a huge workable cockpit, or one with exceptional internal space for comfortable cruising. The choice is yours.
2022 Another great little Kiwi cruiser that has gone. They never really got any traction, but from all accounts those that owned them loved them.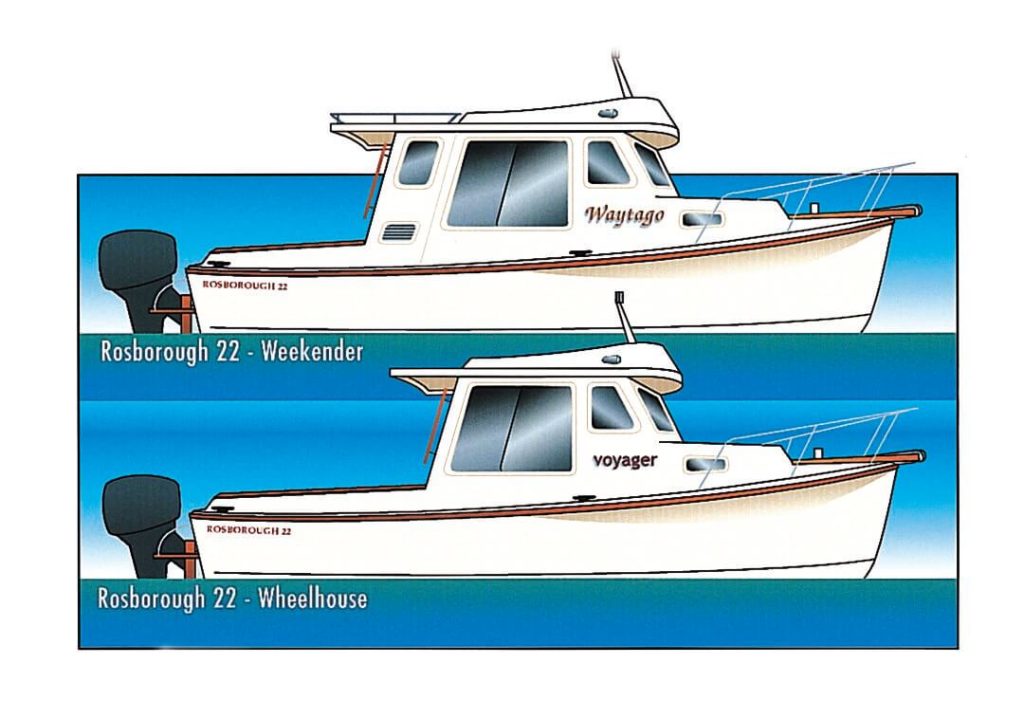 No one offers more variations of models than Sea Ray and in the 7m plus category they certainly present the total package. There is everything from big bowriders, the biggest on the market, to open sports boats, cabin boats and full cruisers. Typical of all American boats they come with everything and while all the models listed are far from seriously dedicated fishing boats, they will still do the job, albeit they are more destined for boaties who enjoy comfortable day or weekend cruising.
The finish and appointments of this top US brand are impeccable and they have a reputation as being one of the highest quality trailerboat brands on the world market. They have been available in New Zealand through Sports Marine Ltd for many years.
2022 Still one of the world's biggest boat builders their range is even more extensive today. Their big bowriders are stunning examples of the genre.
The Superior 750 is a very versatile trailerboat, meeting the needs of sportfishing enthusiasts with a unique combination of a weekender and hard core fishing boat. Available in either hardtop or convertible models, the Superior 750 is a boat with a lot of volume and recent changes to the design have made it even better.
The self draining cockpit has a walk-through transom, fresh water shower and self draining underfloor lockers. Inside, the galley comes with a two burner cooker, fridge, sink with pressure water and loads of storage. There is also a private head fitted and a double V berth with storage beneath. Power options are petrol or diesel sterndrive or outboards. The helm provides comfortable seating, 360 degree views and plenty of space for extra electronics. To cater for those long-range fishing trips, there is a 300 litre fuel tank underfloor.
2022 While Superior Boats is very much alive and busy, they no longer offer the 750 in their range. Today the company conentrate their time on the Superior 1050/1100 cruisers.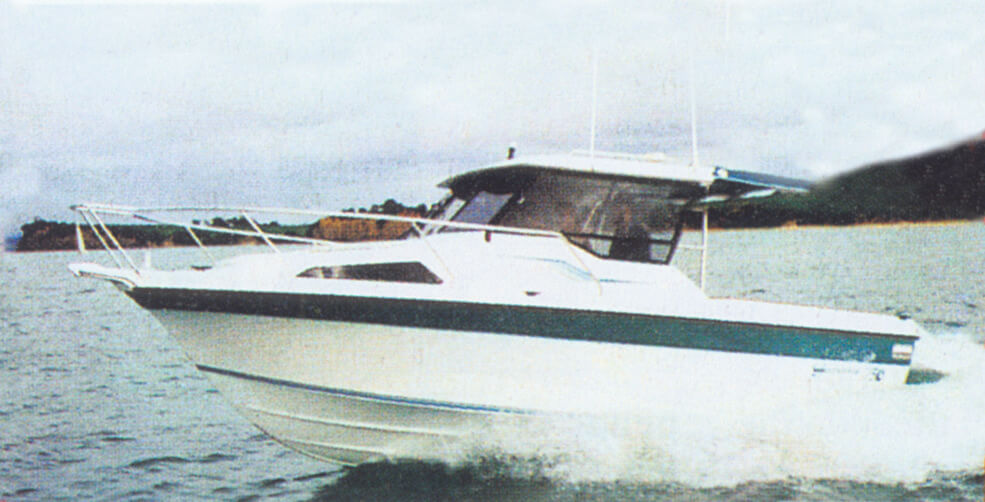 It's been nearly five years since the last Tournament 7m was built. Legacy Boats of Albany, Auckland is about to change that with two boats under construction. Having had the moulds for a number of years, Legacy Boats is now in a position to reintroduce this very unique Craig Loomes design. Regarded by many as the ultimate blue water fishing machine, the 7m Tournament is a huge volume boat in all respects.
The walkaround design takes some of the internal cabin space, which at a pinch could be used as an overnighter, but is more likely to be a place to stow the gear for a day's fishing. The cockpit is totally dedicated to fishermen. Currently Legacy Boats is developing a hardtop for the 7m walkaround and next year plans to release a full cabin hardtop version based on the same hull.
2022 Gone but not forgotten. An outstanding example of a bluewater trailerboat, the 7m tournament was ahead of its time. Recent rumours indicate that the moulds could see on be back in use.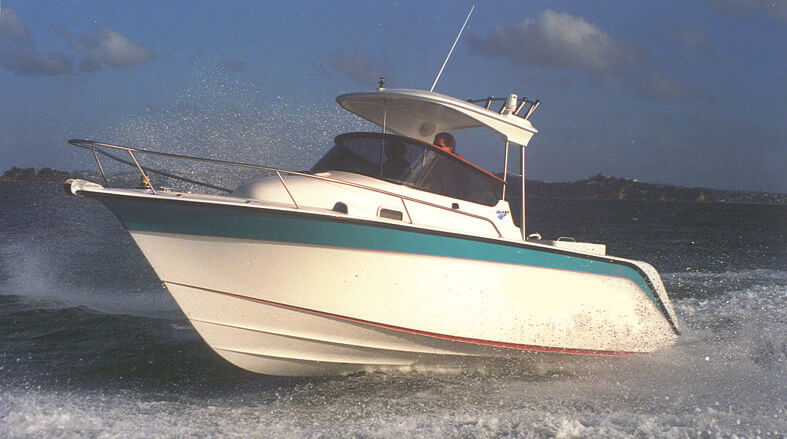 The Tristram Millennium 691 was the largest boat in the Tristram range 20 years ago. Due to be released later this year, the new Tristram is going to be bigger than the 691, but will unquestionably still retain the exceptionally high standard of finish and appointments that are the trait of all Tristram, boats.
The 691 just sneaks into the 7m range with its overall length and hull length of 6.61m. Winner of the New Zealand Boat Show Trailer Boat of the Show award in 1997 and 1999, the 691 is available also in a slightly more basic Broadbill 691 fishing version. Not that there is anything basic about a Tristram, with the hulls laminated of high tech materials. the layout is designed for those who divide their time between fishing, diving, cruising and even overnighting.
Performance with single V6 outboard power is excellent and the 691 is available with a host of extras to give a buyer the opportunity of maximising the on-board equipment and features.
2022 -Twenty years on a Tristram is still a market leader and when it comes to big trailer boats, no one does it better than Tristram. The exceptional, Tristram 821 Offshore Series is in such demand orders are out till early 2024. Tristram currently offer a range of both hardtop and open boat boats over 7m, including the 701 Offshore/Vanquish, 741 Offshore/Vanquish and the 691 Millennium M2. The 691 of today is vastly different from that first model release in 2002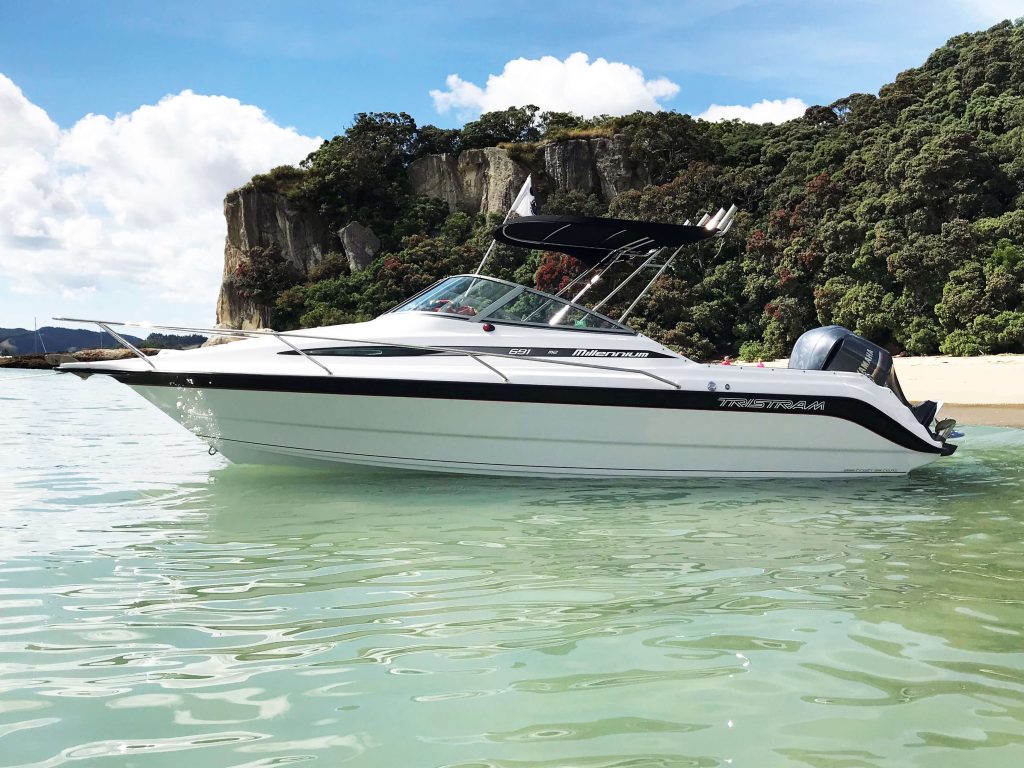 Ian Waters has a big reputation for designing and building the Wavecrusher range of launches and they have an enviable reputation for their rough water handling. He has now taken that same design philosophy and scaled it down into a range of trailerboats. The Wavecrusher 2300 hull design incorporates all the best features of the bigger boats and has proven to be outstanding in the rough water. It's a boat that likes plenty of horsepower and runs better with a 225outboard or big sterndrive than with lesser power.
The boats are semi custom built so there is really no standard layout. Seating is offered from twin bucket seats right through to full back-to-backs and bench seats. The cockpit is open and spacious for fishing and the cabin has been left to cater for those who want to overnight, or just as a place to stow the gear during the day. Extra long squabs and a head under the front squab are all excellent features of the Wavecrusher 2300.
2022 – This Kiwi brand has long vanished off the market, the Wavecrusher 2300 was never a popular boat and did have some rough water handling issues.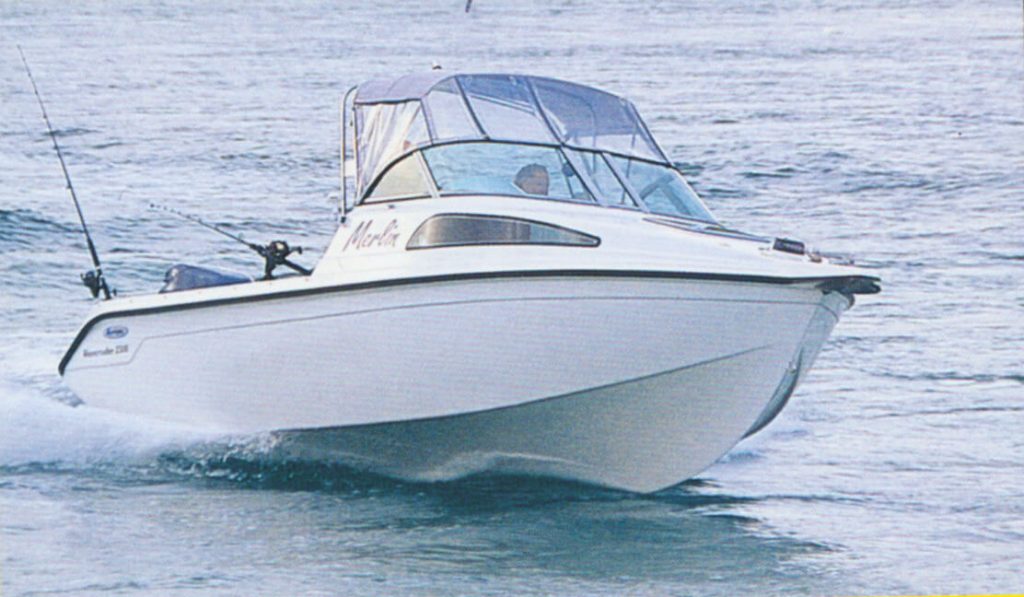 Zodiac Proline RIBs are designed by Hurricane, a Zodiac company best known for RIBs for the military and rescue organisations. They combine good looks with the legendary Hurricane Military V lift hulls. They have a number of special features, including a removable inflatable collar and an automatic intercommunicating relieve valve system that allows air pressure to be maintained evenly with a twist of your wrist.
Power options include inboard diesel or petrol jet or sterndrive units as well as single or twin outboards. Both boats are centre console with extensive seating layouts, storage and enough added extras to include them in the superyacht tender category.
2022 – Zodiac are still one of the world's largest and most recognised manufacturers if RIBS, with their top end range being the Medline, which includes models from 5.0 through to 9m.