One of Bluefin's most  popular and best value  for money models, the 620 HT, has had a transformation. It is now available in a sterndrive configuration. Having previously tested the outboard model, Freddy Foote checks out this new version.
This test was a bit of a re-visit if you like, of a very popular and value priced model for Sportcraft Boats, the Bluefin 620 HT. I had in fact tested one in 2005 and have been aboard one on a number of occasions since then.
Back in 2005 the Bluefin 620 HT I tested was exceptional value. Looking back at my records it had an as-tested price of $41,750, which at that time included a Mercury 115hp two-stroke outboard, baitboard, boarding ladder, rod holders, hardtop light, side pocket rod storage, Navman VHF, Navman, Fishfinder, lined cabin and a trailer. A lot of boat for your money! Still is today.
With only a few aesthetic changes since then, the odd new grab rail here and there, not a lot has changed. However the model is now offered in a sterndrive version, this red model being the first one produced.
Add Your Heading Text Here
The basic hull construction of the 620 HT is essentially unchanged. The hull is made from 5mm aluminium, the sides 3mm, and the topsides 3mm and 4mm. The hull bottom is supported by six full-length bearers, with a keel bar, while laterally it's all linked with three bulkheads and 13 frames. Buoyancy is provided by a single, large, sealed under-floor tank that gives about 100kg of reserve buoyancy.
The hull design incorporates a medium entry, trailing to a 17° deadrise at the transom and planing strakes are foregone to help in giving a softer ride.
So, why a sterndrive version, when the outboard version has been so popular and one of Sportcraft's best sellers? "We had wanted to do one for a while, and as we had an engine sitting there, it was just a matter of building a boat to put it in," says Jamie Black of Sportcraft Boats. "We think people will love the layout and this boat will provide another option for people to look at without any major increase in cost and still providing great value for money."
The overall layout is one that is tidy, practical and well finished. Forward in the cabin, storage was available underneath the squabs and in side shelves. Access to the anchor well is via the deck hatch above.
There is also external access to the foredeck along wide side decks, and the large bow rail keeps you safe, with hand rails on top of the hardtop for extra security.
The helm area was finished well, with the carpeting from the cabin carrying on through, and really giving the whole area a nice, warm look.
The dash is separated into three trays, with two more narrow ones along the sidewalls.
The carpeted dash had plenty of room for gauges and electronics. This particular boat had an array of engine instruments, a switch panel and a small Garmin multifunction display. Should you want to specify a large multifunction display, there is ample space to mount one on a bracket. A light is fitted to the ceiling of the helm.
A large, locker is positioned in front of the passenger for additional stowage.
The seating arrangement comprised twin pedestal seats with storage space underneath, with footrests forward to keep your feet elevated when underway.
Whilst there are other seating options available, given that the cockpit space is taken up with the engine cover, I'd like to see the addition of a removable squab on top of the engine cover to provide some extra seating.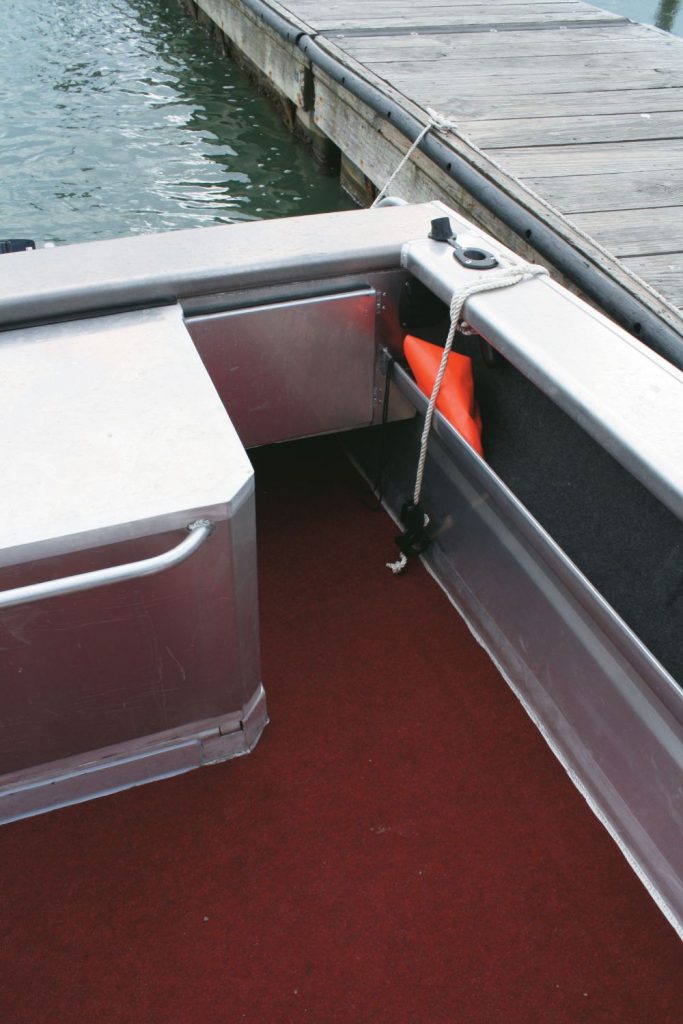 The cockpit is obviously a bit smaller than the standard outboard version of the 620. However, we fished two very comfortably and could have fished a third. Four rod holders were positioned in the top decks, two on each side, and additional rod storage is available by using the rocket launcher above, which we did on test day.
The traditional bait board station in the middle of the transom would be difficult to access on this boat, and mounting it into the engine cover wasn't an option, as it would just create mess with the disposal of liquids from the board itself. So currently the corner rod holder has a portable board mounted, allowing you to position it in any one of four different locations around the cockpit.
Long side pockets provide plenty of additional cockpit storage for longer items, while lockers in both the aft port and starboard corners provide additional storage alongside the fuel and battery systems.
Our test boat came with a carpeted cockpit which gave a nice warm feeling when aboard. However, once a few fishing trips are competed it could start to look very worn. A plain tread plate option is available, which you could soften up with some tube matting underfoot.
Across the transom you get a full width boarding platform that will be ideal for securing any big game fish, and provides a more than ample area from which divers can re-enter the boat.
Like previous 620 HT's I've been on before, the driving position was great – comfortable to stand or to drive seated, with a clear view out through the windscreen and the side windows, and the throttle control was well positioned.
The 3.0L, 135hp MerCruiser petrol sterndrive returned 32.0 knots @ 4600rpm using 37.5L/h.
In comparison, a Mercury OptiMax 115hp outboard gives a top speed of 35.6 knots @ 5400rpm burning 39.2L/h.
At the most economical cruise speed in the sterndrive model, we moved along at 20 knots @ 3000rpm burning 16.0L/h. In comparison, a Mercury OptiMax 115hp outboard also gives a most economical cruise speed of 20 knots, at a slightly higher 3500rpm, and is 23% more economical, burning only 12.3L/h. (However, as usual, there is no free lunch – the OptiMax costs more to buy than the sterndrive – Tech. Ed.)
At rest the hull was reasonably stable, with only a modest list induced by two adults on one side. Compared with the outboard version, the extra weight of the sterndrive down low makes it more stable than the outboard model.
For most of the outboard models, fuel storage is via tote tanks or an optional 150L fuel tank, which is fixed under the transom shelf, up off the deck to allow easy cleaning and washout.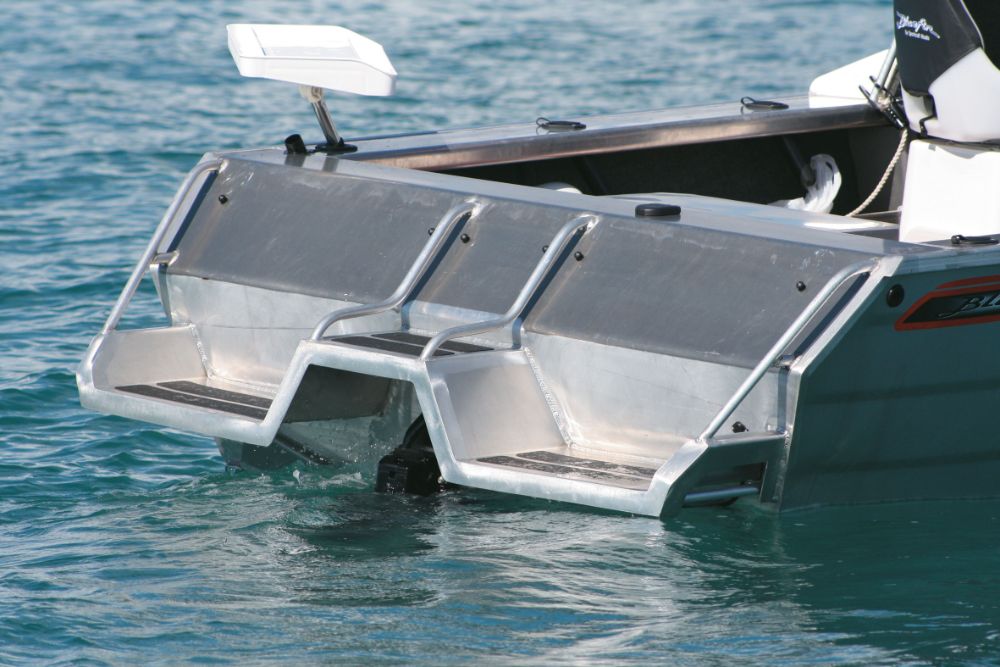 Anchoring on test day was via the traditional method – through the deck hatch and by hand. It's been a long while since I've anchored a boat by hand this way, and on this occasion it reminded me that anchoring in 30m of water and retrieving the anchor, chain and rope by hand is a lot of work! An electric capstan is available as an option – an option I would now most certainly tick.
With the Rena wreck on the horizon and salvage helicopters buzzing back and forth from the wreck site to land, we ventured out into the outer harbour past Mt Maunganui in search of a fishing spot for the day.
There was a gentle swell rolling through, which the 620 handled with ease. We fished for a few hours just inside Motiti Island, landing a few decent snapper, then, as the conditions changed with the wind and chop picking up, we made the quick trip back to Tauranga's inner harbour.
From the memories of the outboard 620HT, the ride and performance of this sterndrive model was even better. The extra down low weight of the inboard was evident, and in the rougher conditions the sterndrive boat felt just that extra bit more solid in the water.
The ride was soft and hull noise very quiet, with no rattling or banging felt through the boat as we came off the waves. A little bit of spray was taken onto the windscreen, mainly whipped up by the direction of the wind. The only addition I would make would to be to install some trim tabs, if conditions had got any worse they would have been a necessity.
Engine noise heard at the helm wasn't too bad, although we did have to shout a little bit to be heard.
Whilst it is no rocket ship, topping out at 32.0 knots, it performed well, and bearing in mind this was only a 135hp four cylinder sterndrive (288kg) and the extra weight of the sterndrive compared to an equivalent outboard powered boat (Mercury OptiMax 125hp (170kg). Also add to that the extra weight of the large 150L fuel tank.
Physically it was a great package, well-finished and appointed and quite practical. Value for money? You bet – 6.2m hardtop for under $60,000 is hard to beat.
Model: Bluefin 620HT Sterndrive
Priced from: $49,750
Price as tested: $58,189
Type: Hardtop
Construction: Aluminium
LOA: 6.2m
Beam: 2.5m
Deadrise: 17 degrees
Height on trailer: 2.9m
Trailerable weight: 1160kg
Power: 135hp
Power options: Outboard/Sterndrive
Fuel capacity: 150L
                                          MerCruiser sterndrive 135hp
rpm
knots
L/h
L/NM
1000
5.5
3.4
0.62
1500
7
5.6
0.8
2000
8.6
9
1.05
2500
12.5
13
1.04
3000
20
16
0.8
3500
24.8
21.5
0.87
4000
28.5
26
0.91
4500
30
35.5
1.18
4600
32
37.4
1.17
                                           Mercury OptiMax 115hp
rpm
knots
L/h
L/NM
1000
5.6
1.6
0.28
1500
6.5
2.5
0.38
2000
7.8
4.6
0.59
2500
10.4
8
0.77
3000
13.5
10.3
0.77
3500
20
12.3
0.62
4000
22.1
16
0.72
4500
26.1
21.8
0.84
5000
27.8
25
0.9
5500
32.1
36.6
1.14
5600
35.6
39.2
1.1
Notable Standard Items on Test Boat
VHF, helm upholstery, cabin upholstery, cabin lining, hard top lining, anchor, warp & chain.
Notable Options on Test Boat
Fuel computer, Garmin 551S GPS, road cover, painted top, carpet.
Make: MerCruiser
Power: 135hp
Model: 3.0L TKS
Cylinder Config.:  Four cylinder in line
Displacement: 3.0L
Max rpm: 4600
Propeller: 18" pitch 4-blade Alpha aluminium
Retail Price: $19,000
Make: Sportline
Braked: Unbraked
Suspension: Leaf springs
Rollers: Multi-roller
Std Equipment: Jockey wheel, submersible lights
Retail Price: $4900