IMPROVING WITH AGE
The Blue Water 650 Portofino is one tough looking boat and although it has been around for over 14 years and is one of the most popular boats in the Blue Water Boats range, it has been given a revamp. Barry Thompson checks out what's changed and why this boat has maintained its popularity for so long.
After more than 20 years designing and building boats under the Blue Water Boats name, Paul Colcord has established an enviable reputation for not only the quality of his construction, but also hull design that perform exceptionally well, especially in adverse seas. While my run on Auckland Harbour was only on smooth water, I have had the opportunity in the past to review some of Blue Water Boat's larger 7m plus models, and I can certainly attest to their blue water handling. Might be something to do with how Paul arrived at the brand name perhaps!
The Bluewater Boats range is extensive with stock models from around 5m through to 9m in a variety of styles. They have found a loyal following in not only the recreational market but also with commercial operators, both in New Zealand and the Pacific Islands. The 650 hull is used as the basis for a number of different layouts in both the commercial and recreational market and has seen very little change to the running surface since boat number one.
In recent years Blue Water Boats have pulled away somewhat from the recreational market as the shop was busy building custom commercial boats and a run of Coast Guard vessels. However, Paul says that they are now refocused on the leisure market and recently launched a brand new 850 Portofino for a Noumea client and had plans for a number of new models in the future.
When the owner of our test boat, Foul Hooked, approached Paul for a new boat he was adamant that it had to be a crossover layout. He mentioned that this would probably be his last boat, so he wanted to incorporate all the best of his previous boats into one. Tall ask for the builder, but one that Paul accepted quite happily. He wanted a boat that would satisfy his fishing needs and yet one that still offered good overnight accommodation and amenities. This didn't present an issue to Paul as he was quite used to putting the same style layout in the larger 750.  Despite the 650 being about 1m shorter overall, everything has proportioned well and is practical and easy to use. 
Customising a standard boat is what Blue Water Boats do, so once they had worked out with the owner where everything was to go, it was simply a matter of piecing it all together. Hull construction is 5mm, with 4mm topsides. The cockpit sole is fully welded to the hull and is mostly made up of airtight chambers, apart from a rear wet locker aft of the 250-litre underfloor fuel tank.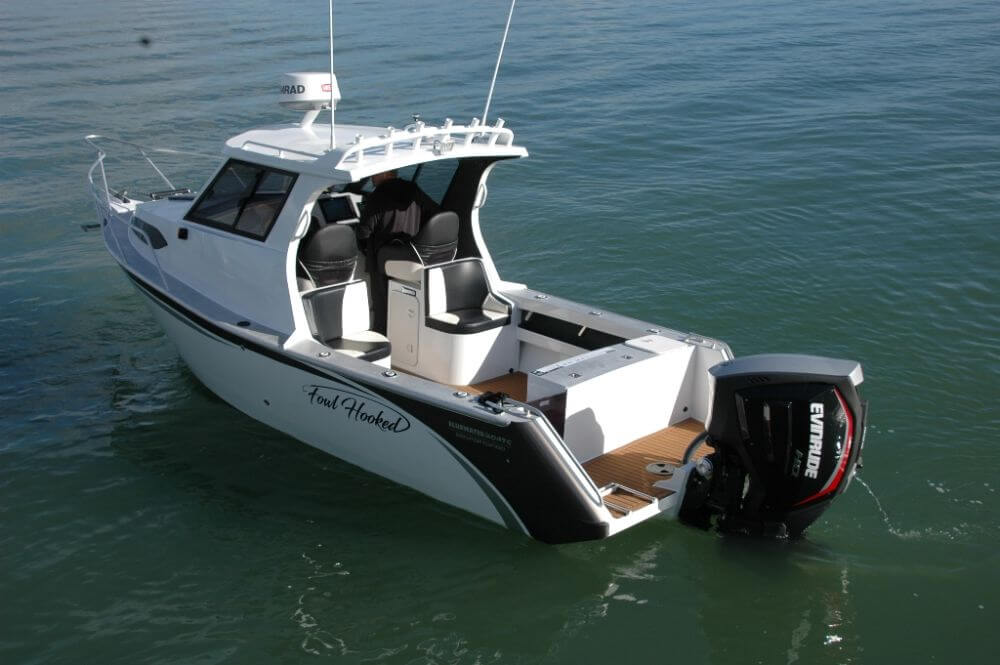 The previous 650s were more of a basic setup for hardcore fishing and diving,  a market that the Blue Water brand has specialised in. Foul Hooked is the first to be given a more upmarket treatment with SeaDek flooring, a fully lined cabin, a compact galley and set up for overnighting.
"We have also modified the hardtop styling to give it a softer more swept-up look and get away from that box styling, although we have not gone too far away from the original design", says Paul.
The cabin provides excellent sitting headroom on the U shape squabs. Forward and the starboard side is all storage, with a head under the port squab. Foul Hooked has a sliding door to close of the cabin, so you get full privacy.  Although most owners prefer the lockable cabin, you can have the sliding door and solid bulkhead removed and leave the space open. A draw curtain would give you adequate privacy when using the head.
At over 2m long, the berths are indeed big enough for overnighting and you have the choice of an infill to turn two into one. There were no storage trays in Foul Hooked but these are available as an option.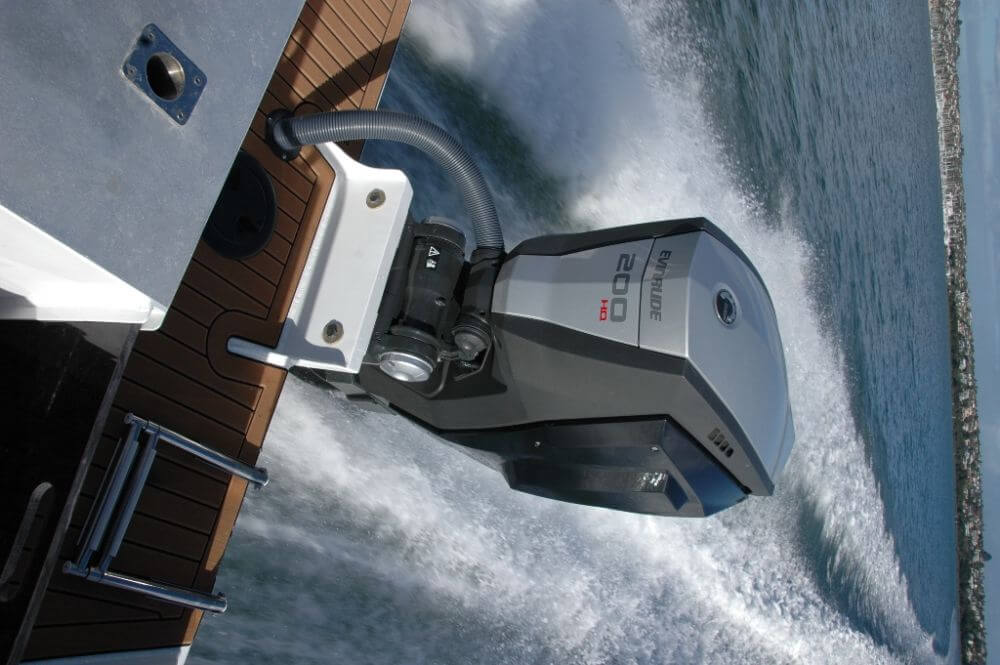 The driving position has been set up for the owner and while I found it a bit tight when seated, it was okay. The bolster style seat means you can stand to drive and with the fully adjustable seat base, you can position yourself quite well. Visibility is excellent with wipers keeping the glass screens clear when required.
The helm is big enough for a 12″ MFD, in our case a Simrad 12″, plus real estate around it for extra electronics, switch for the Lone Star drum winch, instruments etc. Foul Hooked has a Simrad autopilot alongside the MFD and the ETEC ICON Touch Series engine management panel below. This offers a mode control for adjustments to power steering, trim assist and fuel tank levels. It also displays all facets of the engine from water pressure, depth, SOW to water temperatures of seawater, livewell and bait well. There's a single binnacle control which is cableless through to the engine. A Fusion Bluetooth entertainment system and Garmin VHF are mounted overhead.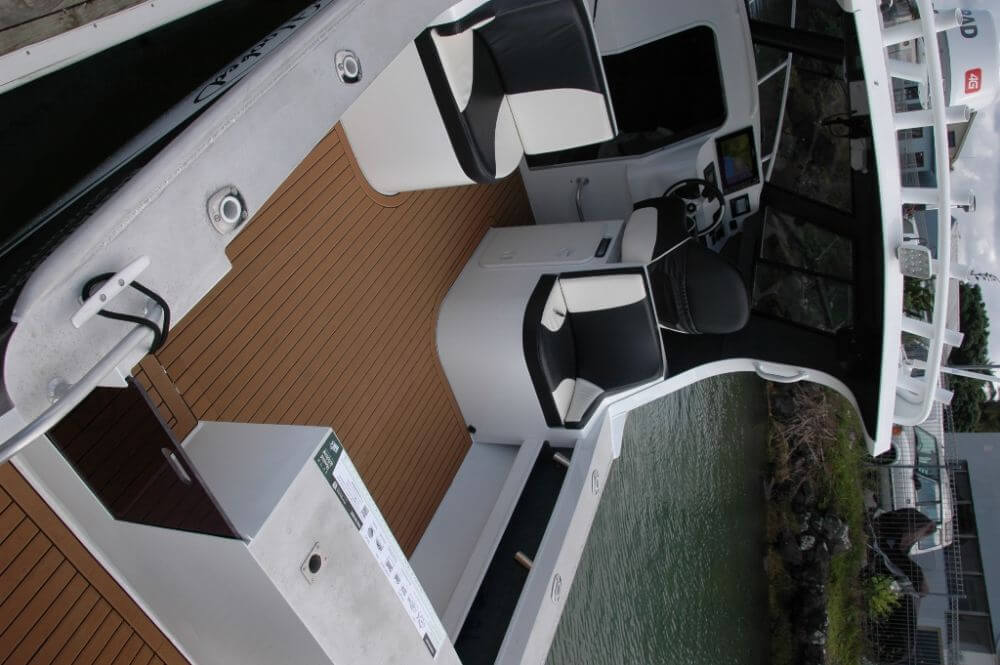 Being a semi-custom boat, the Blue Water 650 is available with a variety of seating layouts. Foul Hooked has twin BLA bucket seats on large alloy box bases. There are plenty of different choices as to how you configure the bases, with options for straight storage, fridge/freezers and a full galley. Foul Hooked has the under seat galley to port with a two-burner grill, plus sink with hot and cold water. There's extra storage below as well as an 80-litre water tank. A pull out shower means you can get the saltwater off after a dive or clean up in the morning after an overnight stay. Simple and easy.
Paul says that he can do just about anything in this space and with the detachable rear seats you can even further increase the working space of the cockpit when fishing.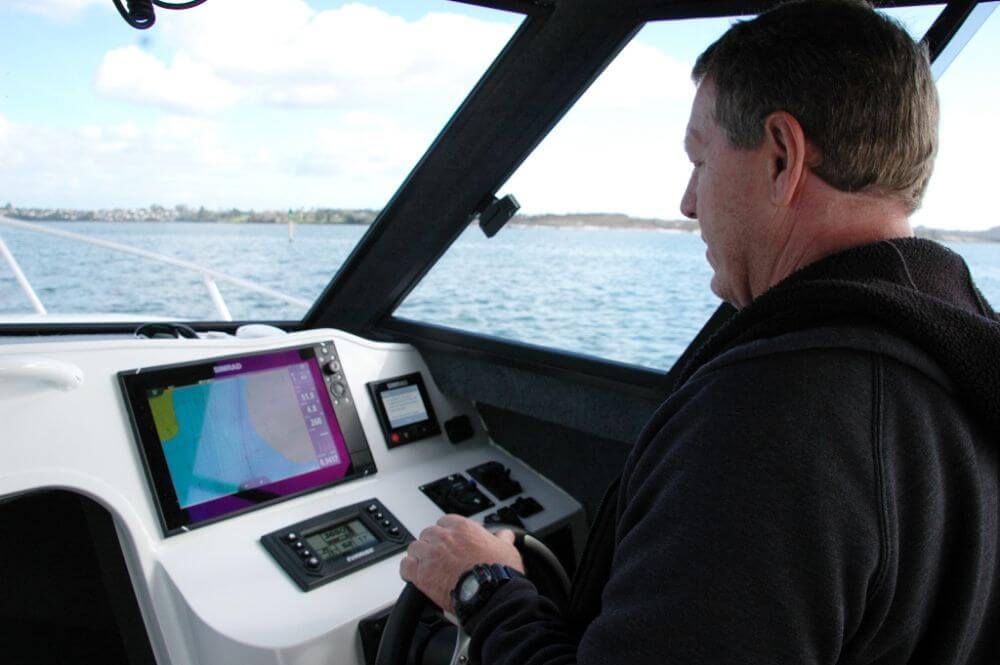 The cockpit is all about space, with a number of options available for the sole, such as a cheque-plate floor, full teak, carpet or composite foam decking. Foul Hooked was fitted with SeaDek. Standard features across the transom include a walk through with drop-down gate, live bait tank (not plumbed) and access hatch to the batteries. A bait station can be mounted in the centre and there is a trio of rod holders in either coaming, plus a rocket launcher above.
Paul says that he can make the transom anyway a client wants and there have been many variations in the 100s of 650 Portofino he has built over the years.
The cockpit can be fitted with a canopy extension from the hardtop or if you want to add some weekender space, a full camper pack is available.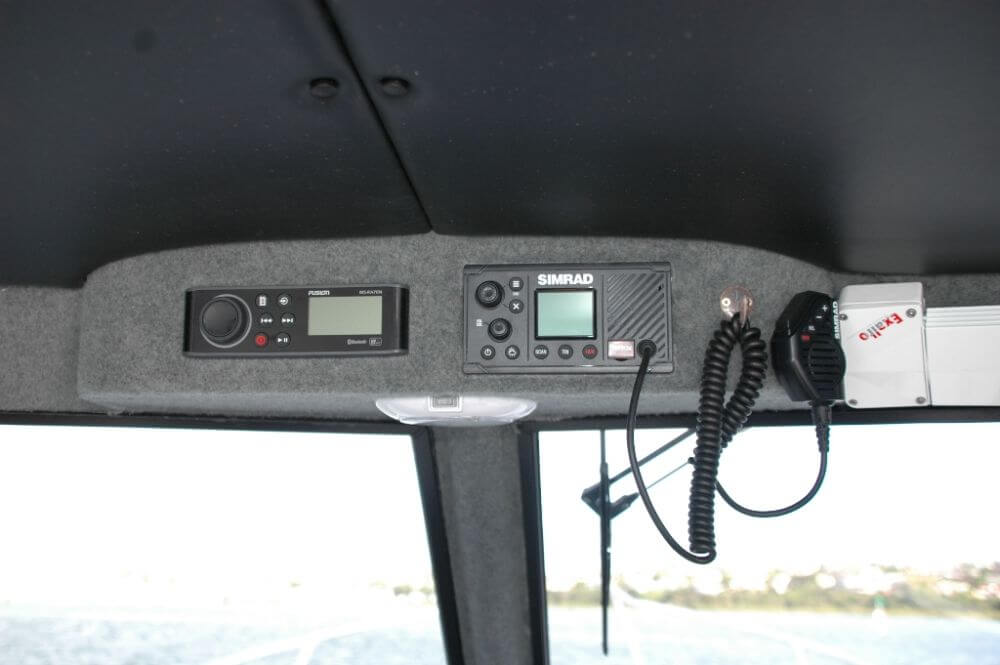 This was the first Blue Water that Paul had setup with an Evinrude ETEC and remarked on how simple it was and that he was very pleased with the performance and efficiency of the engine. The ETEC 200hp is a 2.7litre V6 that like all others in the range is available with your choice of side panels.
From a standing start, I was very impressed with the acceleration and speed onto the plane and top end. With some playing around with the trim I managed to squeeze 5600 rpm @ 45 knots. As expected on the calm water the 650 Portofino performed flawlessly. In tight, fast turns it hung on and presented minimal heel. The helm response was light and positive with nothing unexpected no matter which way I threw the boat. If you ever need to back the boat up on a fish, then it does that well also.
It's a boat that will suit experienced boaties that are looking for a craft that's easily manageable and provides the necessary spaces and requirements for fishing, diving, overnighting and maybe some family day trips. Overall a great Kiwi hardtop that does the business.
Model & Model: Bluewater 650 Portofino
Price as tested: $NZ135,000
Priced from: $NZ98,500
Type:  Hardtop   
Construction: 5mm/4mm Alloy
LOA: 6.50m                       
Beam: 2.50m               
Deadrise: 19 deg   
Height on trailer: 3.10m
Trailerable weight: 2200 kgs
Test Power: Evinrude ETEC 200   
Propeller: 19″ 3 Bld   
Mx Speed: 45 knots
Power options: Outboard/Sterndrive   
HP Range: 150-225hp                   
Fuel Capacity: 250 litre  
FUEL & PERFORMANCE DATA

BLUE WATER 650 PORTOFINO

Fuel capacity:

250

litres

 

RPM

Knots

L/h

L/NM

Range  (NM)

1200

6.4

3.4

0.540

410

1500

7.2

6.2

0.870

250

2000

8.8

15.1

1.800

120

2500

13.6

18

1.400

160

3000

22.2

19.1

0.870

250

3500

27.2

25

0.920

240

4000

32.2

35.5

1.200

180

4500

36.7

44.5

1.300

170

5000

41.7

51.8

1.300

170

5500

45.0

68

1.600

140