Gone Fish'n
The very name bluewater conjures all sorts of glowing images of grandeur, so Barry Tyler availed himself of the opportunity to board the company's latest release, the Bluewater 7.5 Gamefisher, to ascertain whether or not the mantle of a genuine offshore 'bluewater' vessel, befitted this particular model.
Although the Ranui, Auckland-based company, has been producing boats for 27 years now, it is not unkind or derogatory to perhaps suggest the Bluewater branding from a recreational perspective has flown under the radar a little. The reason for that, as I soon discovered, was attributable to the demand (and respect) for their boats from the discerning commercial sector. Entirely purpose-built one-off vessels for commercial operators have demanded a significant proportion of the company's production capacity – on top of their recreational workload!
But all that has changed over the last few months. Demand from the private sector has sky-rocketed. "Blame it on the Covid phenomenon if you like," Managing Director, salesman, office manager, designer, fabricator (yes, he even gets down and dirty on the workshop floor, when time allows), Paul Colcord, explained. "The recreational side of our business had been ticking along just fine, but of late, the level of inquiry and indeed subsequent orders has been unprecedented. 
"Ours are big boats, serious boats, with a corresponding cost, but people now they can't entertain the idea of an excessive overseas experience, are spending their discretionary dollars locally, on leisure items such as a new car, motorhome, or, a new boat. Often these people are nearing or are retired, and as in the case of this particular owner, this will be their last hoorah, their last big spend-up before they hang up the ignition keys for good. They want all the toys, and they want their boat precisely how they choose/expect. That is surely the joy/convenience of building in aluminium – nothing is impossible!"
Practicality, functionality, innovation and presentation are all absolute prerequisites in a bluewater hull. Robustness and durability are majorly influencing factors, for an offshore hull must 'stand up and be counted when the going gets tough. For me, a casual glance over facets such as the accuracy and presentation of the welded joins on the hull tells me this hull has been built by someone who cares, someone who has the required expertise. The welds looked more like 'tig' welding than 'mig' welding.
I also appreciate the efforts made to enhance the general appearance of this vessel, to elevate it up a notch or two from the average aluminium boat. The more I looked, the more sensible and practical features I discovered. The Ultralon imitation-teak panels on the gunwale tops and around the rear Portofino, kept the damage to the paintwork, to a minimum. The rear pulpit around the Portofino area aided the less agile when boarding or landing an errant marlin. Rod holders were aplenty, as you would expect, and a most sensible yet conveniently-compact 'fishing station' comprising bait board, live bait tank and tuna tubes suggested innovation as well as appeal.
SERIOUS FISHING-ORIENTATED COCKPIT
irst and foremost. The game poles were in their appropriate mounting points, outside on the cabin side. Rods can be placed either in the rod holders along the coaming tops or up in the rocket launcher at the rear of the cabin overhang. Side lockers come in all shapes and sizes; these were sensible in that while plenty large, they were well up off the floor and in under the coaming tops. 
The 7.5 Gamefisher cabin doors that very much opened the cabin up to the cockpit – were both practical and well-presented bi-fold doors that opened up, folded together and remained well out of harm's way. All evidence aplenty that you can indeed have precisely what you require in the way of creature comforts and appointments, including his lock-up cabin. 
This helm or saloon area can often be at the expense of cockpit space or cabin space below decks. In this instance, it wasn't – the joys of a 'large' boat, I surmised – for while the cockpit was a generous-sized 'working' area, there was still a surprisingly generous allocation of space both to the cabin and the helm area. There was no apparent trade-off of space between the three distinct areas.
There was good space around a well-laid out and presented helm/electronics station within the cabin confines. To the portside of this was something a little different for a trailer boat, a genuine dining setting. A single bench seat forward of, and a double bench seat aft of a solidly-mounted table (which drops down to form a second berth), provided a dining experience for three people. 
Within the base of this dining setting, accessed from the cockpit side, was a portable fridge, BBQ and chilly bin. There was no stove; the owner didn't see the need, but of course, it is an option. Conveniently, the back-rest on the aft bench seat folded forward to double as an ideal fishing possie facing aft, should the weather outside be on the wild side.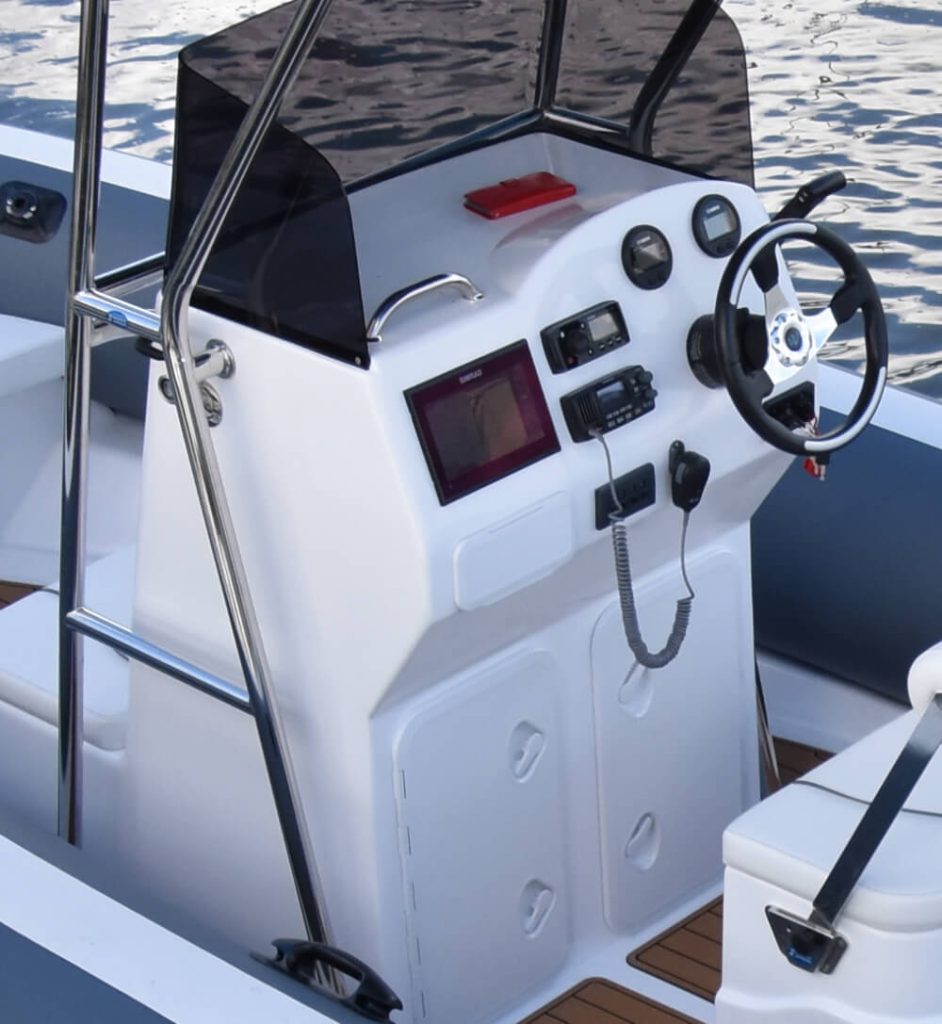 GENEROUS SLEEPING PROVISION
Forward of this area again was another surprisingly generous area devoted this time to those who require a quiet nap at some stage of the journey. Under the front squab is a secreted Jabsco electric head, and forward of that again, 120-litres of fresh water. Come sleep-time, however, place the insert in between the two longitudinal bunk-style well-padded seats, and you have what could only be described as a 'ginormous' (full-length and width) comfortable berth to stretch out on. Most impressive!
Back to aesthetics, presentation, I would hate to have been the poor upholsterer in this instance, for the entire helm/saloon and cabin areas were lined entirely with front-runner carpet. There was no visible evidence of aluminium in either area. Getting around all those corners, nooks and crannies, without showing any gaps or rough edges at all was a great effort. Just a small thing, but again, I felt the attention to detail was inherent in these Bluewater boats!
Whilst happy with everything I had seen thus far, I must say I was somewhat taken aback by the mode of power for this particular Bluewater version. Nothing wrong, of course, with a Honda outboard, but I was a little surprised that it was only a 250hp outboard. I felt this might leave the performance a little under-done – until that is, one, I learned why, and two, the reaction when we put the hammer down.
Response number one; It turns out that 250hp is the maximum-sized outboard supplied in New Zealand by Honda Marine. The owner's stipulation, not request, was that it had to be Honda power, as that brand, in his opinion, provided the best exhaust harmonics – a definite prerequisite when chasing Marlin. I'll bow to his superior knowledge in that instance, as I hadn't heard that before.
Response number two, the Bluewater leapt out of the blocks like a dog caught raiding your rubbish bin! I was quite taken aback, actually, as there was power to burn down low and still when approaching top speed. This, of course, leads me to acknowledge two further points. Point number one, the Honda has the required get-up and go for it is a big ask for any 250hp outboard to power a 7.5-metre (8.3-metre overall) 2450-kilogram behemoth up onto the plane at the rate it did.
OFFSHORE PROWESS
Secondly, I feel it was as much also a fitting testament to the under hull design/shape of the Bluewater. Of course, the sheer weight of the plate-aluminium hull flattens the ride out far better than any lightweight aluminium boat. But there are other contributing factors inherent in this Bluewater 7.5m hull. The outboard sits on a rear pod under the Portofino platform, as I discovered once the boat was lifted out of the water, which potentially offers 'cleaner' water to the 17-inch (17P) Quicksilver Mirage propeller the rig was running. There was a full-length strake on each side, coupled with a small second chine (makes for a dryer ride), that in tandem provided the mandatory 'lift' for the hull. 
The other contributing factor to performance was the rear deadrise, at 19-degrees. That's not large in the context of an offshore hull. The reality in this situation, then, is a fine rough-water high-deadrise bow entry that flattens out to a not-so-aggressive (relatively) more conservative rear deadrise. This creates slightly more lift than drag, thereby enhancing the acceleration and top-speed characteristics. 
Indeed, our run up the Western side of the Auckland Harbour Bridge most certainly confirmed this performance aspect rather graphically. In wind-against-tide decidedly windy, choppy, generally 'snotty' conditions, the Bluewater performed like it was on rails. Notably, there was no windage either, where the boat inherently leans at an angle into the wind, and certainly no need to even touch the Bennet Trim Tabs the boat was fitted with. 
You can learn a lot more about the 'manners' of a hull in conditions like those, rather than being in big seas (where you have to significantly go back to a manageable speed). A hull is more likely to exude bad habits at higher rather than slower speeds. In this instance, I am happy to report that the ride up the harbour was utterly predictable. Even I hasten to add as we put the Bluewater through the speed trial, from idle right through to the full-throttle top speed of 37.1 knots (that's 42.6mph / 68.7 kph). That, to me, is a most respectable performance in those conditions!
CONCLUSION
This was a definite bluewater vessel with appropriate features. Highlighting the specification, this boat comes in at a very market-competitive price of $NZ265,000, inclusive of the Bennet trim tabs, Ultralon hydraulic steering, Maxwell RC-88 winch, underwater lights, washdown pump, Simrad NSS EVO2 and EVO3 radar and electronics package, and for the inshore fisherman, a custom-mounted top-of-the-range Minn Kota iPilot.
Brand: Bluewater
Model: 7.5 Gamefisher
Year Launched: 2021
Priced From: NZ156,000
Price as Tested: $NZ256,000
Type: Hardtop
Construction: Aluminium
LOA: 8.3m
Beam: 2.5m
Deadrise: 19-degree
Height on trailer: 3400mm
Trailerable weight: 2450 hull (3100kg Trailerable)
Test Power: Honda 250hp
Power Options: 225hp – 425hp Inboard/Outboard
Propeller: Quicksilver Mirage 17P
Flooring: Ultralon
Fuel capacity: 280-litres
Trailer Make: Hoskings
Boat Manufacturer: Bluewater Boats Ltd
Supplied by: Darren Wong
Performance Data
rpm
knots
L/h
L/NM
range (NM)
1000
5.3
4
0.7
371
2000
8.1
9
1.1
224
3000
12.9
22
1.7
151
4000
23.4
30
1.3
200
5000
31
51
1.7
152
6000
37.1
87
2.3
107