Personalised Touch
Bluewater Boats is one of those manufacturers where nothing is too hard, and every possible step is taken to ensure that the customer gets total satisfaction and at the end of the day they have a product which totally meets their needs. Freddy Foote spent some time aboard a Bluewater 750 powered by a Yanmar diesel driving a MerCruiser Bravo II sterndrive.
While Bluewater Boats produces a vast range of models, with a little bit of customisation to a full customisation you can pretty much have the hull and boat as you desire.
The owner of this Bluewater 750 is a full-on gamefisherman and wanted something plain with not too many frills – just the basic necessities. He likes to go quite far offshore and chase game fish and so Bluewater's renowned offshore performance, reliability and construction appealed to him.
As is the trend with a lot of trailerboat gamefishermen, this boat has been fitted with a diesel sterndrive, and sure it doesn't offer the same outright grunt and performance of a outboard which are popular power plants for Bluewater boats, but it does provide enough speed to get you out where you need to go and provides fantastic fuel economy for the hours of trolling for those elusive tuna and marlin.
The cabin is fully lined with carpet and the V-berths, which have storage underneath, are big enough for adults to lie down and overnight if need be. On the port side located underneath the squab is a portable head. The cabin can also be closed off and locked by a wooden sliding door that gives a very stylish and elegant look.
Under the hardtop at the helm, the driver's position was ideal and has obviously been set up to suit the owner. While there are a large array of options available, this boat has been fitted with a king/queen style seat on the starboard side for the skipper and passenger behind, while on the port side there is just one king bench seat that is wide enough to seat two people if need be. Both sets of seating have large storage areas underneath and this ensures that the cockpit area remains uncluttered and tidy.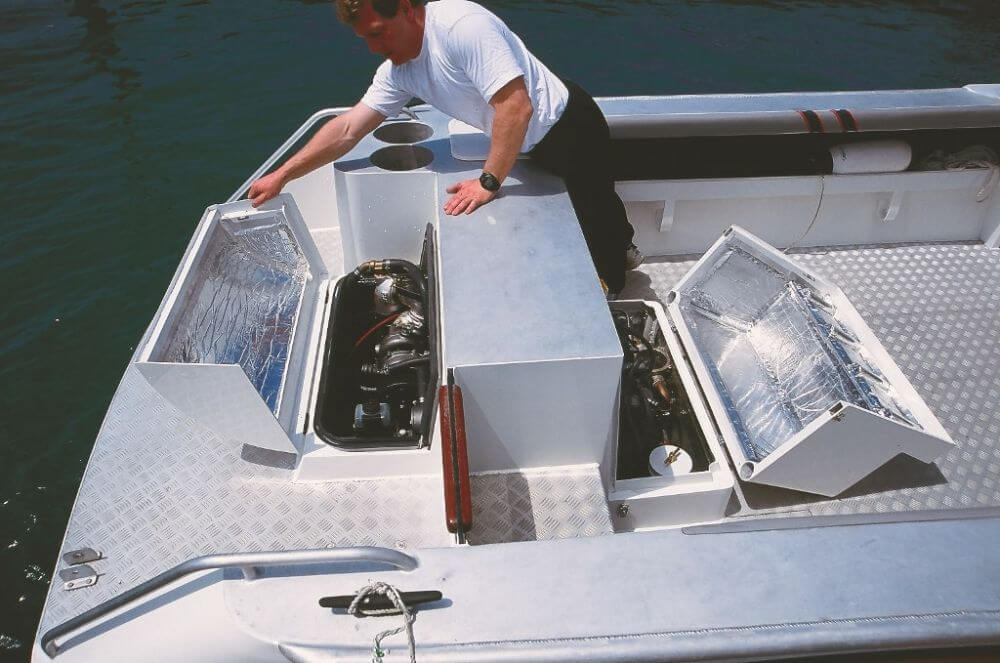 This 750 has been set up slightly differently – the king/queen unit usually goes on the port side, and by lifting up the seat a cooker top can be fitted underneath as well as fresh water plumbing and a sink.
The dashboard is large and spacious and has plenty of room for the various controls and electronics, and there is enough room to have them fitted without the whole set-up becoming cluttered.
This boat was set up with a Simrad depth sounder mounted into the dash, while a Lowrance chart plotter was mounted on a bracket for'ard of that.
Passenger comfort is superb with handrails situated both in front along the top of the of the cabin entrance and also fixed to the sidewalls of the hardtop.
Rearward facing passengers or standing passengers also have a grab rail upwards on the underside of the roof as well as one on each side of the sidewalls.
In the cockpit area itself, there is plenty of workspace, and port and starboard sides both feature large, deep side pockets for rod or gaff storage.
As far as fishability goes, this is a big cockpit so the amount of space available is exceptional. Padded side coamings ensure that fishermen can put a big effort into bringing the fish on board without coming away bruised at the end of it.
While there is an option for under floor storage space, this is usually restricted to the outboard versions of the hull, and for this boat, the owner has gone for the extra large fuel tank capacity of 450 litres. Most of the boats are run including the outboard versions are run with a 350 litre fuel tank, but as the owner intends to take this boat a long way offshore, he chose to have the bigger tank fitted.
Aft, the stern has an excellent full sized boarding platform which divers will absolutely love. A walk-through transom has been built-in and has a gate that can be fitted into place to prevent any excessive water entering the cockpit when backing up on a fish in bigger seas. Any water that is taken on board is quickly dispersed through scuppers. Also aft, a bait tank and tuna tubes are built-in.
One thing that I really liked was the set-up on the engine box – it opened up at the front of the motor so that access for servicing was easy, but it also opened outwards at the rear so that servicing requirements at that end were easy too, it also opened up the cockpit area.
Rod storage is accommodated for via the rocket launcher up above and rod holders that are fitted into the engine box around the bait station area.
While this boat is being finished off, the owner has decided to do a bit of final customisation himself and is electing to finish the cockpit floor and top decks with teak. Bluewater does offer this in the factory but a lot of owners like to have that hands-on approach and finish up on a few of the fittings themselves.  Teak on a fishing boat you say? Not to worry, as long as it is oiled and treated properly and washed down after each trip it is sure to remain in good condition for a long while. Further rod holders will be fitted once the teak work has been finished.
At the helm, driving the big boat was easy and fairy uncomplicated. The Yanmar gave the boat quite impressive punch out of the whole and rode up onto the plane with ease. Harbour conditions were blustery and combined with an incoming tide produced a slightly lumpy and choppy sea, so all that was needed was to utilise the fitted trim tab system to get the boat running evenly. I was quite surprised at the performance the Yanmar diesel provided, as it easily pushed the boat up to 40mph, and given that this is a diesel powered boat, the engine noise wasn't too intrusive.
I found the best driving position was to stand and lean back against the seat base, but I'd guess that in smoother conditions you might as well give the legs a break and sit down on the seat and use the handy footrest that's is situated in front.
The boat handled the conditions exactly how I would have guessed, the medium V hull ensuring a reasonably soft, quiet and stable ride with only very minimal spray taken onto the windscreen because of the wind conditions. No wipers were fitted to this boat but they are available as an option.
The small father and son team of Gary and Paul Colcord, the two blokes behind Bluewater boats, have earned themselves an excellent reputation amongst serious fishos, with most of their company's orders coming from word of mouth. Bluewater produces around 10 boats a year out of its small Henderson factory. Gary and Paul pride themselves on producing a quality product to ensure total customer satisfaction and with that type of service and reputation it's no wonder that their boats are in such demand.
Model: Bluewater 750
Price:  Packages from $61,000 (boat and trailer)
Designer: Bluewater Boats
Material: Aluminium
Type: Hardtop
LOA: 7.8m
Beam:  2.5m
Transom Deadrise: 18 degrees
Hull Configuration: Monohull
Trailerable Weight: 2400kg
Height on Trailer: 3.2m
Engine Capacity: 200hp to 350hp
Power Options: Sterndrive or single or twin outboards
Fuel Capacity: 450 litres
Performance – Yanmar 4LHASTZP @ 240HP
| | |
| --- | --- |
| 450 rpm | 6.5 mph |
| 500 rpm | 7.5 mph |
| 1000 rpm | 9.5 mph |
| 1500 rpm | 16.0 mph |
| 2000 rpm | 26.0 mph |
| 2500 rpm | 31.5 mph |
| 3000 rpm | 38.0 mph |
| 3400 rpm | 40.5 mph WOT |