Beastly
By Freddy Foote
 There aren't too many of us who can say they use their boat every day.
But for Auckland charter skipper Brett Smith of Phoenix Charters, he most certainly can.
Charter boats aren't something we've traditionally reviewed over the years, but occasionally one comes up that is worth taking a closer look at and Smith's Bluewater 9.3, aptly named Beast is one such example. Launched in December 2018, Beast has had a busy start to its chartering life, already logging up close to 400 hours in just four months.
Setting about specifying the layout and configuration of his new boat for charter, Smith says there were a number of things that were must-haves for the new build.
"Obviously we wanted the walkaround design which was key, and to go with that a long cabin area, with seating for nine. Nine was the number I had in my head to keep the charter cost down to a reasonable amount for clients," says Smith.
Beast is based on the standard 9.3m Bluewater hull with a 3.0m beam. This gives you a lot of internal real estate to customise to suit your needs. The layout of Beast certainly reflects that with many of Smith's ideas built into the boat.
"My last boat was a tri-hull which was very stable, so I didn't want to lose any of that stability with the new boat. The extra wide Bluewater hull has proven a great boat with plenty of room," says Smith.
Construction is heavy duty and reflects the type of offshore work the boat is being asked to do. The bottom and transom are 6mm aluminium, with the stringers and frames 6mm and 5mm respectively. Sides, top deck, cabin and bulkhead are all 4mm alloy.
"All of the boats are built to survey spec, so what we take our standard hull and custom build from there," adds Paul Colcord of Bluewater Boats.
Bluewater Boats are no stranger to building boats to survey and commercial standards having built a number of the Coastguard RIB fleet for Naiad. Built tough? You bet.
Starting aft, there is a sizeable boarding platform on both sides of the 300hp Suzuki outboard. A cage around the exterior provides extra safety for anglers, with a sturdy drop down ladder which is an intergral part of the cage, providing access into the boat in the port corner.
"I wanted a big boarding area with a full cage, with plenty of room so that you could still fish two people back there," commented Smith.
The cockpit itself is quite sizeable with a large bait station in the centre of the transom fitted with two Tuna tubes, as well as a live bait tank underneath, which can be accessed by lifting one of two hatches above. These also double as cutting boards.
"All we do is lure fishing which keeps the boat nice and tidy.  But there is a big live bait tank, the Tuna and some good workspace to help rig up live baits."
The rest of the boat's layout is very spacious, with room to navigate to the bow, via the very wide walkaround, which enables anglers to fish right around the boat.
"Having plenty of room with a walk around was key for me as I didn't want nine people crammed into the cockpit. On a daily basis we'll probably have five down the side, maybe six up the front – everyone spreads out, the layout and configuration work really well."
The cabin area has two bench seats on either side, with storage underneath for passenger gear as well lifejackets. Forward, in the closeable lower cabin is a toilet and sink for passengers to use when out on an excursion.
One thing that was noticeable from the helm of Beast was the 360-degree visibility.
"When underway it's great to be able to have visibility around the boat. Even if passengers are sitting down, I can still see over there heads, which is important for keeping an eye on other boats moving up behind us, or even being able to keep an eye out the window and watch for workups and birds."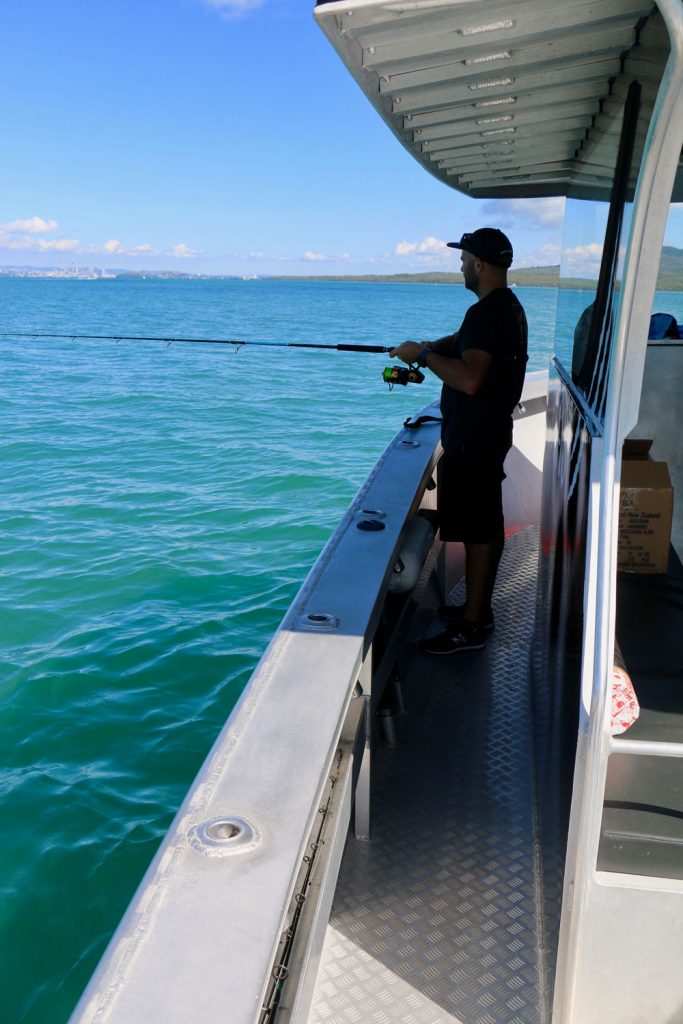 Smith's previous boat was diesel powered, and now with his first foray to a four-stroke outboard, he says there is no looking back.
"The outboard is a lot easier on maintenance, much tidier has no oil leaks in the bilge, and all you have to do is pull it out of the water once a month and get the 100-hour service done.
"When it comes to repower further down the track, the whole process can be done a lot quicker which is attractive when you are running a business like this', says Smith.
He adds that Suzuki offers a two-year commercial warranty on the outboards, which is generally the time period where you will look to change the engine out anyways.
Beast is powered by a single 300hp Suzuki Four-Stroke fed by a sizeable 400L fuel tank, which will give it a 210 nautical mile range at a cruise of 20 knots.
"The idea behind the boat is to be quick, get out to the fishing spots and do two trips a day leaving from Half Moon Bay, so that's why we went for the 300hp outboard. Enough grunt to get the boat moving, yet fast enough and economical enough to get from A to B with relative ease.
"All year round we are fishing anywhere between Waiheke and the Coromandel, and on a longer day, we might go to Little Barrier or Great Barrier" Smith says.
I thought the 300hp Suzuki was a good match and delivered some fantastic performance figures. On our test day with three passengers onboard the Suzuki at a cruise of 20 knots @ 4000 rpm delivered a fuel burn of 34.5 lph. Wide-open throttle delivered 33 knots @ 5500 rpm and used 91 lph.  At a trolling speed of 7.0 knots @ 2250rpm, fuel use was 13.0 lph. Throttle response was great, and once up on the plane, the engine noise was quite minimal.
When I asked Smith about what he would change on the boat, he says there there wasn't too much, apart from a few future planned add ons.
"I want to get a radar and autopilot fitted and though the boat is quite stable already, I will maybe look at adding a Gyro stabiliser, which will help some of my passengers feel a little more comfortable when it's a bit rougher. It's just a fact that some people do get seasick, will be nice to have a boat where they don't."
Overall, a great rig, ideal for its purpose. Would the layout suit everyone's need? No probably not. However, what it is, is an excellent demonstration of going to a custom builder who already has the base boat configuration such as the hull sorted, and allowing you to customise and fit out your dream interior.
Beast hit the water for around $220,000 excluding a trailer. If you're looking for a custom alloy boat, and have a modest budget in mind, then Bluewater should be on your shortlist.
Model & Model:  Bluewater 9.3 Walkabout      
Price as tested:  $220,000
Priced from:  $198,500 (Boat/Motor)
Type:  Walkaround   
Construction:  Aluminium
LOA:  9.3m                           
Beam:  3.0m   
Deadrise: 19 degree       
Propeller: 16 x 16
Trailerable weight:  2750kg
Test Power:  300hp Suzuki Four-Stroke     
Power options:  Outboard
HP Range:  250hp-350hp              
Fuel Capacity: 400L                                                   
Manufacturer:  Bluewater Boats
| | | | | |
| --- | --- | --- | --- | --- |
| RPM | Knots | L/h | L/NM | Range  (NM) |
| 1000 | 4.3 | 4.2 | 0.980 | 360 |
| 1500 | 5.6 | 6.3 | 1.200 | 300 |
| 2000 | 6.5 | 9.3 | 1.500 | 240 |
| 2500 | 7 | 15.8 | 2.300 | 150 |
| 3000 | 9.2 | 25 | 2.800 | 120 |
| 3500 | 14 | 30 | 2.200 | 160 |
| 4000 | 20.5 | 34.5 | 1.700 | 210 |
| 4500 | 25 | 50 | 2.000 | 180 |
| 5000 | 28 | 60 | 2.200 | 160 |
| 5500 | 33 | 91 | 2.800 | 120 |