Just over a year after the Bonito 535 was released, Bonito has released a concept based on the 535 hull that offers something new and completely different. Freddy Foote went and had a look at hull number one of the new Bonito Multisport.
First impressions of the 535 Multisport was that it looked a bit naked, a thought that was also shared by Bonito's Managing Director Peter Johnson, but after a second look it is an idea that has so many possibilities.
The Multisport concept came from a few ideas that had been talked about around the Bonito factory and acted upon after enquiries from customers who wanted something that was more open but in the same size bracket. The main focus behind producing the Multisport was to have a boat that would appeal and cater towards the fly fishing market in both fresh and salt water. A number of people had approached Bonito saying that it would be great to have a smaller boat that was either a centre or side console, had plenty of room internally and didn't need a big motor to push it along, thus making it a reasonably affordable package.
The already well proven and successful 535 hull had been based on the very popular 522 model, the main changes between the old and new hulls being the arrangement of the strakes, which are now staggered and shorter, and the bow section, which is a little fuller to give more bow lift.
The Multisport model is set to have four different versions; the side console as seen on our test boat, a centre console, a sport runabout and possibly even a bowrider model, although that hasn't been confirmed yet.
So far, two boats have been produced, our test boat with the side console and a centre console that at the time of test, just prior to the magazine going to print, was getting the finishing touches added to it. In fact on our test day, the boat we had had only just gone into the water five minutes before I arrived!
While it may look bare, you can by no means see this as a finished boat and as I saw it, the concept has so much potential. There are a whole list of options and features that can be added to the boat, which allows customers to customise the boat to fit their precise needs.
The set-up on this boat was very basic, but totally sufficient. On our test boat the side console only gave the option of standing at the helm but several options are available including a flip-down bolster style seat that folds down from the side when you need to be seated and then folds away when not required, or a permanent bolster on a stainless steel stand, or a traditional upholstered pedestal seat.  Additional passenger seating is available forward, with seating in the bow and owners can have removable bin seats fitted in both of the aft corners.
Storage space is plentiful, with four underfloor storage lockers with top hatches, and more storage under the front seat – great areas for wet gear. Storage is available underneath the side console and the console itself had enough room to flush mount the engine controls as well as fitting a sounder or GPS system if required.
Additional storage is available via side pockets located on each side, and if you want extra rod storage if fishing is really your thing, then a rocket launcher can be fitted overhead. Forward is a small anchor locker and as you would expect in such an open boat, anchoring would be very easy.
Driving the Multisport was very enjoyable. I was able to give it a good high speed run on Auckland's upper harbour in very flat conditions and also was able to test it in some rougher conditions further down the harbour. When turning into corners it turns sharp and digs in, and in rougher water it handles harbour chop with ease and you remain dry.
As you would guess it was a windy ride, but it was a very hot and balmy mid November afternoon so I didn't feel any cold at all.
In the flat conditions we managed to push the 90hp Mercury powered Multisport to 40mph, and in the rougher water conditions the boat cruised well at around 30-35mph with no problem at all.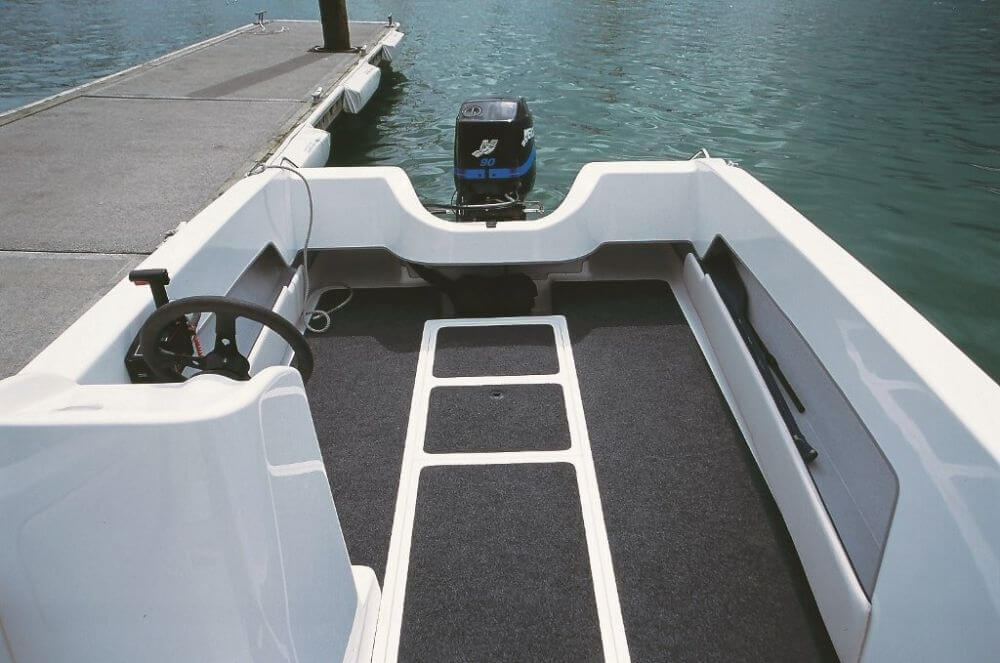 The Multisport has been given a broad horsepower rating of 50hp through to 140hp. The 90hp Mercury was an ideal set-up, giving plenty of punch out of the hole and good performance. Quite lively with 90hp, I expect an 115hp or 140hp engine to be quite a powerful package, but nothing that the boat wouldn't handle, as traditionally Bonito boats have always liked plenty of horsepower. But in saying that, if you were looking for a low cost option, then go for a 50hp or 75hp engine, as either would provide more than enough power to get you where you need to go, albeit at a more sedate pace.
Fuel supply on our test boat was via two tote tanks, which were stored in one of the underfloor compartments. There is an option to have a 112-litre internal tank fitted, but if you want the extra storage room then go for the tote tanks; in fact there is enough room in the boat to store up to six tote tanks, depending on the type of boating that you intend on doing.
While the original concept of the Multisport, and especially the side console and centre console variants, was to appeal to the fly fishermen out there who want workable space right throughout the boat, its potential does not stop there. By essentially opening up the 535, the Multisport really does offer a lot of options for the types of boating people can do. There have already been a few approaches from wake boarders who wanted a larger volume boat with plenty of room for all their gear and fitting up boards, etc. Fit a wakeboard tower and you'd have a practical and affordable wakeboarding package. The Multisport will also suit divers with heaps of storage and the large open cockpit making it easy to gear up. By adding a rocket launcher, ski bracket, wakeboarding tower, or stainless steel bimini, plus your own choice of seating, you can customise this boat to your specific needs.
It's certainly something new for the New Zealand market and somewhat of a first for a boat of this size. I'm sure that it's going to appeal to a wide variety of users.
Model: Bonito 535 Multisport
Price as Tested (boat only): $19,995
Designer: Peter Johnson
Material: GRP
Type: Side Console
LOA: 5.6m
Beam: 2.4m
Deadrise: 21 degrees
Hull Configuration: monohull
Trailerable Weight: 920kg
Height on Trailer: 1640mm
Engine Capacity: 50-140hp
Power Options: outboard/sport jet
Fuel Capacity: Tote tanks (6), 112-litre internal tank.
750

 

rpm
 
4.0 mph
1000 rpm
5.0 mph
1500 rpm
6.5 mph
2000 rpm
8.0 mph
2500 rpm
9.0 mph
3000 rpm
15.0 mph
3500 rpm
21.0 mph
4000 rpm
25.5 mph
4500 rpm
30.0 mph
5000 rpm
34.5 mph
5500 rpm
38.0 mph
5700 rpm
40.0 mph
Speeds recorded on a Lowrance GPS and rounded off to the nearest 1/2 mph.