More and more people are heading offshore or down the coast and not coming back until the next day, or the day after that. For that reason, boats with a fishing pedigree are finding a lot of appeal among the cruising set.
Boston Whaler's new 315 Conquest successfully bridges the gap between an offshore-capable fishing boat and a comfortable cruiser. We recently took her offshore for a test and found her to be an excellent handling sea boat.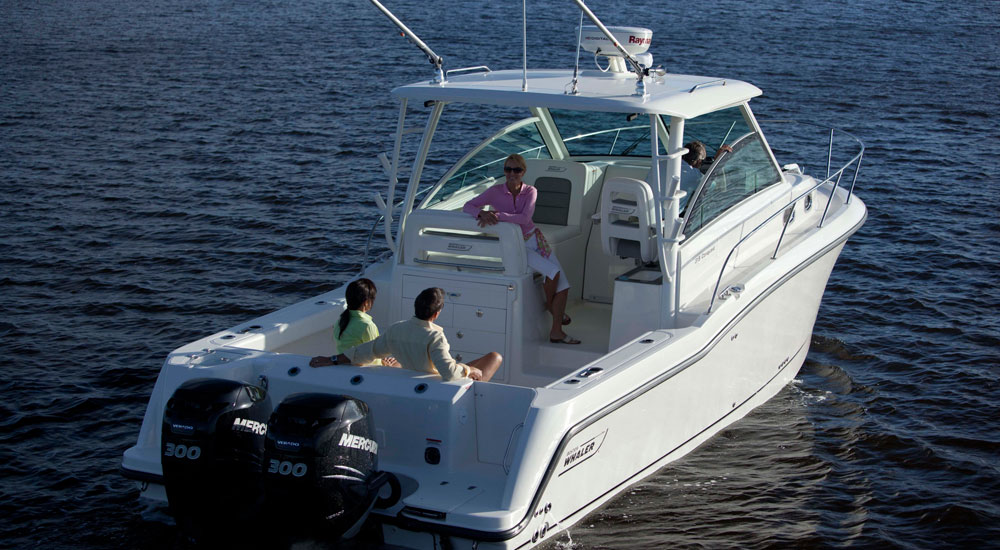 The mission of the 315 Conquest is to provide an offshore cruising platform with an open layout that can also easily crossover into the fishing realm. As recent customer purchases have shown, the days of single-purpose boats seem to be behind us, and more and more people are gravitating towards fishing platforms for their stability, dry ride, and protection from the elements. The 315 Conquest seems to meet all those points, and more.
The 315 Conquest has some very distinguishing features such as a "summer kitchen" that really brings the cruising capabilities of this boat to light. If you decide that you're going to be heading more towards a dedicated fishing mission, then swap out the summer galley for a rigging station.
Additionally, the helm deck can be outfitted with sloping Downeast-style side windows as on our test boat, or have windows that go all the way up to the hardtop. A third option is to go with a fully-enclosed helm deck including an aft bulkhead with door.
The 1102 litre fuel capacity is one of the highest fuel capacities in its class and therefore gives the 315 more endurance than others. At best cruise speed she can keep running for over 9 hours.
The 315 also has very cleaver passenger seating. On the port side of the helm deck there are booth-style seats facing forward and aft. A filler cushion turns the seats into a lounger, as you see on most express boats, and a clever fold out table recessed into the bulkhead makes this seating area into an impromptu snack area or, in my case, a workstation.
The optional cockpit bulwark fold-way bench seats is something rarely seen on any size boat and is one of the most practical ways to convert a fishing cockpit into a cruising cockpit or a comfortable entertaining space. The 315 Conquest has optional port and starboard fold-away bench seats that can be nestled into the bulwarks which turns the cockpit into a terrific entertaining area.
Boston Whaler mates the hull and deck with an expandable foam that bonds the two components together not just at the hull-deck joint around the perimeter of the vessel, but all over its deck surface. The USCG only requires boats 20′ and under to float level. Those over 20′ don't have to float at all if swamped. The 315 Conquest not only floats if swamped, but Boston Whaler assures us that she'll float level as well.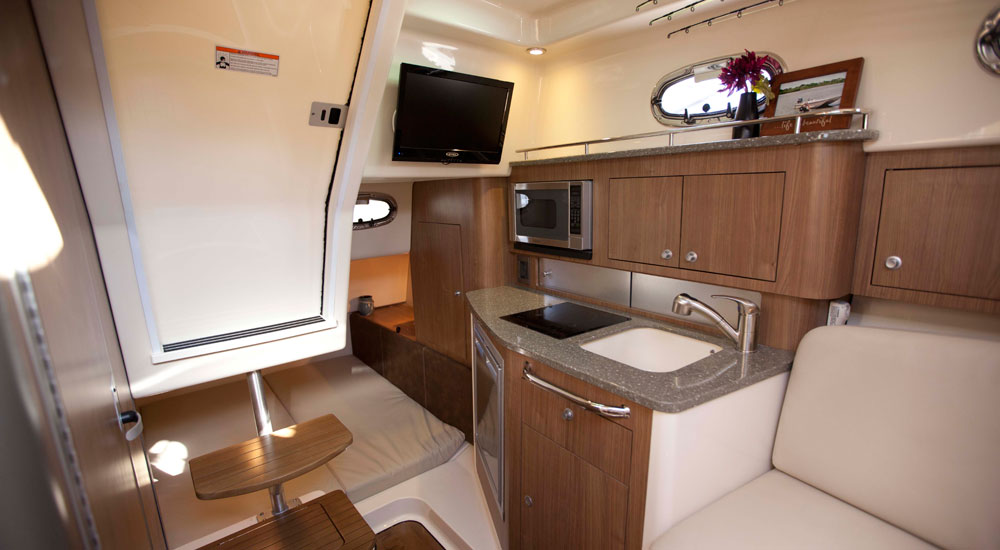 The Boston Whaler 315 Conquest has a length overall of 9.5 m, a beam of 3.3 m, and a draft of .5 m. She has a deep-V hull with 20-degrees of deadrise at the transom. With a hull weight of 3392 kg, three quarters fuel, two people, and optional twin 300-hp Mercury Verados onboard we had a test weight of 5183 kg.
Those twin 300hp Verados brought us to a top speed at 6100 rpm and 47.5 mph. At that speed we were burning 227 lph for range of 179 nm. Best cruise came in at 4500 rpm and 33.2 mph. At that speed I measured the fuel burn to be 93 lph which translates to a range of 307 nm. We had a quick time the plane of only 4.2 seconds, reached 20 mph in 5.6 seconds and accelerated 30 mph in 9.5 seconds.
While we didn't have any chop to speak of offshore there were several swells from offshore winds that gave us some indication of how the 315 performs in a seaway. She has excellent wave penetration while throwing spray well off to the sides and down low providing a nice dry ride. With enough speed I was able launch off some of the swells and noticed that the 315 maintains a level attitude throughout her reentry. There's a 13-degree bow rise upon acceleration that brings the bow up to just below the horizon. Once at cruise she settles into a 5-degree bow-high attitude and she has a maximum bank angle of 10-degrees in a full power turn.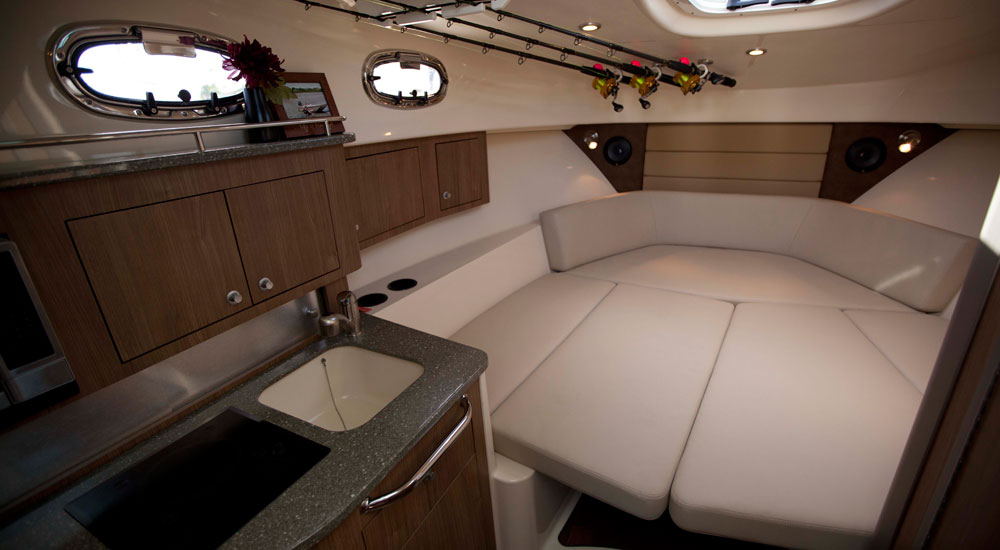 When taking power off she settles back into the water slightly stern first with the bow following shortly after, and again producing no loss of visibility to the horizon. All in all these are the makings of an excellent sea boat that was a joy to operate.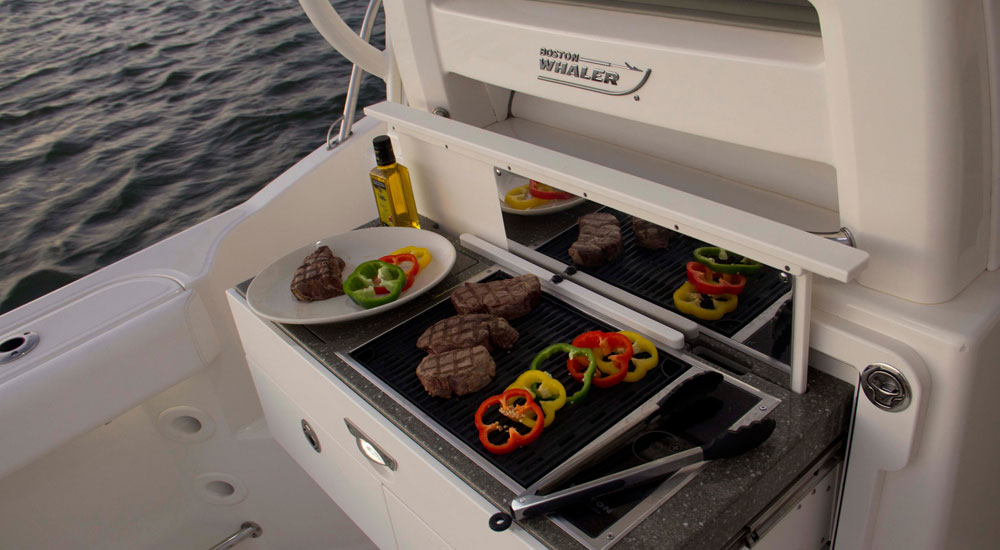 Visibility and Protection
To me, a lot of the appeal of the 315 Conquest has to do with the amount of glass surrounding the helm deck. I'm just not a big fan of isinglass. The windshield is in two pieces and both are huge, giving great sightlines. What's more, the mullions are quite narrow which gives more of an uninterrupted field of vision. Pantograph wipers to port and starboard are standard and have integral washers.
At the top of the tempered glass is an electric vent that did a remarkable job of forcing air into what would otherwise have been a greenhouse heated helm deck. While our test boat was fitted with sloping side windows that were reminiscent of a Downeast design, you can get windows all the way to the hardtop as well as a fully enclosed helm deck with an aft bulkhead and door, as mentioned.
At the working end of the bow, Boston Whaler went with 63.5 cm rails that will keep you secure as you're working the ground tackle. There is a standard stainless steel anchor roller and an optional anchor windlass mounted atop the foredeck. There's a nonskid area on top of the trunk cabin that will accommodate a large sunpad that folds in half for easy storage.
As you make your way aft, the side decks were ample at 35.6 cm and the combination of the high stainless rails, grab handles running along the length of the hardtop, and ladder-type hardtop supports made a very comfortable transition. A channel is moulded into the side deck that directs normal spray and splash coming over the bow back overboard before reaching the cockpit.
The cockpit measures 55.5 sq) and is comfortable for either fishing or relaxing. Our test boat was fitted with an optional shade that extended manually from the aft end of the hardtop. There are two large in-deck fish boxes to port and starboard and both are macerated. Cruising-only folks will use these boxes for storage. In the center of the deck is a large hatch leading to a spacious mechanical compartment. Inside this compartment are the macerator pumps, bilge pumps, fuel manifolds, engine start and house batteries, and the optional 7kW generator.
The entertainment capabilities really come into play with the standard fold-away stern bench, but most boats in class offer this feature. By eliminating the rod holders and putting in these fold-away seats the cockpit is transformed into an incredible entertaining venue. With three sides of the cockpit accommodating seating, you really have an intimate gathering area.
This option replaces the portside rigging station with a pullout cockpit grill and cutting board on top of the storage drawers. To starboard is a sink recessed into a Corian countertop, and a cockpit refrigerator is under the sink. It's a handy place to be preparing a meal on deck, and for that matter cooking up your fresh catch. There is a hinged cutting board on top of the grill.
I would go for this option. Like the optional fold-away seats this clever option greatly improves the utility of the boat, turning a 31-footer into nearly a full-blown cabin cruiser.
Boston Whaler really went all out on the helm seat for the 315 Conquest. It's on an elevated pedestal mount, swivels and slides, has cast flip-up armrests, and flip-up bolster. The back is vented so even on a hot day you won't get sweaty just from sitting.
The most comfortable part about the helm layout had to be the mounting position of the stainless wheel. I had it tilted nearly horizontal which allowed for a full range of motion throughout the five-turn swing from lock to lock. Mercury's digital throttle and shift system (DTS) offered a wide range of options including sync, single lever and troll modes.
As our test boat was fitted with the optional generator, it was also fitted with the optional 8000 BTU reverse cycle air conditioner which kept me warm going out to the test grounds and cool coming back in. Dual vents are located on the starboard bulkhead. Twin 12″ hybrid-touch nav displays are on the upper panel and the optional autopilot was just ahead of the wheel. Mercury's SmartCraft display was to the left.
To the portside are booth-style seats — a double wide facing forward, single wide facing aft. Below the forward facing seat are the ship's batteries and main circuit breakers. A filler cushion will turn these two seats into a full-length lounger, much as you would see on your basic express cruiser.
This seating arrangement, however, one-ups the express cruisers with the addition of a concealed table that retracts from the port side bulwarks. This is a clever feature, ingenious in its simplicity as it turns the two seats into an impromptu snack area, or in my case a workstation.
Down below are comfortable accommodations for a couple, and easily expandable for two couples or a small family. It begins with the mid berth. Measuring 1.42 m by 1.6 m, the mid berth is tucked under the helm deck behind a floating tread staircase that eliminates any feelings of claustrophobia. An optional cabin comfort package is offered which includes a fitted sheet and comforter, privacy curtain, and regular size pillowcases.
Moving out into the cabin area and to port is a modest galley with the usual accommodations of sink, optional one-burner stove top, standard microwave and dual voltage refrigerator. The countertop is Corian that provides a nice contrast to the wood grained cabinetry.
Forward is a U-shaped dinette with storage under the seats, all surrounding a pedestal table. The table has a foldout leaf and in the closed position the leaf support doubles as a handhold. The cleverness of this dinette area is in its ability to easily transition to a berth. Simply flip a lever under the curved stainless rail and press the table down. Flip open the leaf and slide the cushions to the center thereby completing the conversion… easy peasy.
Overall I was very pleased with the job Boston Whaler did on the 315 Conquest. She's remarkably functional both above and below decks and a joy to operate. She comes standard with virtually everything you need to go out fishing or cruising, including 8 PFDs, flares, first aid kit and fire extinguisher.
If you are inclined to use the 315 for cruising, then you may want the cruising package which includes a hot water heater. The list of options above should more than cover what you might need to make this vessel one that you can take most anywhere in comfort.
The minimum power required for her is twin 250-hp outboards, so this option could lower the MSRP base price as well as give you greater range and perhaps better fuel economy.
In my opinion this is a wonderfully versatile boat that can be used as a retirement cruising boat for a couple, a distance cruising boat or a young family, or an economical blue water fishing boat for hard-core anglers. Because she is a hardtop express cruiser with an ample beam she should be both comfortable and safe offshore when things get snotty.
Make &Model: Boston Whaler 315 Conquest
Manufacturer: Boston Whaler
Priced from: $NZ385,000
Price as tested:  $NZ 429,00
Type: Hardtop         
Construction: GRP
LOA: 9.53m
Beam: 3.25m
Deadrise: 20 deg
Test Power:     2 x Mercury Verado 300
Propellers:       "
Maximum RPM: 6100
Top Speed: 41.5 Knots
Power Options: Outboard
HP Range: 2 x 250-300hp
Fuel Capacity: 1102 litres
Water Capacity: 174 litres
Trailer: Optional
Notable Standard Items on Test Boat
Raw water washdown, cockpit floodlights, windshield wipers, Microwave, foldaway seating, in-deck fish bins, Vacuflush head, Fusion stereo/ipod controls, anchor windlass, trim tabs and shore power.
Notable Options on Test Boat
Cockpit fold out bench seat, spot light, side glass, Raymarine E127 MFD, Shorepower , Summer Kitchen
FUEL & PERFORMANCE DATA

Boston Whaler 315 Conquest / 2 x Mercury 300 Verado

Fuel capacity:

1101

litres

RPM

Knots

L / h

L / NM

Range (NM)

600

3.0

4

1.4

700

1000

4.7

8

1.8

550

1500

7.6

13

1.8

550

2000

8.0

21.5

2.7

360

2500

8.7

35

4.1

240

3000

10.5

50

4.8

200

3500

16.0

65

4.1

240

4000

24.1

80

3.4

290

4500

28.5

98

3.5

280

5000

32.6

125

3.9

250

5500

36.6

174.5

4.8

200

6000

40.4

227

5.7

170

6100

41.5

227

5.5

180