With the release of the new 550 Classic, Buccaneer have gone right back to the grass roots of traditional kiwi cabin boat design, but incorporated modern styling and layout that gives this boat a whole new look.
Barry Thompson took delivery of a pre-production model and spent a day cruising around on a mirror-smooth Auckland Harbour.
Now I realise our readers like to know what a boat goes like in all conditions, but to be honest when it came to my time with the new 550 Classic, I had nothing but calm water. In fact for five days there was never more than a small harbour chop and even that wasn't what you would call rough enough to prove a hulls capabilities. However I will go out on a limb and say that the Buccaneer 550 Classic would be a good performer in the moderate to rough water due to its heritage. Based initially on the well proven 605 hull, the 550 features many of the same running surfaces although there are a number of small changes that designer Gerry Gerrand says is the result of year's of tweaking and experience.
"Even when we get a hull where we think it is right we like to try something a little innovative, without getting radical. In the 550 Classic the changes are there, and I feel the ride and handling is even better than the 605, so it must be working", said Gerrand.
The 550 Classic goes back to the traditional style of the 1960s-70s when full cabins reigned supreme over cuddy or half cabins. Over the years the cuddy cabin has proven very popular, although for some, the loss of the protection and convenience of a full cabin boat was never accepted. The 550 Classic is Buccaneer's answer to a full cabin in every respect. There's headroom right forward, seating for five adults, space for a plumbed in head and full windows right around for great viewing. The cockpit is vintage Buccaneer, with loads of space, plenty of storage, high coamings and a variety of seating options to suit.
            The biggest change is the visual appeal of the boat with a heavy accent on soft curves and no harsh corners as found in some of the previous Buccaneer cabin boats. The 550 Classic replaces the 540 Cabin which has not been produced now for more than 12 months. The 550 Classic in fact follows on from the 485 Classic which was released late last year to replace the 480 Cabin.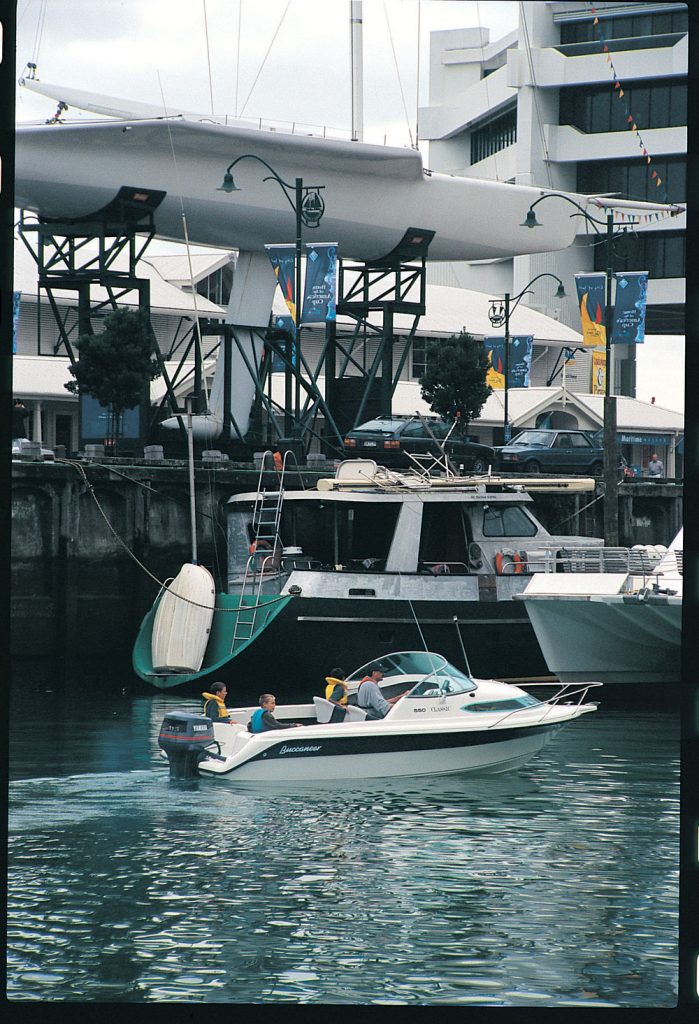 A very plush interior is offered as standard on the 550 Classic with a moulded bunk unit offering three individual storage lockers beneath full length squabs. An infill turns the narrow forward section of the vee berth into a good sized pair of twin berths and if you decide on the optional head then a simple draw curtain across the opening to the cockpit will afford plenty of privacy. The bunks are easily long enough for those that want to overnight.
Further storage is in very wide side shelves that are finished off with deep thickly padded backrests. Naturally with only narrow side decks the simplest way to do your anchoring (unless you have an automatic system) is via the large moulded forward hatch. Buccaneer have thought of that and with a removable centre piece in the squab, it means you don't stand all over your upholstery when anchor.
            I found that during the test, the three kids we had aboard spent a lot of time in the cabin and certainly favoured sitting in there rather than the chilly open cockpit when we cruised across a mirror smooth Auckland Harbour. The return to full windows helps to generate the feeling of more space inside and they are great to look out through.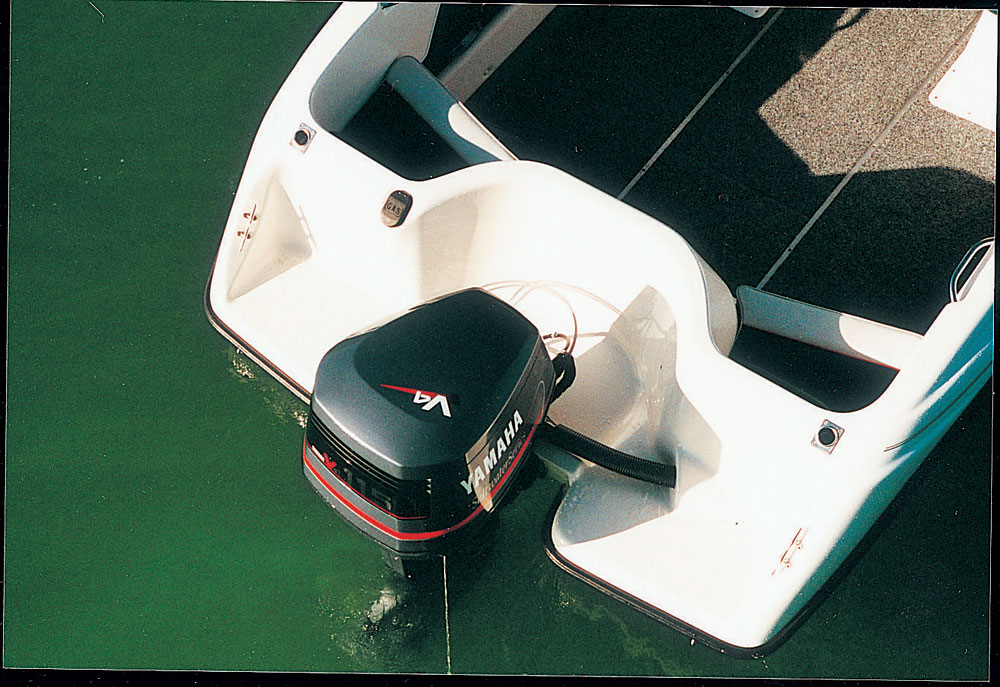 Buccaneer have carried the modern open plan layout into the 550 Classic, rather than the separatist style of twin bulkheads and louvered doors. This gives the boat a very roomy feel and marries the two areas together nicely, with the recessed opening in the cabin top giving easy access to the cockpit.
The standard cockpit seating layout is twin forward swivelling pedestal seats, but you have the option of back to backs or a combination of both. For a fisherman, the single buckets are fine, but with a family I'd go for at least one set of back to backs.
            From the helm position you have excellent visibility all round when seated or standing, with the large three piece, Sand-brook perspex screen doing a great job. It keeps off the wind and spray as well as being high enough to have a clip on a canopy in place without having to squat behind to drive. Moulded footrests either side are a nice addition.
At the stern, jump seats flank the engine well and these can be removed to open up the space and also give access to the storage area under the aft deck. Not only do you get more useable cockpit space when fishing, it means everyone doesn't stand on the upholstery when they come aboard.
            Buccaneer don't cut costs and the finish of their boats is never in question as far as I am concerned. There's marine grade carpet everywhere, from the cockpit sole to lining the storage shelves. Storage is something that is obviously important in any boat and non-more-so than in small runabouts. The 550 Classic has plenty, with the cockpit offering two wide lower shelves running either side, two  shorter upper shelves forward (ideal for my cellphone, keys and handheld GPS) and then a deep central storage locker under the cockpit sole. The rest of the underfloor space is taken up with a a very generous165 litre stainless fuel tank which is an option with the boat. If you need anymore then you can still fit twin tote tanks under the aft seats.
You start to realise the attention to detail when you look at the moulded recess for the handholds, the facia with individual raised portions for the instruments and the slick approach to the whole transom area. The fuel filler is high and accessible and the routing of the steering and controls through the side of the engine well gets everything neatly out of the way. Twin moulded boarding platforms offer easy access aboard for swimmers and divers, although an optional ladder is a must have item.
The Buccaneer 550 Classic is a small boat with a big boat feel. Granted, it's still 5.5m overall, but it seems bigger. The high cockpit coamings, big workable cockpit and volumise cabin area are the secret to its success. What about handling? Thanks to its proven underwater shape, this hull can make some snappy turns, manoeuvre quickly and effortlessly and is very responsive to the helm. In the few boat wakes we experienced it just levelled them without any problems and landed straight and soft. Apart from a 2m short steep wake behind a container ship, we slowed for nothing. The 23 deg deadrise hull has two strakes per side, flat chines and a central running plank that tapers away forward.
            The 550 Classic with the Yamaha 115 was quick to plane and stays up there even as low as 2500 rpm. Flat out at 6000rpm, with two adults and three kids aboard, plus a full tank of gas, we just managed to hit 44 mph on the Yamaha speedo. Interestingly with only one aboard a gain of only3 mph was registered.
The boat is rated from 115-150hp, with a V4 130/140hp probably being the pick of the power options.
CONCLUSION
Buccaneer Boats have always been something of a leader in the business and not afraid to try something different. Good examples are the Billfisher series and the recently released 635 Esprite DC. Not that the 550 Classic is radical, it's just a return to the core of kiwi boating. A good wholesome family cabin boat that's unpretentious, stylish, a little different, but still very much a New Zealand boat. As Gerrand says, competition is the best thing for the industry and whilst the finish, style and handling of any boat is important, it's putting something on the market that the vast majority of people really want. Gerrand has answered that with the new Classic series remarkably well.
Model: 550 Classic XL
Price:  $19995 (estimated)
Price As Tested: $21000(estimated)
Designer: Gerry Gerrand
Material: grp
Type: cabin runabout
LOA: 5.91m
Hull Length:  5.49m
Beam:  2.30m
Hull Configuration:  deep vee
Deadrise At Transom: 23 deg
Trailerable Weight:  1330kg   
Engine Capacity: 115 – 150hp
Power Options:  outboard only
Fuel Capacity: 165 litres
Cockpit LOA:  2100mm
Cabin LOA:  1900mm
| | | |
| --- | --- | --- |
| 2500 rpm @ | 7.8 knots | (  9 mph) |
| 3000 rpm @            | 11.2 knots | (13 mph) |
| 3500 rpm @            | 18.2 knots | (21 mph) |
| 4000 rpm @            | 23.4 knots | (27 mph) |
| 4500 rpm @            | 26.9 knots | (31 mph) |
| 5000 rpm @            | 30.3 knots | (35 mph) |
| 5500 rpm @            | 34.7 knots | (40 mph) |
| 6000 rpm  @           | 38.1 knots | (44 mph) |
Wide body hull, deck hardware,  fully lined cockpit, wiring loom, 4 way switch panel, bilge pump, navigation lights, interior light, polyurethane foam filled hull, mechanical steering.
Underfloor fuel tank, cabin hoodlining and infill squab
Make: Yamaha
HP: 115
Model: Saltwater Series
Cylinder Type: V4
Max RPM: 6000
Propeller: 17"
Retail Price: $12195
Make:  Voyager
Model: A18
Braked: no
Suspension: Duratorque
Rollers: Multi-roller
Features: Dip lights, trailer plug holder. 5:1 Trojan winch.
Price: $4000