SERIOUS ABOUT FISHING
Buccaneer Pleasure Craft Ltd of Hamilton recently released its new 650 Billfisher at the New Zealand Boat Show. As expected, as a Billfisher it has a strong fishing pedigree. Freddy Foote checks out the new model and even has a chance to drop a line in the water.
The new Buccaneer 650 Billfisher shares the same hull design as the previous 635 Billfisher, which is also common to the successful 635 Exess and Esprite models. The philosophy coming from Gerry Gerrand at Buccaneer is that if it is working well there is no point in re-inventing the wheel.
The cabin is voluminous and airy for a walkaround and didn't in any way feel claustrophobic when the bi-folding door was shut. The bi-fold door is a great feature and provides the necessary privacy for anyone using the toilet and also means you have somewhere to secure your gear when you're away from the boat. Being a serious fishing boat, this feature is great for the fishermen who fish the regular tournaments.
Other features in the cabin include an infill for the V-berth, which would enable two adults to overnight reasonably comfortably if needed. It's quite a step down into the cabin, which is also a great place to quickly store gear.
The seating arrangement is a standard configuration, being two forward pedestal seats, mounted on a GRP base with storage underneath. Two aft facing passenger seats are positioned quite low, and underneath the removable squabs, vertical hatches provide access to the cavernous storage locker underneath. This can also be accessed via lockers in the front section of the seating arrangement.
As you would expect from a serious walkaround/fishing boat, storage throughout is excellent, with moulded side panels designed for rods and gaffs. There are a couple of smaller trays which are great for keeping keys and cellphones safe and dry.
Under the cockpit floor a huge hatch lifts upwards on gas-stays and houses a large removable plastic fish bin.
Like the 735  Billfisher, the 650 has some fairly hefty scuppers fitted to drain out any excess cockpit water; another point to note is that the 650 also utilises a fully moulded GRP hull liner and the hull is also foam filled using Polyurethane closed cell technology.
When released at the 2007 New Zealand Boat Show, the 650 Billfisher was released in two versions, the hardtop model that we tested here, and an open version. The open version has a number of benefits, being open and airy, and I'd say a number will be set-up with a folding rocket launcher arrangement; a great feature for those where storage space is an issue.
The hardtop model that we tested provided plenty of protection, and headroom; I'm 6'1" and I found I still had plenty of head clearance above. A roof hatch is fitted and was quite easy to open and shut, allowing a bit of air to circulate through the helm area whilst underway. I would maybe like to see some side windows also fitted to provide some added air circulation. However the lack of side windows is a design feature that Gerry doesn't think is a necessity in a boat of this size; in fact there aren't side windows in the entire Billfisher hardtop range.
A Quick rope/chain anchor system allows all the anchoring to be done from the helm, and although there is excellent access forward around the bulwarks there is little need to go around there at all.
In relation to the cockpit sole, the coamings are slightly lower than on previous models, because the sole has been raised. Some say that they are too low for a serious fishing boat, but I fished out of the boat and I didn't find them too bad. Thigh padding on the inside of the coamings is a nice touch.
Aft, a large fully plumbed live bait tank is a huge feature for the 650. It is accompanied by the large bait board mounted above and a separate locker located in the starboard aft corner.
Built into the transom, two lockers on either side of the bait tank house the boat's on-board systems, such as oil tanks, wash down pumps etc. A tap for the washdown pump is positioned to the port side of the bait station.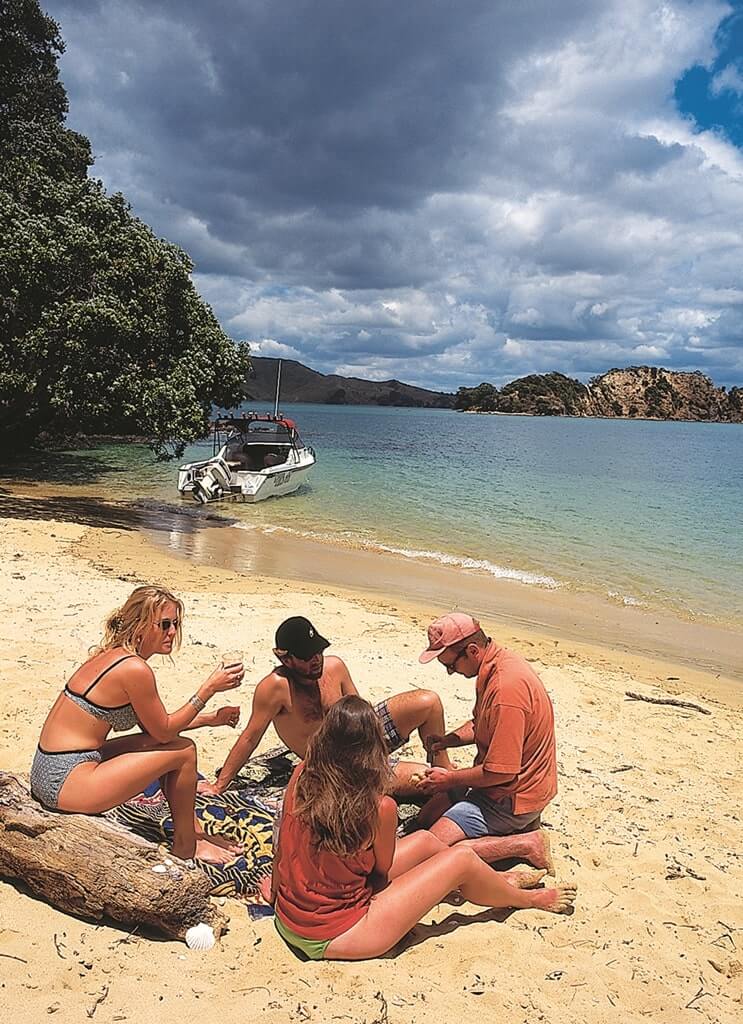 Our test boat was Buccaneer's own promotional boat, which is used by the Gerrands at various fishing competitions in the Bay of Plenty and Northland. Father and son are relatively serious fishos and they plan to spend a fair few hours in the 650 gamefishing.
With a reasonably deep 21-degree hull, the boat is designed to handle more than moderate sea conditions – the sort that are inevitable when you fish offshore. The running surface has two strakes per side, with a double chine arrangement and a wide ski plank down the keel.
Whilst test day conditions didn't allow us to revel in any seriously rough water, our past experience with the 635/650 hull has always told us that the full bow sections will part the swells nicely when running into them and in following seas you'll feel in full control with no hint of bow steering.
The test boat was fitted with a Yamaha 200hp four-stroke, the largest horsepower for which the 650 is rated. The 200hp four-stroke topped out at 48.5mph @ 5900rpm swinging a 19" saltwater series propeller. The 19" prop was fitted to enable more control at slower speeds when game fishing, an activity that the boat is intended to spend a lot of time doing. The 200hp four-stroke performed well right through the rev range. You could opt for an engine as small at a 150hp, but with the extra weight of the hardtop and the new GRP inner liner I think the 200hp is about right.
Since the boat is a gamefisher, we took extra note of fuel consumption of the 200hp four-stroke.
2000 rpm – 9.0 mph @ 9.5 L/h
2500 rpm – 11.0 mph @ 16.7 L/h
4000 rpm – 32.5 mph @ 32.5 L/h
5000 rpm – 41.5 mph @ 54 L/h
5900 rpm – 48.5 mph @ 72 L/h
Test day was one of those magical spring days on Auckland harbour, with hardly a breath of wind and mostly clear skies. Wade had towed the 650 up from Hamilton, and we launched the boat at the Westhaven ramp. After we got our speed runs out of the way, we liaised with our camera boat at Rangitoto, and had a quick fish around the lighthouse. Not much was happening there, so we continued on around Motutapu Island and found a spot that the Raymarine sounder indicated to be some fish sign on the bottom.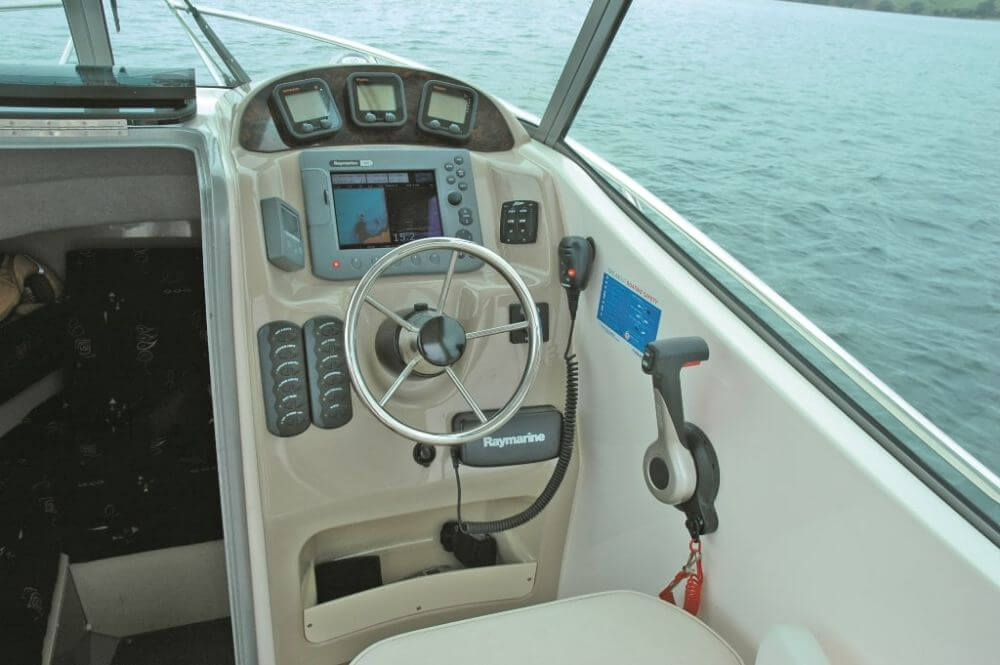 Wade had a crack with soft plastics, whereas I persisted with the better known bait set-up. We both caught some fish, but they were a bit small.
Whilst the Buccaneer 650 Billfisher is still a serious fishing walkaround, it's a vessel that Buccaneer intends for not only the serious fishos but also the more family orientated fisherman as it's a boat that caters for both segments very well.
Model: Buccaneer 650 Billfisher
Price as Tested: $126,000
Designer: Gerry Gerrand
Material: GRP
Type: Walkaround
LOA: 6.76m
Beam: 2.42m
Deadrise: 21 degrees
Hull Configuration: Deep V
Trailerable Weight: 2160kg
Height on Trailer: 2.95m
Engine Capacity: 150-200hp
Power Options: Outboard
Fuel Capacity: 240L
600 rpm
 
3.5 mph
1000 rpm
6.0 mph
1500 rpm
8.0 mph
2000 rpm
9.0 mph
2500 rpm
11.0 mph
3000 rpm
15.5 mph
3500 rpm
28.0 mph
4000 rpm
32.5 mph
4500 rpm
36.5 mph
5000 rpm
41.5 mph
5500 rpm
46.0 mph
5900 rpm
48.5 mph
Speeds recorded on a Lowrance GPS and rounded off to the nearest 1/2 mph.