A few years ago a mate of mine said to me that having a boat without a flybridge was like having a car without wheels. You can't have one without the other. Well I don't agree and when you look at the growth in sedan topt ype cruisers I am not on my own.In his mind sedan style cruisers were simply a waste of space and lacked the practicality and usability of a fly bridge. Well, each to their own,but in my opinion a sedan style boat is on a par with a fly bridge for practicality and usability – it just gets down to what you like.
Over the summer I spent some time in the Bay of Islands and I saw a lot of sedan style boats parked up in the many bays of this magnificent boating paradise. One night alone, there were close to 100 boats moored in Waipiro Bay, of which about half were power, and at least a third of those were either sports sedans or classic style sedans. Plus, not only were there plenty of production boats, but also quite a few custom one-offs.
It's really only in recent years that we have seen such a proliferation of sedan-style boats, and more and more offerings are coming our way. Initially we had the straightforward sport sedan that was essentially the flybridge model but with the flybridge removed. 
This is very much like they still do today and in fact in this issue we have a feature on the new Maritimo 50S, which is almost the same as the flybridge 50M version, but with a flat roof instead. This has grown into a huge variety of models with sports sedans now, right up to 27m.
Then there are the Down East cruiser style sedans, such as the likes of Palm Beach, Back Cove, Hudson Bay and Salthouse Corsair that present a very different type of boat to the sedan cruiser and date their lineage back to the earlier Down East cruiser made so popular on the Eastern coastline of the US. These were initially native to coastal New England and are also called lobster boats or picnic boats as coined by Hinckley, one of the first to develop this style for the recreational market.
In more recent years we have seen a growing number of classic sedans, such as those offered by Alaska, Integrity and Grand Banks. They are designed as serious coastal voyaging boats for those who enjoy long stays away with extreme comfort and very practical layouts for living aboard. They are often single engine, displacement in design and return good cruising speeds. Not the fastest boats in the marina, but often the most fuel-efficient.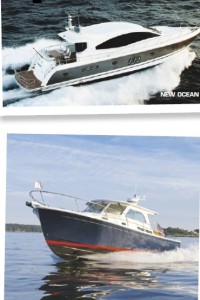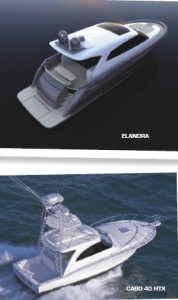 When looking at hardtop cruisers it would be remiss to not include power catamarans. While the majority of those found in this part of the world are custom designs, there is a smattering of production power cats available overseas.
If you can't find what you want in the many production sedan boats on offer then there is always the custom one-offs from local and overseas designers.
Roger Hill, Bill Upfold, Scott Jutson, Alan Warwick and Scott Robson are just a few of the leading designers that will design you a sedan power cat or monohull exactly as you want it. 
Our listing includes 26 production brands and 114 models, from 10m to 27m, and when you add the hundreds of options from designers, the choice is immense. For the purpose of this article we have only included sports sedans and classics with a fixed solid hardtop, although many of the mentioned models are also available with soft tops and clears. In part two we look at some of the sports sedan custom options available from local designers.