Sports Yacht, Sports Cruiser or Sedan Cruiser, they come by a variety of names, but essentially they are a flybridge boat without the flybridge. Flush top designs with sliding sunroofs or sometimes with a sundeck, they are an ever expanding sector of the big boat market. They are not restricted by size and are available from 9m through to 40m. We have a look at what's on offer at the top end and suggest things to look for if you are considering purchasing one.
A friend of mine, told me years ago, that a launch without a flybridge was like buying a car without wheels. You can't have one without other. While I never agreed with him and have always been a champion of the sedan or non-flybridge boats, production sedans back then were indeed in the minority. How things have changed.
It wasn't so many years ago that if you wanted a launch/cruiser without a flybridge, you virtually had to get something custom designed and built. While that option is still available and very active, especially in New Zealand with designers such as Bill Upfold (Elite Marine Design) and Scott Robson (Robson Design), there are now plenty of production sports sedan style boats on offer from some of the world's most recognised brands.
PPB has run many features and reviews on this style of boat in the past so we thought we would refine our search this time to one of the most popular size ranges, 17m to 25m. We have identified sixteen production builders that collectively offer over 30 models from the 17.46m, Riviera 5400 Sports Yacht to the 23.50m Whitehaven 7500 Sports Yacht. Plus we have added some custom options should you want to be a little different from everyone else in the marina.
New Zealand based Maritimo Sales Consultant Aliaster Hool, says that there has been a real surge in recent years in sedans and sports yachts and a solid uptake on the recently released Maritimo X60.
"We have already delivered the first two to local clients and have interest in more. These follow a number of S59s and an S70 sold last year and right now it's about 50/50 on enquires for flybridge or sedan cruisers", says Hool.
Maritimo Marketing Manager and lead designer, Tom Barry-Cotter said 2018 has seen strong sales across the range.
"Certainly the international premiere and subsequent promotion of the X-Series models has added another layer to our range, which has resulted in very positive sales results," he said.
Barry-Cotter added that the Sanctuary Cove International Boat Show in May  2018 generated the most substantial sales value from any boat show in company history. He said the bulk of the company's sales are coming from Australia, New Zealand and North America.
"We have seen sales increase 10% this year from the past year and we expect an even larger increase next year with the introduction of X-Series (X60 and X50) into North America, Europe and Asia."
Riviera has been building sports yachts for a long time, with the biggest being the extremely popular 6000 Sports Yacht. Liam Power, from R Marine Flagship, Auckland says that currently, over 60% of new boat sales are for either Sport Motor yachts or the SUV sedans.
"We are seeing a lot of new people to boating and the sedan style has a lot of appeal, with the 5400 and the 6000 amongst our best selling models", says Power.
He added that with the advent of stern based engines, i.e. Volvo Penta IPS, there is now a lot more accommodation available and one of the other benefits is being able to provide sufficient cabin headroom, the saloon floors have been raised and accordingly the height of the helm.
"The elevation of the saloon, dining, helm and galley is so much better than it used to be, and while you're not up as high as a flybridge, you still have great visibility all round".
So What's The Difference?
As already mentioned there are different accepted design descriptions; Sports Yacht, Sports Cruiser and Sports Sedan. So what's the difference? A Sports Yacht conjures up a sleek, sexy, go fast style that has the performance and handling to match its sporty looks. That means it should be agile and active when driven fast and by fast, it should do better than 25 knots and probably 30 knots is the magic figure. However, it also needs to be able to cruise at a reasonably high pace. These boats are about getting there and back in a hurry! If it's all about speed then the Italian marque Pershing has bragging rights with their P62 and P70 both 46-knot boats.
Sports Yachts are modern, with design lines and style that often break with convention, yet still, offer the internal attributes of a wholesome cruising boat.
Australian manufacturers, Whitehaven, Riviera and Maritimo all have a range of Sports Yachts, as does brands such as Pershing and Azimut from Italy, Sunseeker, Fairline and Princess from the UK and Cruiser and Galeon from the US.
The Sports Cruiser or Sports Sedan are really one in the same and present a more traditional style. However, while their external appearance may give the impression of being a sedate cruiser, don't be fooled, most are pocket rockets. One of the most successful exponents of this is Palm Beach, with their PB55 capable of 42 knots.
Whether it's a Sports Yacht, Sports Cruiser or Sedan, they generally feature on level living with accommodation forward. Dedicated cabins are another necessity and depending on the size of the boat that would usually be anything form 2-4, with 2-3 bathrooms. It is essential that the saloon is well set out and there is enough space dedicated to the galley, dinette, helm and lounge areas. Bigger the boat the more prominent the saloon and in most cases this also applied to the accommodation spaces.
No matter what boat or style you are considering you need to make sure that the layout and design suit your requirements. Some may be more suited to entertaining, while others are more about cruising comforts.
Are you more interested in speed and want to go everywhere in a hurry and don't mind the horrendous cost of diesel, or are you more into the creature comforts and having all the luxuries when you are moored up for the night?
These boats are a balance between a cruising boat layout wrapped up in a performance hull. It's neither one or the other, but while being a compromise, if it's designed right it features the best of both mediums.
One area that is also important to consider is the cockpit. This is your only outside area as opposed to an open flybridge which gives you all that extra space up above. Even with an enclosed flybridge you usually have a small Juliet deck aft and obviously more internal living space.
With some of the production boat builders, the cockpit, saloon and accommodation spaces are not much different to what they offer in a flybridge model based on the same hull. The staircase to the bridge is obviously gone and an internal helm has to be added (some already have this), but when it comes to the cabin's forward they often remain unchanged. 
Overall, the issues of usability don't really change that much between a flybridge and a sports sedan, it's just you have a little less space to do it all. You can still fish, dive, cruise, overnight and entertain.
Designer Bill Upfold says that one point worthy of note from a design aspect is the low centre of gravity in this style of boat, without all that weight aloft they are a much more stable platform.
"They are generally far more astatically appealing as well, not having the bulk of an enclosed bridge. I normally increase the relative height between waterline and saloon top on a sedan over a fly-bridge, adding to the internal volume simply because you can get away with it, a classic example would be the first "Highlander", says Upfold.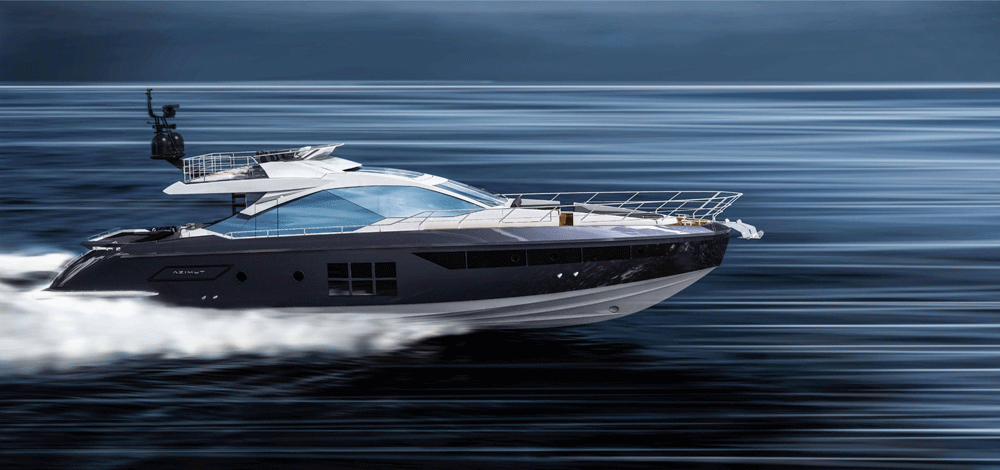 There are three models in the Azimut S Collection, with the S7 and the S77 both offering open sunbridge layouts, with the new S6 the only full sedan. The S Collection blends a sporty look with elegance thanks to innovative high-tech solutions and high-performance materials with liberal use of carbon fibre. The stylistic high point of the collection is the dynamic bow cap and also that all three are powered by triple Volvo Penta IPS.
If you liked the Belize 54, then you are going to love the Belize 66. The new model builds on the heritage, first unveiled in 2011, of a luxury motor yacht that evokes the styles of a bygone era of yachting, of gleaming hand-crafted interiors and, most importantly, of individuality. Available in sedan or daybridge models, the Belize 66 offers three or four cabins with a large aft utility room or optional crew quarters. Power is delivered by Volvo Penta IPS. 
3. CRUISER American Muscle
The Cruiser 60 Cantius is the largest sedan in the Cruiser range and packs a lot into the space. Separated from the upper saloon by full-length sliding glass doors and covered by a retractable sunshade, the cockpit is the perfect way to extend your entertainment venue. Inside there are three staterooms and two bathrooms, plus a large saloon. The side windows in the hull are a unique feature of the boat.
Sporting a majestic profile and sculpted lines, the Targa 63 GTO is a spectacular award-winner, and the biggest of five model Targa range. Sharing the same striking appeal as the Targa 63 GTO, the Targa 63GT offers more indoor space so you can socialise on a bigger scale in the extended saloon.
5. GALEON Fulfilling Dreams
Galeon's 650 Skydeck is bound to with its many features and innovations when it comes to space distribution, volume and functionality. A twin model of the 640 FLY it pushes the envelope even further with the addition of the glass sunroof and a top deck that can be closed off completely.
6. LONGREEF Attention To Detail
Longreef Yachts offers a range of models to match the lifestyles of luxury boating enthusiasts everywhere, including the 60SY. This 18.29m sports yacht combines a refined hull design that delivers smooth, economical and effortless running at speed with an elegant engineering and powertrain system.
7. MARITIMO Aussie Masterpiece
Maritimo offers six models in the sports yacht market, from 16.19m through to an impressive 21.51m. Their latest creation, the X60 is proving to be one of their most significant selling models in its size range and is a whole new look for this well established Australian builder.
The X60 and soon to be released X50 are a blend of functionality dressed in a powerful form.
8. MONTEFINO Kiwi Connection
The MonteFino R 60 Cabriolet is a new model from KhaShing Enterprises to add to  their range of vessels from 14m to 40m. Designed by New Zealand's Scott Robson, it has a unqiue style that makes a statement.
Standard layout is three cabins with full width owners suite complete with a good sized ensuite with his and hers sinks and a large shower. The saloon has the galley aft with lift up window and fold away multiplane glass doors to create flow through to the cockpit There is seating forward in the saloon with a dinette to port and another settee to starboard .
9. PALM BEACH Traditional Style
Unquestionably one of Australia's most enduring sports cruisers, the Palm Beach has few equals. It is a brand that defines traditional sports yacht design and has the exceptional build quality and craftsmanship, coupled with an outstanding performance and handling to set it apart from others. There are four models in the range from the B42 through to the PB65.
10. PERSHING Speed Machine
If there is one attribute that all Pershing boats are known for it is speed. Italian built to the very highest standards, there is none quicker than a Pershing. Speeds around 46 knots are standard, thanks to the surface piercing drive and massive horsepower. Some models are also available with sun decks.
11. PRESTIGE The French Connection
The Prestige 560 S offers an exceptional interior layout with a large living space on a single level, a large sliding glass door opening onto the cockpit and a large opening glass sunroof. The 560S is the largest in the five model Prestige Coupe range. Its sports profile also offers a large and comfortable sundeck.
The Princess V Class is a paradox of active power and exclusive luxury. There are six models from the V40 through to the V78. Their elegant lines encapsulate an expansive and sociable cockpit arrangement, with spacious and luxurious interiors. The all-new Princess V78 is the flagship of the V Class range.  The V60, V65 and V78 are also available in a Sports Class.
13. RIVIERA Top of the Class
Australia's largest big boat builder, Riviera have a stack of 'sedan's with four Sports Yachts and four SUVs. The flagship, 6000 Sports Yacht's sleek design is widely acclaimed as a high-performance yacht akin to a six-star luxury resort. The sporty and adventurous Riviera SUV series opens up a whole new world of boating enjoyment for both the avid angler and cruising entertainer.
14. SABRE Something different
The largest and most luxurious Sabre motor yacht to date, the Sabre 66 Dirigo is the first American-built Downeast-style motor yacht of this size on the market. From her functional foredeck to her spacious and comfortable cockpit, she is every bit a Sabre. She features comfortable and functional living spaces, an airy galley and three berths.
Hot off the drawing board is the new  ICON 54S motor yacht. The 5.65m (18' 7") beam and nearly 2m headroom, combined with an extensive list of standard features, make the ICON 54S one of the biggest volume vessels of its kind. Features include a midship's full width owner's cabin and optional four cabin and three cabin layouts. A dinghy boot and hydraulic boarding platform for easy use and tender UV protection is standard as is a cockpit retractable sun shade. Conventional drive and IPS/Zeus pod drive options are available.
The Predator range is an instant head turner in any waters, the combination of precision craftsmanship and cutting-edge design ensure the fastest Predator models achieve speeds over 45 knots. There are three models, Predator 50, Predator 57 and the stunning Predator 74.
16. WHITEHAVEN Maturing with Age
Another leading Australian luxury builder, Whitehaven have a wide range of sports yachts, sunbridges and coupes, from the 19m to 23.5m. Every boat is handcrafted to the highest standards and is ideal for those looking for a single level, stylish appearance and superb performance.
17. WARWICK Custom Creations
Warwick Yacht Design has always had a reputation for penning awesomely stylish sports yachts and their W70 and W80 are no exception. In fact, the same theme is carried on to even larger versions; W90, W108 and the W130. Being custom built, each vessel is a reflection of its owner so you can have exactly what you want from the layout to the power. 
If you are looking for a custom creation, then check out these two from Elite Marine Design. Taking a somewhat conservative approach, this 18m Elite Sedan is likely to appeal to the more seasoned boaters looking for comfort over high performance. Ideally suited to a sub 20kt cruise which would be achieved from a pair of 600hp diesel. Being of generous proportions, the focus is on large living and accommodation spaces. This design would be well suited to ocean passages as well as coastal cruising.
With it's up to the minute styling and good looks, at 20.5m this Elite Sports Yacht would be a stand out in any anchorage. The emphasis is on entertaining and comfortable living with the saloon flowing out to the cockpit all on one level. Water sports are well catered for with a garage that can house a considerable sized tender for off boat activities. With cruise speed approaching 30kts, isolated destinations suddenly become very accessible.