The team at Cabo Yachts have made an art form out of building dedicated sport-fishing platforms for the discerning; it stands to reason therefore that their latest Cabo 40 Express moves another incremental step closer to perfection in a game-boat.
Few boat manufacturing companies have been game enough to put all their eggs in one basket and concentrate solely on one particular niche market; even fewer have been anything approaching a success story, but with every new model produced the Cabo Yachts range has bucked that trend, become better and better and more and more 'accepted' by those who demand absolute excellence in their sport-fisher. But just when you thought Cabo Yachts' dedicated team might have reached their pinnacle, they release the next model, which in the case of the 40 Express, was more accomplished again.
Performance is crucial so first and foremost this sport-fisher had to be fleet-footed (fast) and as well, the consummate 'handler' in all conditions; the team at Cabo Yachts found their 'edge' in the absolute guru of high-speed rough-water hull design, Florida-based Michael Peters. Through his design office, Michael Peters Yacht Design – designers of a significant proportion of the World Class One Offshore Powerboat race hulls incidentally – he has developed a unique hull designed specifically around the Cummins/Zeus engine and drive package.
While Cabo claims this latest Cabo 40 Zeus gives its owners this pedigree 'edge' over its opposition, I was just as impressed to see every effort had also gone into presenting this boat in a more embracing manner, so it appealed to a wider audience. Yes, it offered tower and game-poles, an appropriate cockpit and a raised helm level, along with every conceivable fishing feature a sport-fisherman would ever require, but with this model Cabo Yachts appears to have gone the extra yard in adding genuine below-deck creature comforts as well.
One might well suggest that is an overkill considering a sport-fishing boat of this configuration invariably heads back to port after each day's fishing, but for those who want to stay aboard overnight and indeed for those who wish to return the boat back to civilian life and take the family boating as well – this approach appeared to cover all bases.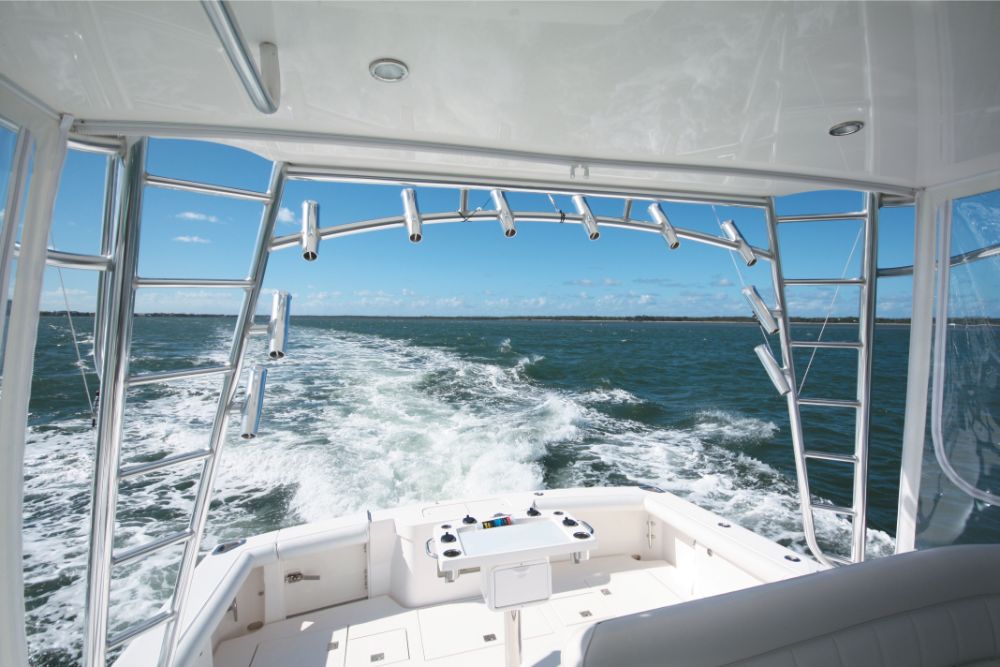 Serious sport-fishing cockpit
There was certainly no mistaking from a distance however, that this was a fairly serious fishing boat, for walking down the marina the ''double-spreader' Rupps Riggers game poles and the associated C-Fab two-level (above the hardtop) anodised aluminium tuna tower did sort of give it away. In true sportfisher tradition there was no boarding platform, but nonetheless it was still an easy climb on board, over the lower coamings that are so much a part of the rich tapestry of a bonafide sport-fisher.
The whole cockpit which incidentally I roughly paced out at 4m x 3m, was in fact all about fishing and quite unashamedly, in this respect nothing else mattered. There was plenty of storage space in the side hatches and the two moulded in-floor kill tanks complete with plumbing, macerator pump and refrigerator and/or freezer plate if you required it, were large to say the least. The two hatches at the rear provided access to the Zeus drive (smaller hatch of the two) and to the lazaretto which housed the steering and provided copious wet storage space. The slightly smaller fuel tank (to make way for the Zeus configuration) sited effectively between the two carbon-fibre drive shafts, was in the bulkhead void between the engine bay and this aft lazaretto.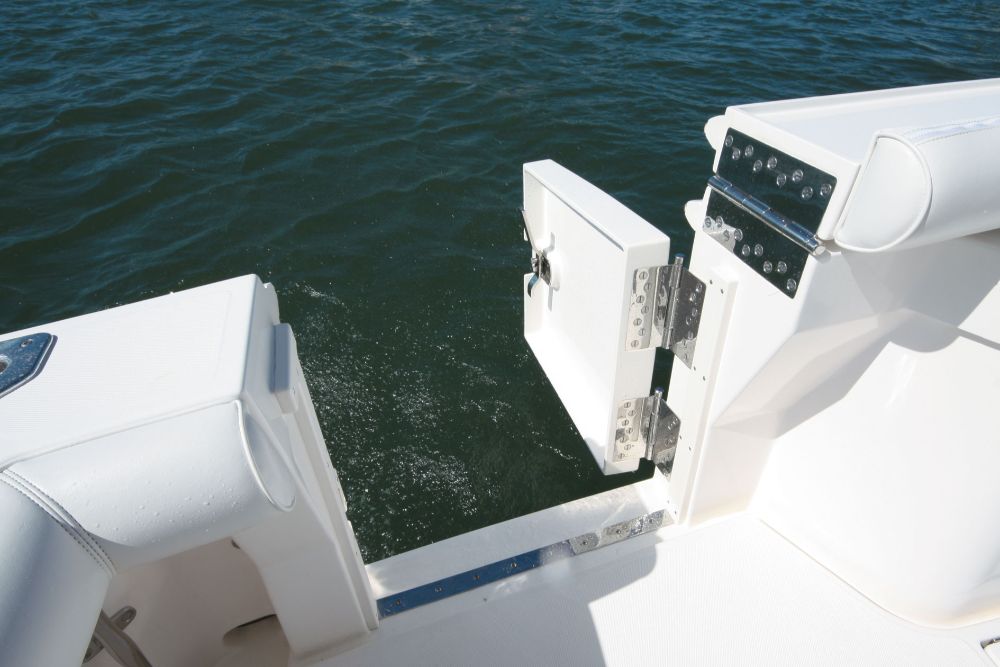 The outward-opening transom door and its associated bridge were strong enough to withstand the associated pressures involved when backing up; and the 316 S/S hinges, well, they would support the harbour bridge! Here I got my first evidence of attention to detail too; the hinge screw slots were all aligned.
The American 'Release' game-chair was in this instance temporarily replaced by a stand-up light-tackle 'station'; the other noteworthy aspect at the transom end of the cockpit, apart from the padded coaming bolster pads and flush coaming-top hawse hole each side which prevented (tackle) lines snagging, was the 180-litre live-bait tank. Complete with pump and aerator, it was more a bath than a live-bait tank – it was huge, exaggerated perhaps moreso by the inspection window which added another dimension. And for those who felt the need to venture forth onto the bow, an easy step up, grab handles, a reasonably wide walkway and a very sturdy bowrail assembly – ensured it was a safe exercise forward to the anchoring feature at the bow.
The crowning glory of the whole fishing package was the magnificent and easily accessible ladder and tower assembly with the rigging-poles off to each side; but not far behind these was the module where in effect a saloon bulkhead on a flybridge or sedan cruiser might normally be. A busy unit to say the least, two lids lifted to reveal a fridge/freezer on the starboard side of it, and a sink (with a retractable tap on a hose) and preparation board to its left.
An unobtrusive locker door in the face below the cutting board opened to reveal not a simple storage cupboard but a proper rod-storage locker complete with saddles, which would accept six rod and reel combos up to 2.2m long. This was definitely a most practical use of space, as was the void on the other side of the steps to the helm level, that was utilised as an ice-box or if you preferred, a fridge/freezer combo.
There was one other not-inconsequential item that remained obscure, until that is Australian Cabo distributor Game and Leisure Boats MD Graham McCloy explained that the engines were under the helm on the next level up from the cockpit. This whole 'floating floor' in fact hydraulically lifted as one to provide very good access to an engine bay that was to the point of being almost obsessive in its presentation and general attention to detail. "Nothing is left to chance," McCloy explained, "These boats will be subjected to a much harder life than normal, so everything has to be built accordingly."
He definitely wasn't exaggerating about this robustness aspect; features such as braided aircraft fuel lines, the unique 400mm diameter by two metres long carbon fibre drive-shafts, the extremely good access to the engines and mechanical peripherals, the clearly labelled and neatly laid out hoses, S/S tubing and wiring looms, the rubber grommets where these hoses passed through body members, the white gelcoat finish and the fans and lighting – were all clear evidence of a manufacturer who went the extra mile to ensure its product was up to the task.
Within this engine bay the mechanical specification was impressive; Mastervolt 24V/60A battery charger, 4.7kW of Cruisair air-conditioning, a battery bank of six 105Ah Lifeline house and engine batteries, a Fischer Panda 10.5kVA Genset, a 50L hot water cylinder, Reverso oil change system, salt water 'filter' vents in the sides, engine-driven bilge pump (just in case a wall of water does end up in the engine bay) and of course the engines, a pair of 600hp Cummins QSC-600 diesel engines driving through Cummins/MerCruiser Zeus pod-drives.
Twin 600hp may seem a little under-done but remember these engine and drive combos with their twin-prop thrust are reputed to offer a 20% increase in performance, over conventional shaft drives. Put to the test, any reservations were dispelled the moment I opened the throttles, for this 12.7 tonne composite GRP package returned a most respectable top speed on my GPS, of 33.5 knots. Down 3.5 knots on what McCloy achieved during initial sea trials, due to 'growth' on the props, it was still however a sprightly trip up the bay in the gusty and choppy conditions on the day of our test.
It definitely handled like a thoroughbred, it turned well in an aggressive turn, it ironed the chop out without the slapping and banging I expected in those conditions and best of all it was a dry boat – important when you have an open cockpit. For those considering a full day of sport-fishing, at a trolling speed of 7.4 knots at 900rpm the Cabo burned 12L/h and at a remarkable cruise speed of 31 knots @ 2500rpm, consumption rose to 140lph. Wound right out it 'crept up' to 250lph.
Just as important as a good working cockpit is to the sport-fisherman, so to is the helm station which goes hand-in-hand with it. In the case of the Cabo this raised level was a tantalising mix of business and pleasure, for while the three Stidd skipper's chairs, grab handles galore, the wind-protecting windscreen and overhead hardtop, the side and front windows which opened to provide good cross-draft ventilation, carpeted floor and the L-shaped Ultraleather lounge – all offered creature comfort, it was also a great working base for the skipper.
Views both fore and aft were as good as you would get and the helm itself was most comprehensive with its two Garmin GPSMap 7015 GPS/plotter/sounder read-outs, Garmin radar and VHF, Cummins Zeus Sky-hook and autopilot, Seastar/Zeus steering, JVC Stereo/DVD, and Mercury Marine SmartCraft engine instrumentation. While this was all great, a number of small features pleased me; the storage and general space available, the reverse-cycle air-conditioning up on this level (by adding the clears and covers package), and the effort Cabo had gone to with the engraved labelling (on a S/S plate) of the switches and read-outs by the helm wheel. There was yet another special feature for the fisherman too; behind the starboard 'skipper' chair was a work-station bench with below it two cupboards which opened to reveal stupendous-sized drawers which masqueraded as the cockpit 'tackle box'.
There was a touch of rugged opulence within the helm level, but down three steps and into the saloon and you were left in no doubt as to the effort Cabo had gone to, to add genuine luxury to the equation. It wasn't a huge room granted, but even a tertiary glance suggested every aspect of the saloon, galley and accommodation area had been addressed accordingly. Décor especially was most pleasant, with a relaxing blend of satin-finish light teak, plush ceilings, leather upholstery and slightly embossed wallpaper – setting the tone!
To portside of the stairs (that lifted up to reveal good storage; Ahhh, that's where the boat manuals are kept!) and in effect directly above the underfloor 360L water tank, was a wall-mounted TV and below it the AC/DC switchboard; further round the wall was the one bathroom which featured a respectable-sized separate head and shower; then further round again and effectively against the hull side, was the galley. Entirely acceptable in the context of a boat such as this, better than acceptable in fact, it featured Corian bench-tops, big sink, microwave oven, two-burner cook-top, side-by-side 140-litre refrigerator and freezer and generous cupboard and drawer storage.
Opposite, on the starboard side of the room was the neat L-shaped leather dining setting and solid teak table, with above it, a row of vented pigeon-hole lockers and alongside it, another cupboard for stand-up storage of rod and reel combos. Rather cleverly this dining setting, without too much hassle at all, transformed into Pullman-style bunk accommodation for two. I wouldn't care to be an adult sleeping on the top wall-mounted version of these two bunks – you would have to be either very tired or very drunk – but it would suffice perfectly adequately for a child.
The last aspect awaiting my perusal was of course the master accommodation in the bow. Presentation and features in here were quite superb; there was plenty of storage space on the shelves each side and indeed in the base of the queen-size island berth, there were his and hers cedar-lined wardrobes, and there were yet more above-berth pigeon hole wall lockers each side. Whoops, sorry team, we're in for a bit of a battle with that latter feature, the 'locker' doors lifted up to reveal not more clothes storage – but yet more rod/reel storage!
There was just so much to like about this Cabo 40 Express from Cabo Yachts. Cabo Yachts' team had nicely transcended the 'fishing boat' ideology and perception with a layout conducive to family lifestyle, yet there was still every conceivable feature discerning fishermen will demand in their boat.
It performed well, it handled exceptionally well – a thoroughbred athlete in fact – and it was definitely a boat built to last, with sometimes unnoticed features such as piano hinges on doors and lockers, positive-latching cabinet hardware, the 1.92m (6ft 3in) headroom throughout, properly sealed cockpit and engine hatches (no water below decks), well secured gear in the engine bay, solid window frames, and heaps of storage provision – including secreted storage for a minimum of 18 rod and reel combos.
Consider endearing additional features such as the Aqualuma underwater lights, the 'Rolls Royce' of 'tower and rigging pole' features, the electronics package, the S/S bowrail and the two additional Stidd helm chairs – and the turn-key price of $1,120,000 must be considered value for money!
Boat Design Name: Cabo 40 Express
Year Launched: 2011
Designer: Michael Peters
Interior Designer:  Cabo Yachts
Builder: Cabo Yachts
LOA: 12.83 m
LWL: 11.89 m
Beam: 4.85 m
Draft: 1.07 m
Displacement: 12.7 tonnes
Max Speed: 37 knots
Cruise Speed: 28 – 31 knots
Construction: GRP composites
Fuel Cap.: 2080 litres
Water Cap.: 360 litres
Engines: 2 x 600hp Cummins QSC-600
Drive Train: Zeus Pod-drive
Propellers: Mercury Marine
Generator: Fischer Panda 10.5 kVA
Charger: Mastervolt 24V/60A
Air Conditioning: Cruisair 4.7kW
Anchor Winch: Lewmar
Anchors: Aluminium Fortress Danforth
Steering: Seastar / Zeus
Engine Controls: SmartCraft DTS
Lighting: Geneico
Paint (Topsides): Gelcoat
Paint (Antifouling): International Micron
Hatches: Lewmar
Wipers: Exalto
Windscreens: Cabo Yachts
Heads: Dometic SeaLand
Wood Finish: Light Teak
Stainless Steel: Cabo Yachts
Tuna Tower: C-Fab
Game Rigs (poles): Rupps Riggers
Trim Tabs: Zeus
Game Chair: Release
Helm Chair: 3 x Stidd
Upholstery: Cabo Yachts
Autopilot: Garmin
GPS/Plotter/Sounder: Garmin GPSMap 7015
VHF: Garmin 200i
Radar: Garmin 36NM
Entertainment: JVC
Engine Instruments: SmartCraft
Software System: Garmin
Switch Panel: Cabo Yachts
Base Price of Boat: $AUS938,000