Author : Barry Tyler
It is easy to conclude that any new model released is sure to be an inviting combo of the latest in design thinking, and the latest in technology. Cabo Yachts co-founder Mike Howarth went one step further, issuing the mandate even before setting out his design criteria, that this 40ft range of which there were to be two models, the Express and now the Flybridge, was to be the best Cabo had ever built – regardless of size.
Big wraps, a bold statement from Cabo for certainly the American manufacturer, an arm of the massive Brunswick Corporation, has built some inspiring unashamedly game-fishing dedicated vessels in the past. But with the market becoming increasingly more competitive there was no time to rest on its laurels – in Howarth's mind it had to now more than ever remain more than just one step ahead of that competition. The original flybridge model had quickly cemented itself as the leading model in the Cabo range of vessels from 10.7m (35ft) through to 15.85m (52ft), so the aim ostensibly was to build on that momentum with something even better.
It was certainly a very big call when you seemingly already have all the features included in your packages, so the innovation would have to come in the form of ground-breaking technology – and approach! My first glimpse of the Cabo 40 was of a classy, well-proportioned vessel, which even from a distance I could see would appeal directly to the serious fishing fraternity. Moored alongside the sibling Express model it appeared to have all the usual prerequisites such as a large working cockpit, a live-well and kill tanks and most importantly, a flybridge level which offered good visibility aft. But so does most of its opposition I thought to myself, so there had to be more to this particular example.
A step aboard and a quick briefing and all was soon revealed, well some of it anyway – it was pod-drive. My profound surprise immediately gave way to anxiety upon digesting this rather influencing 'detail' for I had immediate reservations as to how the resolutely die-hard twin-screw shaft-drive protagonists would react to such a notion. In their minds there is absolutely no substitute for shafts, in a serious game-fishing situation!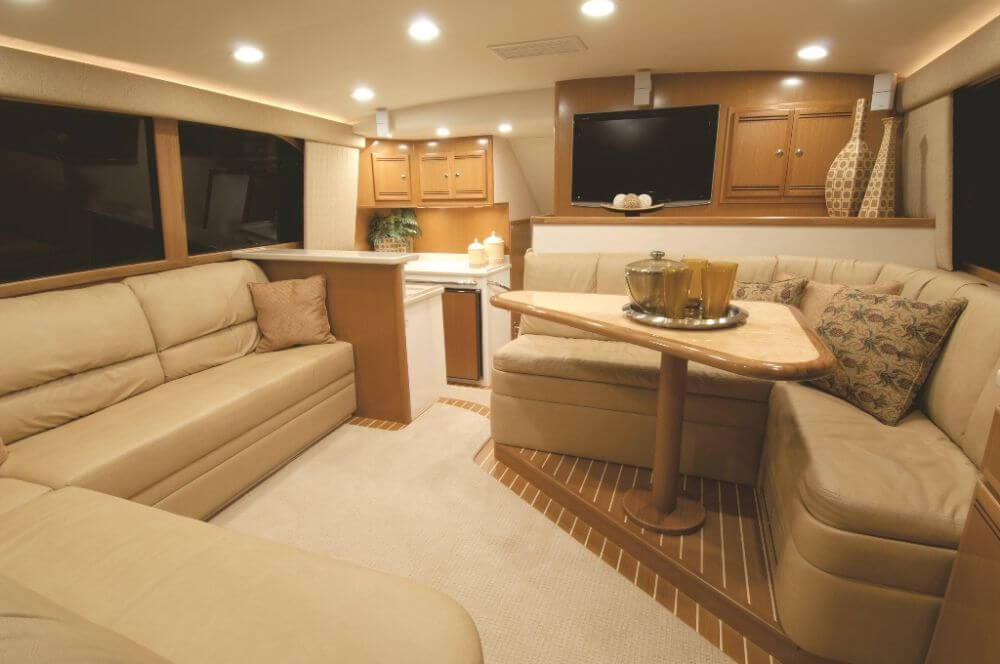 Needless to say the anxiety was just as quickly supplanted by the realisation a company such as Cabo would not have undertaken such a radical move, if it wasn't going to work. You can be sure they would have undertaken countless hours of R&D and testing before it was finally released to market. The other rather obvious and certainly influencing aspect to this configuration I guess, is the cold hard reality that this Zeus 3800 pod-drive system developed in conjunction with the Cummins Corporation, was from another member of Brunswick Corporation's stable of businesses, Mercury Marine. They would most certainly enjoy the inherent exposure this would offer, installed in a purpose-built game-fishing vessel.
Interestingly, the 40 Flybridge and the 40 Express are the only models in the Cabo range that are currently being fitted with this CMD (Cummins MerCruiser Diesel) pod-drive configuration, simply because, so far, 600hp is the maximum power available per drive. The other limiting factor of course is Cabo's insistence that it will not alter the dynamics of the cockpit area, just so that pod drives can be fitted.
This 12.84-metre Flybridge model was designed specifically for Zeus pod drives, whilst still retaining the desired cockpit coaming height, the space beneath the cockpit sole, and the mid-mounted engines. "Some clever innovation has gone into the design and installation of this drive system," Australian distributor Game & Leisure Boats CEO Graham McCloy explained. "The Express hull designed in conjunction with design guru Michael Peters, now features shallow half-tunnels each side of the keel line, specific to this system.
"And to maintain the status quo with the cockpit-sole height and the mid-mounted engines still forward of the lazaretto bulkhead, Cabo has designed a Φ203mm by 2083mm long, carbon-fibre drive shaft to connect the engines to the Zeus drives. A quick look into the cockpit floor hatches above the drive units will enlighten you as to the complexity and enormity of the task," McCloy added. He was not wrong, for the tops of the drives were virtually at floor level, yet cunningly and contrary to what I first imagined, there was still room to service the units.
Having digested all this information the next stage of my familiarity exercise was the crucial water-test and I was 'lucky' to have on hand Cabo Yachts America's very own Dealer Service and Liaison Manager, 'Aussie Joe' Connell. You have heard the saying – he made it sing – well, for the next hour he threw the Cabo around like a jet-sprint boat. Any reservations I had of power, handling, general aptitude and attitude were quickly dispelled, for it literally turned on a dime, it was so predictable, it accelerated like a rocket ship and both uphill and downhill it lived up to its fearsome handling reputation in genuine bluewater conditions. All, I would venture to suggest, were definite prerequisites of a bonafide game-fisher.
With a specific game-fish mode built into the DTS SmartCraft electronic fly-by-wire system, the hull reacted instantaneously to throttle and helm in the not insignificant seas we were encountering, whether in forward or reverse, and I have to say that in backing up you could virtually go as fast as your bravery allowed. The final revelation, in game-fishing, it is ideal for sitting over bait schools and dropping a live-bait to the marlin below. Not perhaps relevant in a game-fishing situation (unless of course in the unlikely event you were on your own), was the 'sky-hook' ability. Managed by the GPS which is built into the DTS system, the Cabo literally remained static, both in position and heading.
With power upgraded from the standard twin CMD QSB5.9-425 HO engines to two CMD QSC8.3-600 HO versions, top speed was a most impressive 36.5 knots – exactly the same incidentally as the Express version running alongside us during the test, which was running twin 800hp through shaft-drive!
Just as impressive as the top speed was the cruising ability, for at its cruising speed of anything from 15 knots to its most economical speed of 30 knots – it was also every bit the lifestyle family cruiser – after hours! Okay, ignore the purpose-designed working 'game' cockpit, which included a veritable 'bucket-list' of features such as the transom live-well, bait-prep station, underfloor kill tanks, integral tackle boxes, ice-box, snag-free coaming tops, self-bailing scuppers, recessed remote helm station and even Aqualuma underwater lights. And ignore also the very much game-fish-orientated upstairs flybridge level encapsulated by the C-Fab hardtop and frames and the EZ-2-C 'Clears' package, which featured twin Bluewater 'skippers' chairs, Rupps Outrigger poles, eight-person guest lounge, Garmin electronics package and helm console mounted far enough aft that it provided sublime viewing of the cockpit below.
With these fishing features and whilst standing at this helm station, facing aft and 'playing' the throttles in game-fish mode and you were undeniably in seventh heaven, but for the ladies, indeed the family and anyone else not interested in fishing, enjoyment for them began up two steps from the cockpit level – inside the Cabo 40 Flybridge Zeus. Yes, as good as it was from a fishing perspective, Cabo has graphically proved you can live a little also – the lifestyle aspect complete with 5kW of air-conditioning, was equally as all-encompassing and adroit.
In the context of a rank and file 40-foot cruiser, the allocation of space for the saloon was erring on the compact side, but more importantly in the context of the massive working area aft in the cockpit, and indeed the flowing accommodation area forward of it, one can only conclude that Cabo has done extremely well to incorporate so much into this saloon. 'Balanced' was a word in fact which sprang to mind when assessing this 'trade-off' for while some designers may concentrate on just one area, and it is easy to do so especially with a game-boat (the cockpit), here a proportionately sensible amount of space has been devoted to each facet.
The schematic layout rendition accompanying this article perhaps best reinforces what I am saying, for you will not only appreciate the space allocation for each facet, but you will also note the innovation of this layout which fully maximises available space. Within the saloon, which exuded genuine 'warmth' through its tasteful contrast of leather, fabric wall panels, plush overhead panels and teak satin wood finish, the triangle shaped five-person dining setting and the lounge opposite were both space savers which left this area free for entertaining.
The galley was separated cleverly, by dropping it down two steps to the accommodation level. U-shaped in layout, the predominantly 24-volt features (fed by the four Lifeline 150Ah Deep Cycle batteries and in the instance for the convection microwave oven the Xantrax 1.8kW/50A inverter/charger alongside the Fisher Panda 9.5kVA genset) such as two-burner cook top, side-by-side AC/DC refrigerator/freezer, combined with the generous allocation of bench, cupboard and drawer space to ensure the most discerning of chefs would be well satisfied.
My other very pleasant surprise came in the accommodation department forward again, where Cabo has resisted the temptation to include a 'bathroom for every occasion'. There are two bathrooms, one complete with vanity and separate shower and Dometic Vacu-flush, and the other complete with vanity and Vacu-flush – leaving (sensibly) more space to devote to the master cabin in the bow and the guest cabin to starboard. Both are tastefully presented with contrasting teak wood, plush panels, carpeted floor and as in the case of the saloon, plenty of down lighting, the additional space allocation allowed for a queen-sized 'genuine' island berth in the master bedroom.
And in the instance of the second bedroom, guests were treated to a double berth below and if they brought one of the cherubs along, a bunk above innovatively pulled out of the wall so as to address the additional requirement. Both rooms also featured hanging wardrobes, pigeon-hole lockers and shelves, DVD stereo, wall mounted reading lamps and of course, air-conditioning.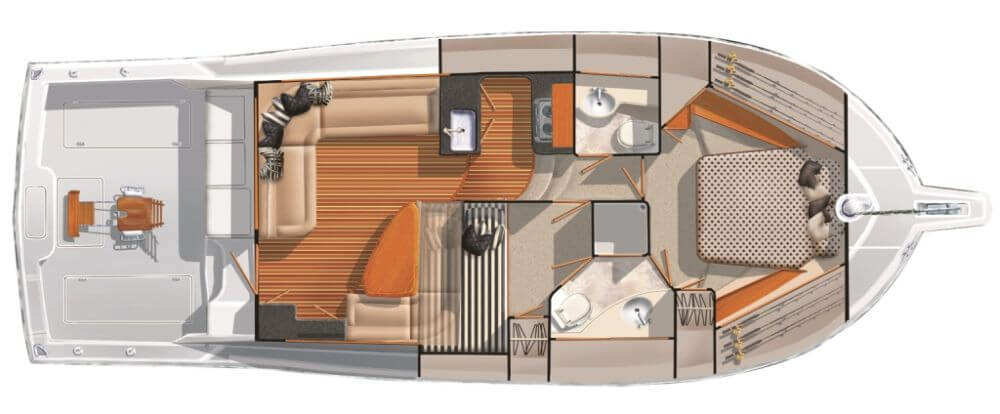 I began this test thinking this was just another game-fishing boat, and came away appreciating just what can be done with imagination and innovation – so as to appeal to a wider audience. Then there was the performance aspect; categorically, I can say I have never ever experienced anything quite like this boat, in the way of performance and handling – it was an absolute revelation. A very nimble craft, the Cabo 40 Flybridge Zeus went like the proverbial raped ape – there was no banging and crashing involved when traversing a head sea, it went well down hill and it handled indecently well when changing direction.
Add to these performance attributes the incredible 'big-ticket list of features such as aluminium tower, game poles and chair, stern hawse pipes, bait-prep centre, rod rack storage (within the lounge base in the saloon), live-bait tank, fish boxes, icebox, self-bailing scuppers, transom door, tackle centre, oil change system, Genset, cable TV, telephone, air conditioning/heating, Corian benches, microwave – and it is very easy to appreciate why this latest model from the Cabo range is commanding such attention.
Design Name: Cabo 40 Flybridge Zeus
Year Launched: 2009
Designer: Cabo Yachts / Michael Peters
Interior Designer: Cabo Yachts
Builder: Cabo Yachts
LOA: 12.84 metres
Hull Length: 12.25 metres
Beam: 4.85 metres
Draft: 1.06 metres
Displacement: 14.5 tonnes (lightship)
Max Speed: 36.5 knots
Cruise Speed: 30 knots
Construction: FRP composite & core
Fuel Cap: 2080 litres
Water Cap: 360 litres
Engines: 2 x 600hp Cummins QSC8.3
Drive Train: Zeus 3800 Pod-drive
Base Price of Boat: $A1.1million (dependent on exchange rate)