When Kiwi international offshore powerboat championship-winning competitor, Wayne Valder decided he wanted a large pleasure cat, he set his sights on something fast. 
"I am coming to the end of my racing career so was looking for something else challenging and a bit more futuristic than a conventional flybridge cruiser or sportfisher.
"I am used to running upwards of 140mph in my MTI powercat on the US offshore circuit, so while I didn't plan anything quite that fast in pleasure boat form, I still wanted something reasonably quick.", says Wayne.

His quest took him to the leading light in high-performance pleasure cats, Roger Hill, who drew up a 20m foiling asymmetrical cat, with enough horsepower to reach around 45 knots. Once the plans were completed, Clevedon based, Scott Lane Boatbuilders were given the task of putting the boat together.
While Scott Lane has an enviable reputation for building Elite monohulls, this 20m Roger Hill design is his first power cat, plus his first all carbon fibre vessel, (hence the branding, Carbon Cats). Scott Lane built female moulds and then sent them to Tauranga boat builder Nic de May Yachts, producing epoxy-infused carbon components. The composite parts were then sent back to Scott Lane's boatyard for assembly. Nina Heatley of Clever Fox Projects was responsible for the composite engineering and details.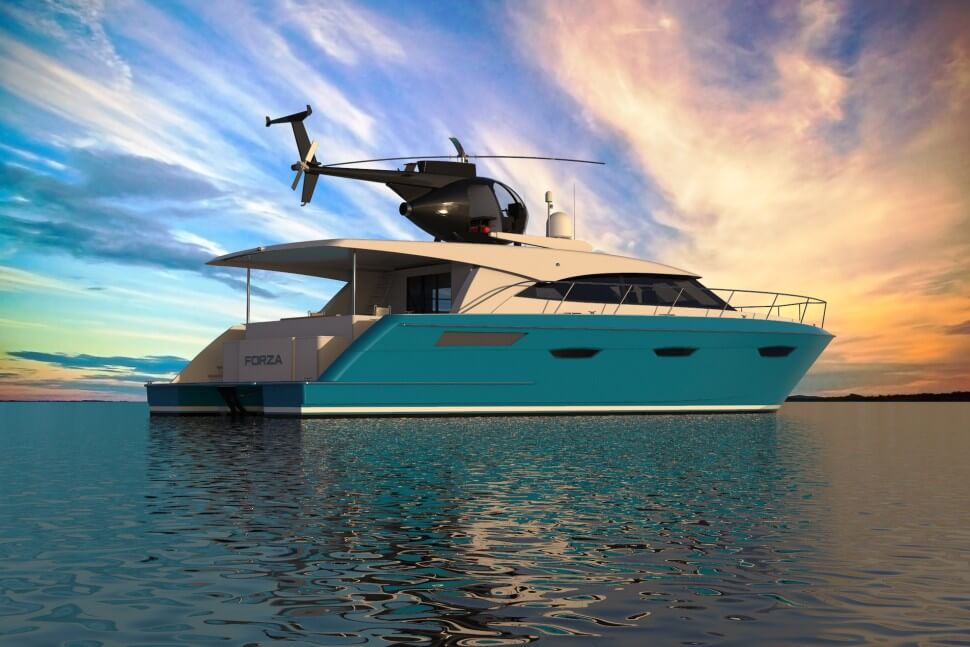 "Essentially the hull is four main components, and we were able to leave the sides off as long possible during construction, so the builders had easy access to the interior and were able to do most of the joinery and fit-out before we closed it all in", says Scott.
There is 40mm of foam core in the running surfaces, 20mm topsides, with all bulkheads, flooring and structural areas infused carbon. Overall displacement fully loaded will be around 40 tonnes. The current mould can be stretched out to 22m with an additional 600m wider beam. LOA is 20.27m, with an LWL of 17.10m, maximum beam of 6.70m (1.98m hull beam) and a draft of 1.47m. 
Wayne doesn't plan to build just one boat, hence the set of moulds and already hull #2 is under development. He intends to take Carbon Cats to the world market and has already had some keen interest from local and overseas potential buyers.
"This is the future for boating, and I can see this boat being able to get to Fiji in around 40 hours, and Sydney in 34 hours, which is unheard off in a conventional monohull motor yacht". 
Wayne's plans include having a crack at established long-distance speed records such as the Sydney to Auckland and Around NZ records, both held by the late Ginger Gibbs.
 "Speed and efficiency in bigger boats have always interested me, and after speaking to Roger and learning more about his reasoning for his asymmetrical foiling powercats, I could see we were both on the same page", says Wayne.
Part of optimising the top speed and the economy at lower cruising speeds a lifting foil between the hulls was included in the design. CFD consultant Giuseppe Musca was tasked with analysing the performance and powering requirements and developing a suitable foil design. The carbon foil generates approx. Twenty tonnes of lift at the optimum cruising speed and the trim and ride stability is looked after by a Humphree interceptor ride control system mounted on each transom.
If you want to do over 40 knots in a boat this size, you will need plenty of horsepower. This is provided with a pair of 1300hp M.A.N V8s, on jackshafts, linked to ZF665V gearboxes with 1.97:1 ratio. The driveline is shafts and underwater props with minimal drag P brackets. Fuel capacity is 9200 litres, and the Carbon Cats 20 will also be available with smaller 800hp engines. The vessel is predicted to have a cruising range of 900nm at wide-open throttle. 
Wayne admits that they still have a lot of development to do with the foil and propellers, but all that will have to wait until the boat is launched in a few months.
The layout features a tender garage with a large rise/fall hydraulic platform, plus four cabins, including a full-beam forward master. All accommodation is in the hulls with the master stateroom across the forward area of the tunnel. 
The spacious saloon has a port side galley and lounger with the helm and wet bar opposite. The cockpit is an entertainer's dream with a central table aft, day head and plenty of open spaces. Wayne has chosen a Bentley inspired interior, with the hull painted in Bentley Orange. 
Above the cockpit and access by a fixed set of steps with a flush hatch over is the 'boat deck' and helicopter landing space. This is an extensive deck space area and will also have a davit crane and large tender storage.
If you are keen to take advantage of owning hull#2, at a price of around NZD 5,995,000, contact Wayne Valder: 0274951279 |Scott Lane: 0274765443.
Look for a full review on the new Carbon Cat 20 in a future issue of Pacific PowerBoat.