The two most recognisable and indeed most respected cruiser marques in Australia would arguably be Riviera and Caribbean. While the Riviera name is perhaps more in your face so to speak, the Caribbean name through such models as the flagship Caribbean 47, none-the-less enjoys the same almost cult-like attention.
While today Riviera cruisers are certainly more prolific in production numbers and perhaps in flair and innovation, for many years the Caribbean name has gone virtually toe to toe by way of a product seen as the equal of Riviera in terms of steadfast quality and design innovation. Whilst today a massive injection of capital has seen the Riviera brand now very much in a class of its own, the Caribbean models still enjoy the respect of a very wide audience that would own nothing but a Caribbean. The difference now is that while Riviera continues to push the parameters of design specification and innovation, International Marine continues to build much the same good wholesome Caribbean cruiser it has done for many years.
Building to the same respected company standard it has adhered to for 48 years in fact, where it has built over 37,000 Caribbeans, from small runabouts to cruisers, the major difference perhaps between the two marques now is that Riviera designs, builds and markets in-house, whereas International Marine allows the marketing and entrepreneurial flair and appeal to develop through independent agents such as Sylvania Marina.
International Marine builds the hull, deck and flybridge interior and exterior to a 'standard' level of specification, then in the instance of Queensland and NSW allows Sylvania Marina through principals Paul and Nathan Ghosn to then take the model to market by fitting all the necessary after-market 'goodies'.
Sylvania Marina as the name suggests is in fact a full-blown marina boasting a slipway and workshops. The company is able to value-add the Caribbean package with items such as teak flooring, electronics packages and the myriad of other creature comforts that raise the boat up to the level of opulence expected in a boat such as this brand new 47 Flybridge model. All work is done in-house within this marina, so the quality aspect can be addressed the whole way through the re-birth.
The Ghosns are perhaps understandably more excited than normal about this new model as in this instance whilst stopping short of enjoying an 'open cheque book' situation, the equally enthusiastic owner did however allow them hitherto unprecedented design and specification freedom. "It certainly helps when you have a discerning owner who enjoys the finer things in life," director Nathan Ghosn explained, "for we were able to fit appropriate appointments and specification of equipment, in each and every instance. The magnificent 'Release Marine' game chair that is the focal point of the rear cockpit, is just one such example. We really enjoyed the fit-out of this particular Caribbean!"
The interesting aspect of this vessel though was the actual cost, especially considering the above. Here we had a boat that seemingly had everything one could ask for in a production vessel, yet it still came in around the magic $1-million mark. But what makes this price even more meritorious, most attractive, is the twin Caterpillar 700hp C12 power option through 'quick-shift' 5114ATwin Disc gearboxes, which propels this particular 22,000kg version to a top speed of 31 knots and a cruise speed of between 20 and 24 knots. That was not too shabby I thought, for a 14.3m cruiser!
A third-time Caribbean owner, this owner knew he was going to get absolute quality of build as well as specification and more importantly sea-keeping abilities – but he also knew he would get it at a realistic price. Stepping aboard, sure the Release Marine chair did sort of hog the limelight, but looking beyond that you were left in no doubt this was not going to be your average Caribbean cruiser.
The large teak-covered cockpit for instance offered a definite hint, as did the stainless steel and teak aft boarding platform aft and the ladder to the flybridge level.
Worth mentioning also, on this level, was the transom upright that offered refrigeration provision as well as a live-well complete with inspection window (most impressive), and the neat storage (including pull-out tackle trays) and refrigeration modules against the saloon bulkhead, either side of the entry doors. Access to the fuel tanks and storage below decks, was through a hatch in the cockpit floor, aft of the game-chair, and fenders could be stored in side lockers each side, within the 'lowish' side coamings.
As appealing as this cockpit feature was though, for me even greater interest lay in the enclosed flybridge configuration above. A first for Caribbean in that it featured a genuine hard-top that was very easy on the eye when it came to aesthetic appeal. With a helm station placed deliberately well aft, this flybridge level was also very roomy, enabling the inclusion of such features as side forward-facing lounges, a dining table should you desire to eat upstairs while on the run, and alongside the helm module a smallish galley-style module consisting of sink and running water above, and a refrigerator below.
While the front windows were obviously all sealed, the sliding windows each side combined well with the open nature of the rear of the hardtop to provide the necessary ventilation for those hot summer days. The helm was of appropriate specification for a game-orientated vessel and needless to say the Furuno electronics package matched the seriousness of the Reelax game poles and the game chair below. I should perhaps pertinently also mention at this juncture that the positioning of this helm module so far aft, also offered a stupendous view of the rear cockpit – so important when backing up on a gamefish!
With the exterior of the Caribbean 47 so obviously well aligned to the purpose of gamefishing, it was perhaps reasonable to assume the interior may well follow this 'fishing' theme also, but really, nothing could have been further than the truth. Outside was definitely for the boys, but inside it was very much family orientated, and yes, in a refreshingly opulent fashion without being over the top, in the context of a game boat. Describing it more objectively yet simplistically perhaps, it was a boat that lent itself very easily to all occasions.
A very subtly-partitioned room, the saloon featured a traditional yet tastefully presented six-person leather dining setting aft, around a wooden table. Opposite this setting was a day lounge that incidentally very innovatively unfolded to form a double layer of bunk-style single berths, should you require additional accommodation for the kids. Sensibly, International Marine have not tried to cram too much into this saloon. The dining and this lounge were expansive features, and for'ard of this was a step-down galley (not too big a step though) that could only be described as very practical, very user-friendly, and very spacious! With equipment of house-size proportions, and an appropriate on-board power system to operate them effectively and efficiently, catering for a crowd would be a breeze.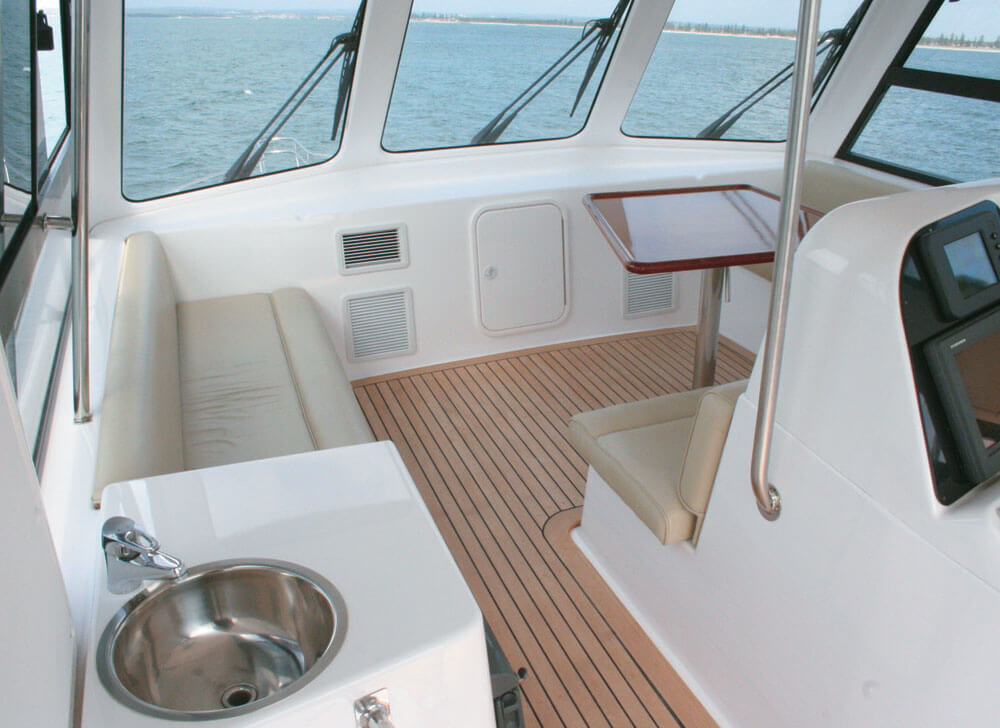 Décor and the general appearance or presentation of this saloon was for me the real attraction of this room however, for with plush almost suede-style carpet, the leather upholstery, the fabric concertina drapes, the padded vinyl ceiling panels and the splashings of wood along with the recessed and very appealing entertainment module opposite the galley – offered not only a genuine level of opulence, but along with it a decidedly homely feel. It was not imposing or indeed over-powering – simply it was 'nice and comfortable'.
The three-cabin layout,  consists of a queen-berth master in the V of the bow, the double-berth 'guest' room at the base of the stairs to port, and the twin single room opposite that. It is by no means derogatory to label the guest and single rooms as smaller, for in the context of a three-bedroom layout, a large galley, uncluttered saloon and huge cockpit – they are entirely appropriate, especially considering there is an ensuite attached to the master berth, and a generous 'house' bathroom with separate head and shower, for'ard of the single-berth room on the starboard side.
The three bedrooms were only very slightly down-spec'd in the context of the level of opulence of the saloon, with generous storage provision, smatterings of wood finish contrasted with padded panels, lighting and overhead hatches, and in the case of the 'master' room, two hanging wardrobes, TV and stereo. Again, the 'homely' descriptive springs to mind, for they were entirely user-friendly and practical first, then finished off in the most aesthetically pleasing and appropriate way. In other words, a lot of thought has gone into each and every facet of this boat, to ensure a pleasurable and indeed lasting experience is enjoyed by all who step aboard.
The Caribbean 47 Flybridge is able to be offered very much as a personalised vessel, courtesy of the efforts of companies such as Sylvania Marina – surely a great selling feature, in anyone's eyes. While stopping short of calling it a customised boat, clients can still enjoy the flexibility of additional teak and woodwork, live-well feature tanks, different décor, galley, refrigeration, flybridge specification, different electronics, different lighting and different switch-boards to name but a few alternatives. No obvious shortcuts are taken, the standard of finish and equipment even in the standard version is good, and in short at a million dollars with the sublime amount of extras in this instance – it is quite simply good value for money in a hull that is known and more importantly respected, by boaters on both sides of the Tasman.
The Caribbean 47 has been given an interior upgrade, the first model of which will be on display at the Sydney International Boat Show.
Design Name: Caribbean 47 Flybridge Cruiser
Year Launched: 2005
Designer: International Marine
Builder:  International Marine
LOA:   14.17m
Beam: 4.88m
Draft: 1.37m
Displacement: 22-tonnes
Max Speed:  31 knots
Cruise Speed: 20-24 knots
Construction: GRP
Fuel Capacity: 2700 litres
Water Capacity: 900 litres
Engines: Twin C12 700hp Cat diesels
Gearboxes:   Twin Disc TD 5114A
Drive System: Conventional Shaft